Michigan State at Iowa: Live Blog, Stats and Play-By-Play Analysis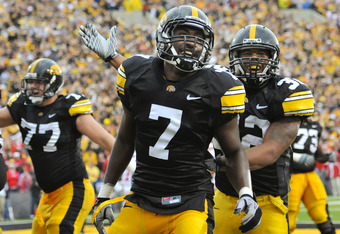 David Purdy/Getty Images
Good afternoon everybody, Featured Columnist Kyle Brandt here, live blogging the Michigan State-Iowa game as the Hawkeyes look to keep their Big Ten title hopes alive with a win this afternoon.
Join me for the next three hours as I break down the game and share my opinion on this afternoon's crucial game at Kinnick Stadium in Iowa City, Iowa.
It's been a pleasure spending my afternoon with all of you here on The Bleacher Report. Check out all the other great Iowa and Michigan State featured columnists here for continued post game coverage of this upset win by Iowa. Have a great night!
That's the game, folks. Iowa has come up with a huge upset win and has blown the Big Ten title race wide open. Iowa wins 37-6 over #5 Michigan State.
Iowa contuing to play more conservative here in the second half with a little over two minutes left. Running the ball and not passing. To this point, Stanzi has only attempted to pass one time this whole half.
Wow, third string runningback in now, Ferentz? Really?
Props to Iowa's special teams who have performed very well and recovered nicely after all their mistakes last week.
I hope Vandervelde is ok. He and I share the same hometown (Davenport, Iowa).
This game is a story of two halves. A first half with tons of Iowa scoring, and a second half thus far filled with punts. A weird change of pace.
Pretty close call there, but the play stands as called after an official review.
Breakout game by Herman who just had another reception for a first down.
I don't understand why they went for the two-point conversion there. Not like this is a close game or anything.
TOUCHDOWN MICHIGAN STATE: Cousins pass to Cunningham. Michigan State goes for a two-point conversion and fails. Iowa still leads 37-6.
For the first time today, Michigan State is in the red zone as Iowa's conservative play calls from head coach Kirk Ferentz continue.
Iowa's second punt of the day. I believe Kirk Ferentz has started playing conservatively now with a huge lead like he always does. Notice Marcus Coker in for Adam Robinson during that last drive.
Another Spartans three-and-out, and another opportunity for an Iowa score. I only say that because State has been unable to stop the Hawkeyes yet.
TOUCHDOWN IOWA: Stanzi pass to McNutt. The Hawkeye express is rolling ahead at full steam, folks. 37-0. Yes, they are blowing out the #5 team in the rankings. No, you're not dreaming!
Iowa moving the ball again- through the air and on the ground with the power runner Adam Robinson. Earlier I labeled Robinson as a dark horse for the Heisman, you should know why now.
Another punt for Michigan State. Their punter may be the player with the most yards when this thing is over...
I might be wrong, but I believe that was Iowa's first punt of the game. Almost three minutes into the third quarter.
And there it is, Michigan State's third interception of the game. This is nuts.
It's halftime in Iowa, folks. Iowa is leading 30-0 and appear to have things well in control this afternoon.
TOUCHDOWN IOWA: Adam Robinson rushes from the 5 yard line. The Hawkeye "How To Play Football" Clinic rolls on in Iowa City.
Yep, another three-and-out for Michigan State. Did the wrong guys get on the bus to Iowa on Friday?
Michigan State moving the ball again, but giving up more pointless penalties including another just now for offensive pass interference. Not going to win the game if they keep this up.
More of the same at Kinnick today. Sounds like Kirk Ferentz's talk with the boys sunk in really well. Impressive performance thus far for the Hawkeyes.
This article is
What is the duplicate article?
Why is this article offensive?
Where is this article plagiarized from?
Why is this article poorly edited?

Iowa Hawkeyes Football: Like this team?