Top 5 Reasons Why Missouri Will Defeat Nebraska This Saturday In Lincoln
The Missouri Tigers no longer rely solely on their offense to win games in 2010. After MU defeated the Sooners this past Saturday, Oklahoma quarterback Landry Jones was asked about the team he just faced.
"They did a good job," Jones said. "Missouri's a great defense."
The Tigers are currently ranked fifth in the country in points allowed at only 13.1 points per game.
Nebraska does have a large lead on the series, but Mizzou has won four of the last seven games against the Cornhuskers.
Head Coach Gary Pinkel stands 4-5 against Nebraska in his nine years at Missouri.
The only other Mizzou coach to have more wins against Nebraska was College Football Hall of Famer Dan Devine (1958-1970).
Both teams will be highly motivated to win their final Big 12 conference matchup, as Nebraska bolts for the Big 10 in 2011.
Missouri: 41 Nebraska: 28
Begin Slideshow

»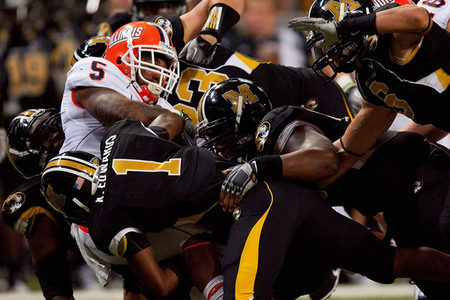 Through seven games, the Tigers are allowing an average of just 13.14 points per game (TCU currently leads the nation with a 9.00 average).
Mizzou's defense pitched a shutout against Colorado and then followed that performance by stifling Texas A&M's potent offense, holding the Aggies to a season-low nine points.
At the time, the Aggies boasted the 15th-ranked offense in the nation, averaging 472.60 yards per game.
Obviously, with the nation's fifth-best scoring defense, the Tigers should boast a great red-zone defense as well.
That is certainly the case as Mizzou ranks No. 1 nationally in red-zone defense.
Missouri's opponents have scored just 52 percent of the time they've gotten inside the 20-yard line.
Just this past weekend, the Sooners converted only 3-of-6 red-zone opportunities against the Tigers at Faurot Field.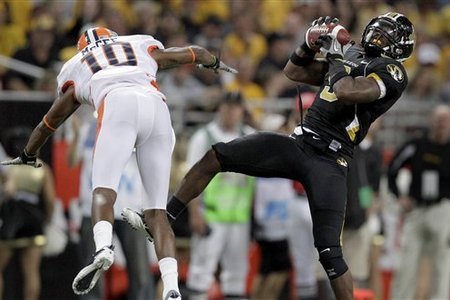 Missouri Tigers Head Coach Gary Pinkel always promotes the importance of turnovers, and it appears to have worked, as the Tigers rank 19th nationally in turnover margin with a +0.86 per game average.
Mizzou is among the best in takeaways with 17, including 11 interceptions, which is already three more than the Tigers had all of last season.
MU is picking off a pass once in every 25.1 pass attempts.
Mizzou isn't exactly known for their running attack, but the Tigers have shown that they have the ability to gain yards in big chunks on the ground in 2010.
The bulk of the carries are split by junior De'Vion Moore and true freshman Henry Josey. The two have combined for 592 yards and eight touchdowns so far this season. Moore is averaging 5.5 yards per carry, while Josey is averaging a whopping 6.4 per carry.
Sophomore Kendial Lawrence and true freshman Marcus Murphy have also contributed 273 rushing yards and three touchdowns while filling in for Moore and Josey.
Missouri was able to run the ball for a total of 178 yards against the Sooners last week.
Grant Ressel had big shoes to fill as he followed one of the nation's best place kickers, Jeff Wolfert, in 2009.
Ressel ended up being one of the most accurate kickers in the nation, as he made a combined 65-of-66 kicks.
Ressel's 98.5% mark broke the NCAA single-season record for best combined kick accuracy. He also led the NCAA in FG percentage among those with 13 or more attempts with 96.3% for the season.
Ressel's only FG miss in 2009 was a 42-yard attempt against Nebraska in downpour conditions. His 2009 efforts paid off as he was named a First-Team All-American by Sports Illustrated.
In 2010, Ressel has been his usual accurate self. He did miss a 37-yarder in the season opener against Illinois, but he has been perfect ever since, making 13 consecutive kicks.