Running Towards History: Greatest Running Backs of Each NFL Team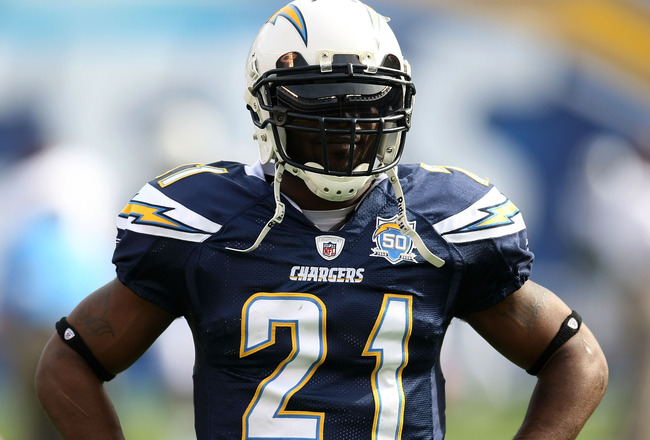 Stephen Dunn/Getty Images
Running backs have been the foundation for success for all NFL franchises. Without the run, winning wouldn't be possible.
Since football was first introduced, we've been fortunate enough to see the most gifted of athletes battle it out on the gridiron—and running backs are no exception.
Deep in tradition, glory and perseverance, the NFL has produced some of the greatest competitors the world has ever known.
From hard-hitting, to quick and elusive, the NFL has bestowed a magnitude of running backs with different running styles for us to enjoy.
We could debate and argue about who is the best of the best for days and days. But when it comes down to sheer guts and glory, these guys are the deities of the running back position.
Ranking these sure-fire Hall of Famers isn't the easiest thing in the world to do, but today we'll try to do just that.
Hold onto your hats, people.
Arizona Cardinals: Ottis Anderson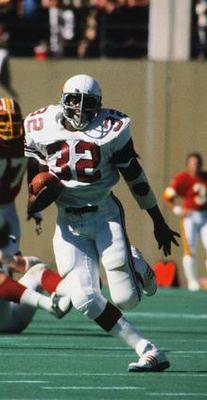 Although not "officially" playing in Arizona, Ottis Anderson gave the Cardinals a ferocious name back in the 1980's.
Anderson is ranked 24th on the all-time rushing list, leading the Cardinals in career rushing yards and touchdowns.
After leaving the St. Louis Cardinals for the New York Giants in 1986, Anderson never quite got it going—averaging just 324 yards per game during his stint with the Giants.
The University of Miami product was taken by the St. Louis Cardinals with the eighth overall pick in the 1979 draft, blossoming into the MVP of Super Bowl XXV with the Giants.
Anderson holds a special place in the hearts of all Cardinals fans and is truly one of the NFL's greatest.
Atlanta Falcons: Gerald Riggs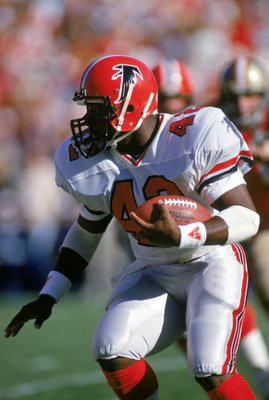 Gerald Riggs played for the Falcons for most of his career, from 1982 to 1988 and ranks first in franchise history with 6,631 rushing yards.
Riggs made the Pro Bowl three straight times from 1985-87, and his best season was 1985.
During his record-setting 1985 season, Riggs rushed for a career high 1,719 yards with 10 rushing touchdowns, and he added 33 receptions for another 267 yards as a receiver.
Being named the Falcons' best all-time rusher is a true honor. Beating out famous rushers such as Warrick Dunn, Michael Vick and Jamal Anderson speaks wonders about Riggs' career.
Baltimore Ravens: Jamal Lewis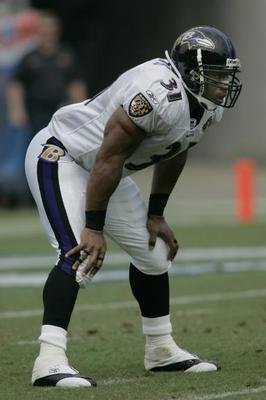 Possibly the most ferocious running back of this era, Jamal Lewis is a name mentioned and enshrined in Baltimore Ravens greatness.
Jamal Lewis played the first seven years of his NFL career with the Baltimore Ravens (excluding the 2001 season, missed due to injury).
During that time he became the team's all-time leading rusher with 7,801 yards and also 45 rushing touchdowns.
Lewis' best season was 2003, when he rushed for 2066 yards and 14 TDs—one of only four other rushers in NFL history to reach the 2,000 yard-plateau.
Buffalo Bills: Thurman Thomas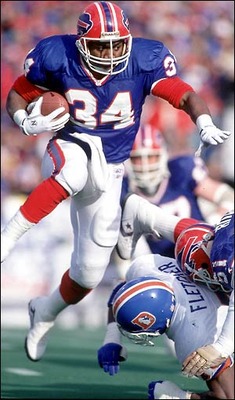 No disrespect to O.J. Simpson, but Thurman Thomas is one of the greatest things ever to happen to the Buffalo Bills' franchise.
Thomas was such a prolific running back, that his numbers in Buffalo trumped even O.J. Simpson's historic statistics.
In all, Thomas rushed for 11,938 yards during his time with the Bills (1988-1999), adding another 4,341 yards receiving.
In 1992, Thomas had a career high in rushing yards with 1,487 all while adding to his total of 87 touchdowns in a Bills uniform.
Thomas also was part of the Bills teams that won four straight AFC Championships in the nineties but never won the Super Bowl.
Carolina Panthers: DeAngelo Williams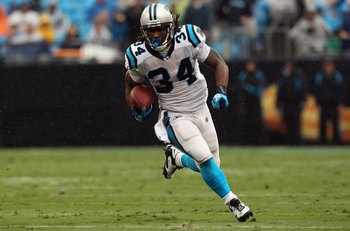 Streeter Lecka/Getty Images
Although injuries have ridiculed most of his career, DeAngelo Williams is (still) the greatest tail-back the Carolina faithful have ever seen.
Though young, Williams is still on pace to grasp every statistical rushing record in Panthers history.
In four complete seasons, Williams has rushed for 4,211 yards and 31 touchdowns, most notably in 2008 when he scored 18 rushing touchdowns—a league best.
Williams' career will continue on with the Panthers into the foreseeable future—but one thing's for sure: DeAngelo Williams is and will be the best Carolina will ever see.
Chicago Bears: Walter Payton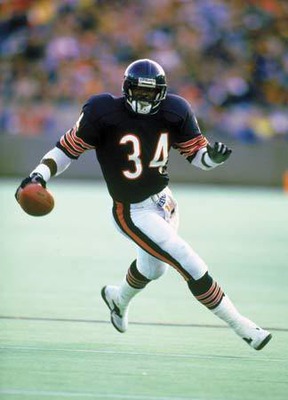 Second only to Emmitt Smith in career rushing yards with 16,726, Payton will (without a doubt) go down as the greatest player in Chicago Bears history.
Payton played with a sense of utter urgency, along with staggering play-making abilities.
In his heyday, Payton was regarded as the most entertaining player in the league—and who can blame him? Payton made defenders look silly with his deadly speed, quickness and urge to hit defenders.
Although Payton's career was limited to only 12 years with the Bears, he was able to rack up 110 regular-season rushing TD's, along with 15 receiving TD's.
Payton was the centerpiece to the Bears' 1985 season, in which they went 15-1, including a Super Bowl victory.
Inducted into the Pro-Football Hall of Fame on January 31st, 1993, Payton will go down as one of the greatest running backs the game has ever witnessed.
Cincinnati Bengals: Corey Dillon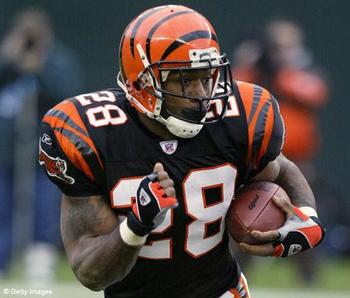 Arguably the best running back on the most dismal of teams in NFL history, Corey Dillon still managed to make room for becoming the Bengals' all-time best running back.
Corey Dillon played for the Bengals from 1997 to 2003, before going on to play for the New England Patriots.
During his tenure in Cincinnati, Dillon rushed for a total of 8,061 yards and 45 rushing touchdowns. His best season with the team was 2000, when he rushed for 1,435 yards with seven touchdowns.
Cleveland Browns: Jim Brown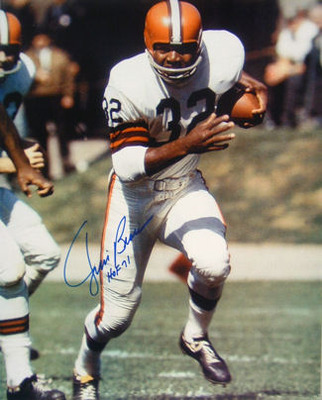 The Cleveland Browns will never forget the services provided by one of the game's greatest of legends: Jim Brown.
Spending a rather short-lived nine seasons in the NFL, Brown was able to rack up over 12,000 yards—averaging 1,368 yards per season—in an era where there were only 14 games in an entire season.
Highly regarded as the game's greatest player ever, Brown is certainly deserving of such an honor.
Running with such massive speed and muscle, Brown was a force to be reckoned with throughout the entire 1960's.
Inducted into the pro-football Hall of Fame in 1972, Jim Brown will be forever enshrined in NFL greatness.
Dallas Cowboys: Emmitt Smith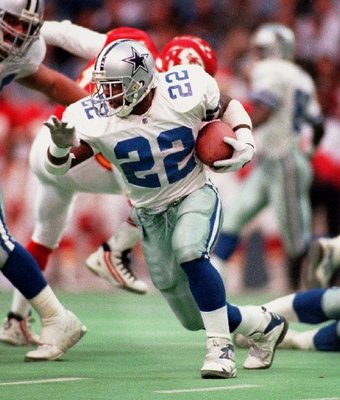 "Mr. Consistency": otherwise known as Emmitt Smith, is the leading rusher in NFL history with 18,355 career yards.
Smith piled up over 18,000 yards with stability and physicality.
In 12 seasons with Dallas, Smith was an 8-time Pro Bowler as well as a 4-time First-Team All-Pro.
Smith was a part of the Dallas dynasty of the 1990's and was key to the Cowboys' successes throughout the entire decade.
Smith played with such emotion, and class—and is truly unlike any other we've ever been able to witness.
Elected to the Pro Football Hall of Fame in 2010, Smith will always be remembered for his gratitude towards former Cowboys fullback Daryl Johnston, who paved the way for Smith's successes.
Emmitt Smith is truly deserving of such an honor.
Denver Broncos: Terrell Davis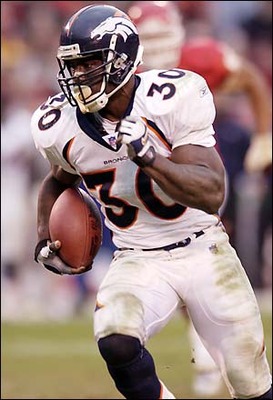 A career shortened by injury due to his explosive running-style, Terrell Davis is the most well-known and respected running back ever to have played for the Broncos.
Davis played his entire career with the Broncos, rushing for 7,607 yards during that time.
Davis only played from 1995 to 2001, with the last few of those seasons being cut short by injuries. But if Davis had continued to play and matched his early career numbers, he could have been one of the best rushers of all-time numbers-wise.
In 1998, Davis rushed for an astonishing 2,008 yards with 21 rushing touchdowns and added another two receiving touchdowns, earning the NFL MVP Award.
He also won the Super Bowl MVP Award in 1997 in Super Bowl XXXII.
Detroit Lions: Barry Sanders
Of all the running backs who have ever played in the NFL, none can compare themselves to the great Barry Sanders.
Despite only playing for 10 seasons, Sanders is 3rd on the all-time NFL rushing list.
Sanders was (and still is) the focal point to the Detroit Lions franchise. Without him, the Lions might not be a franchise today.
Piling up yards left and right, Sanders used his supreme quickness and agility to run around the most ferocious of players. Most can agree that Sanders' god-given abilities will never be matched again.
One of only three players in the history of the NFL to rush for over 2,000 yards in one season, Sanders will be admired for decades to come.
During his most successful season in 1997, Sanders rushed for 2,053 yards, 11 TD and ran for an astonishing 128.3 Yds/G.
If Lions fans have anything to be proud of, it's this guy.
Green Bay Packers: Jim Taylor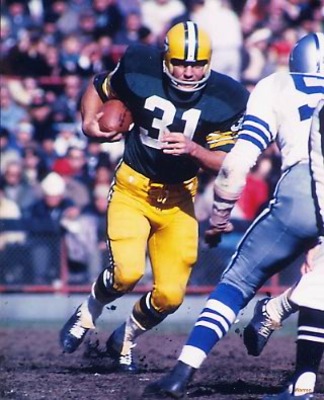 The Packers' faithful know this first-hand.
Jim Taylor is often times know as Wisconsin folk-lore for his leadership and statistics on and off the field.
Taylor is 2nd to Ahman Green on the Packers' all-time rushing list with 8,207 yards to go with 81 touchdowns.
In his best season, in 1962, Taylor ran for an unprecedented 1,474 yards and 19 touchdowns, to go with a career-best 105.4 yards per game average. Taylor was also the MVP of the 1962 NFL season.
From 1958-1966, Taylor helped establish the league's most successful franchise, all while leading the Packers to multiple championship rings.
Jim Taylor, you are a living legend.
Houston Texans: Domanick Williams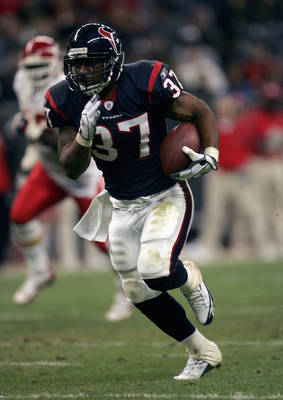 Though the Texans' franchise was only first introduced in 2002, the Texans can certainly respect the performances and duties carried out by their franchise's best overall rusher, Domanick Williams.
Williams rushed for a total of 3,195 yards during his three seasons in Houston, to become the young franchise's all-time leader in that department.
Though injuries shortened his career, Williams may still have a chance to be picked up by another team.
But for now, his best season was 2004 when he rushed for 1,188 yards and 13 rushing touchdowns. That same year, Williams caught 68 passes for another 588 yards and a touchdown.
Indianapolis Colts: Edgerrin James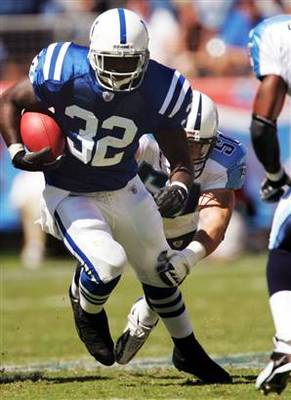 Had it not been for the ball-hogging mindset of Peyton Manning and the Indianapolis Colts offense, Edgerrin James might have run for staggering numbers for a number of years.
James played the first seven seasons of his career with the offense-first Colts, compiling a total of 9,226 rushing yards with the team.
In 2000, James had his best season, rushing for 1,709 yards and 18 total touchdowns, but then suffered a knee injury in 2001 that shortened his season. Slowly, James made it all the way back, rushing for over 1,500 yards in both 2004 and 2005.
Behind one of the best offensive lines in NFL history, James would've run straight into the record books if not for his career-suffering knee injury.
Jacksonville Jaguars: Fred Taylor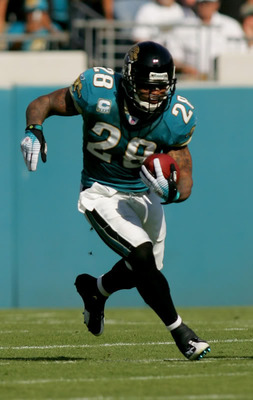 Fred Taylor spent the majority of his entire NFL career with the Jaguars, beginning in 1998, before being traded to the New England Patriots in 2009.
During his time in Jacksonville, Taylor has rushed for 9,513 yards and 56 rushing touchdowns. He's added another 2,205 yards receiving with 8 more touchdowns.
In 2003, Taylor rushed for 1,572 yards, but his best overall season came in 2000 when he ran for 1,399 yards with 12 rushing touchdowns and another 2 receiving touchdowns.
Kansas City Chiefs: Priest Holmes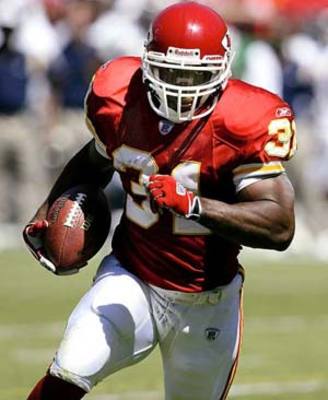 Though he has really only played three full seasons with the Chiefs (2001-2003, with injuries shortening his 2004 and 2005 seasons), Priest Holmes was one of the game's fastest, most prolific rushers during that time.
In all, Holmes has 5,933 yards rushing and 76 rushing touchdowns while with Kansas City.
While he had a career high of 1,615 yards rushing in 2002, Holmes' best year overall was 2003, when he rushed for 1,420 yards with 27 touchdowns and added 690 more yards receiving.
Holmes is 14th on the all time rushing touchdowns list, all while playing a complete three seasons—simply a football God.
One of the best things to come out of Kansas City, Holmes' contributions and memories will never be forgotten.
Long live the Priest.
Miami Dolphins: Larry Csonka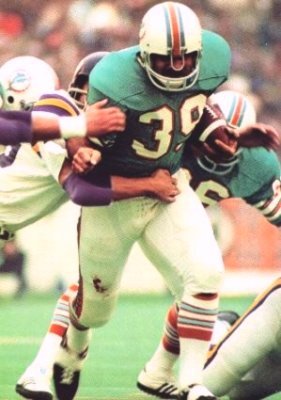 Larry Csonka was a bull of a fullback and one of the last of the old-style power rushers in NFL history.
During his time in Miami (1968-1974 and again in 1979), Csonka compiled 6,737 rushing yards and 53 rushing touchdowns. Csonka's best season was 1972, the same year the Dolphins capped off a perfect 17-0 season with a Super Bowl victory. That same year, Csonka rushed for 1,117 yards with 6 touchdowns.
He went on to play for the Giants for three seasons, but returned to Miami in 1979.
That final season of his career, Csonka won the NFL Comeback Player of the Year Award by rushing for 837 yards and 12 touchdowns.
Minnesota Vikings: Adrian Peterson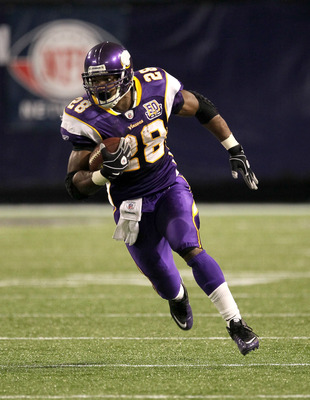 Stephen Dunn/Getty Images
His accomplishments are unmatched, and his future knows no limits.
Arguably the best overall running back currently playing in the NFL, Adrian Peterson will (by the end of his respectable career) set the record books straight.
In just three complete seasons with the Vikings, Peterson has tallied 4,484 yards on the ground—a record that may be untouched for many years to come.
No disrespect for Robert Smith, but Adrian Peterson's dynamic play has vaulted him to the position as the Vikings best all-time rusher.
Peterson has already amassed 40 rushing touchdowns in just three complete seasons—that's good enough to be the most all-time for a rusher in his first three seasons.
Including his rookie season in which he averaged 5.4 yards per carry, Peterson is on his way to a historic NFL career.
What does the rest of his career have in store for him?
New England Patriots: Sam Cunningham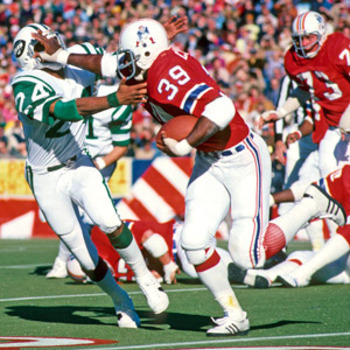 Sam "Bam" Cunningham played his whole career with the New England Patriots, from 1973-1982. During that time he rushed for a franchise leading 5453 yards to go along with 43 rushing touchdowns.
Cunningham also caught 210 passes for 1905 yards and six touchdowns during his career.
His best season was in 1977, when he rushed for 1015 yards with five total touchdowns.
The great Cunningham will never be forgotten.
New York Giants: Tiki Barber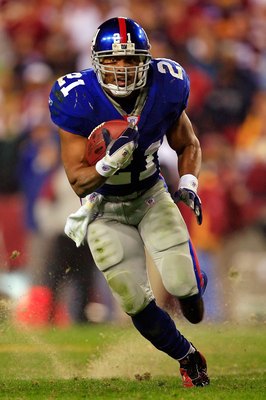 Jamie Squire/Getty Images
Often mistaken for Shaun Alexander, Tiki Barber was once a primary threat in the backfield for the New York "fooball" Giants.
Spending his entire career in New York, Barber amounted to 10,449 yards on the ground to go with 55 career touchdowns.
Barber rushed for over 1,500 yards three separate times during his career, and in his best season (2005), he averaged 5.2 yards per carry, along with nine touchdowns.
Along with being a prolific, durable runner, Barber consistently caught passes in the backfield for the likes of Kerry Collins—amassing over 500 yards receiving in five different NFL seasons.
Now working as a correspondent for NBC's Sunday Night Football, Barber will always be naturally drawn to the gridiron.
New York Jets: Curtis Martin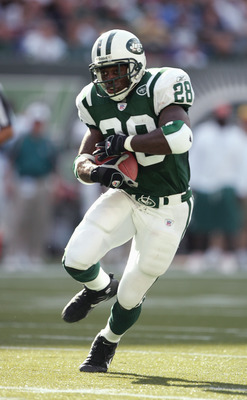 Al Bello/Getty Images
Martin is quite possibly the most unrecognized all-time great rusher ever.
Fourth on the all-time rushing list, Martin rushed for over 1,000 yards in 10 of 11 seasons in the NFL.
Although the Jets were unable to accomplish anything meaningful during the 10 seasons Martin was in the backfield, his individual achievements will never be overlooked by Jets fans.
Martin was widely known for his consistency and work-ethic, which was clearly visible throughout his entire career.
Along with being an all-time great at the running back position, Martin was also a reliable force in the passing game, with 3,329 career receiving yards.
In a Jets era not known for its talent at the quarterback position, Martin was a shining star on the world's biggest stage.
New Orleans Saints: Deuce McAllister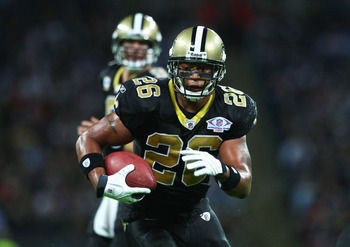 Laurence Griffiths/Getty Images
Deuce McAllister has been with the Saints since being drafted out of Mississippi in 2001, and he is the franchise's leading rusher with 6096 yards on the ground.
McAllister was voted to the Pro-Bowl two separate times during his career.
In his best season, McAllister rushed for a career high 1,641 yards with eight rushing touchdowns, and adding 69 catches for 516 yards gives Deuce a whopping 2,157 yards from scrimmage.
Though age certainly seemed to have crept up on him, McAllister made it through the good and the, well, awful years of Saints' history.
Oakland Raiders: Marcus Allen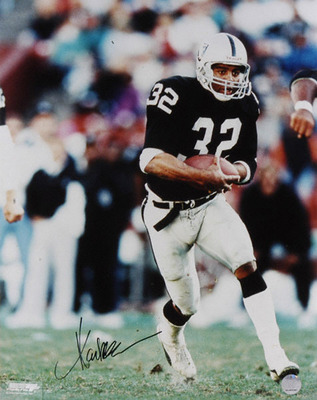 Man, can this guy run.
One of the all-time Raiders greats (and that's saying a lot), Allen's fierce, competitive running style is now enshrined in Raider greatness.
Allen played for the bulk of his career with the Raiders, in both Oakland and Los Angeles, tallying 8,545 rushing yards and 4,258 receiving yards with 97 total touchdowns.
Allen was particularly brilliant early in his career, and in 1985, rushed for a career-high of 1,759 yards with 11 touchdowns, adding another 555 yards and 3 touchdowns as a receiver—earning him the NFL MVP Award that season.
Allen also won the Super Bowl MVP in 1984 as the Raiders beat the Redskins in Super Bowl XVIII.
Philadelphia Eagles: Wilbert Montgomery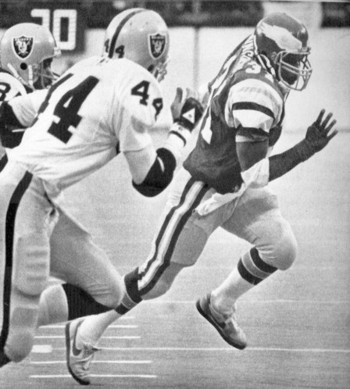 In eight seasons with the Philadelphia Eagles, Wilbert Montgomery amasses 6,789 yards on 1,540 carries.
Averaging 4.5 yards per carry, Montgomery ran his way to Eagles' greatness, piling up 45 touchdowns along the way.
During the 1979 season (Montgomery's best overall season), Wilbert managed to compile 1,512 yards on the ground, along with nine rushing touchdowns.
Along with being a versatile rusher, Montgomery managed to collect over 400 yards receiving in four separate seasons.
Pittsburgh Steelers: Franco Harris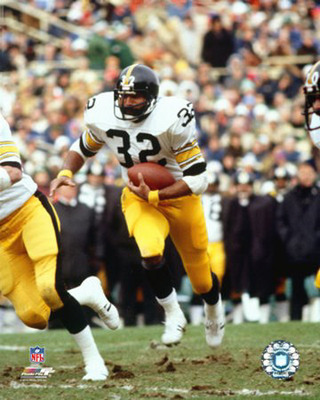 Now, I realize choosing Harris over the great Jerome Bettis will cause a bit of turmoil, but what have we got to lose?
Franco Harris played for the Steelers most of his career (1972-1983) before wrapping up his NFL tenure with Seattle in 1984.
All in all, Harris rushed for a franchise leading 11,950 yards with the Steelers, including a career high of 1,246 in 1975.
He may be best known for the "Immaculate Reception" in a playoff game against the Oakland Raiders, but for the most part, Harris was a workhorse whose consistency led to eight seasons of over 1,000 yards rushing and a total of 100 touchdowns in Pittsburgh. But perhaps more importantly, Harris helped the Steelers to win four Super Bowls along side Terry Bradshaw.
St. Louis Rams: Steven Jackson
Dilip Vishwanat/Getty Images
Sorry Marshall, your time is up.
Steven Jackson is the cream of the crop when it comes to St. Louis Rams rushers.
With 7,383 career rushing yards (all with the Rams), Jackson ranks No.1 all-time for the Rams.
Marshall Faulk by some degree deserves this award, but how can you not give the guy who's been through the good and the, well, awful?
Jackson has piled up 43 career rushing touchdowns, while leading the NFC in touchdowns in his breakout season in 2006.
His best overall season came in 2006, in which he piled up 1,528 yards with a 4.4 yard/carry average.
Should Jackson's successes continue, he will be the toast of St. Louis football for many years to come.
San Diego Chargers: Ladanian Tomlinson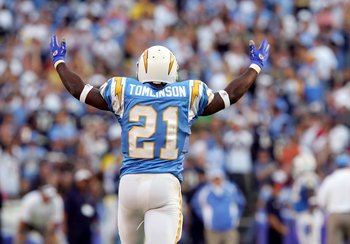 Lisa Blumenfeld/Getty Images
LaDainian Tomlinson has played in the NFL for eight full seasons (2001-present), and is the Chargers' all-time leading rusher with 9,176 yards on the ground.
But even more than that, Tomlinson has become one of the greatest running backs the game has ever seen.
To go along with the 9,176 yards, Tomlinson has 100 rushing touchdowns, with 2,900 yards and 11 more touchdowns as a receiver.
In 2006, Tomlinson rushed for 1,815 yards with an unbelievable 28 touchdowns, adding another 508 yards with 3 touchdowns as a receiver.
Tomlinson will (when it is all said and done) be mentioned as one of the most dynamic, versatile and humble rushers in NFL history. He's certainly earned it.
San Fransisco 49ers: Joe Perry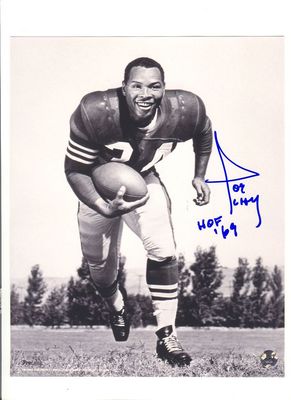 An oldie, but definitely a goodie.
Joe Perry tore up opposing defenses for 13 seasons as a full-back with the 49ers, lasting from 1950-1962.
Perry serviced 13 seasons with the 49ers before being traded to the Baltimore Colts in 1961. After two seasons with the Colts, he returned to San Francisco for one final season.
In 16 seasons of outstanding play, Perry amassed a total of 9,723 rushing yards and averaged an amazing 4.9 yards per carry.
Perry was inducted into the Pro Football Hall of Fame in 1969 and will be regarded as the best running back in 49ers history for years to come.
Seattle Seahawks: Shaun Alexander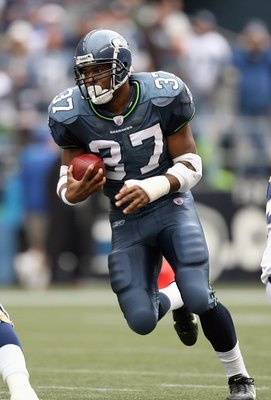 Otto Greule Jr/Getty Images
Capturing the rushing title over Curtis Martin by only one yard in 2005 was only one of the many highlight reels Shaun Alexander was able to accomplish.
Alexander played the entirety of his NFL career with the Seattle Seahawks, before signing with the Redskins in 2008.
From 2000-2007, Alexander managed to pile up 9,249 yards, 100 rushing touchdowns and averaged 4.3 yards per carry. Not only is Alexander unanimously the greatest rusher in Seahawks history, he is without question one of the most historic rushers in NFL history.
In one of the most historic seasons for a rusher in NFL history, Alexander ran for 1,880 yards and 27 rushing touchdowns.
Alexander will never be forgotten.
Tampa Bay Buccaneers: Mike Alstott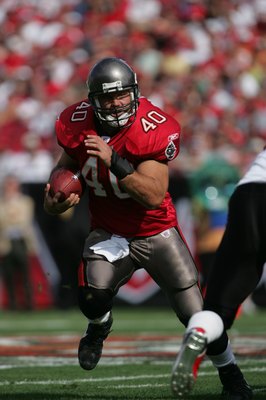 Doug Pensinger/Getty Images
In honor of the greatest full-back in NFL history, Mike Alsott is obviously worth honoring as the greatest running back in Tampa Bay Buccaneers history.
Bruising fullback Mike Alstott played his entire career in Tampa, from 1996 to 2006, making the Pro Bowl every season from 1997 to 2002, including three times as first team All Pro.
Alstott was a great blocker but put up nice numbers running the ball too, and he ranks second in Bucs' history with 5,088 rushing yards.
In is best season, 1999, Alstott had a career high 949 yards with seven rushing touchdowns, adding 27 catches for 239 yards and two more touchdowns out of the backfield.
Tennessee Titans: Eddie George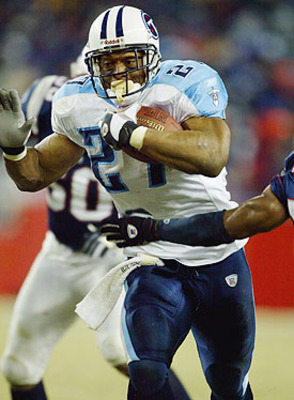 Should Chris Johnson continue his current success on a consistent basis for a few more years, he would ultimately surpass Eddie George for the Titans' all-time best rusher.
But, as we speak, Eddie George is still the best Tennessee has ever produced.
Eddie George played for most of his career with the Titans franchise, which was previously the Houston Oilers (1996-2003).
During that time, George became the team's all-time leading rusher with 10,009 yards on the ground to go along with 74 total touchdowns. George was consistent, as he tallied over 1,200 yards rushing in five straight seasons, including a career high of 1,509 with 14 rushing touchdowns in 2000.
George last played for the Dallas Cowboys in 2004 and will be forever remembered by Titans and Oilers fans as the greatest in their respective histories.
Washington Redskins: John Riggins
George Rose/Getty Images
Leading the Redskins to the Super Bowl in 1983, famed running back John Riggins will be perpetually known as the greatest running back in Redskins history.
Forever known for his 43-yard touchdown run in Super Bowl XVII—running back John Riggins was the MVP with a then-record 38 carries for 166 yards—the iconoclastic back had 11,352 rushing yards over 14 seasons.
Riggins was also notably named the greatest NFL player in history to wear No. 44 according to SI.com.
Keep Reading