The Butterfly Effect: The Top Five Greatest WWE Divas Champions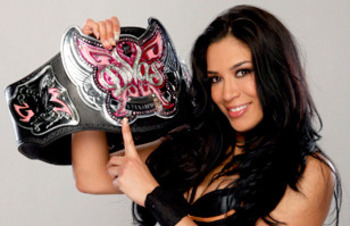 Melina as Divas champion, photo copyright to WWE.com
Hello once again, Bleachers!
I am back with yet another slideshow, this time listing who I consider to be the greatest WWE Divas champions thus far. This list is based solely on my own opinions, so don't be surprised when you see who is included and is not.
So, without further delay, let me bring you the top five greatest Divas champions the WWE has seen so far in the mere two years and a couple of months of existences of the championship.
5. Jillian Hall
Jillian as Divas champion, photo copyright to WWE.com
I know that RAW's resident pop princess only held the Divas Championship for a mere three minutes, but I feel she deserves to round out my top five.
Jillian Hall defeated Mickie James to capture her first and only championship on October 12, 2009. It was an exciting sight to behold, and while watching this episode of RAW, I admit, I wasn't expecting that outcome. It was so amazing to see Jillian win that I literally jumped up and down in front of the TV, marking out like a school girl!
The songstress is usually seen as just a joke on WWE programming, but it was heartwarming to see her finally be treated with respect for her in-ring talent.
Of course, again, her reign was only approximately three minutes long due to Melina, who made her triumphant return to RAW, facing her for the title immediately after she won it. Still, Jillian was a worthy champion and would have done the women's division very proud had she been allowed a longer reign.
4. Alicia Fox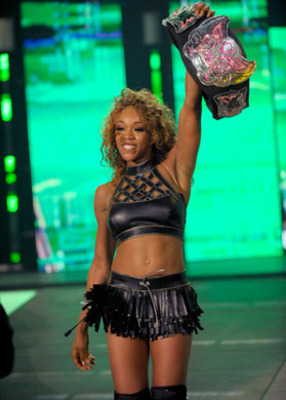 Alicia Fox as Divas champion, photo copyright to WWE.com
Alicia Fox captured the Divas Championship at this year's Fatal 4-Way pay-per-view against previous champion Eve Torres.
Foxy's reign wasn't very long—less than two months—but she was a credible and quite crafty champion. She developed a signature during her matches in which she would feign injury to get her opponent's guard down. This would enable her to capitalize and more easily go in for the kill with her scissors kick finisher.
As Divas champion, Alicia also got the opportunity to be more vocal, and she showed us just how much attitude she had and how good she was on the mic.
As one of the youngest women on the WWE roster, Alicia Fox definitely has more title reigns in her future.
3. Maryse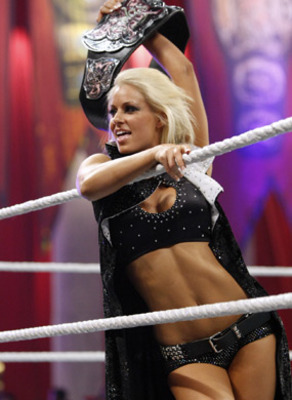 Maryse as Divas champion, photo copyright to WWE.com
French-Canadian diva Maryse is the first on my list who became a two-time WWE Divas champion. She first captured the title against original champion Michelle McCool on SmackDown! on December 22, 2008 and held it for a record 216 days.
When Maryse was drafted to RAW in April 2009, along with the Divas title, she had feuds with Kelly Kelly and Mickie James. While the former proved not to pose any threat to the "Sexiest of the Sexy," the latter certainly did, as she ended her long reign by defeating her in July.
However, Maryse regained the championship after there was a tournament on RAW to determine a new title-holder after last champion Melina got injured at a houseshow. She ended up facing Gail Kim in the final match on February 22, 2010 for her second reign and held the belt for nearly two months until being dethroned by Eve Torres.
2. Mickie James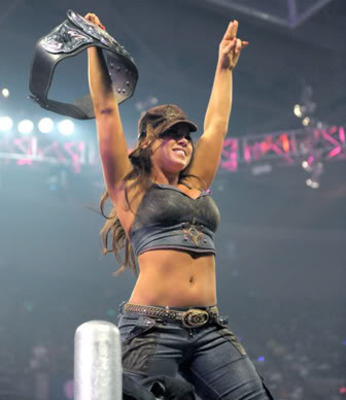 Mickie James as Divas champion, photo copyright to WWE.com
Super popular Mickie James became Divas champion when she defeated Maryse (who had an injured knee) at Night of Champions on July 26, 2009. She was a fighting champion who took on all comers, including a young Alicia Fox and the incredible Gail Kim.
Sadly, during her reign, a lot of controversy circulated throughout the IWC about Mickie, and with this came criticism of her in-ring work. Personally, I thought a lot of it was unfair, but there will always be haters.
Mickie's title reign lasted about two and a half months until she was defeated by Jillian on the October 12, 2009 episode of RAW. She was subsequently moved to SmackDown! after the loss.
1. Melina
Melina as Divas champion, photo credit to WWE.com
None other than Melina tops my list at No. 1!
The Paparazzi Princess shocked all when she made her sudden return to RAW on the October 12, 2009 episode to face brand new champion Jillian, dethroning her mere minutes after she'd won.
Much like Mickie James before her, Melina was a fighting champion who faced all challengers for her coveted prize. She seemed well on her way to a long reign until she injured her knee at a houseshow on December 29, 2009. Needing surgery to repair her torn ACL, she was forced to relinquish the championship.
Upon returning from the injury on the August 2, 2010 episode of RAW, Melina was thrust back into the spotlight and into a feud with Alicia Fox, who was champion at the time. She won a number one contendership and ended up defeating Foxy for her second Divas Championship at SummerSlam, holding the title until LayCool stole it away in a match unifying it with the Women's title at Night of Champions.
Considering the pure talent Melina has, she will no doubt become champion again before too long.
That does it for my slideshow. I hope everyone enjoyed viewing it as much as I did writing it!
Keep Reading