Top 25 All-Time England Internationals, Featuring Wayne Rooney and David Beckham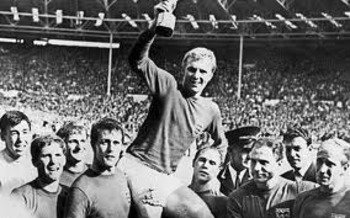 Since playing in the very first international match against Scotland in 1878, England have played 892 matches, using 1,169 players in the process.
In all that time, the 1966 World Cup still stands as the only major international trophy in the cabinet for the Three Lions.
Find out exactly how many of that famous side, and what other players made the cut for the Top 25 All-Time England Internationals.
No 25. Stanley Matthews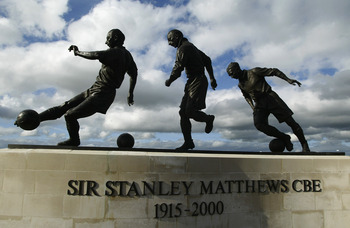 Gary M. Prior/Getty Images
Caps/Goals: 54/11
England Career: 1934-1957
The only English player to have been knighted whilst still playing, Matthews' England career spanned 23 years and he would have collected many more caps had it not been for World War II.
He was part of both the 1950 and 1954 World Cup squads although famously didn't play in England's legendary surprise 1-0 loss to the United States in the former. Manager Walter Winterbottom supposedly rested him in order to be fresher for future matches.
His final appearance in May 1957 against Denmark made him the oldest player ever to feature for the Three Lions at 42 years and 103 days, a record that still stands half a century later.
No 24. Kenny Sansom
Getty Images/Getty Images
Caps/Goals: 86/1
England Career: 1979-1988
Sansom is England's highest capped full-back (although Ashley Cole has recently pulled level with him) and was part of two World Cup and two European Championship squads during the 1980s.
For a decade, Sansom saw off all competition at left-back and rarely missed a game for the national side, becoming a mainstay of Bobby Robson's first XI.
His England career lasted up until Euro '88 but the team endured a disastrous campaign. Sansom found his time up at international level with Stuart Pearce waiting in the wings.
No 23. Gary Neville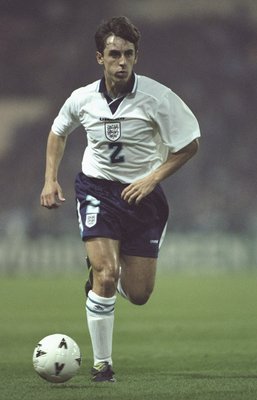 Clive Brunskill/Getty Images
Caps/Goals: 85/0
England Career: 1995-2007
England's most-capped right-back of all time, Neville made his debut for England under Terry Venables against Japan in the Umbro Cup in the summer of 1995 and soon established himself as part of the side heading into Euro '96.
There Neville featured in all of England's games up until the semi-final defeat against Germany, for which he was suspended.
Neville was a constant presence for England, appearing in five tournament squads in total, only missing out on the World Cup in 2002 via injury.
Throughout much of his England career, Neville was able to replicate his superb relationship on the right-hand side with David Beckham which reaped so much success for Manchester United.
No 22. Alan Ball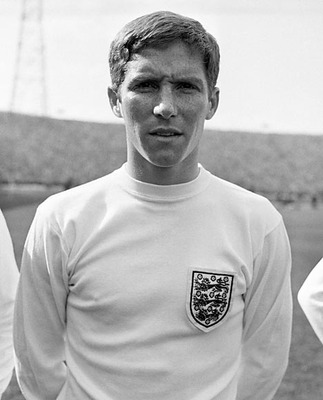 Caps/Goals: 72/8
England Career: 1965-1975
Ball debuted as a 19-year old just over a year before the 1966 World Cup and quickly established himself as a vital part of Alf Ramsey's 'wingless wonders'.
Ball was the youngest member of the 1966 winning squad, and his endless enthusiasm and supreme stamina saw him named Man of the Match in the World Cup Final. No mean feat given that Geoff Hurst had netted a hat-trick.
Ramsey kept faith with Ball for the 1970 World Cup in which England reached the quarter-final before losing to West Germany.
His final five caps came as captain under Don Revie before his international career ended at the age of 30.
No 21. Wayne Rooney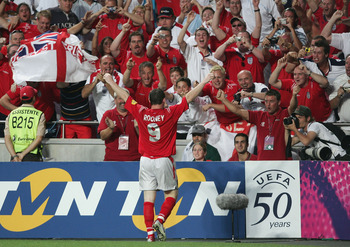 Ross Kinnaird/Getty Images
Caps/Goals: 68/26
England Career: 2003-present
Rooney became the youngest player ever to play for England when he made his debut at Upton Park against Australia in 2003 (although this record has subsequently been beaten by Theo Walcott).
He burst onto the international scene at Euro 2004, scoring four times in England's three group matches before he was forced out of the quarter-final against Portugal through injury.
England were eventually eliminated on penalties and Rooney's injury was seen as a major turning point.
Two years later, Rooney had his chance for revenge but missed it spectacularly when he was sent off when facing Portugal in the World Cup quarter-final in Germany.
Rooney had been a huge injury doubt prior to the tournament but Sven-Goran Eriksson picked him nonetheless. However, Rooney had little impact on the pitch and England again went out on penalties.
The same situation occurred this summer when Rooney suffered an ankle injury. Once again he was named in the squad but once more failed to find his form as he performed well below-par in a poor England side.
No 20. Ashley Cole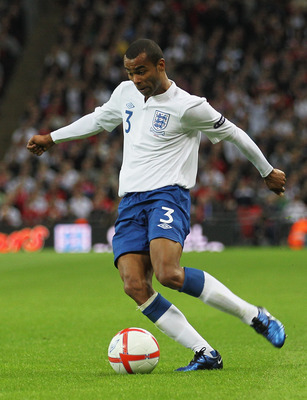 Hamish Blair/Getty Images
Caps/Goals: 86/0
England Career: 2001-present
Now England's joint-highest capped full-back of all time with Kenny Sansom, Cole will undoubtedly hold that record himself and should go on to easily break past the 100-cap barrier too.
Cole has been first-choice left-back at three consecutive World Cups, as well as during Euro 2004.
Despite recently being booed by his own fans at Wembley, Cole has been one of the few players to emerge with credit from England's recent failures, performing extremely well in his individual battles with Cristiano Ronaldo in both penalty shoot-out exits to Portugal in 2004 and 2006.
No 19. Tom Finney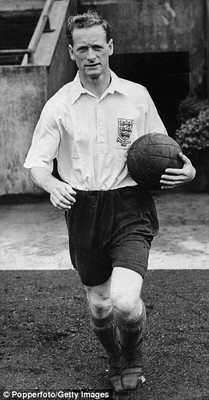 Caps/Goals: 76/30
England Career: 1946-1958
The Preston North End winger netted 14 times in his first 17 appearances for the Three Lions and eventually went on to hold England's all-time scoring record for a while (joint with Nat Lofthouse) on 30 goals.
Bobby Charlton eventually surpassed this tally in 1963 but Finney still stands joint fifth on England's all-time scoring list more than 50 years on.
Finney appeared in three World Cups for England in the 1950's, scoring two goals in seven tournament appearances.
No 18. Martin Peters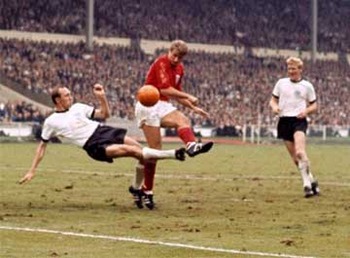 Caps/Goals: 67/20
England Career: 1966-1974
Making his debut in May 1966, Peters had won only eight caps when he lifted the Jules Rimet trophy after beating West Germany at Wembley.
A strong-running midfielder, Peters managed an impressive goal-rate for the Three Lions from midfield and netted England's other goal in the 1966 final.
Peters netted against West Germany four years later in Mexico but was substituted alongside Bobby Charlton at 2-0 up as England's arch rivals fought back to triumph 3-2 in extra time.
He went on to captain his country four times before his career ended in 1974 against Scotland.
No 17. Tony Adams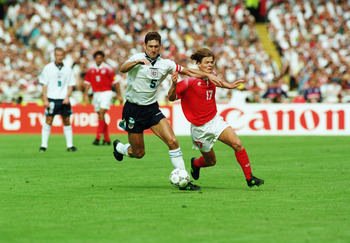 Stu Forster/Getty Images
Caps/Goals: 66/5
England Career: 1987-2000
Despite making England's Euro '88 squad as a 21-year old, Adams surprisingly missed out on 1990 World Cup squad before missing Euro '92 through injury.
England missed out on USA '94 but Adams captained his country at home during Euro '96 where England made the semi-finals before losing out to Germany on penalties.
New manager Glenn Hoddle switched the captaincy to Alan Shearer but Adams remained a key part of England's defence up to and throughout France '98 before ending his international career at Euro 2000.
No 16. Michael Owen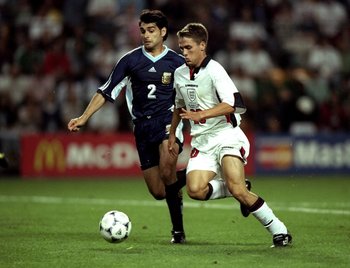 Doug Pensinger/Getty Images
Caps/Goals: 89/40
England Career: 1998-2008
Handed his England debut just months before the 1998 World Cup by Glenn Hoddle, Owen started that tournament on the bench but quickly supplanted Teddy Sheringham in the first XI and truly burst onto the world scene with an exceptional solo goal against Argentina in the second round.
Owen found goals harder to come by under Kevin Keegan but was named vice-captain under Sven-Goran Eriksson and proved increasingly prolific in qualifying for three major tournaments under the Swede, none more notable than when he netted a hat-trick in England's famous 5-1 win over Germany in Munich.
Injury put his participation at the 2006 World Cup in doubt, but he eventually made the squad although torn his cruciate ligament against Sweden which ruled him out for a year.
Owen continued to score goals under Steve McClaren, including a key brace against Russia in a 3-0 win at Wembley.
However, injuries have continued to take their toll and he has only a substitute appearance to his name under Fabio Capello.
Where he once looked certain to become England's all-time record scorer, he looks set to remain in fourth spot on the list.
No 15. Billy Wright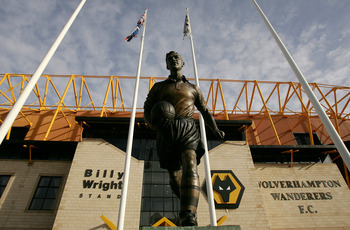 Christopher Lee/Getty Images
Caps/Goals: 105/3
England Career: 1946-1959
A one-club man, Wright's performances for Wolves saw him make his debut in the 1946 post-war internationals.
Within two years he was made captain of his country and held this role until his Three Lions career ended.
Wright appeared in three World Cups for the Three Lions in the 1950's and his total of 90 caps as captain remains an England record, equalled only with the legendary Bobby Moore.
Wright became the first-ever player to win 100 caps at international level and stands in fifth place on England's all-time appearance list.
No 14. Terry Butcher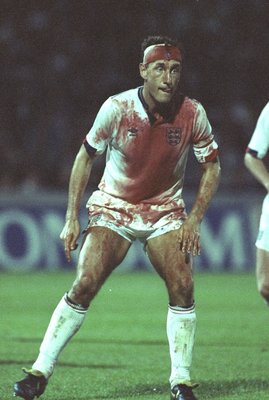 David Cannon/Getty Images
Caps/Goals: 77/3
England Career: 1980-1990
England's first-choice centre-back for three consecutive World Cups from 1982 to 1990, Butcher also captained the Three Lions in the latter in which they reached the semi-finals after Bryan Robson was ruled out through injury.
Butcher's most memorable moment for England actually came in the qualifiers for the 1990 tournament when they travelled to Sweden needing a draw to qualify.
Early in the game, Butcher suffered a deep cut to his head.
Despite some impromptu stitches, blood continued to flow from Butcher's head throughout the game, resulting in a massively blood-stained shirt by the final whistle which would become one of the most iconic pictures in Three Lions history.
No 13. Geoff Hurst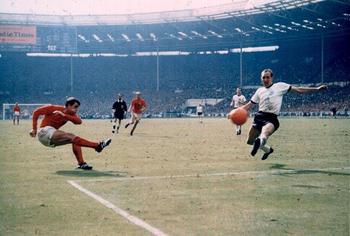 Caps/Goals: 49/24
England Career: 1966-1972
Another, alongside Ball and Peters, who forced his way into Alf Ramsey's thoughts not long before the start of the 1966 World Cup.
Hurst is the only player on the list with under 50 caps, yet his goal record at international level speaks for itself.
His hat-trick in 1966 remains the only ever scored in a World Cup Final and arguably the most unforgettable achievement of any England player.
No 12. David Platt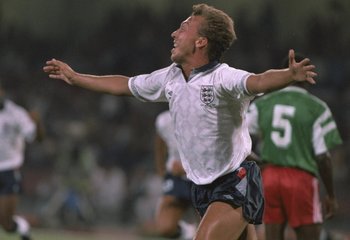 Getty Images/Getty Images
Caps/Goals: 62/27
England Career: 1989-1996
Platt enjoyed a fantastic strike rate at international level for a midfielder and played a key role in both of England's semi-final runs in 1990 and 1996.
His goal against Belgium in the dying seconds of extra time at Italia '90 sparked England's tournament into life, and Platt continued to be a key player for England throughout the early '90s.
Platt led England out on several occasions but by the time Euro '96 came around, Platt was more of a peripheral figure.
Although, he did play in England's semi-final against West Germany at Wembley, scoring his penalty in yet more shoot-out heartache for the Three Lions.
No 11. Jimmy Greaves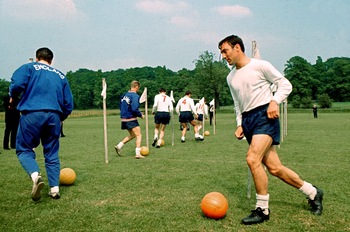 Caps/Goals: 57/44
England Career: 1959-1967
Already a prolific scorer for Chelsea, Greaves' England debut came in 1959 as a 19-year old when he netted in a defeat against Peru.
The precedent was already set for his career with the Three Lions, and Greaves scored 20 goals in his first 20 appearances for England, including three of what would become a record six hat-tricks for the national side.
Greaves played and scored in the 1962 World Cup but was found himself injured and eventually supplanted from the team by Geoff Hurst in 1966, meaning Greaves did not feature on the pitch past the group stages.
Greaves only featured three more times for England after 1966 but his total of 44 goals has him third on England's all-time scoring list, and coming in just 57 appearances, his strike rate is the best by a long way on this list.
No 10. Paul Gascoigne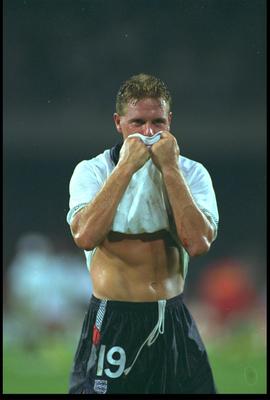 Getty Images/Getty Images
Caps/Goals: 57/10
England Career: 1988-1998
First capped in 1988, it was at Italia '90 that Gascoigne truly immortalised himself in the English football psyche as England's run to the semi-finals erased fans' memories of the hooligan-tarnished '80s.
That semi-final match against West Germany would provide one of England's most memorable moments as Gascoigne's eyes filled with tears after he received a yellow card which would rule him out of the World Cup Final would England have won.
Injury hampered both his club and international career post-1990 but by Euro '96 Gascoigne had once again established himself as part of England's first XI.
A sensational goal against Scotland was followed by a virtuoso performance against the Netherlands in the group stages before penalty shoot-out heartache struck against Germany again in the semi-finals.
Gascoigne's England career ended on a sour note when he missed the cut for Glenn Hoddle's squad for the 1998 World Cup despite playing a key role in the qualification campaign.
No 9. Alan Shearer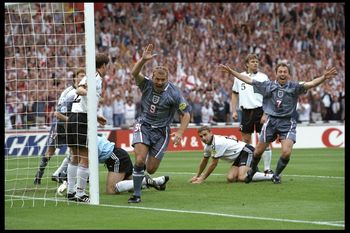 Ross Kinnaird/Getty Images
Caps/Goals: 63/30
England Career: 1992-2000
After finding himself in and out of the team during England's failed qualification attempt for USA '94, Shearer's England career really kicked off at Euro '96.
Coming into the tournament on the back of a 12-match goalless run, Shearer reproduced his prolific club form in style on the international stage with five goals in as many games, earning him the Golden Boot as England reached the semi-finals.
Shearer was then appointed England captain by Glenn Hoddle and scored twice at France '98 and twice again at Euro 2000 under Kevin Keegan before retiring as England's joint fifth top scorer.
No 8. Bryan Robson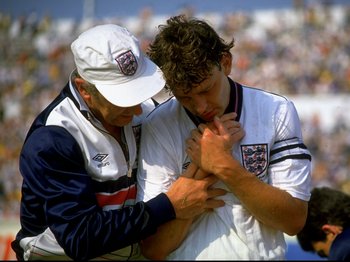 Getty Images/Getty Images
Caps/Goals: 90/26
England Career: 1980-1991
Robson made his England debut in 1980 but missed out on the squad for the European Championships that summer.
However, under Ron Greenwood he was a starter in central midfield and scored after just 27 seconds against France in England's opening game at the 1982 World Cup, a record which stood until 2002.
Named as captain soon after Robson played under namesake Bobby at both the 1986 and 1990 World Cup but injures prevented him playing past the group stages in both tournaments.
Only Bobby Moore and Billy Wright captained England more times than Robson, and he later returned as assistant manager to Terry Venables for England's run to the semi-finals at Euro '96.
No 7. David Beckham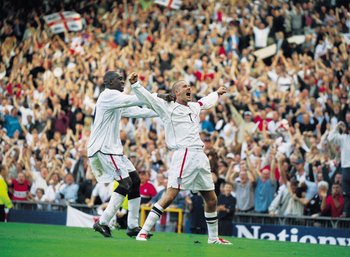 Shaun Botterill/Getty Images
Caps/Goals: 115/17
England Career: 1996-2009
After making his debut against Moldova in 1996, Beckham quickly became a fixture of Glenn Hoddle's England as they qualified ahead of Italy for the 1998 World Cup.
Hoddle initially left Beckham on the bench at the start of the tournament, but Beckham started against Colombia in the crunch, final group game and responded by scoring a free-kick for his first England goal.
However, a much deeper low was quickly to follow this high as Beckham was sent off for petulantly kicking out at Diego Simeone as England went out on penalties to Argentina in the second round.
Kevin Keegan's resignation shortly after Euro 2000 saw Peter Taylor appointed caretaker manager of the national side and he handed the captain's armband to Beckham for the very first time.
Beckham retained the captaincy after Sven-Goran Eriksson's appointment and famously netted a last-gasp free-kick against Greece in 2001 to send England to the World Cup.
In Japan and South Korea, Beckham was able to redeem himself by scoring the winning goal against Argentina but his fitness was in question after a pre-tournament injury and England went out in the quarter-finals.
This was to be the limit for England and Beckham at both Euro 2004 (where he missed a penalty in the shoot-out defeat to Portugal) and the 2006 World Cup.
Beckham did, however, become the first England player to score in three World Cups when he scored against Ecuador.
After being dropped by Steve McClaren, Beckham fought his way back.
He has since become England's highest-capped outfield player after a string of performances under Fabio Capello before he was forced to miss the 2010 World Cup through injury.
No 6. Stuart Pearce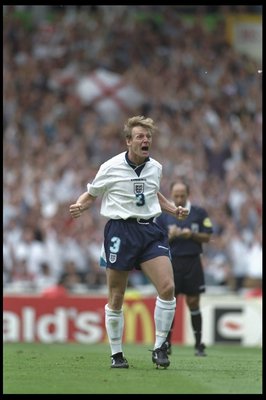 Ben Radford/Getty Images
Caps/Goals: 78/5
England Career: 1987-1999
Pearce's England debut came in 1987 as a relatively old 25-year-old having come late into the professional game.
Despite missing Euro '88 through injury, Pearce quickly established himself as England's first-choice left-back.
He played a key part in England's run to the semi-finals at Italia '90 although he, along with Chris Waddle, missed his penalty in the eventual shoot-out defeat.
A poor Euro '92 and failure to qualify for USA '94 followed before Pearce again found himself at the heart of an England side enjoy a fine tournament run.
Pearce had lost his place under Terry Venables to Graeme Le Saux, but an injury to the Blackburn Rovers man saw Pearce regain the left-back spot for Euro '96.
Pearce was able to banish his personal demons by scoring in the quarter-final penalty success over Spain. He also netted in the shoot-out against Germany in the next round, although the team eventually lost.
His last England cap came in 1999 at the age of 37, when he became the third-oldest outfield player to appear for the Three Lions.
No 5. Peter Shilton
David Cannon/Getty Images
Caps/Goals: 125/0
England Career: 1970-1990
An England career of 20 years started just after the 1970 World Cup in the era of Gordon Banks, when Shilton made his debut in a friendly win over East Germany.
Shilton battled with Ray Clemence for supremacy as England's No. 1 throughout the '70s as England failed to reach two successive World Cups.
The first decade of his England career saw Shilton win only 30 caps and the start of the 1980's initially saw Ron Greenwood choosing to alternate between Shilton and Clemence in goal.
Shilton, however, won the call when it came to the 1982 World Cup and firmly established himself as No. 1 under Bobby Robson moving into the late 1980's.
The 1986 World Cup saw him famously beaten by the 'Hand of God' Maradona goal, something for which Shilton has still never forgiven him.
Shilton continued as England's No. 1 up until England's semi-final defeat to West Germany at Italia '90, where he was unable to stop any of the West German's penalties despite guessing the correct way of the kick on four occasions.
His total of 125 caps for the Three Lions has now stood for 20 years and looks set to stand for a while longer with Beckham now unlikely to add to his total.
No 4. Gordon Banks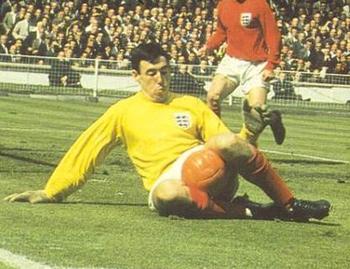 Caps/Goals: 73/0
England Career: 1963-1972
England's No. 1 from the 1966 World Cup victory, Gordon Banks must surely go down as England's greatest goalkeeper of all time.
Indeed, Banks did not even concede a goal in the 1966 tournament until the semi-final against Portugal, and even then he was only beaten by a late Eusebio penalty.
However, unlike many of his fellow World Cup winners, Banks' most memorable moment whilst wearing the Three Lions came four years later in Mexico at the 1970 World Cup.
When facing Brazil in a group match Banks made what many regard as the greatest save of all time by expertly diving low to his right and flicking a goal-bound header from Pele over the crossbar.
A stomach upset ruled Banks out of England's quarter-final with Germany which they consequently lost, with many later pointing to Banks' absence as the crucial factor, one which Alf Ramsey himself bemoaned.
No 3. Gary Lineker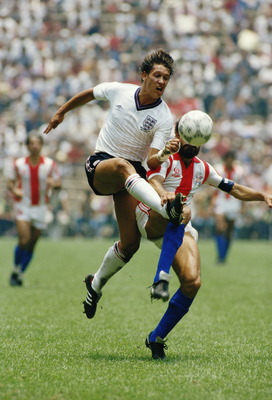 David Cannon/Getty Images
Caps/Goals: 80/48
England Career: 1984-1992
Lineker's England debut came in 1984 and after a super club season at Everton, he won the Golden Boot at the 1986 World Cup in Mexico with six goals in five games.
He remains the only England player to ever win the Golden Boot at a World Cup.
Lineker went goalless in England's dismal Euro '88 campaign but was back two years later at Italia '90, scoring four goals to help England reach the semi-finals. That included the equalising goal in that match against West Germany.
He finished his England career just one goal short of Bobby Charlton's all-time goal record, famously missing a penalty in a friendly against Brazil that would have earnt him a share of the title.
No 2. Bobby Moore
Caps/Goals: 108/2
England Career: 1962-1973
Winning his first England cap just a week before the start of the 1962 World Cup, Moore quickly established himself in the Three Lions side and played every match as they reached the quarter-finals.
The next year, at the age of just 22, Moore became the youngest man to ever captain England and by 1964 he was appointed captain on a full-time basis.
Two years on and Moore's place in English football folklore was guaranteed when he captained his side to World Cup success on home soil.
The 1970 World Cup was more of a bittersweet experience as Moore was accused of stealing a bracelet in Bogota, Colombia, and arrested just weeks before the tournament. The charges were eventually dropped and Moore was able to rejoin the squad as captain.
Moore's tackle on Jairzinho in England's group match with Brazil is one of the most iconic in England's history, as is the photo of him swapping shirts with Pele after the match.
Bobby Moore is England's third most-capped player of all time with an incredible 90 of his 109 caps coming as captain, a record he shares with Billy Wright.
No 1. Bobby Charlton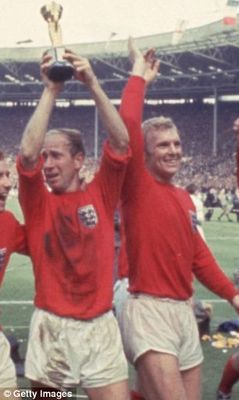 Caps/Goals: 106/49
England Career: 1958-1970
Despite scoring three goals in his first three England appearances, a 20-year old Charlton was only a non-playing member of England's 1958 World Cup squad.
By 1962 he was firmly established as part of the first XI and scored in a group stage win over Argentina before England were eliminated by Brazil in the quarter finals.
Charlton played an integral part in England's famous 1966 success, netting both goals in a 2-1 win over Portugal in the semi-final.
Manager Alf Ramsey demanded a different role of him in the final, but Charlton responded well as he and Franz Beckenbauer effectively marked each other out of the game.
Charlton was part of the team that finished third in the 1968 European Championships (which remains a best for England) and finished his England career at the 1970 World Cup.
His Three Lions tenure ultimately ended on a disappointing note, as he was substituted before West Germany completed a fine comeback to knock England out at the quarter final stage.
Charlton holds the all-time England goal-scoring record with 49, as well as standing fourth on the all-time appearance list.
Keep Reading

England (National Football): Like this team?