Timberwolves Vs Kings: Wolves Edition Live Blog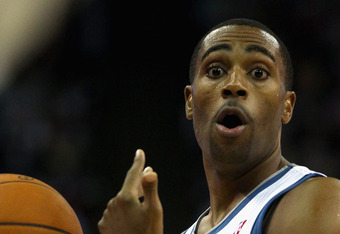 Clive Rose/Getty Images
Ok, I'm not understanding why this isn't working, so I'm going to wing it...
We are about to start the second quarter, Wolves Vs Kings Live Blog By Big Timber Wolf
Beasley is taking over the game
Wes looks like a starting caliber 2..
Wolves cannot hit a shot, can't stop turning ball over...
I see where Rubio can really fit in on this team, he could find dishes that Telfair, Jonny and Ridnour can't, he see's the floor better, and is much better defensively
Kevin Love hits the 3 point shot to cut it to 4....
This is where Jonny and Webster would seriously come in handy... Both can knock down shots
Wolves are falling apart right now... Too many turnovers, not hitting their shots
Halftime...
Love has 8 points, 10 rebounds in 14 minutes..
Beasley has 8 points, 1 assist
Luke has 12 points and 2 assists..
Game has really slowed down... Wolves need to run..
When the Wolves play with energy, they look hard to beat.
Wolves up by 1 right now...
Darko knocks down 2 free throws???
Beasley is being very aggressive attacking... This is why he's scoring
Wes Johnson looked like he could create his own shot right there...
Can we get Darko back into the game... This team just can't play good D without him
Beasley... Thank you put it on the floor, stop shooting jumpers!
Luke Ridnour is a true veteran... He really knows the game. Luke dribbles into lane, doesn't see anything, puts it off of Udrics foot to start new possession
These refs love the Kings... CAlling lots of fouls against the Wolves. Let the players play...
Telfair must've took Jonny's shooting form.. Hit a 3.
how many calls are the damn refs going to call against the Wolves!
Sacramento getting all of the calls.... Did anyone think Wes Johnson couldn't jump? think again
Wes Johnson just posterized him!!!! Wow...
For the Kings to be hitting all of these shots, they should be a little worried... Wolves can barely get anything to fall
I didn't know Luther head played for Sacramento... Tolliver hits a 3-point shot... Looked very natural
Brewer hit a nice shot off the dribble... Then get's caught slipping with a pump fake and foul behind the 3-point line...
Koufos hit a nice pull up jumper
This article is
What is the duplicate article?
Why is this article offensive?
Where is this article plagiarized from?
Why is this article poorly edited?

Minnesota Timberwolves: Like this team?