2010 World Series: Texas Rangers at San Francisco Giants Game One Live Blog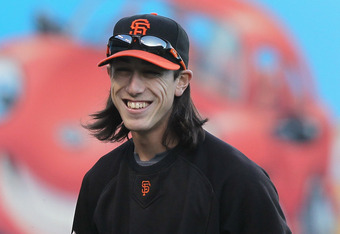 Lincecum all smiles before Game One!
Justin Sullivan/Getty Images
Finally the first game of the 2010 World Series is about to begin.
Amazing, but the Punch and Judy Giants lineup have won games this post season started by Tim Hudson, Roy Halladay, Cole Hamels, Roy Oswalt and now Cliff Lee.
BTW, I love Ozzie Guillen.
He is such a good manager.
Never really has had great teams in Chicago, yet won the 2005 World Series and have been a playoff team other years
Hell, Ramon Ramirez could have given you all that drama at the end.
Why all the changes?
Why not bring in Wilson to face Hamilton?
Wilson was likely going to face Guerrero anyway no matter what Hamilton did.
Dont worry Giant fans. Kinsler will get on base then be thrown out somewhere.
Unbelievable that with a 7 run led, the Giants need to go to their closer, Brian Wilson.
He is the 6th relief pitcher to pitch for the Giants tonight
Hamilton has a long swing and it is just trouble to keep pitching him outside where he can reach the ball. He cant touch inside heat.
Would be better off throwing a hard throwing righty at him
Giants score 11 runs off of Cliff Lee and company and they still need to use FIVE relievers.
Someone just sent word that 52 home runs have landed on Baltimore's Eutaw Street.
That is three less than the 55 which have landed in the Cove.
BTW, Oriole Park at Camden Yards is still a beautiful park to see a game.
Very fan friendly. You can bring your own water bottles in the stadium and Boog Powell's barbeque is pretty good.
Posey needs to back up that throw.
Ramon Ramirez was another good pickup by Sabean.
Know how much things change?
The two starters for the Rangers in their first two games were Scott Feldman and Rich Harden, tow guys who are not even on their post season roster. CJ Wilson started Game 3, Colby Lewis started Game 4 and Matt Harrison started Game 5.
Harrison isnt on the post season roster either.
And the Ranger slost Gme four of this season.
The winning pitcher against them was non other than the recently replaced Mark Lowe, who go tthe win when Rangers closer Frank Francisco gave up three runs in the 9th.
Boy, how things change over the course of a season.
Now we know why Mark Lowe was added to the Texas Rangers roster.
I keep seeing the Splash Hits sign in RF. It says 55 balls have splashed down in McCovey Cove.
I wonder how many balls have been hit onto Eutaw Street in Baltimore?
More or less than the 55 into the Cove.
I bet Baltimore.
Bet David Muphy plays right field tomorrow night against the RH Matt Cain.
If only these Rangers played fundamentally sound baseball.
No telling how good they can be.
Lopez walk rate went from 4.2 with Pittsburgh to 0.9 per 9 IP with the Giants. His hit rate and strikeout rate also has improved considerably with the Giants.
That is the key to being a reliever. Throw strikes.
Credit also goes to Dave Righetti, the Giants pitching coach.
Doesnt matter who Javier Lopez is facing.
He is flat out great right now.
Another super acquisition by Brian Sabean.
Funny thing is that Lopez was not that dominant with the Pirates.
Good job by the Giants pro scouts.
But where is the first base coaching yelling for him to stay at first?
The coach needs keep Kinsler at first base. Isnt that why they stand there all game?
Or is it to just hold the runners batting gloves when they get on first?
Down four runs in the 8th, a team needs base runners, not to be aggressive. Unless there are two outs and you are headed for home plate you dont have to advance extra bases when you are losing by more runs than there are innings left to play.
Top 8th - Wow, another base running mistake by Ian Kinsler.
Remember how he got picked off by Kerry Wood in Game 1 of the ALCS?
Speaking of prospects, I am headed to the Arizona Fall League to scout some of the top prospects in the minor leagues.
Stay tuned for prospect articles.
Huff with a good day with the bat, but the glove work is not going to make him a top prospect.
Bottom 7th - This guy for the Rangers throws hard with movement.
No wonder Ron Washington didn't bring him during Game One of the ALCS agasint the Yankees.
He probably wanted to save him for important games like this one, down six runs until he was used.
Casillo has no control issues and has a smooth 7th inning. Despite my insistence that Lincecum remain in the game, Casilla has done really important work.
The tough grunt work before the closer comes in.
Bad play by Huff trying to backhand a ball that he could have moved his feet and gotten in front of the ball. One reason why so many major league players do not get in front of balls is the fields are so perfect. Rarely do you see a bad hop. They can nonchalant balls all day long and usually come up with them due to the true hops
Good job by Bochy to not bring in Lopez to face Hamilton with no one on.
First pitch by Casilla to Josh was inon the hands and he did nothing but swing widely at some air.
Hamilton can be had by hard throwers inside and Joe Girardi got scared of him when he jerked a could a couple cheap HRs.
This article is
What is the duplicate article?
Why is this article offensive?
Where is this article plagiarized from?
Why is this article poorly edited?

San Francisco Giants: Like this team?