TUF Season 12: St-Pierre Vs. Koscheck Live Blogging the Madness, Pt. VII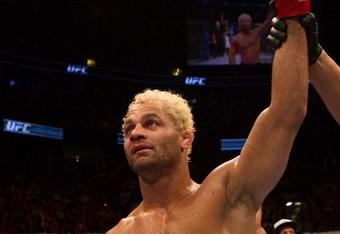 The Ultimate Fighter: Team St-Pierre Vs. Team Koscheck, otherwise known as TUF Season 12, is about to enter its stretch run.
The preliminary fights are almost done, which means almost all of the wheat has been separated from the chaff.
Josh Koscheck's team is sending, at most, two winners through to the quarterfinals while Georges St-Pierre already has five of his charges through and might get a sixth when Dane Sayers faces off against Sako Chivitchian tonight.
There's also the crowning of the two wild cards in store, so a lopsided affair in reality might turn into a narrow, five-contestants-to-three edge for GSP by the time the seventh episode is over.
Additionally, Koscheck might become THE most loathed athlete in America instead of just an heir to the throne.
Blondie is gnawing his way toward the "honor" with each installment, which means another charade must be on the horizon.
If you tuned into UFC 121 and watched Cain Velasquez' enormous victory over Brock Lesnar for the UFC heavyweight belt, you also heard the Anaheim crowd give the No. 1 welterweight contender a lustily hostile reception when he entered the Honda Center, formerly the Pond.
In other words, Josh's mere arrival was enough to provoke tangible hatred from a Southern California crowd in the lap of Disney movie.
That's impressive stuff, though not in a good way.
Check back at the top of the hour to see what new low Koscheck finds and to see how much more foolish the classy St-Pierre can make his eventual victim look.
We'll also get to see if you warn Stevens about a dangerous striker, whether he'll walk out and stick his chin on a tee.
At least we'll see England and the closed captioning in the quarterfinals.
Stevens proves it by coming out with not only a backwards cap tilted to the side, but also with a straight brim. Dude is a total gangsta...in his own mind.
Aaron Wilkinson and Marc Stevens.
And the wild cards are...
"I need the two best guys, that's what I need." To me, that's Wilkinson and either Sayers, Magakian, or Main based on the performances we've seen.
Koscheck just goes with his friend. How astute.
It's uncanny how GSP is showing Kos up at every opportunity—even his wild card picks and rationale were night and day compared to Josh's. Georges goes with one of his guys, but gives valid reasoning (his rate of improvement, intangibles, etc.).
And Dana's reaction was outstanding, a totally unenthusiastic, "'kay, what do you think?" aimed at St-Pierre.
What a load of dog manure.
Yeah, let's give the moron who essentially submitted himself...in 20 seconds...another crack at this. Sound good to everyone?
You'll have to excuse me while I pick my jaw off the floor where it landed after hearing that Koscheck thinks his best buddy, Marc Stevens, deserves another shot. Second only to Aaron Wilkinson, by the way.
Having GSP tell you he's gonna argue to get you another bout has to be a nice consolation prize for Red Horse. Sure he would've liked to win, but advancing is the bottom line.
Chivitchian wins whether everyone agrees or not and now Dane Sayers becomes an interesting wild card candidate. Was gonna go with "dark horse," but I figure I'm pushing my luck with the puns as is.
Whatever the outcome, I don't think that was the XXXL performance Koscheck anticipated.
Dana gives his customarily eloquent post-fight recap; nobody ever said Mr. White was for general public consumption.
Based on the time left and the fact that we still have the wild card announcement, I think Psycho's your winner. Ugly, but I don't see how you give the second round to Dane after the opening three minutes were basically spent trying to get out from under Sako.
Weak sauce, but a 10-9 round for Chivitchian.
The rest of the round is a mess of clinching struggles for position until Sayers puts Sako's back against the cage and almost has another takedown whereupon the Armenian grabs the fence AGAIN. This time, it prevents any semblance of a takedown and it just might cost Red Horse the round/bout.
Finally, he squirts out the side and springs back to his feet, but the damage may have been done as Red Horse might have been broken (I'll be here all week).
Sayers mounts a brief counter, then gets put on his back against the fence and spends a couple minutes eating punishment with Sako in half-guard.
Oops, Sayers comes in behind a short flurry of jabs and straights to open Round 2, only to clinch against better judgment. Chivitchian is only too happy to oblige and easily secures his first judo trip before tagging Red Horse with a right hook in the ensuing scramble.
This article is
What is the duplicate article?
Why is this article offensive?
Where is this article plagiarized from?
Why is this article poorly edited?