2010 World Series: Giants vs. Rangers Game 1 Live Blog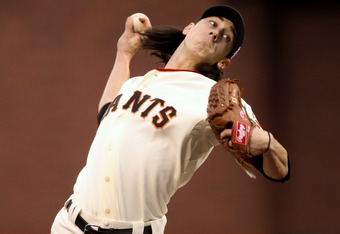 Ezra Shaw/Getty Images
It's finally that time.
The 2010 World Series is finally here.
Maybe your favorite team didn't make it to the big stage this year and maybe you know nothing about the Texas Rangers or the San Francisco Giants, but this is the place that you want to be during Game One of the 2010 world Series.
It will be Tim Lincecum for the Giants versus Cliff Lee for the Rangers on the mound, in a pitchers duel meant for the ages of a World Series that should keep you on the edge of your seat.
Behind the dominant effort of Tim Lincecum lots of timely hitting, The San Francisco Giants have won Game One of the 2010 World Series and moved one step closer to their first world championship since "The Catch."
See you here tomorrow for Game Two of this great series. Same time. Same place.
Two Runs Score on Nelson Cruz's two-run double.
He gives the claw to his teamates and makes this a four run game.
Wilson gives up the sac fly, but only one out away from winning Game One of the 2010 World Series.
11-5 Giants.
Hamilton draws the walk to load the bases.
Even though it's an 11-4 game, Brian Wilson will take the mound and try to end this thing.
Fear the Beard.
A walk by Ramon Ramirez puts men on first and second for Michael Young.
Josh Hamilton on deck.
Ishikawa forgot how to throw it to first. Instead, he throws it to the Rangers dugout.
Man on second with no outs in the ninth.
Nate Schierholtz makes this an 11-4 game with an RBI single.
Cody Ross is batting and no one in Texas is watching.
Bruce Bochy is the Bill Bellicheck of baseball...he keeps on running up the score.
Freddy Sanchez does it again.
That's an RBI double, his fourth double tonight.
It's 10-4 Giants.
It's 9-4 San Francisco, with an RBI double by Ishikawa.
It's about time to say goodnight to the Texas Rangers.
Edgar Renterria gets to third base on a single, thanks to Vladimir Guerrero's fielding skills. No outs in the bottom of the eight.
Pinch-hitter Travis Ishikawa at bat.
Giants looking for a more comfortable lead, but with Brian Wilson for your closer, it doesn't really get more comfy than this.
Jorge Cantu grounds out to end the Rangers' eight inning.
They acquired him from the Florida Marlins...I would've gone with Cody Ross, but maybe that's just me.
Kinsler rounds the bag for some reason and is tagged out and Romo strikes out Molina.
Two outs in the eighth and Javier Lopez on to replace Sergio Romo for the Giants.
Ezra Shaw/Getty Images
Time to Fear the Beard. Sergio Romo on the mound for the Giants and Brian Wilson warming up.
Three out after a failed hit and run and a strike out by Bengie Moline.
Texas has two more chances to pull it off.
8-4 Giants. On to the eighth.
Rangers running out of time to make their historic comeback.
The six-run fifth by the Giants may be too much, even for the Mighty Morphin Power Rangers.
Rangers come nowhere near a rally.
It's still 8-4.
Michael Young fails to contribute. ALCS MVP up to bat with one out.
Three up, three down.
Rangers coming back to the plate.
Josh Hamilton due up second in the top of the seventh.
Rally time?
Can Freddy Sanchez hit 4 doubles?
Close, but no cigar.
Casilla strikes out Elvis to end the top of the sixth and kill the Rangers' rally.
8-4 Giants.
A four run lead is not that big against baseball's best offensive team. This could get interesting.
Santiago Casilla takes the mound for San Fran.
Elvis Andrus up for Texas with two outs in the sixth
Journeyman David Murphy makes it a little more interesting with an RBI single.
8-4 Giants and Texas rallying with two outs in the sixth.
Lincecum exits.
Lincecum gets hit on the left leg again on an infield base hit.
That's going to bruise.
This article is
What is the duplicate article?
Why is this article offensive?
Where is this article plagiarized from?
Why is this article poorly edited?

San Francisco Giants: Like this team?