Pittsburgh Penguins Fans Vs. Philadelphia Flyers Fans: How Different Are They?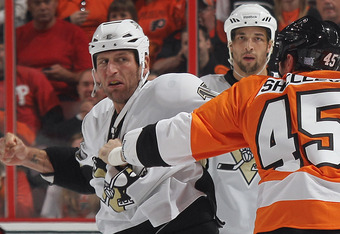 Bruce Bennett/Getty Images
The Pittsburgh Penguins and the Philadelphia Flyers will play each other for the third time in the young NHL season this Friday October 29 at the CONSOL Energy Center in Pittsburgh. The two teams are 1-1 against each other and only two points separate them in the standings going into action tonight.
It's no secret that the two teams don't like each other very much and the fans don't like each other at all. What's the reason for all the hatred? Is it because the Pens fans feel the Flyers fans are classless and obnoxious? Is it because the Flyers fans think the Pens are a bunch of "divers" and "cry-babies" who complain when they don't get their way? Is it because the Flyers try to bully and intimidate everyone they play against and then can't believe when the officials have the audacity to put them in the penalty box? Is it because the Penguins have Sidney Crosby on their team?
No matter what the reason for all of the hatred towards each other, there is one thing fans from both sides of the state of Pennsylvania need to realize: you are practically the same.
That's right Pens and Flyers fans, as much as you may despise and yell obscenities at each other you both have a passion for the same things and are no different at all.
Think about it. I hear Pens fans complain about how much they hate the Flyers because they are a dirty team with no skill. Nothing can be further from the truth. They may not have Crosby and Malkin, but their group of forwards have just as much skill and depth as any group in the League, if not more. What team wouldn't love to have Jeff Carter, Mike Richards, Danny Briere, and Claude Giroux. Also, most of the same Penguins fans that complain about the "dirty" nature of the Flyers fans are also Pittsburgh Steelers fans who absolutely love it when James Harrison , Ryan Clark, or Hines Ward give out concussions. The same Pens fans that think Mike Richards is dirty because of hits like the one he put on David Booth still cheer Matt Cooke after he knocked out Marc Savard. It's amazing how the definition of "dirty" changes to "aggressive" when it's your team making the hits.
I also hear how Flyers fans hate the Penguins because they are a soft team that relies on NHL Commissioner Gary Bettman and the officials to win. Enough with the conspiracy theories. You may hate Crosby because he is the face of the League, but if he were a Flyer you would love him. He works harder in the corners than anyone in the NHL, he skates hard, he hits, and he stands up for himself. Watch him play a game not against the Flyers and try to put your anti-Crosby feelings aside and you will see he is an extremely hard working player with a ton of skill. He draws a lot of penalties because he keeps his feet moving. He doesn't take a shift off. Does he get the benefit of the doubt sometimes? Of course he does. But how is that different than Kobe, LeBron, or D-Wade getting calls just because they are Kobe, LeBron, or D-Wade. Flyers fans would love those calls if he were wearing the Orange and Black.
There is no doubt the two teams and their fan bases have an extremely strong dislike for each other. But if you look in the mirror you will see that you are really not all that different.
This article is
What is the duplicate article?
Why is this article offensive?
Where is this article plagiarized from?
Why is this article poorly edited?

Pittsburgh Penguins: Like this team?