The 20 Hottest Sideline Reporters Not Named Erin Andrews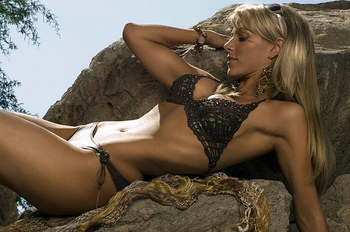 How do you make a list of the hottest female sideline reporters in sports and not include Erin Andrews anywhere in the mix?
Simple! Eliminate her all together.
I have put together a list of the hottest female sideline reporters without including Erin Andrews in the equation. Please do not get me wrong, I am not tired of looking at her but I think it is time for some fresh faces on top the rankings of female sideline hotties.
I am not going to lie and say that these are all new hotties because, let's face it, some of these babes stay hot long enough to continue making the rankings. I can no control which hottie will stay that way the longest, I just have to make sure I present them to you for your entertainment.
That being said, please enjoy the show!
20. Hannah Storm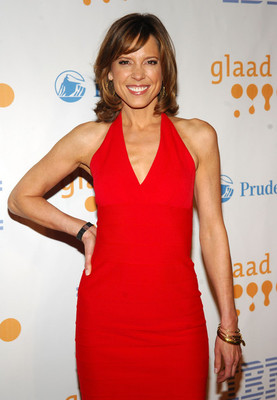 Hannah Storm is the MILF that we all tune into ESPN to watch.
I am 100% certain it is not because of her journalism background either.
19. Jill Arrington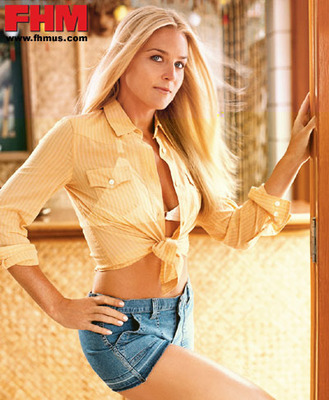 Before there was Erin Andrews, there was Jill Arrington. Jill was working the sidelines when EA was back at FSN.
She was the reason female sideline reporters have gone up in hottness. She started the revolution. Thank you Jill, we are all so grateful.
18. Hazel Mae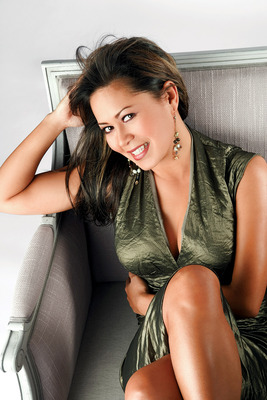 Hazel Mae is learning how to run with the pack of hot female sideline reporters.
Her stock has risen tremendously since she signed on with the MLB Network a few years ago in 2008. I mention that in case you wondered where she was from.
17. Melissa Stark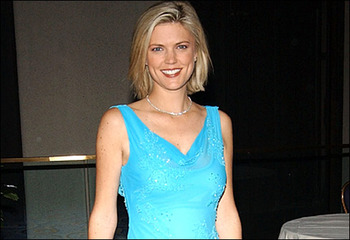 Where in the world is Carmen Sandiego?
That is what I think about when looking at Melissa Stark. One season she was prancing the sidelines on Monday Night Football and the next, gone. She was M.I.A. in one offseason.
Someone needs to find her and get her back on the football field, and they need to do it soon.
16. Bonnie Bernstein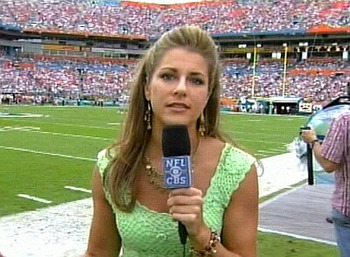 Bonnie Bernstein is hot. She is one of the most underrated sideline hotties in sports. She was around for quite some time and now we only get to see her every now and again on Youtube.
If only we could get her and Melissa Stark to co-host a sports talk show, that would be awesome.
15. Jillian Barberie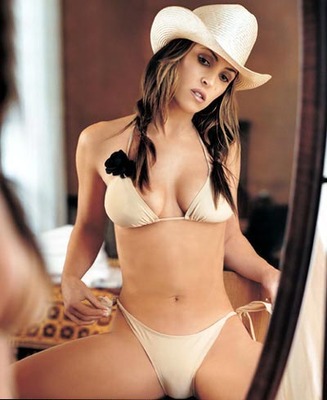 I have said this once and I will say it another ten thousand times, no one cares about the gameday weather. Most of the people who need to see that information, are already at the game and are not sitting near a television. It is like the traffic reports on the news. Who is watching the news if they are stuck in traffic?
Anyways, my point is that Jillian Barberie was the reason I watched Fox on Sundays before the game. Thanks JB.
14. Sara Carbonero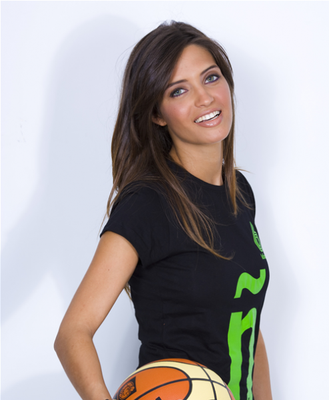 Since when is it wrong to date the same players you cover on the sidelines?
13. Jenn Sterger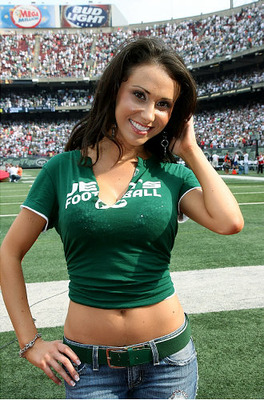 12. Jamie Little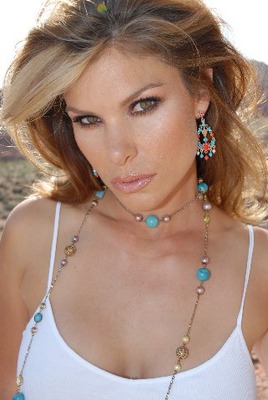 Jamie, Jamie, Jamie!
There is a picture of her wearing almost nothing but for some crazy reason, I decided this was a better choice. I don't understand my thoughts some time either.
11. Melanie Collins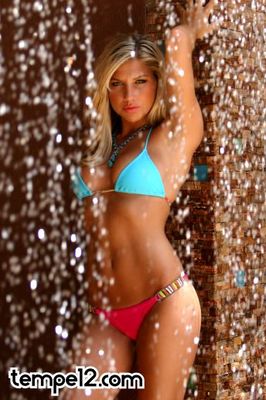 Some of these women should probably quite their day jobs and Melanie Collins is one of those hotties.
She is a model that poses as a sideline reporter in my eyes. I think it is time to have bikini's on the sidelines during the NFL games. It can only help ratings commish!
10. Heidi Watney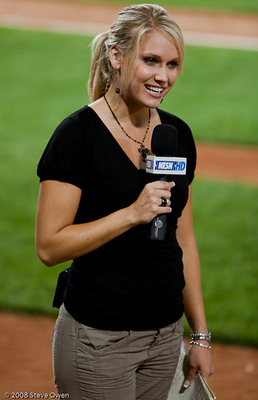 Why is that we have so many hot female reporters dating male athletes?
I don't see too many male sideline reporters dating the female athletes. Do you see Craig Sager going to dinner with Natalie Gulbis?
9. Erin Bates
I think I came across Erin Bates when I was doing one of my first articles. I still can not believe that most people have no idea who she is.
She is so smoking hot, she should be on ESPN every Saturday during college football season instead of some of the other annoying people we have to listen to like, um, Kirk Herbstreit.
8. Adriana Monsalve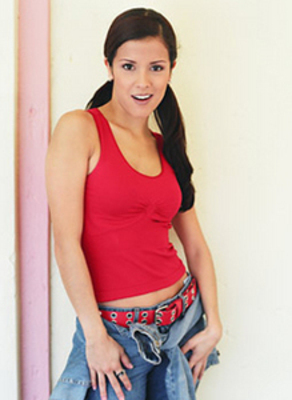 With a name like Adriana Monsalve, she has to be in sports. That is too good of a name not to be a part of the world of sports.
"And now with your sideline update, here is Adriana Monsalve."
Does anyone else want to be the camera man that gets to work with Monsalve?
7. Carrie Milbank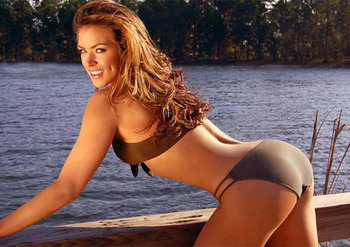 In the ass competition starring Ines Sainz, Jenn Brown, and Carrie Milbank, Carrie comes in a close third behind Jenn Brown.
It is too bad that...
Wait, what was I talking about? I got a little distracted.
6. Ines Sainz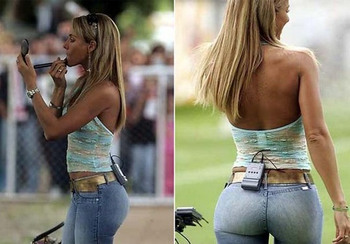 Screw all the headlines, this chick was hot before the Jets harassed her.
Also, is it just me or does she have one of the most incredible behinds in the history of the female figure?
5. Michelle Beadle
I just hope the Beadle Backers are proud of this ranking.
Once she does a spread for Maxim and we get to see the entire Beadle, then she gets to move up to the top spot.
4. Michelle Beisner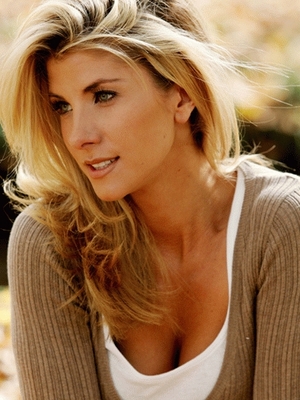 Michelle Beisner?
According to IMDB, she was a party girl in the movie Any Given Sunday. How can you not want that to be more true?
3. Leeann Tweeden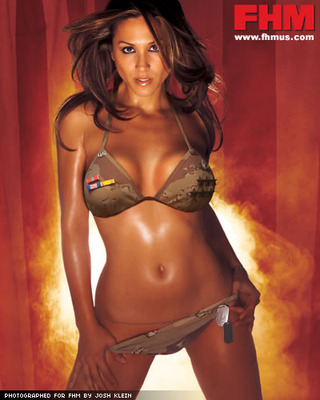 Leeann Tweeden deserves her own television show where all she does is walk around in a bikini for a half hour.
She would not even have to talk, just walk around for a little while. I bet all the money in my wallet, not too much, that 10 million men will tune in every week to watch that show.
2. Jenn Brown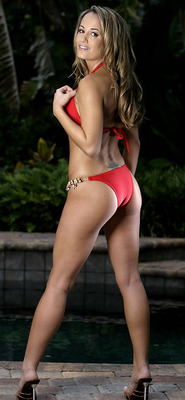 If you were to remove Ines Sainz from any discussion about sideline reporters with a phenomenal booty, then you are allowed to rank Jenn Brown as the hottest booty in this bunch.
Does anyone else notice that tramp stamp? Holla!
1. Rebecca Grant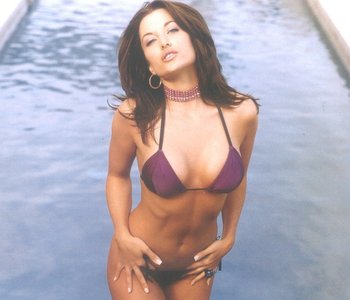 I had to do some research to find this babe but Rebecca Grant did some work for Fox Sports on Sunday mornings in the past.
I am not too sure if she is still doing work for Fox and frankly, I don't care where she works anymore. I just want to look at her for a little while.
Keep Reading