English Premier League: Match Day 10 Fixtures to Watch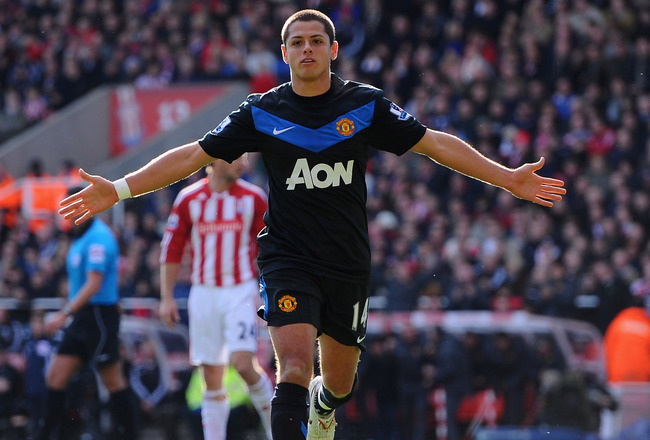 Javier Hernández is in great form for United
Mike Hewitt/Getty Images
As the Premier League tables begin to take better shape and the form of teams align themselves accordingly, the schedule sets up for intriguing and headline-material fixtures in the coming weeks.
Last weekend, Manchester City went a man down in the fifth minute, eventually dropping to Arsenal 3-0. Liverpool won for the first time since late August, Chelsea rolled on and Manchester United's defense surrendered yet another lead before Javier Hernández closed the deal to secure three points.
Everton is on the rise, Stoke is leveling off and a couple of promoted clubs meet at Bloomfield Road.
Match day 10 figures to provide equally exciting matchups in England's top-flight league. Here are the five fixtures to monitor this weekend.
Blackpool v. West Brom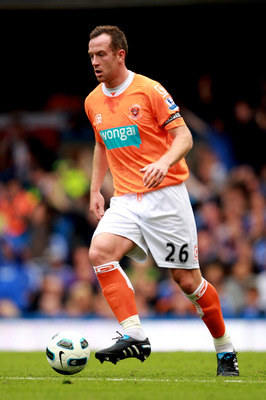 Charlie Adam is constantly involved in goal-scoring chances
Warren Little/Getty Images
Call this one the battle of the promoted.
Blackpool has leveled off in October after a promising start in the first two months of the season. But the Tangerines still sit 14th in the tables and have taken many clubs and fans by surprise with good quality football.
West Brom have not lost since dropping in a 1-0 effort to Liverpool in late August. The Baggies are loaded with six games on the schedule in November.
Completing a very successful and well-earned October could pay dividends leading into the last two months in 2010.
Keep an eye on Marlon Harewood and Charlie Adam for Blackpool. Both are producing in the final third with regularity.
Newcastle v. Sunderland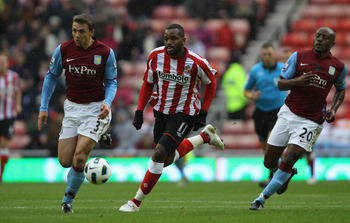 Darren Bent looks to be revitalizing his career with Sunderland
Clive Brunskill/Getty Images
Newcastle and Sunderland have flown reasonably under the radar, yet possess modest records and sit ninth and seventh, respectively.
Sunderland is among the league's worst-scoring teams—having netted just a single goal in the last three fixtures.
The Magpies, on the other hand, have been one of the more efficient scoring teams in mid-table, but with a goal difference of just +1 (14 goals for, 13 goals against). They are less than spectacular on the defensive side of the football.
Darren Bent has not found the sheet for Sunderland since scoring two goals against Liverpool, but he has failed to find the net in three games.
Despite Andy Carroll's off-the-field issues of late, his performance contrary to Bent's form may be crucial this fixture.
Bolton v. Liverpool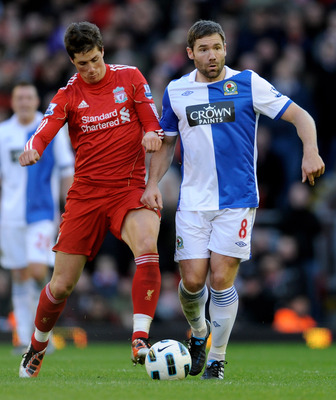 When will Fernando Torres find his form
Michael Regan/Getty Images
Despite Liverpool's 2-1 win over Blackburn, the Reds still sit 18th and in the relegation zone—far away from their standards in the top of the table.
There will be prolonged and continual pressure for Roy Hodgson's men to perform, especially when their form is so poor.
Bolton have not lost since losing 4-1 to Arsenal early in September. The Trotters have won just twice in 2010, but six draws have them in eighth place behind Sunderland.
Was Liverpool's latest win simply an aberration of a turning tide? Or will Bolton's steadfast form, both at home and on the road, prove to be additional trouble in Liverpool's latest woes?
Johan Elmander has shown his scoring form for Bolton so far this season, netting five goals in nine games. Fernando Torres seems to be forever searching for form, and has been sliding into more of a providing role than a goal-scoring one.
Everton v. Stoke City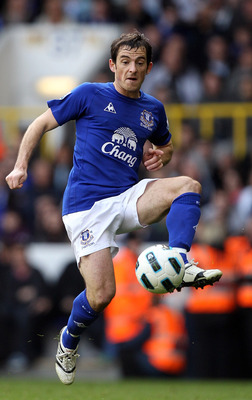 Leighton Baines is proving to be a foundation on all sides of the ball for Everton
Richard Heathcote/Getty Images
This fixture pits two teams headed into very different directions after some very different starts to the season.
Stoke City's great start appears to be over after back-to-back 2-1 losses to Bolton and Manchester United. Newcomer Kenwyne Jones is finding his form early on in all competitions, and figures to continue to hassle opponents' back line.
While the Potters may not have the talent to go all the way around, they have been able to piece together some good football here and there.
Everton began the season with just two points in the first five fixtures, but have rebounded well since then and have not lost in over a month. A couple of 2-0 wins over Birmingham and Liverpool, followed by a 1-1 draw with Spurs, have propelled them into 11th in the tables.
With improving form, the Toffees appear to be returning to respectable standards.
Leighton Baines scored on a fantastic set piece against Tottenham. Mikel Arteta is another of Everton's set play magicians, so any whistles in front of the box must worry Stoke's keeper Thomas Sorensen.
Manchester United v. Tottenham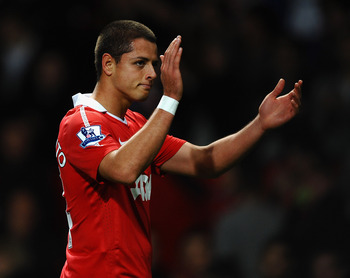 Javier Hernández scoring form could land him a starting spot
Laurence Griffiths/Getty Images
In the top fixture of the weekend, Tottenham visits Old Trafford in what could result in a swap in position in the tables.
Throughout all of the draws and shaky defensive performances by United, their form is gradually increasing, especially in the goal-scoring realm. Javier Hernández is constantly finding the net, and has merited consideration for a first-11 selection against Spurs.
Tottenham are coming off a 1-1 draw versus Everton, and looked deadly as ever in the final third, even though they are still without Jermain Defoe. Rafael van der Vaart is proving to be one of the top signings of the summer, and his contributions are invaluable.
It is a matchup of top teams and potential qualifiers for the knockout rounds in the UEFA Champions League. United have drawn three of the last four games, but Tottenham have not lost in October.
Key on Van Der Vaart for Spurs, who is consistently getting his name on the score sheet, and Nani for United, who always seems to be involved in scoring threats.
Keep Reading