Allen Iverson Heads to Turkey: 10 NBA Teams That Could Use Him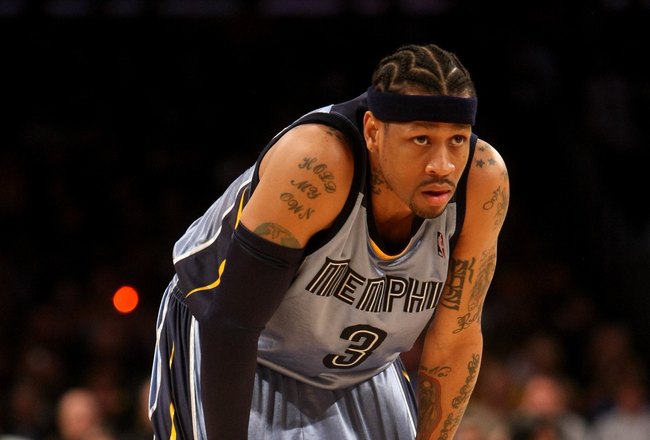 Stephen Dunn/Getty Images
NBA veteran—and former superstar—Allen Iverson recently signed a two-year contract with Besiktas, a team that plays in the Turkish professional league.
Though Iverson is a notorious malcontent, and his skills have certainly diminished over the years, it seems many NBA teams could use a player like him to come off the bench. At the very least, he'd provide scoring and an instant surge of buzz and energy to any franchise.
Given the mysterious circumstances surrounding his departure to Turkey, it looks unlikely that Iverson will play in the NBA in the near future. However, if he produces on the floor and maintains a positive outlook, there will be many teams interested in Iverson's services in coming months and years.
Here are 10 NBA teams that could be helped by acquiring Allen Iverson.
New York Knicks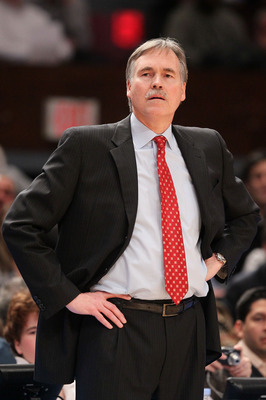 Chris McGrath/Getty Images
If the first half of the season goes as planned for the New York Knicks, Iverson would be a sensible addition as head coach Mike D'Antoni and company challenge for a playoff berth in the Eastern Conference.
Iverson would be a fantastic fit playing at D'Antoni's frenetic pace, and would thrive in the role of a scorer off the bench. Ideally, he'd play a role similar to that Leandro Barbosa did in his year with D'Antoni and the Phoenix Suns. Additionally, Iverson and the Madison Square Garden crowd would bring the best out of each other, as he is a fan favorite and loves playing in the bright lights of NYC.
Los Angeles Clippers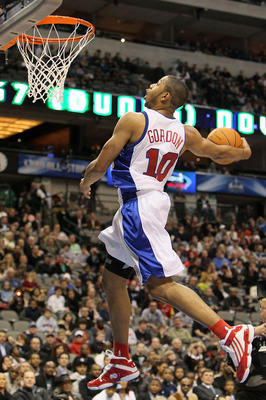 Jed Jacobsohn/Getty Images
The Los Angeles Clippers would be another logical team for the former scoring champion if they are making a playoff push.
With youngsters Blake Griffin and Eric Gordon, along with veterans Baron Davis and Chris Kaman, the Clippers could use a proven scorer and competitor like Iverson to come off the bench down the final stretch of the season. While LA has young players on the bench who need playing time, they won't be able to make an impact like Iverson's.
San Antonio Spurs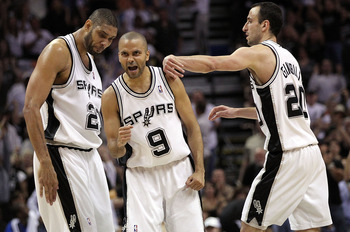 Ronald Martinez/Getty Images
The San Antonia Spurs and the big three of Tim Duncan, Tony Parker and Manu Ginobili are slowly in decline.
While they are contenders this season, the Spurs would be helped by adding Iverson to their stable of talented veterans. Parker and Ginobili are frequently injured, and Iverson would be a good insurance policy at either spot in the backcourt. Additionally, guard George Hill and Iverson could form an effective if undersized duo, much like he and Parker do.
Utah Jazz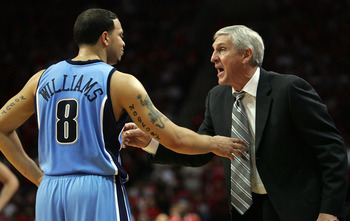 Ronald Martinez/Getty Images
There aren't many more destinations for Iverson more unlikely than the Utah Jazz, but that doesn't mean he wouldn't help them.
The Jazz have a potent starting five, headlined by PG Deron Williams and PF/C Al Jefferson. Fs Andrei Kirilenko and Paul Millsap are underrated players who offer value on either side of the court. What Utah lacks, though, is a scorer off the bench. Iverson would fit perfectly in that role, though no-nonsense coach Jerry Sloan would never allow him to suit up for the Jazz.
Miami Heat
Kevin C. Cox/Getty Images
The Miami Heat pulled off the most impressive free agent haul in league history in the offseason, though could still be helped by acquiring Iverson.
The Heat's big three of LeBron James, Dwyane Wade and Chris Bosh are unrivaled in the NBA this season, and perhaps in league history. Wade, though, is notoriously injury-prone, and SG Mike Miller has already been sidelined until January by thumb surgery. In the case of those two or James being out of the lineup due to injury, Iverson could help fill the scoring void.
Milwaukee Bucks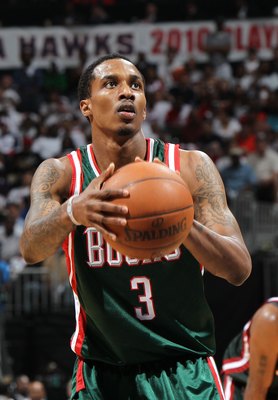 Mike Zarrilli/Getty Images
The Milwaukee Bucks were one of the most pleasant surprises of last season, and look poised to emerge as one of the NBA's best young teams.
PG Brandon Jennings is built in the mold of Iverson—a diminutive, super-quick PG who looks to score. With that in mind, it makes sense to bring in Iverson as a mentor to the second-year pro if he is at all receptive to the idea. Coach Scott Skiles—like Sloan—would never warm to this idea, though, as he stresses hard work and a team-first mentality.
Toronto Raptors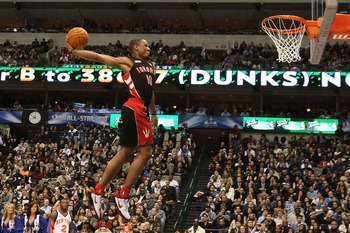 Jed Jacobsohn/Getty Images
Aside from developing second-year swingman DeMar DeRozan (pictured), the Toronto Raptors are perhaps the league's least exciting team.
In a year in which they have no chance of making the playoffs, adding Iverson to the Toronto roster doesn't make much sense from a basketball standpoint, as they should be developing young talent. From a ticket-sales vantage point, though, his addition makes sense. Iverson would bring much-needed buzz to the Raptors, and perhaps put a few extra fans in the seats.
Charlotte Bobcats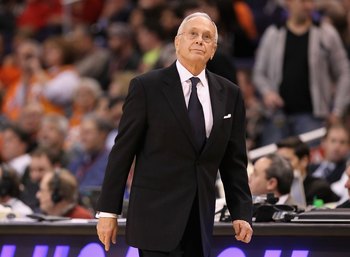 Christian Petersen/Getty Images
Charlotte Bobcats coach Larry Brown has been Iverson's staunchest supporter, openly questioning why his former star was forced to sign with a team in Turkey.
Why Brown refuses to acquire Iverson, though, is anyone's guess. The Bobcats are one of the least explosive offensive teams in the NBA, and could use his scoring punch off the bench. Additionally, Brown has brought out the best of Iverson in the past, and the former 76ers star would be motivated playing for his former coach.
Cleveland Cavaliers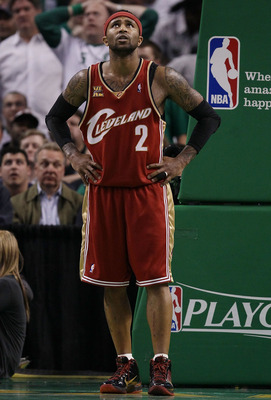 Elsa/Getty Images
In the first season of the post-LeBron era, the Cleveland Cavaliers don't have a realistic chance at the playoffs and lack developing young players in the backcourt.
For that reason, there's no reason why owner Dan Gilbert shouldn't acquire Iverson. He and guard Mo Williams would be very good offensively, and Iverson would bring a little excitement back to an organization that needs all it can get.
New Jersey Nets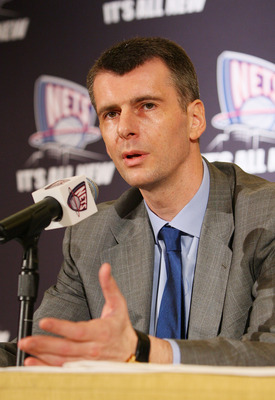 Mike Stobe/Getty Images
The New Jersey Nets appear to have one of the brightest futures in the NBA behind new owner Mikhail Prokhorov, an enthusiastic Russian billionaire.
While the Nets are unlikely to challenge for the playoffs this season, on the outside chance they get off to a good start, adding Iverson to the mix makes a lot of sense. From a basketball perspective, he doesn't bring much to the table. But Prokhorov is notorious for wanting to increase the Nets brand, and acquiring Iverson as his team tries for the playoffs would certainly help in that regard.
Keep Reading