2011 NFL Mock Draft: Which QBs Are First-Round Picks?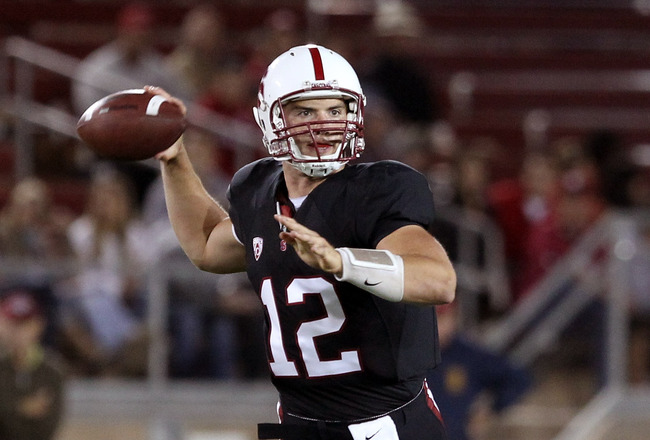 Ezra Shaw/Getty Images
Though we're not even midway through the 2010 NFL season, it is never too early to talk about the NFL draft.
To many teams and fans, by this point in the season the future seems more important than the present, as postseason hopes for struggling squads worsen by the week. Thinking about the draft serves as a way to recognize that there are perhaps brighter times on the horizon.
The 2011 draft class is rife with potential franchise QBs, shutdown corners and explosive pass rushers. Fortunately, such are arguably the three most important positions in the NFL.
Following is a first round mock of the 2011 NFL draft.
Note: Draft order is based on NFL records after Week 7.
No. 32 Pittsburgh Steelers: OT Gabe Carimi, Wisconsin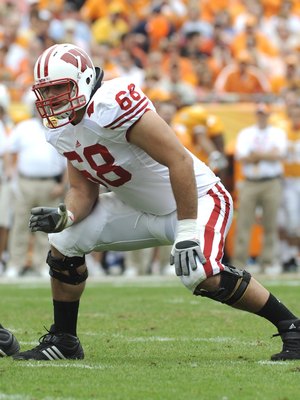 Al Messerschmidt/Getty Images
Pittsburgh's starting tackles are Max Starks and Flozell Adams. The latter may be out of the league by 2011, while the former is best suited as a swing tackle.
Enter Carimi, the best offensive lineman in the Big 10.
No. 31 New York Jets: OLB Jeremy Beal, Oklahoma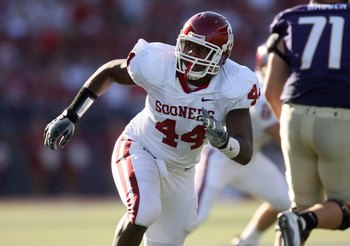 Otto Greule Jr/Getty Images
Calvin Pace and Jason Taylor aren't getting any younger, while Bryan Thomas is more of a journeyman than surefire starter.
Beal is one of the country's most feared pass rushers, and should thrive under Rex Ryan.
No. 30 New England Patriots: Travis Lewis, Oklahoma LB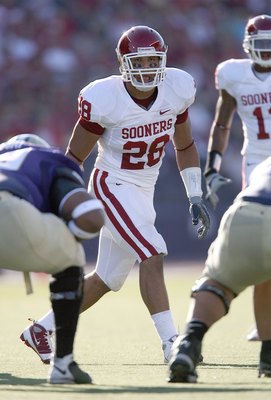 Otto Greule Jr/Getty Images
Jermaine Cunningham is the future at one OLB spot, but Rob Ninkovich is best suited as a backup.
Lewis is a fast, versatile player that can play multiple spots. He'd fit in nicely with the young linebacking corps of Cunningham, Jerod Mayo and Brandon Spikes.
No. 29 Baltimore Ravens: TE Kyle Rudolph, Notre Dame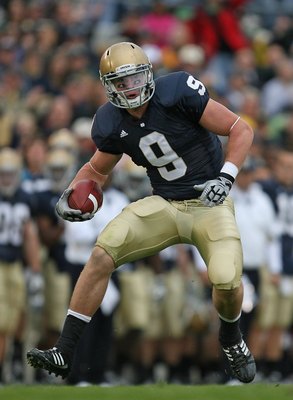 Jonathan Daniel/Getty Images
The Ravens have mad strides in the passing game with the development of Joe Flacco and the acquisition of Anquan Boldin.
TE Todd Heap is aging, and Rudolph is an ideal fit as Baltimore's TE of the future.
No. 28 New York Giants: LB Greg Jones, Michigan State
Al Messerschmidt/Getty Images
MLB Jonathan Goff is a promising player, but the Giants lack depth at all three positions on the defense's second line.
Jones is one of the most consistent and productive players in the draft, and could make an immediate impact in New York.
No. 27 Atlanta Falcons: CB Brandon Harris, Miami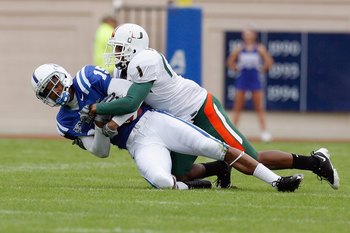 Kevin C. Cox/Getty Images
Chris Owens and Brent Grimes are probably not longterm starters in Atlanta, and certainly partially responsible for the Falcons' poor pass defense.
Harris is undersized, but has great ball skills and impressive play recognition. He'd be an immediate upgrade for Atlanta.
No. 26 Tennessee Titans: S Mark Barron, Alabama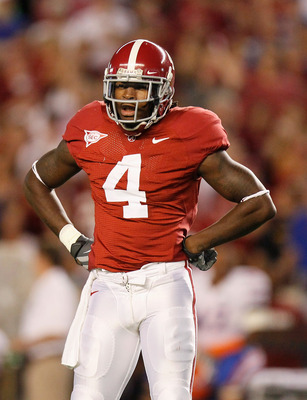 Kevin C. Cox/Getty Images
Tennessee's pass defense is ranked 23rd in the NFL, and the lack of coverage skills by SS Chris Hope is a big reason why.
Barron is a good pass defender and a physical force in the run game.
No 25 Indianapolis Colts: DT Stephen Paea, Oregon State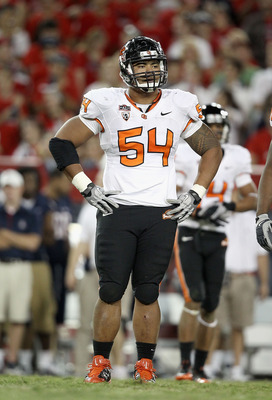 Christian Petersen/Getty Images
The Colts rank 26th in the league against the run, and the DT spot could be upgraded, as neither Antonio Johnson nor Daniel Muir are impact players.
Paea is perhaps the strongest player in the draft, and would pose a physical presence in the middle of the Indianapolis defense.
No. 24 Houston Texans: CB Janoris Jenkins, Florida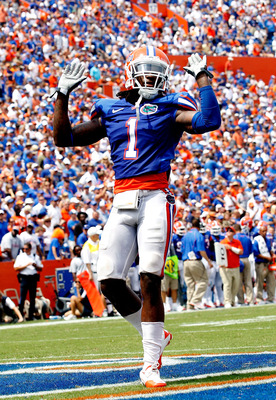 Sam Greenwood/Getty Images
The Texans have one of the worst pass defenses in the NFL, routinely getting torched week in and week out.
Despite drafting a CB in last year's first round, Jenkins is one of the best cover players in the draft and would immediately upgrade Houston's secondary.
No. 23 Kansas City Chiefs: OLB Von Miller, Texas A&M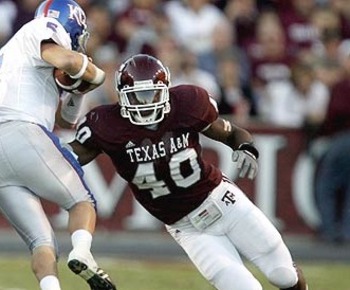 The Chiefs are one of the NFL's brightest young squads, but possess an anemic pass rush.
Miller is a devastating force disrupting the passer, and would be an ideal fit opposite KC OLB Tamba Hali.
No. 22 Seattle Seahawks: CB Ras-I Dowling, Virginia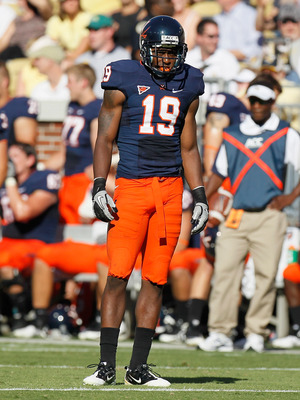 Kevin C. Cox/Getty Images
Seattle ranks 29th in the NFL against the pass, as CBs Kelly Jennings and Marcus Trufant have struggled thus far in 2010.
Dowling is a player with great size and a high ceiling, and could emerge as one of the best CBs in this draft in the coming years
No. 21 Tampa Bay Buccaneers: OT Nate Solder, Colorado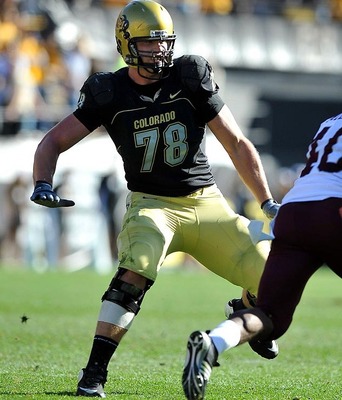 The Bucs are one of the NFL's biggest surprises in 2010, due in part to solid play from second-year QB Josh Freeman.
Freeman is Tampa Bay's meal ticket going forward, and will need him to be as healthy as possible. With that in mind, Solder is a perfect candidate to protect his blindside, as he possesses elite size and athleticism.
No. 20 New Orleans Saints: DL Cameron Heyward, Ohio State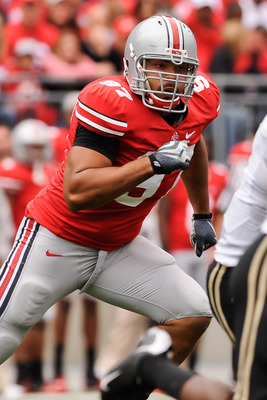 Jamie Sabau/Getty Images
The Saints could use quality depth on the defensive line, as Alex Brown is on the tail end of his career and Remi Ayodele is best suited as a rotational player.
Heyward is one of the most versatile defenders in the draft, possessing the feet of a DE and the size of a DT. He'd thrive in New Orleans.
No. 19 Green Bay Packers: DL Allen Bailey, Miami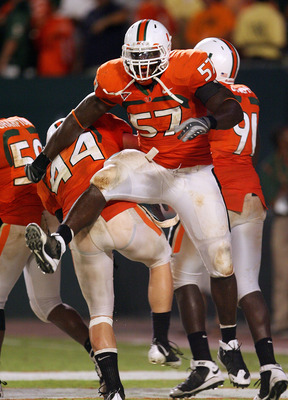 Doug Benc/Getty Images
The Packers have some of the NFL's most talented defensive players, but lack youthful depth on the defensive line.
Like Heyward, Bailey is capable of playing multiple positions due to his combination of size and athleticism. He'll shoot up draftboards after the combine, where he is sure to put up eye-popping numbers.
No. 18 Washington Redskins: S Rahim Moore, UCLA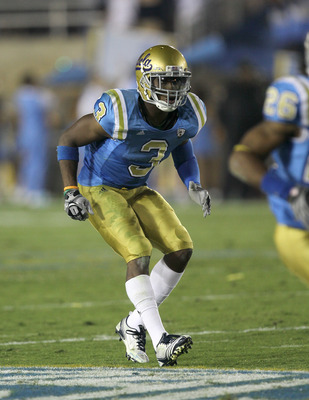 Stephen Dunn/Getty Images
LaRon Landry is a force in the run game and is developing into a reliable player defending the pass. Still, he's best suited flying toward the line of scrimmage.
As a result, Washington could use a ballhawking free safety, and Moore fits the bill, having led the NCAA in interceptions last season.
No. 17 Chicago Bears: OT Derek Sherrod, Mississippi State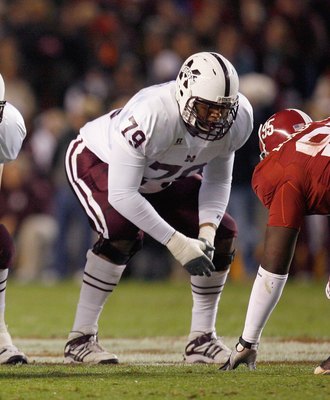 Kevin C. Cox/Getty Images
Chicago's pass protection has been nothing short of abysmal this season, and QB Jay Cutler has already missed significant time as a result.
Sherrod is one of the draft's fastest rising players, and would prove a reliable protector to Cutler's blindside for years to come.
No. 16 Philadelphia Eagles: S DeAndre McDaniel, Clemson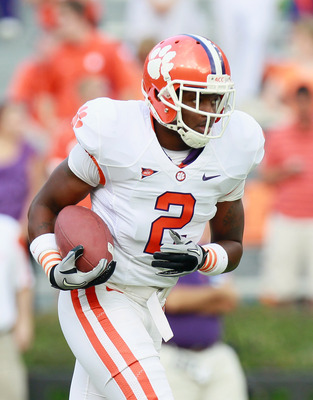 Kevin C. Cox/Getty Images
FS Nate Allen is a star in the making, but he could use some youthful help manning Philadelphia's center field.
DeAndre McDaniel is equally adept playing both the run and pass, and has the talent to emerge as one of the league's best all-around safeties.
No. 15 Miami Dolphins: DE Adrian Clayborn, Iowa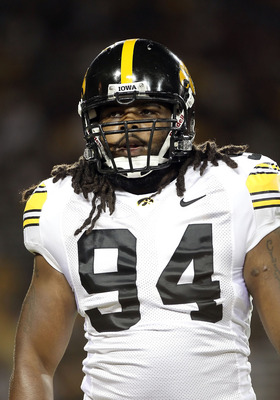 Christian Petersen/Getty Images
Miami drafted Jared Odrick to play DE in their 3-4 scheme last year, but will miss all of the season with a leg injury.
Clayborn is an explosive player, and would provide the Dolphins with another disruptor on the defensive line.
No. 14 Arizona Cardinals: NT Jerrell Powe, Ole Miss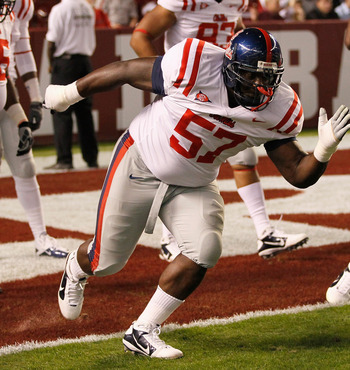 Kevin C. Cox/Getty Images
Arizona's been dismal defending the run this season, ranking 29th in the league.
Powe is the draft's only elite NT, and would make an immediate impact for the Cardinals.
No. 13 St. Louis Rams: WR Ryan Broyles, Oklahoma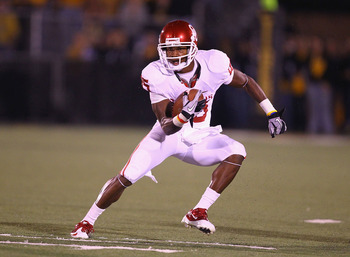 Dilip Vishwanat/Getty Images
QB Sam Bradford is a future star, though he has a clear lack of weapons to throw to.
Broyles is the draft's premier small receiver, and made a terrific pairing with Bradford at Oklahoma. There's no reason to believe they wouldn't form a similar tandem in the NFL.
No. 12 Jacksonville Jaguars: CB Prince Amukamara, Nebraska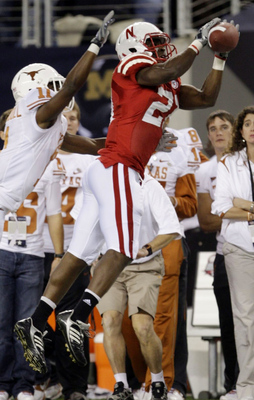 Jamie Squire/Getty Images
The Jaguars have struggled against the pass this season, as they rank 25th in the league in that department.
Amukamara has the chance to be a true shutdown CB, and was the top rated player at his position coming into this season. He is a steal this late in draft.
No. 11 Oakland Raiders: WR Julio Jones, Alabama
Kevin C. Cox/Getty Images
While QB is an obvious problem spot in Oakland, all worthy of drafting are off the board. Therefore, the Raiders current stable of signal-callers would be helped greatly by the presence of a game-changing wideout.
Jones certainly fits the bill, as he's a big, physical receiver who can win jumpballs and make plays after the catch. He has the look of a young Terrell Owens, and would certainly upgrade Oakland's receiving corps.
No. 10 Minnesota Vikings: DT Nick Fairley, Auburn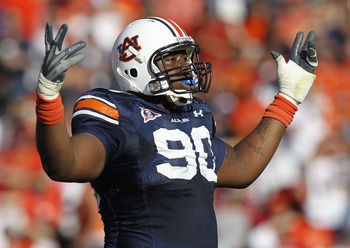 Mike Zarrilli/Getty Images
The Vikings currently have an elite defensive line, though the health and ages of Pat and Kevin Williams is certainly a question mark.
Enter Fairley, arguably the NCAA's premier interior pass rusher. He'd greatly bolster and energize the Vikings defense, and make an immediate impact next season.
No. 9 Cincinnati Bengals: RB Mark Ingram, Alabama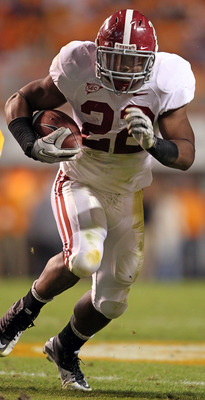 Andy Lyons/Getty Images
After a breakout year last season, RB Cedric Benson has struggled thus far in 2010.
Ingram is the draft's premier back, and has quickly become underrated in the college football world, as he may be the country's best player. Though he doesn't have elite straight-line speed, Ingram excels in every other area and has the look of a potential top five runner in the league.
No. 8 San Diego Chargers: OLB Akeem Ayers, UCLA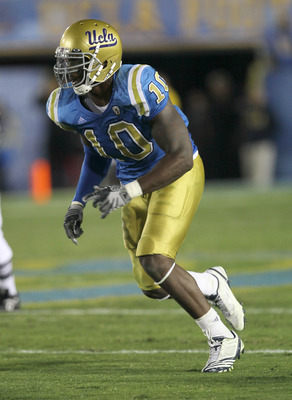 Stephen Dunn/Getty Images
The silver lining to San Diego's miserable start is that they'll have the opportunity to get pass rush help opposite OLB Shaun Phillips.
Ayers is the draft's best LB, and excels against both the pass and run, though he is better in the former. He has the makings to be one of the NFL's preeminent playmaking LBs for years to come.
No. 7 Cleveland Browns: WR AJ Green, Georgia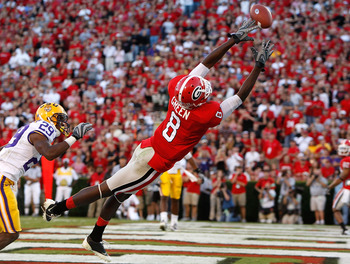 Kevin C. Cox/Getty Images
The Browns may have found their QB of the future in rookie Colt McCoy, and if so he'll need a WR to develop with.
Green is the draft's best receiver, and arguably its best overall player. Frequently compared to Randy Moss, Green has that kind of big play ability and will be a source of frequent TD catches in coming seasons.
No. 6 Denver Broncos: OLB Robert Quinn, North Carolina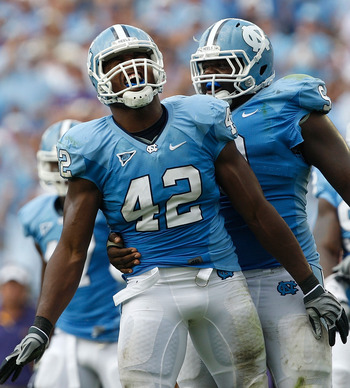 Streeter Lecka/Getty Images
Having lost star OLB Elvis Dumervil to injury, Denver has struggled its way to a measly nine sacks on the year.
Quinn - ineligible for the 2010 college football season - was the draft's number one prospect coming into the year. He has great size to go along with elite athleticism. Oft compared to a smaller Julius Peppers, he'd ignite the Broncos pass rush, and form a devastating with with Dumervil for many, many years.
No. 5 Dallas Cowboys: DE Da'Quan Bowers, Clemson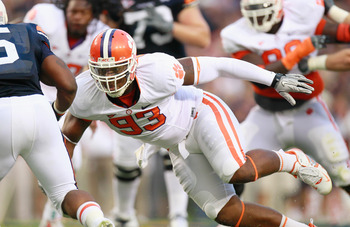 Kevin C. Cox/Getty Images
The Cowboys season was all but completely lost with QB Tony Romo's collarbone injury, and they'll reap the benefits by gaining a high draft position.
Da'Quan Bowers is equally effective against the run and pass, and could immediately take over at DE for Marcus Spears or Igor Olshansky. He'd provide a jolt of playmaking ability to the Dallas defensive line, and greatly improve the team's defense.
No. 4 Detroit Lions: CB Patrick Peterson, LSU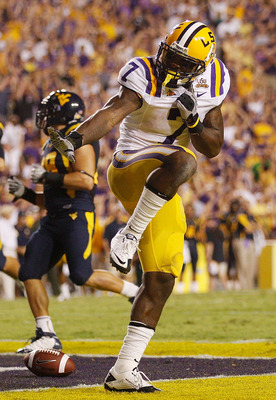 Chris Graythen/Getty Images
The Lions have struggled against the pass for years, and need an elite playmaker at CB to pair with S Louis Delmas.
Peterson, the second best player in the draft, is a surefire all-pro and a potential true, shutdown CB. He has elite size, athleticism and ball skills, and is an explosive returner to boot. With no holes in his game, Peterson is the safest and smartest pick in the entire draft.
No. 3 Carolina Panthers: DL Marcel Dareus, Alabama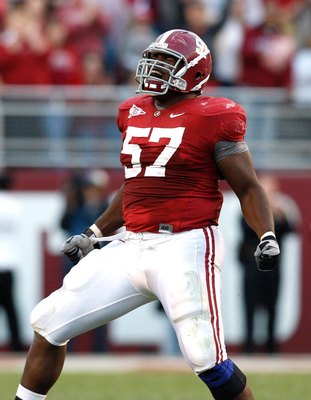 Kevin C. Cox/Getty Images
The Panthers badly need help on the interior of their offensive line, as they've received little to no impact from that area of their defense in 2010.
Given that, Dareus is the perfect fit for Carolina. The best defensive lineman in the draft, he is in the mold of a young Warren Sapp, possessing great dimensions, incredibly quick feet and powerful hands. Dareus can line up all over the defensive line, and will prove a force against both the pass and the run.
No. 2 San Francisco 49ers: QB Ryan Mallett, Arkansas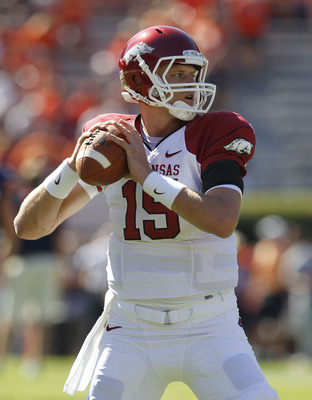 Mike Zarrilli/Getty Images
The 49ers were a popular pick to make the postseason in 2010, but have endured a dismal beginning to their year, centered around poor play from QB Alex Smith.
Mallett has one of the best arms to come into the draft in recent memory, and has put it to great use thus far this season, displaying improved decision-making and accuracy. If all goes right, he'll develop into one of the league's premier pocket throwers over the next few seasons.
No. 1 Buffalo Bills: QB Andrew Luck, Stanford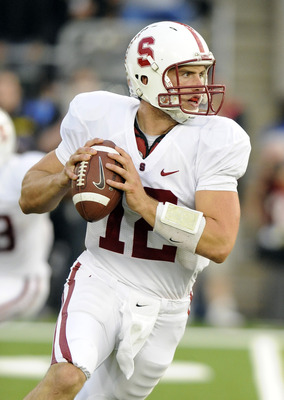 Steve Dykes/Getty Images
Buffalo is winless in 2010, though it is certainly not the fault of starting QB Ryan Fitzpatrick. He's been brilliant this season, but has not had enough support to lead his team to a victory. Unfortunately for Fitzpatrick, Andrew Luck is eligible for the draft this season, or he'd undoubtedly remain the Bills QB of the future.
Luck has everything one looks for in a franchise QB. He has elite size, a perfect delivery, a very strong arm, is accurate and possesses uncanny pocket presence and field awareness for a college signal-caller. Even better, he runs a pro-style offense at Stanford under former NFL QB John Harbaugh. Additionally, he's a very good (if underrated) athlete, possessing surprising speed and agility outside the tackle box.
Luck is the most polished QB to enter the draft in recent memory, and compares favorably with Hall of Famer John Elway. No matter how tough this season may be for Buffalo, they'll reap the rewards in recent years as Luck develops into a top five NFL QB.
Keep Reading