Fantasy Football Week 8 : Kenny Britt and the Waiver Wire Must-Haves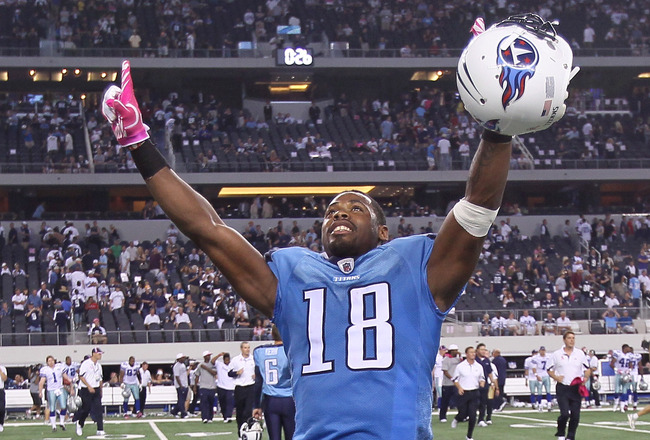 Stephen Dunn/Getty Images
The 2010 NFL season has seen many new players making a name for themselves as well as some legends proving that they still belong.
Surprisingly, there are still a ton of hidden gems available on waiver-wire's, in leagues all over, who can be valuable assets to your squad.
The following "sleepers" will have big performances in Week 8.
Add these gems to your roster where needed ASAP.
WR Steve Johnson, Buffalo Bills
Rick Stewart/Getty Images
Week 8 Opponent : Kansas City Chiefs
Steve Johnson had a superstar-caliber game this past Sunday, against one of the best defenses in the league in the Baltimore Ravens. Johnson made eight receptions for 158 yards and a touchdown.
The Bills lost 37-34 in overtime to the Ravens, which was the closest they have come to a win this season.
Being that Johnson played such a significant role in their offense, against such a difficult defense, you can expect him to receive increased touches for the remaining weeks.
Johnson is only owned by 14.1% of fantasy football teams, but don't wait too long because who knows how long he'll remain a "sleeper."
RB Chris Ivory, New Orleans Saints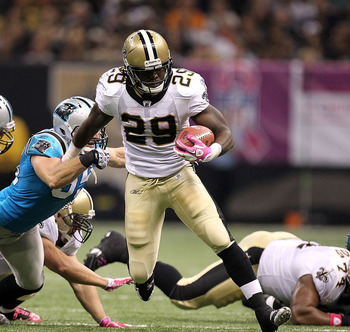 Ronald Martinez/Getty Images
Week 8 Opponent : Pittsburgh Steelers
Being that the Saints continuously struggled against the Cleveland Browns last Sunday, Chris Ivory never was able to establish his running game. Expect less performances like this from Ivory in the future, and more like the one he had in Week 6.
In week 6 Chris Ivory made 15 rushing attempts for 158 yards, along with a reception for 17 yards in the Saints 31-6 win over the Buccaneers.
Although Reggie Bush is expected to return this Sunday, don't be afraid to scoop up Ivory off of the waiver-wire. The 6-foot 222 pound-back will continue to see touches despite any players returning from injury.
TE Brandon Pettigrew, Detroit Lions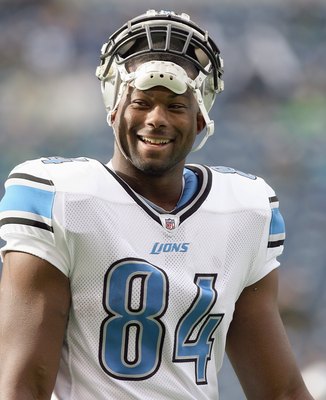 Otto Greule Jr/Getty Images
Week 8 Opponent : Washington Redskins
In four out of the last five games, Pettigrew has made at least six catches in each outing, earning over 60 yards in three of those.
He's becoming a weekly weapon in this offense and it will not stop anytime soon with tight-ends, in general, seeing an increased role this season.
Expect Pettigrew to have one of his best games this season, going up against the Redskins who give up an average of 292.1 passing YPG, which is 31st overall in the NFL.
QB Matt Cassel, Kansas City Chiefs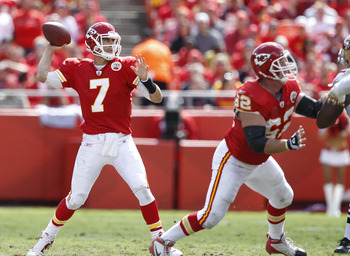 Joe Robbins/Getty Images
Week 8 Opponent : Buffalo Bills
Matt Cassel has led the Kansas City Chiefs to a 4-2 record this season, performing extremely well in his last two games.
In the Week 6 loss to the Houston Texans, Cassel still managed to have an outstanding game, in terms of fantasy, completing 20 of 29 passes for 201 yards and three touchdowns, finishing with a 122.9 QB rating.
Last week Cassel completed 13 out of 18 passes for 193 yards, two touchdowns, and a QB rating of 144.0 in the 42-20 win over the Jacksonville Jaguars.
Going up against an 0-6 Buffalo Bills team, Cassel should have a field day. Already owned by 34.0% of fantasy teams, add the 6-year-pro out of USC to your roster before it's too late.
WR Kenny Britt, Tennessee Titans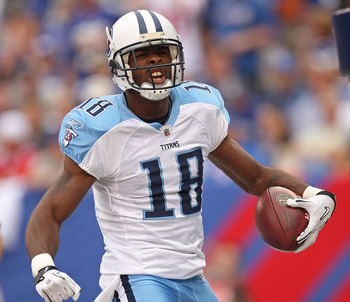 Mike Ehrmann/Getty Images
Week 8 Opponent : San Diego Chargers
Kenny Britt sat out the first four series this past Sunday due to disciplinary actions, but still managed to have a career-best game.
Against the Philadelphia Eagles in Week 7, Britt made seven receptions for 225 yards and three touchdowns. After this spectacular outing, Britt now averages one touchdown every game.
Expect Britt to build off of this performance and become more of a target for Vince Young and Kerry Collins for the rest of the season.
Owned by 66.1% of ESPN Fantasy Football Owners, so pick up quickly.
Keep Reading