Brad Childress: 10 Reasons the Vikings Should Fire Their Head Coach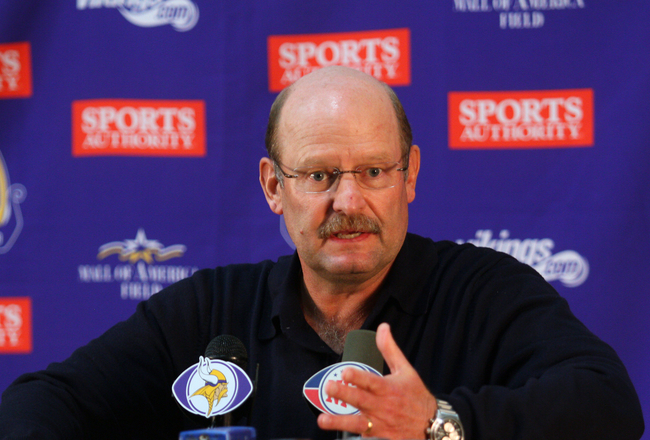 Adam Bettcher/Getty Images
It's time for Vikings Coach Brad Childress to be fired.
His tenure in Minnesota has finally run its course. The Vikings are as disappointing a team as there is in the NFL.
Even the team they thumped in last year's playoffs (Dallas) isn't this surprising; at least they play in a very demanding division.
For everything that the Vikings have done since losing the NFC Championship Game last year, they are worse off today than they were at this time in 2009.
That isn't the only reason they need to move in a new direction. Check out these others.
No. 10: Bringing in Randy Moss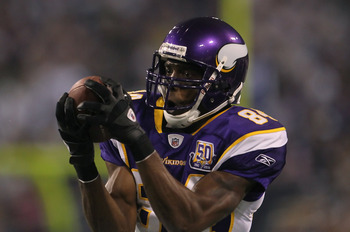 Jeff Gross/Getty Images
Childress and the front office deserve some credit for going out and making A move: it's just so curious that they would make THIS move.
And not because Moss already once wore out his welcome in Minnesota.
Instead, on a team like the Vikings, which already has veteran leadership and several young players, Moss' character issues pose a real problem.
Between his "I play when I want to" approach and how he was shipped out of town by New England, there is a good chance there will be a flare up. Maybe if this move had been made prior to the season it would work out, but midseason, on a team that is major disaster-mode, Moss is a ticking time bomb.
No. 9: Red Zone Woes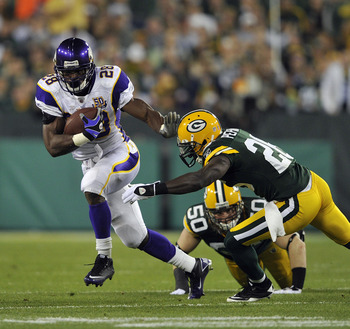 Jim Prisching/Getty Images
If nothing else the Vikings' red zone problems cost them at least one game, the home-opening loss to the Dolphins.
But they really haven't corrected the problem since starting off the season with three TDs in eight trips inside the red zone.
They improved a bit since then, but on a team that features a good tight end, two excellent receivers and the best back in the conference, they should be doing better. Last night, had they not had to settle for a 28-yard field goal before halftime, they might have won the game.
No. 8: Replacing Chester Taylor With Toby Gerhart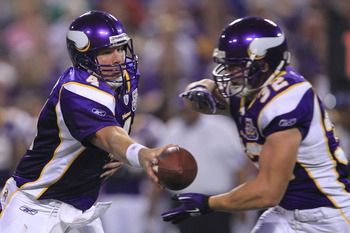 Chris McGrath/Getty Images
Adrian Peterson is the best running back in the NFC. He has proven he can be a reliable, every down back who carries the ball 300 times a season. He's averaging more than 23 carries a game again in 2010.
But an offense still needs a third down back, a player who can catch the ball out of the backfield and make first downs in spot rushing duties.
Chester Taylor was a great fit there. Although his number of carries greatly declined when the Vikings drafted Peterson, his reception totals went up: he caught 89 passes from 2008-09.
Rookie Toby Gerhart might be a better replacement for Taylor in the running game, and a good backup to Peterson. But he has just two catches this season. Given Favre's lack of sharpness this year, he could have used a great check-down back like Taylor to keep drives alive.
No. 7: The NFC North Is Weak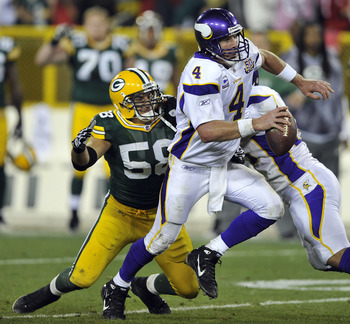 Jim Prisching/Getty Images
It would be one thing if the Vikings were 2-4 and the rest of the division was playing fantastic football. But in truth, the NFC North team that has played the best football this last month might be the Detroit Lions. And they have just one win to show for it.
The Bears are clearly not a contender this season, despite their hot start and 4-3 record. Fortunately, Minnesota still has two games left to bridge that gap.
But the Packers and their terrible string of injuries have not kept the Vikings from overtaking Green Bay, let alone coming close. After Sunday night's loss, they are two behind them in the win column.
The fact that the Vikings couldn't take advantage of their division foes' problems during the first seven weeks of the season will be the main factor if Minny misses the playoffs.
No. 6: The Scheme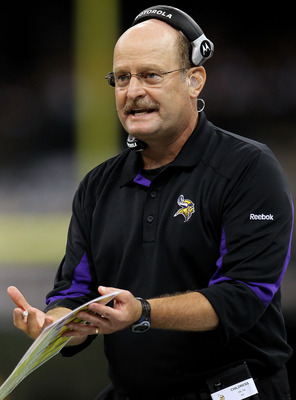 Ronald Martinez/Getty Images
Beyond the preseason rumors that leaked, implying that Brett Favre "doesn't trust" Childress to run the team, a few others have expressed some valid concerns about the schemes run by the Minnesota offense.
In the Monday Night Football broadcast of the 29-20 loss against the Jets a few weeks ago, analysts Ron Jaworski and Jon Gruden panned the play-calling and play designs of the Vikings early in the game.
That criticism should be taken with a grain of salt, because it was a Vikings' offensive matchup against one of the best defenses in the league.
But Jaws and Gruden said that the design of a few plays gave the Vikings players "no chance" to be successful on certain snaps. If those two notice it up in the booth, then Rex Ryan and the other 30 NFL head coaches notice it too.
Childress is supposed to be an offensive guru, but the Vikings have only 13 total offensive touchdowns in six games. That's respectable, but not for a team loaded with talent and one that averaged just under 30 points per game a year ago.
No. 5: Leslie Frazier Is the Best Coach on That Staff
Getty Images/Getty Images
For all its star power, the Vikings offense takes a back seat to the defense, in terms of consistent production in 2010.
There is only one great player on the unit, Jared Allen, yet they continue to turn out tremendous efforts against whoever they play.
The stats arent great (13th in passing, 11th in rushing) but in matchups with New Orleans, Miami, New York Jets, Dallas and Green Bay, they have been compensated for the offensive struggles.
Defensive coordinator Leslie Frazer is high on everyone's 2011 coaching list. Why not stop him from going somewhere else and handing over the reins to him?
No. 4: It's Only Going To Get Worse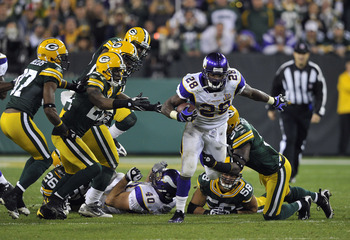 Jim Prisching/Getty Images
The Vikings are 2-4 right now. That's bad enough: even if they had six or seven cupcakes left on their schedule, making it to the 10-win milestone is a tall order. It's a safe bet that 10 wins will be needed to get you into the playoffs.
But the Vikings schedule is brutal the rest of the way out. Aside from what should be home win against the Cardinals and Bills, the Vikings play the Packers, Bears and Giants at the Metrodome.
And they also have road trips to New England, Washington, Philadelphia and a much-improved Lions team.
If the Vikings fall to 2-5 next week at Foxboro, management should consider avoiding a final two months of speculation and cutting ties with Chilly.
No. 3: Turnovers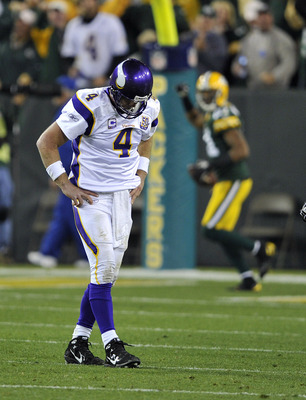 Jim Prisching/Getty Images
Chilly's Vikings have already turned the ball over 15 times this season. A year ago, they had only 18 all season.
Certainly Favre's regression to an interception-prone passer is a main cause. But the head coach hasn't always put him in the best situations to protect the ball.
Who knows if it's Favre's fault or Childress' play designs, but there are just too many cases of over-the-middle interceptions killing Minnesota drives.
No. 2: The Window Is Closing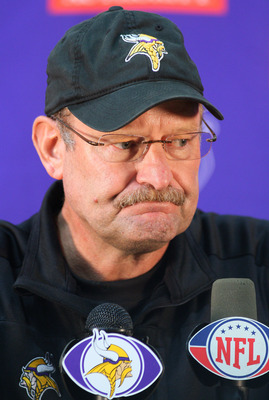 Adam Bettcher/Getty Images
If the Vikings two-year experiment with Brett Favre produced a championship, or even a Super Bowl appearance, then it would have been worth it.
Had they won or made it to Super Bowl XLIV, the team and its fans would be able to rest on the magic of that one achievement. And once Favre retired permanently, a playoff-less season or two would have been easier to swallow.
But they didn't achieve that goal, and they don't seem anywhere near it in 2010.
Next year and 2012 cannot look that much more promising either. They cannot bank on Tarvaris Jackson being reliable in those seasons just because he played UNDER Favre. The future of Sidney Rice and his repaired hip remains to be seen.
Adrian Peterson should have several great seasons left in him, and is locked up long term.
But what about the rest of the team? Randy Moss, Bryant McKinnie, Antoine Winfield, Kevin Williams and their best offensive lineman, Steve Hutchinson, are all over 30. Their anchor in the middle of the defense, Pat Williams, just turned 37.
In short, the Vikings mortgaged their future in 2009-2010 and did not get the results they hoped for.
No. 1: Indulging Brett Favre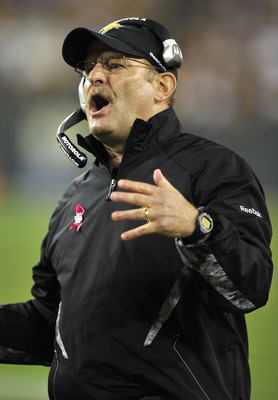 Jim Prisching/Getty Images
Last year, Childress looked like a genius for swapping out Tarvaris Jackson for Favre. It didn't matter to anyone that he let the "ole' gunslinger" play by his own set of rules. He essentially said, "you don't have to come to training camp if you don't want to."
This year he did the same thing and it produced opposite results.
It's too simplistic to say that Favre's return is the reason Minnesota's season has been so disappointing. Maybe they would be this bad with Jackson, or they would be this bad if Favre didn't retire and was with the team since OTAs.
But ultimately the coach has to take responsibility for the team's record.
Keep Reading

Minnesota Vikings: Like this team?