Brock Lesnar: What the Future Holds For Him and Cain Velasquez After UFC 121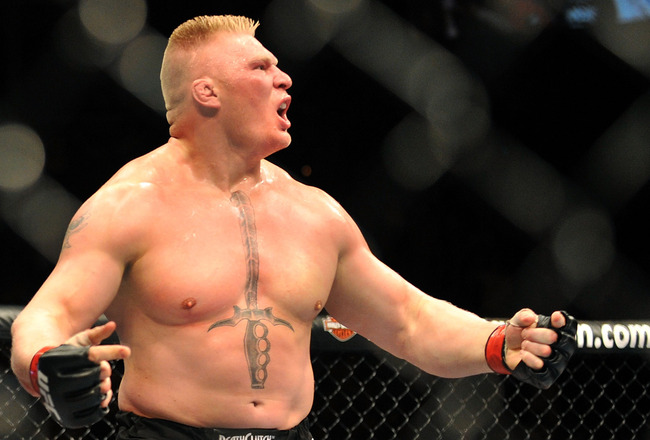 Jon Kopaloff/Getty Images
What does the future hold for Brock Lesnar and Cain Velasquez following their bout at UFC 121 this past Saturday night?
There were many who said that Lesnar, the biggest fighter that UFC has ever seen, was simply going to be too much for Velasquez.
Others said that only Velasquez had the skill needed to take down the champ.
They were right.
Now that Velasquez is the new Heavyweight Champion and Lesnar is licking his wounds in Canada right now, it's high time we peer into their futures.
Here are ten things that could happen down the road for each fighter.
Lesnar No. 10: Brock Becomes an Action Movie Star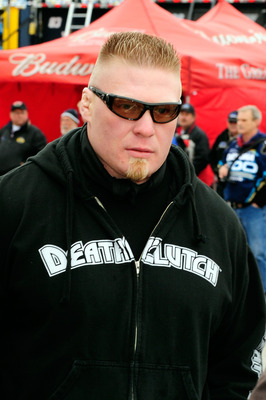 Sam Greenwood/Getty Images
Pure fantasy, but why the hell not?
Indeed, Hollywood seems to have figured out that MMA has just as many personalities to offer as professional wrestling. Randy Couture made the jump to the silver screen in The Expendables, and so did Quentin Jackson in The A-Team.
Both were pretty awful, but there has to be at least one eccentric director out there who wants to cast Lesnar as some kind of hulking henchman.
In fact, that's basically the role that "Stone Cold" Steve Austin played, and it didn't look all that hard. Brock could definitely pull it off.
Velasquez No. 10: Cain Retires From Competition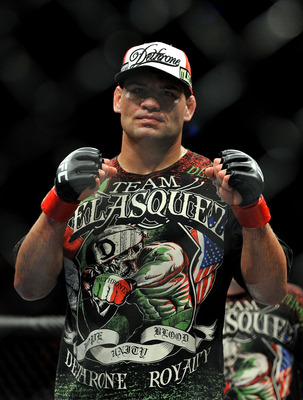 Jon Kopaloff/Getty Images
This is last on the list because it's simply not going to happen.
Velasquez is undefeated, the Heavyweight Champion and he's still in his prime. Why the hell would he retire?
Velasquez denied Lesnar in his bid to become the first UFC Heavyweight Champ to defend his title three times. Don't be surprised if Velasquez attempts to do the same sometime in the next couple years.
Besides, he's already been lined up to defend his title against Junior Dos Santos, though no date has been set yet. He wouldn't skip out on that.
Lesnar No. 9: Brock Demands a Rematch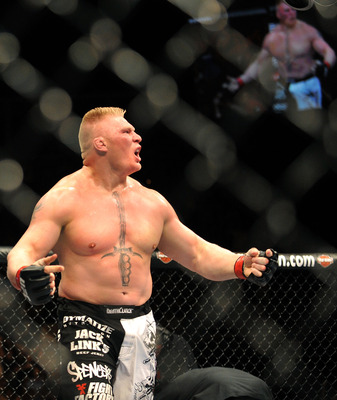 Jon Kopaloff/Getty Images
Lesnar is due for a fight with Gabriel Gonzaga, and many have speculated that he will have yet another fight with Frank Mir. But if Velasquez is still holding the belt after a couple years, maybe a redo isn't out of the question.
But as with any fighter, no matter what style or league, there's always going to be a question of whether or not Lesnar's pride was hurt worse than his body.
If Lesnar were to want his belt back, you have to imagine that he would probably want to extend his abilities beyond those of a mere berserker.
True, a rematch is a stretch. But it's still fun to speculate that there will be one.
And on that note...
Velasquez No. 9: Cain Succumbs To Being a National Hero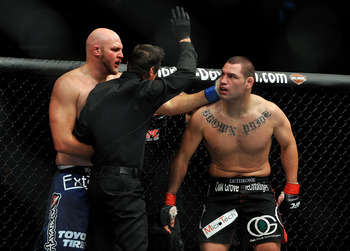 Jon Kopaloff/Getty Images
"Succumb" in this sense isn't some kind of Roberto Clemente prediction for the new champ.
Not at all. Instead, this is more of a suggestion that Velasquez is prone to an unusual case of falling into his own fame. He is absolutely adored in the Mexican-American community, not to mention the Hispanic culture at large, and his win over Lesnar made him the first champion of Mexican heritage in any major combat sport.
That's a pretty heavy crown, and it's going to be interesting to see if his celebrity affects his training at all.
Lesnar No. 8: Brock Gets His Rematch and Wins
Jon Kopaloff/Getty Images
Given all the Lesnar haters out there, one suspects that not too many people would be very keen if Lesnar were to take down Velasquez in a rematch.
But, does he care?
To be sure, maybe Lesnar doesn't want his MMA career to end in shame with blood running down his face. Maybe he'll commit himself, twice as hard this time around, to getting his belt back. And he's going to have to if he wants to win.
If he does win it back... well, you'd have to hand it to the guy.
Velasquez No. 8: Cain Develops a Personality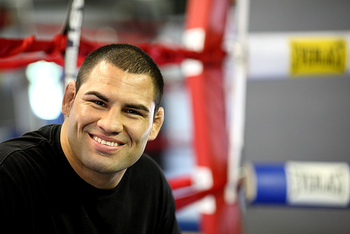 Admittedly, this one is also out of left field. But there's no denying that Velasquez, love him or hate, just really isn't as interesting as Lesnar.
The one thing about Lesnar is that he brings that unique professional wrestling attitude to MMA, for good or ill. Now that Velasquez is the champ, it's only a matter or time before the haters surface. And let's face it, while UFC could probably use a humble champ like Velasquez, the fans are just as rowdy as pro wrestling fans. Humility probably isn't going to fly with them for too long.
As such, Velasquez might have to adjust.
Lesnar No. 7: Brock Gets His Rematch, and Loses Again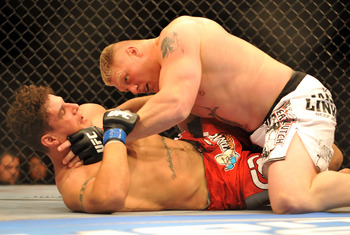 Jon Kopaloff/Getty Images
And then there's this. And unlike a Lesnar win in a rematch, another Lesnar loss to Velasquez would probably be much to the satisfaction of the good majority of UFC fans. Especially, of course, the Latino portion.
If Lesnar were to get his rematch with Velasquez and lose again, you have to imagine that would probably be it for the fighter formerly known as the baddest man on the planet.
Velasquez No. 7: UFC Loses Viewers Because Of The New Champ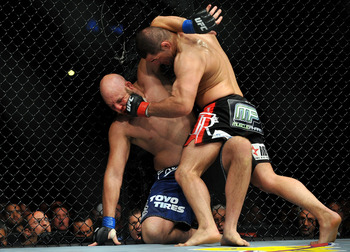 Jon Kopaloff/Getty Images
This one's probably a cheap shot, as it won't be Velasquez's fault if his next UFC fight doesn't draw as many viewers as UFC 121 did.
Then again, it's certainly possible. As stated above, Velasquez just doesn't have the kind of star power that Lesnar had. His impending fight with Junior Dos Santos will undoubtedly draw its share of Dos Santos fans, but the champ is the one that people want to watch.
Lesnar No. 6: Brock Retires From UFC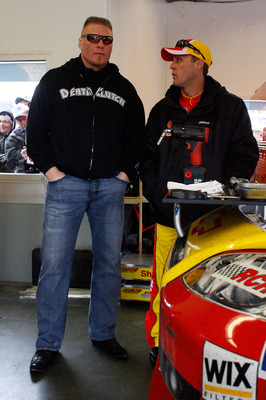 Jason Smith/Getty Images
With the exception of maybe Randy Couture, it's hard for MMA fighters to keep fighting for very long. And despite the fact that Saturday's defeat came in just Lesnar's seventh fight, maybe it's a good time for him to walk away.
Lesnar should realize, after all, that compared to the man who just beat him to a pulp, he is no spring chicken. He started his MMA career later in his life than most of his contemporaries, and as a 33-year-old with recent health issues, submitting his body to the punishment of mixed martial arts might not be the best idea.
Sure, he has his rivalry with Frank Mir to consider, but still...
Velasquez No. 6: Cain Regresses As a Fighter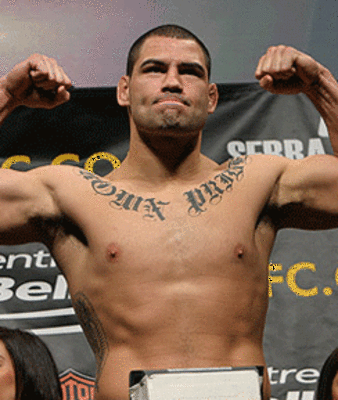 This one, as unlikely as it is, would be Cain's fault.
Because MMA fighters often have as long as a year to prepare for a fight, Velasquez getting any worse as a fighter would be baffling.
Then again, maybe he'll just stay the same. Or maybe he'll experiment with something that doesn't take, and throws him for a loop because of it.
Improbable, but not impossible.
Lesnar No. 5: Brock Becomes a Teacher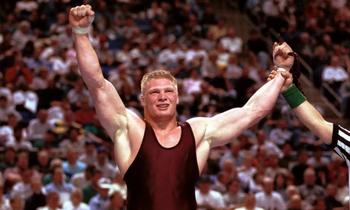 As Dewey Finn once reminded us in School of Rock, those who can't do, teach, and those who can't teach, teach gym.
(Wow, that does not look good in print at all.)
Lesnar's success has already had a profound effect on the wrestling department at his alma mater, the University of Minnesota. So, how cool would it be if the former MMA champ returned to show the kids some of the moves that made him a two-time NCAA All-American?
Velasquez No. 5: Cain Tunes Up Against Somebody Else Before Dos Santos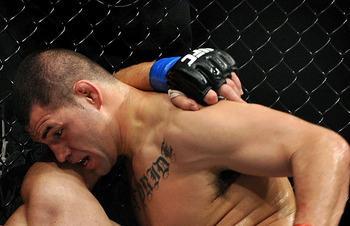 Jon Kopaloff/Getty Images
Given that he is now the champ, this is also very, very unlikely.
But, what the heck? Maybe he decides he needs a tune up. Maybe he wants to practice against a fighter that is very similar to Dos Santos, albeit not as skilled.
If he were to do this—which, once again, he won't—he would probably do well to find an opponent that wouldn't threaten to take his belt away. That would be embarrassing after all.
Lesnar No. 4: Brock Tries Another Sport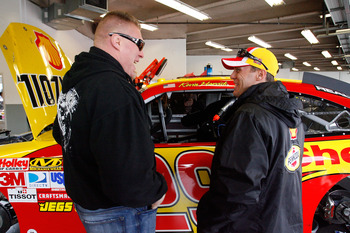 Jason Smith/Getty Images
Lesnar seems to be one of those rare guys that has an absolutely restless soul.
He started in WWE, wrestled in Japan, tried out in the NFL and then finally jumped ship to MMA.
If Lesnar does indeed decide to move on from MMA, it shouldn't be entirely out of the question that maybe he'll try to apply his freakish size and athleticism to yet another athletic venture.
Football didn't work, so maybe Lesnar should try basketball. Sure, he's only 6'3", but you'd probably be hard pressed to find a player in any league that would take a charge from the former UFC Heavyweight Champion.
If not basketball, maybe sumo wrestling.
Velasquez No. 4: Cain Expands His Skill Set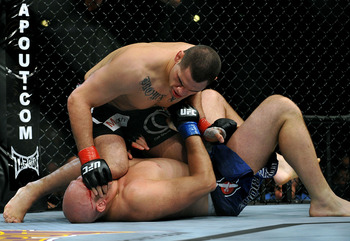 Jon Kopaloff/Getty Images
Velasquez is already a great all-around fighter, and it's questionable whether or not there's any room for him to improve.
But different fights are just that: different fights. It's probably not going to be as easy for Cain going forward as it was against Lesnar, who is still a little green as a fighter.
It's hard to think of any one way that the champ can improve. But if there is, he and his trainers will undoubtedly sniff it out.
Lesnar No. 3: Brock Becomes a Commentator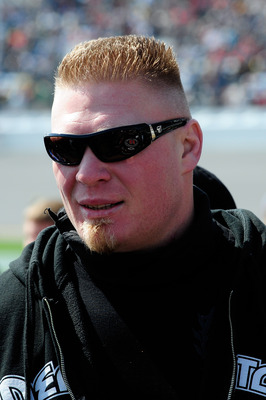 Sam Greenwood/Getty Images
Say what you will about Lesnar's fighting ability (not to his face, of course), but there's no denying that the man has a hell of a personality.
As such, he's perfect to be UFC's latest on-camera stooge. He could basically be the Keyshawn Johnson or Michael Irvin of MMA: a guy that brings no real insight into what is going on, but can crack enough crass jokes to draw a crowd.
Velasquez No. 3: Cain Loses To Junior Dos Santos
Jon Kopaloff/Getty Images
Less than a couple days removed from Velasquez's victory, a bout with Junior Dos Santos has already been set.
Barring some kind of catastrophe, this is going to happen.
Dos Santos, who already has a 12-1-0 record at a mere 26 years of age, was last seen beating Roy Nelson via unanimous decision in UFC 117.
His skills are probably more similar to Velasquez's than Lesnar's were, as Dos Santos is more of a boxer type.
Well, Velasquez showed he could beat a wrestler. Maybe he won't fare as well against somebody like Dos Santos. As it is, there are already some who are mumbling their opinion that defeating Lesnar wasn't much of a challenge.
Lesnar No. 2: Brock Returns To The WWE To Fight The Undertaker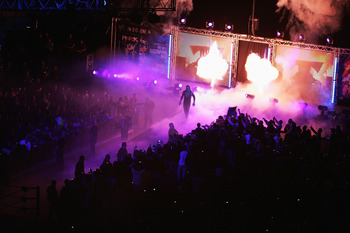 Gaye Gerard/Getty Images
One of the bigger developing stories around Lesnar involves a mysterious exchange he had with the WWE's Undertaker, who was in attendance at UFC 121.
The longtime professional wrestler apparently asked Lesnar if he wanted to "do it," to which Lesnar merely replied "it's personal."
If this isn't pro wrestling theater, what is?
Velasquez No. 2: Cain Regains The Title at Some Point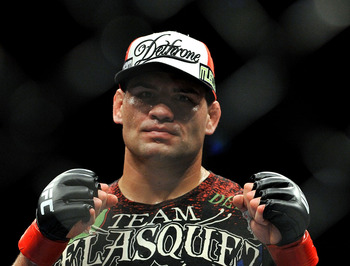 Jon Kopaloff/Getty Images
One suspects that you won't be able to keep a guy like Velasquez down for very long. In the event that Dos Santos does manage to defeat the champ when they square off in the future, it's totally within reason that Velasquez would be back sooner or later.
Of course, it's easy to say this now. He's the champ. But the champ that just lost has a pretty cloudy future right now, and whether or not he'll ever make another run at the Heavyweight belt is very much up in the air.
That being said, the one thing that Velasquez has that Lesnar doesn't is youth.
Lesnar No. 1: Brock Returns To WWE For Good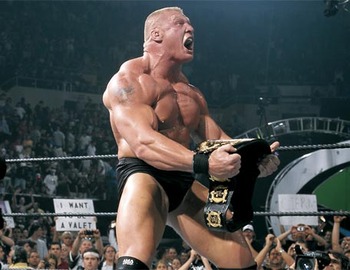 If Lesnar does go back to WWE, maybe he'll stay.
And why not? It's fake, he's still got the personality, and he's not going to get his face beat in (not for real, anyway) in the WWE. He's getting up there in years, but so is The Undertaker. He's been at it since 1984 and is in his mid-forties.
If Lesnar can't bring himself to give up the limelight, maybe this is the way to go.
Velasquez No. 1: Cain Defeats Junior Dos Santos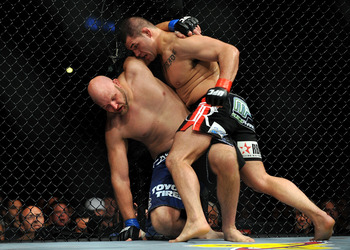 Jon Kopaloff/Getty Images
All nagging doubts aside, it's probably not a good idea to doubt the champ. Not right now, anyway.
Make no mistake, the man who just took down the baddest man in the planet is in a class of his own right now. Dos Santos may be undefeated in his six UFC fights, but you have to favor the champ in this one. And even Dos Santos himself said that Velasquez's performance against Lesnar was "perfect."
Then again, the fight is likely to be a long way away. Plenty of things are likely to change between now and then.
Keep Reading