NFL Week 7 Scores: Top 10 Defensive Performers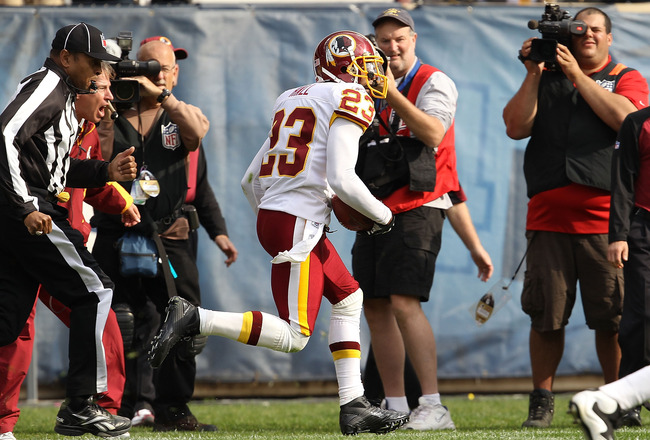 Jonathan Daniel/Getty Images
The 2010 NFL season just gets crazier and crazier as we go forward and this week added to the mayhem with some big time games by some well-known, and not so well-known players.
The Cleveland Browns upset the Saints in New Orleans on the back of an unsuspected hero and a certain Redskin had a record-tying game with some staggering statistics.
Defense has ruled the roost in the past couple of weeks, and today I'll recap Sunday's top 10 game-changers on the defensive side of the ball.
Honorable Mention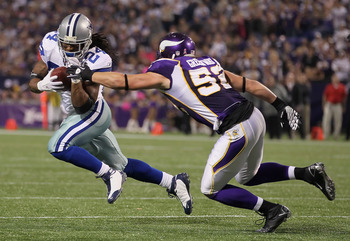 Jeff Gross/Getty Images
Even though these players didn't make the official list, they made their presence felt on the gridiron and created some big plays for their respective defenses.
Eric Berry, S, Kansas City Chiefs
The rookie out of Tennessee was impressive in the Chiefs 42-20 victory over Jacksonville, recording four tackles (all solo), an interception and a forced fumble. He has been a key to Kansas City's success on defense this year and is turning into quite the player.
Desmond Bishop, LB, Green Bay Packers
With the score 21-17 midway through the third quarter, the former sixth-round pick out of California picked off Brett Favre and scored the touchdown that proved to be the game-winner. He also had eight tackles (five solo).
Rocky McIntosh, LB, Washington Redskins
In a game where defense proved to be the difference, McIntosh shined, making eight tackles (six solo) with a sack and a forced fumble. The Skins just won't go away in that tight NFC East, beating Chicago 17-14 on the shoulders of one of McIntosh's defensive mates.

10. Adam Jones, CB, Cincinnati Bengals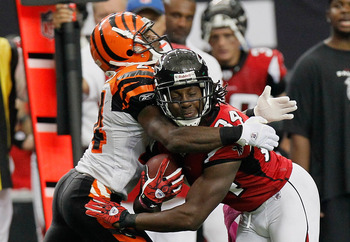 Kevin C. Cox/Getty Images
Just admit it. You forgot Adam Jones was even playing in the NFL still.
After a flurry of legal troubles and a stint with in Dallas, Jones has been slowly working his way back onto the field with Cincinnati, and he showed signs of his old self on Sunday against Atlanta.
Towards the end of the third quarter, Jones stripped Falcons receiver Roddy White, recovered the fumble and took it 59 yards to give the Bengals the lead. It was Cincinnati's third touchdown in a span of two and a half minutes, but it wasn't enough to win the game, as the Bengals dropped this contest 39-32.
On top of the touchdown play, Pacman had six tackles (five solo) and it really is nice to see him back in the headlines for the right reasons rather than another night club issue.
9. Nate Clements, CB, San Francisco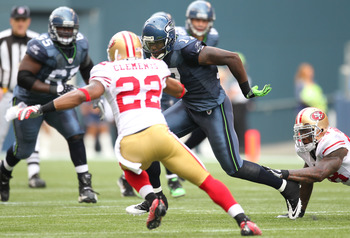 Otto Greule Jr/Getty Images
Clements has been doing it for years in the NFL and this Sunday was no different.
Although his 49ers are struggling mightily, including losing this one to the winless Carolina Panthers, Nate has done all he can to prevent the woes.
Clements recorded nine tackles (eight solo) as well as sacking Matt Moore once and forcing a fumble in the process. He has been consistent all year, with totals of 38 tackles, two forced fumbles, a sack and two interceptions.
8. Alan Branch, DT, Arizona Cardinals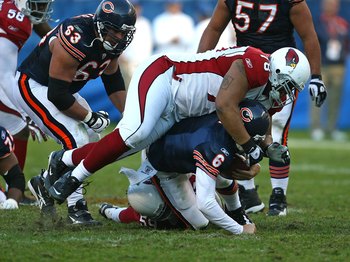 Jonathan Daniel/Getty Images
Branch is another guy who had himself a day despite his team losing.
The big fella sacked Matt Hasselbeck twice, forcing a fumble once on top of five tackles (all solo). They were his first sacks of the season and maybe this can get his season jump-started a bit.
The Cardinals are going to have to show more on offense though, as they themselves fumbled four times, losing it every time on their way to a 22-10 loss to Seattle.
7. Chris Clemons, S, Miami Dolphins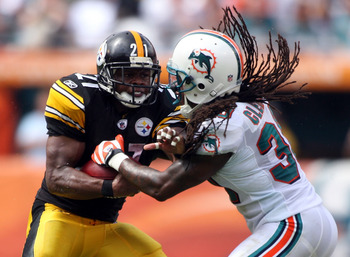 Marc Serota/Getty Images
Clemons had a great game and was in the middle of what could be the most unclear and confusing call of the year when he forced a fumble on Ben Roethlisberger on the goal line late in the Dolphins 23-22 controversial loss to Pittsburgh.
On a quarterback draw, Clemons met Ben at the goal line and forced the ball out. The Dolphins recovered the ball in the "scrum", but the play was originally ruled a touchdown. After the review, it was ruled that Roethlisberger didn't score. Dolphins football right?
WRONG.
The officials claimed it couldn't be determined by video review who recovered the ball, so by default it was given back to Pittsburgh to proceeded to knock in the dinky 18-yard field goal that proved to be the difference maker.
Nonetheless, Clemons was great Sunday, making nine tackles (six solo) with two forced fumbles and a half of a sack.
The Dolphins quietly have one of the better defenses and are constantly making plays on the defensive side of the ball, but it wasn't enough Sunday and they are now two games behind the Jets and the Patriots in the AFC East.
6. Ray Lewis, LB, Baltimore Ravens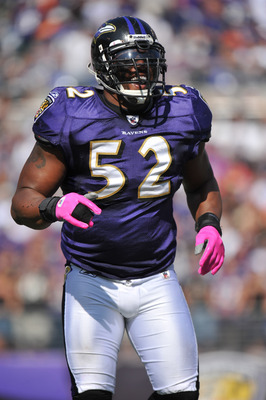 Larry French/Getty Images
The Ravens defense was not very good on Sunday.
They gave up 34 points to an 0-5 Buffalo Bills team who was having a lot of trouble moving the ball in previous contests. They won the game and a big reason for the overtime victory was this man.
Ray Lewis was fuming for the entire game. He sat his teammates down and made the vintage inspirational speeches he so often makes, and in the end, he showed why he is one of the best linebackers to ever play the game.
In overtime, Lewis ripped the ball from Bills tight end Shawn Nelson at the Buffalo 40-yard line, putting the Ravens in prime position to kick the game-winning field goal and escape an embarrassing defeat.
He finished with 15 tackles (14 solo), a sack and that key forced fumble to help secure a victory. At 35 years old, I don't know how he still plays at such a high level, but he is a pleasure to watch out there.
5. Quentin Mikell, S, Philadelphia Eagles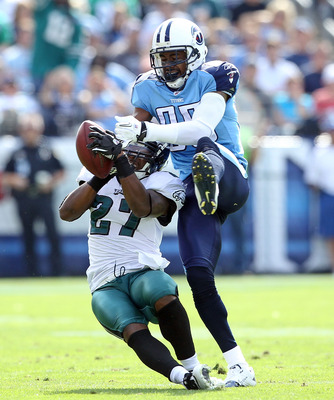 Andy Lyons/Getty Images
Another player that is overlooked in my eyes, Quentin Mikell did his best Brian Dawkins impression Sunday, doing a little bit of everything.
Mikell had five tackles (four solo) and added an interception, a forced fumble, and a sack in the Eagles 37-19 loss at the hands of the Tennessee Titans. He had a little trouble covering Kenny Britt, but we'll chalk that up to being a team effort.
The Eagles sit at 4-3, tied with Washington for second in the NFC East.
4. Ed Reed, S, Baltimore Ravens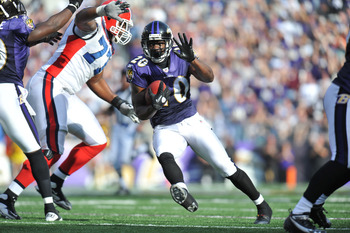 Larry French/Getty Images
Oh, how the Ravens missed you so.
Reed missed the first six games of the season, and made an impact immediately in the win against Buffalo. On the first drive, Bills receiver Roscoe Parrish caught a ball near the sidelines. Reed flew in and put his helmet on the ball, forcing it out where the Bills recovered it 17 yards back, ending their drive.
Along with that forced fumble, Reed picked off two passes and had four tackles (all solo). He is an elite player at his position, and when he was contemplating retirement, I'm sure all you Baltimore fans were holding your breath.
3. Scott Fujita, LB, Cleveland Browns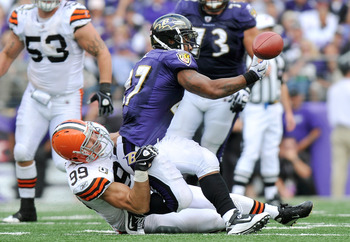 Larry French/Getty Images
It is always nice when you can punish your former team, especially when you are making your first visit back to their stadium since leaving the team.
Scott Fujita has a Super Bowl ring from winning with the Saints last year, but he signed with the Browns in the offseason and he had the last laugh Sunday, helping Cleveland to a 30-17 victory in New Orleans.
Fujita's performance wasn't even the best individual effort for the Browns in this one, but with 11 tackles (10 solo), a sack and an interception, he was a big reason Eric Mangini's boys walked out of the Superdome with a win.
2. David Bowens, LB, Cleveland Browns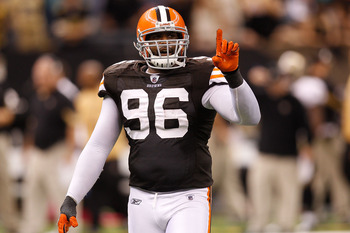 Chris Graythen/Getty Images
Normally you wouldn't make this list when you only record one tackle in a game, but Bowens did something few men can say they did in their careers.
In Cleveland's upset of the defending champs, Bowens intercepted Drew Brees twice, returning them both for touchdowns of 30 and 64 yards respectively. His effort proved to be the difference as the Browns won the game by 13.
The Browns improved to 2-5, and they have to be happy with the way they handled one of the leagues most potent offenses, especially away from home.
1. DeAngelo Hall, CB, Washington Redskins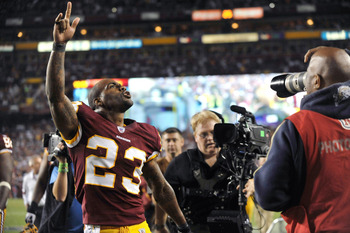 Larry French/Getty Images
Hall stole the show on Sunday, blowing away any and everyone else's stats in the NFL with his record performance in Washington's 17-14 win against the Chicago Bears this Sunday.
Hall intercepted Jay Cutler four times. Thats right, FOUR TIMES!
Cutler kept throwing at him, and DeAngelo kept catching it, one of which he returned for a 92-yard touchdown that proved to be the game-winner in the third quarter.
The Bears were driving and Jay lobbed a ball Halls way, and he proceeded to snatch the ball with one hand behind him and took it to pay dirt, propelling the Redskins to a 4-3 record, tied with Philadelphia for second in the NFC East.
The last time somebody picked off four passes in a game, Deltha O'Neal did it in 2001. Hall has five picks on the year now and he is solely responsible for two of the Redskins victories this season. He forced a fumble and returned it for a touchdown Week 1 against Dallas that was the difference in the game.
The funny thing is, Cutler commented after the game saying he would "throw at him every time" if they played them again. Are you sure that's a good idea Jay?
Keep Reading