El Clasico: The Best Combined 11 of Barcelona and Real Madrid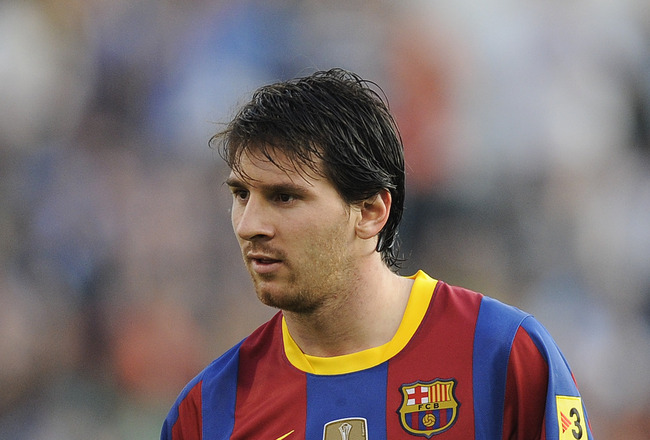 Is Messi in my XI?
David Ramos/Getty Images
With El Gran Clasico fast approaching—its only about a month away now—I wondered what the best possible starting eleven would be if you merged the teams. I thought of all the possibilities, and based it on my opinion, instead of using current form. Using a 4-2-3-1 formation, I have come to this decision. Enjoy, and make sure to tell me yours below.
GK—Casillas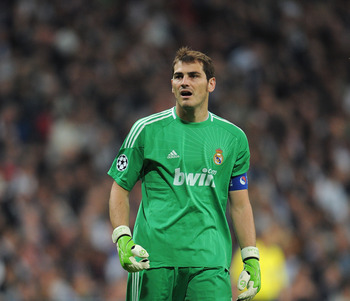 Jasper Juinen/Getty Images
In goal I had the choice between Iker Casillas and Victor Valdes.
Valdes has been statistically the best goalkeeper in Spain over the past few years. He has won the Zamora and the La Liga for the past two seasons.
However, Casillas is the first choice for Spain and captained them to victory at this year's World Cup. It is because of this and the fact that games aren't won by statistics that I chose Saint Iker as my number one.
CB—Puyol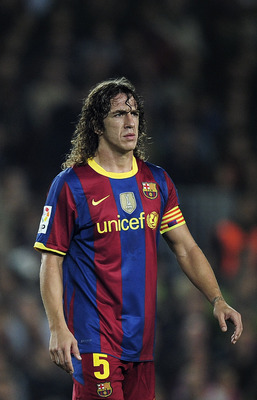 David Ramos/Getty Images
My first centre back position goes to the Barca captain, Carles Puyol. Puyol has been the first choice captain for Barcelona over the past six years. He led the team that won the Champions League and La Liga under Rijkaard and has led the team to an unprecedented sextuple under Guardiola.
A true warrior, Puyol is easily one of the best central defenders to ever grace our game.
CB—Pique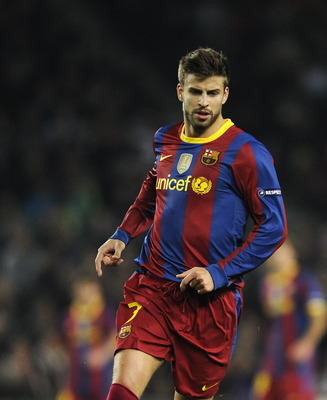 David Ramos/Getty Images
This selection was one of the most difficult. Should I choose the experience of Carvalho, the athleticism of Pepe or the all-round skills of Pique? Eventually I came to a decision, and chose Pique.
Gerard Pique was a relative unknown just three years ago at Manchester United, but since his transfer back to Barca he has matured into one of the best centre backs in world football today.
He is strong in the air and in the tackle, while his passing ability as a centre half is unrivalled. He would continue the impenetrable partnership that he has formed with Puyol in my eleven.
RB—Dani Alves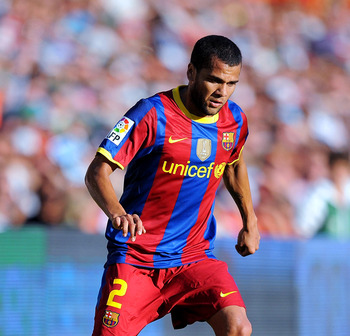 Denis Doyle/Getty Images
Alves is the football equivalent of Marmite—you either love him, or hate him. He may have a tendency to make a meal of any challenges (e.g. this weekend) and can be selfish at times, but there is no doubting his quality.
On his day he is the epitome of a modern fullback. He can run up and down the line for 90 minutes, win challenges and put exquisite crosses into the box. Alves also weighs in with a few goals every season and (sometimes) poses a threat from free kicks.
LB—Ramos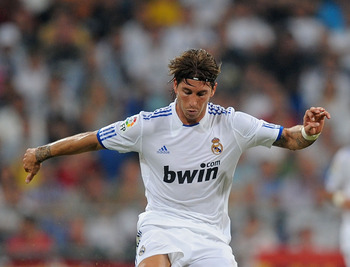 Denis Doyle/Getty Images
I know what you're thinking—Ramos isn't a left back. However, he is on a par with Alves and given the other options at left back aren't as good as him; it would be a travesty to leave him out. Ramos is equally adept going forward as he is staying back, can play defence splitting through balls and is the fullback of the all-conquering national side.
CM—Xabi Alonso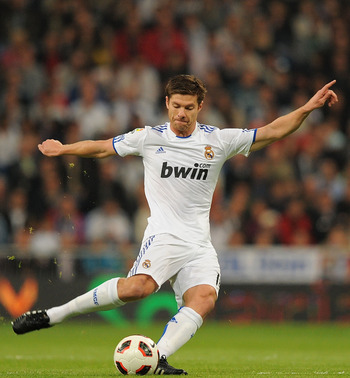 Denis Doyle/Getty Images
Xabi Alonso was only signed last summer by Real Madrid but looks as though he's been there his entire career. He dominates the midfield and his vision for a pass is simply sublime. Not only that, but he is a long shot specialist and has even scored from inside his own half on two separate occasions whilst playing for Liverpool!
CM—Xavi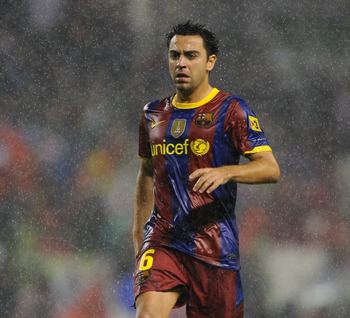 Jasper Juinen/Getty Images
What can I say about Xavi that hasn't been said before? He is the complete central midfielder. His passing ability is second to none; he is a good tackler and can pretty much score from anywhere. Xavi is the metronome in the Barca side and even with all their stars; they struggle without him such is his immense talent.
RW—Messi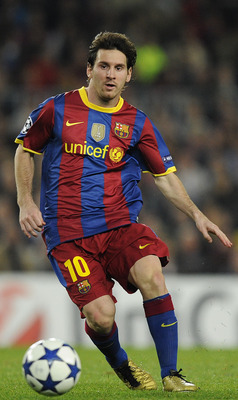 David Ramos/Getty Images
Messi is the current World Player of the Year and is touted by many to go on and become the greatest of all time. He scored 47 goals last season and at 23, it is scary to think that he hasn't even reached his prime yet. Need I say more?
AM—Iniesta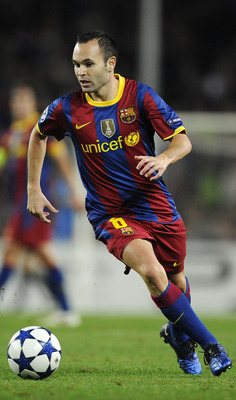 David Ramos/Getty Images
Here I had the choice between Andres Iniesta and Kaka. Both are amazing players, but being a Barca fan, I gave the edge to Iniesta.
His partnership with Xavi will surely go down to be the best ever and as an individual is one of the best players in the world. Iniesta has possibly the best composure in world football, with two examples being that goal against Chelsea, and more recently the World Cup winner.
LW—Ronaldo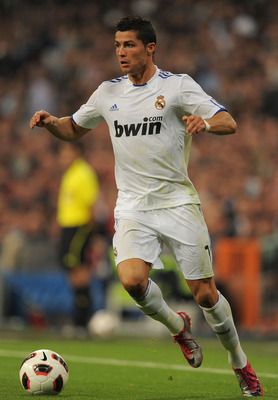 Denis Doyle/Getty Images
This decision was an easy one. On one hand I had the raw talent of Pedro, and on the other I had the finished article that is CR7.
Ronaldo is the complete football player. He is athletic, powerful and his all-round attacking ability is superb. CR7 must go down as a bargain despite that gargantuan £80 million price tag. Fresh off scoring four at the weekend, I fear Ronaldo is just getting started in Madrid.
CF—Villa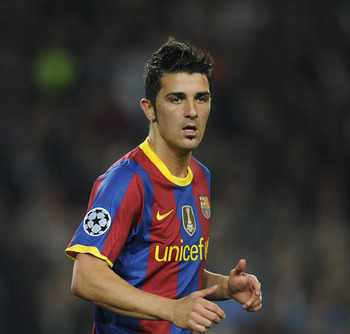 David Ramos/Getty Images
David Villa may not have yet reached the level of performance expected of him in a Barcelona shirt, but still remains the most consistent forward in world football.
With 180 goals in 326 La Liga appearances and 44 in 69 for Spain, he has a scoring record that few can top. While Higuain has more goals in La Liga this season, I would still prefer Villa in my eleven.
Conclusion
Number of Barcelona players in my team: 7
Number of Real players in my tem: 4
Keep Reading

FC Barcelona: Like this team?