Arizona Cardinals vs. Seattle Seahawks: Live Blog, Stats and Analysis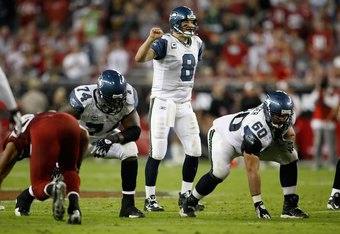 Jeff Gross/Getty Images
The last time we saw the Arizona Cardinals, they were beating the champs.
Now Max Hall gets to lead the crew into one of the loudest arenas in pro football: Quest Field.
And on top of that, the winner will be alone in first place.
Stay tuned!
While I'm thinking about it, I wonder who is the starter next week for Arizona?
Wow huge run by Forsett. The Cardinals have to play better defense there. If they do, Seattle may not be in field goal position.
For once it's not Arizona's offensive line making all the mistakes...
Wow...brilliant play call by Seattle. That may essentially end the game.
Huge mistake by Darnell Dockett. Great call. Dumb play.
Not a good sign there for Arizona. They really need Toler. He made a huge play right there on his coverage of Williams. Not sure why Seattle threw there. I thought they were going to run the clock...
That may have ended the game there for Arizona. They really needed to score there to stay around.
Good gain for Hightower. Not a great throw by Anderson, but they needed a few yards.
Seattle may have shot themselves in the foot again...
Huge swing in momentum for the Cards.
Haha. That's all I have to say. I mean what are we playing? Soccer?
Another flag on a kick. Wow...I mean, uglier.
I thought for a second Carroll might go for it. I'll take another FG.
Huge on two counts: he went out of bounds, and is short of the first down.
Nice defense on the spread set by Arizona. Close to a INT. They sure could've used one.
Arizona has to make yet another huge stop here.
This is why Seattle was willing to give up Deion Branch.
And as I say that...another great grab by Williams
Based on the stats on Hasselbeck just show, I'm playing bump and run if I'm Arizona's secondary.
Another huge catch by Williams. He is an incredible story. Detroit fans are not happy that's for sure.
The Seahawks are going to keep going to Williams until someone can stop him. I would stick DRC on him if I were Arizona.
Great penetration by Dockett there. Bounced it back inside.
Hard to believe this is the closest game of the afternoon. And maybe not the ugliest either...
Whew...that could've been bad. Not a bad throw by Anderson, just a bit early.
This is the area I worry about Anderson though. He's got a killer arm, but little accuracy. They cannot afford a turnover here.
This article is
What is the duplicate article?
Why is this article offensive?
Where is this article plagiarized from?
Why is this article poorly edited?

Arizona Cardinals: Like this team?