Stoke City v Manchester United: Live Blog, Play-by-Play and Analysis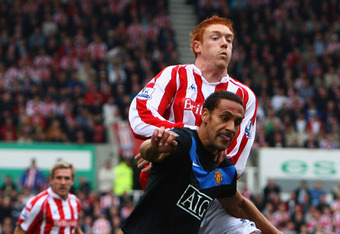 Jamie McDonald/Getty Images
Follow live text commentary as Stoke City host Manchester United at the Britannia Stadium on Sunday morning at 1330 GMT, 0830 EST.
United should be either knackered from a draining week of drama or bolstered by Wayne Rooney signing a new five-year contract. Alex Ferguson's side is unbeaten over eight Premier League matches, but have drawn three on the trot.
If the United manager plays his best players, like Scholes, Fletcher and Berbatov, together, then we'll definitely be looking at some goals here.
Stoke have won three of their last five and can certainly afford to lose to the far bigger club today. When the North Staffordshire club loses, they usually do so quite horrifically. Here's to a Berbatov brace.
See you live at 0530 PST or 1330 local time.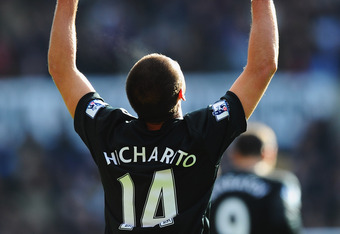 Hernandez done it again. Just as he did against Valencia, the Mexican saved Manchester United from ultimate depression. Without winning today, after so much drama and a string of poor results, would have been lethal to their title chances. Chicharito willed his side to the win with alacrity, positioning, and striking sense. Read why he's more valuable to United than Wayne Rooney.
Manchester United defeat Stoke City 2-1 at the Britannia Stadium. Stoke seemed to have cruelly equalized after what was mostly an unattractive match. But United's white knight strode in at the death to cut the troll's head off. Thank God, figuratively, and thank you all for reading.
Cross comes in. Down by Berbatov. United threatening. Fletcher wide, crosses but nothing. Fifth minute of added time. Just play it square, boys. The visitors still possess. Ferdinand, now back to van der Sar. There's the whistle!
Nani, again. Dribbles for days. Awesome. Crosses. Horrible. United still have it, though. Berbatov now inside Stoke's box! He lays it back for Nani who chooses placement over power (nice) and wins a corner.
Obertan came in for Scholes sometime recently. The replay may have placed blame on carrick, the receiver, not Scholes, for Stoke's goal. Regardless, the ginger prince definitely got an important headed touch in the box for his side's go-ahead goal. Jones is limping off here. Should be more time added for his injury.
Etherington wins a Stoke corner. Sorensen coming forward for it. Summon all hands. Mayday, mayday. The corner comes in. Out for a goal-kick.
The Mexican scores some big goals for both club and country. So much promise. He's fast as hell, skillful, athletic. He fuses predatory instincts with vim and panache. He's a great temperament, too, unlike United's first striker, who has always been grumpy throughout his own young career. Four minutes added time.
But wait. United attack. Berbatov holds. He chips into Stoke's box skillfully. Scholes nods it to Evra, who fires wildly. It deflects to Hernandez who finishes from close! He's done it again! CHICHARITO! United lead 2-1! And just two weeks ago I wrote how underrated Hernandez is. Great positional intuition from the young striker, and he's got a brace! Stoke City 1, Manchester United 2.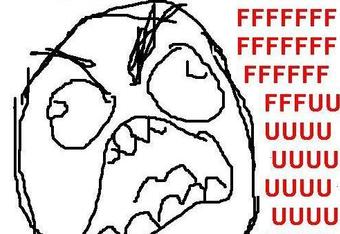 Arg!
God damnit! United have no bottle. That's Stoke's first ever goal against Manchester United in the Premier League. Only 6 minutes left of normal time and we're playing Carrick. We're doomed! Nani wiggles in and crosses out-of-bounds. That's him in a nutshell; great dribbler, bad passer.
Berbatov clears the corner, and away again. Stoke pass from goalkeeper to forward in a one-pass sequence. Evra crosses across Stoke's box. Fletcher drives in a cross that Berbatov attacks. United possessing. This is good composure. But, Scholes turns it over quite poorly. Stoke attack but United are back in numbers. Oh, dear! Tunjay has just scored a cracker! He cut inside of Evra effortlessly and fired left-footed into van der Sar's top-right corner. Amazing shot. Scholes turned the ball over for nothing, there, and Stoke profitted. United have given up the lead AGAIN this season. Stoke City 1, Manchester United 1.
Manchester United lead Stoke City 1-0 after three quarters of the match. Etherington crosses out for a goal-kick which Van der Sar takes leisurely. It's like that, yeah. United possess. Fletcher is playing out wide on the right for United. It's peculiar because he holds so much better in the middle than Carrick. But, whatever. Hey, there's Carrick, miscontrolling horribly and yielding advantage. Eidur Gudjohnsen is entering for Jermaine Pennant. This game still has one more goal in it, I believe. The Icelandic veteran immediately wins a corner. 80 minutes through.
Didn't quite see it but I think I can blame Nani or Carrick for that turnover after some nice United build-up from back-to-front. They still have it. Berbatov fires ugly from range. Come on, curl those, son! 74 minutes done, Stoke goal-kick.
My feed goes down momentarily, so I miss a minute. I come back to find Carrick playing. Have I crossed into another dimension? Hell, perhaps? Stoke throw. Nothing. Looks like Carrick came in for O'Shea, moving Evra to left-back. Berbatov slides forward for United. He crosses left-footed to Hernandez, but it's just ahead of the extremely fast Mexican who shoots wide. Best chance of the half for either side.
This marks another game for Man Utd where you look at the scoreboard and say, "Well, they're still only up one-nil."
Tuncay comes in for Jon Walters. This could get interesting. Man, when do Arsenal and Man City play? Rio has pulled up injured. Dag. Play goes on, though. Finally, the players in black attack forward. Berbatov could fire from range, but plays it wide to Evra who's cross is blocked by number four. The Aeon-sponsored team has a throw in their half. 68 minutes are gone.
Please realize whenever I say "Stoke" I am saying it like Gervais' character on Extras. United almost attack nicely but Nani's pass is wayward. Rio and Vidic are holding nicely. It's crossed in, but Jones' header is off-target. Van der Sar to punt. Various touches... various players... a nice touch from Evra, and now Scholes is felled. Mark Wilson picks up a yellow card. This game needs another goal, not that it'd force Stoke to play differently.
Sixty minutes are done. It's been a pretty uneventful half. Scholes turns over under no pressure, but his side clears. Commentator says it's un-Scholes-like, but, it does happen more than we'd all like to admit. Etherington again. United throw-in on the halfway line. Berbatov is a good passer. Evra now, but it's out for a Stoke throw.
Berbatov against Shawcross, grace versus strength. Stoke goal-kick. Danny Collins is off for Danny Higginbotham. Etherington crosses for City, but there's O'Shea. Fletcher, Nani, Scholes, Hernandez, Nani. The attack fizzles. Ettherington crosses again and it's out for a Stoke throw deep in United's half.
Stoke attack bluntly. It's dangerous but cleared away. Long throw now for Delap. Cleared by... guess. Vidic. Pressure relieved by Fletcher and Scholes. United are countering. Nani plays into Evra who goes absolutely sailing. No penalty. Pennant crosses, Rio clears. Jones shoots but it goes out for a throw. That challenge looked okay on Evra: it was shoulder-to-shoulder. Color commentator disagrees, but, I'm smarter.
We're already five minutes through, but a few were spent while Nani feigned death. United attack, offside. Second half starting slowly. City goal-kick, essentially. Brown wins the 50/50 header. Hoofed forward to Jones, but Fletcher now. Turned over. Etherington drives, Brown clears. Scholes. Evra. No. Okay, let you know when something happens.
United attack but Berbatov's forward pass goes nowhere. City attack but Jones is offside. Stoke have a free-kick in United's half but it's smuggled clear. The home side is surely dangerous from set pieces, I'll give 'em that. Nani gets crunched in on. He writhes like this every time he's touched so it's hard to tell just how much pain he's in. Collins gets booked.
Brown comes in for Neville, who had already taken the field. Player and manager have a laugh. Just heard Rooney's new contract makes him a $280,000 per-week earner. Absurd! United kick off the second half.
Plenty of time for Manchester to characteristically blow this lead. Hopefully Neville is substituted before he gets sent off. Five more minutes of tea time here. Stay tuned, imaginary readers!
You can imagine how difficult this was.
There's the whistle. United lead 1-0 at halftime via a super header from their Mexican prodigy. It was a fantastic header. Let's get Rafael in for Neville and score one more. But, first, let's all drink something, hit the the head, and meet back here in 15 minutes.
This article is
What is the duplicate article?
Why is this article offensive?
Where is this article plagiarized from?
Why is this article poorly edited?

Manchester United: Like this team?