Pumpkin Carving Ideas: The 20 Coolest Sports-Themed Jack-O'-Lanterns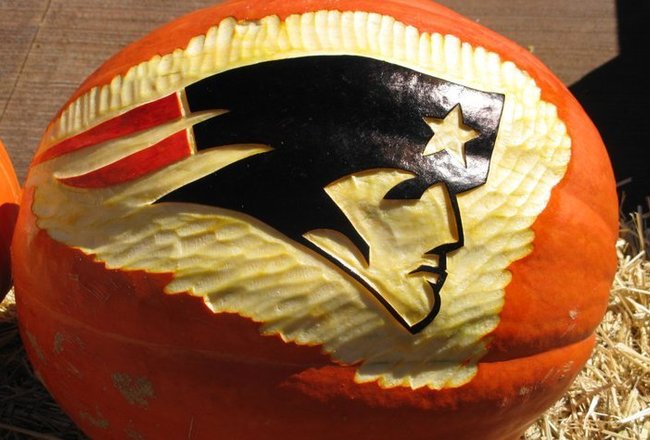 Pumpkin carving ideas are hard to come by these days, and with Halloween fast-approaching you're probably scrambling to find some cool designs for this year's Jack O'Lanterns.
You've done the whole triangle-eyes-square-nose-and-toothy-mouth thing, and you're ready for something different.
Who says our pumpkins have to have witches and goblins carved into them?
We're sports fans here people!
Here are the top 20 coolest Sports-Themed Jack O'Lanterns to get you started.
Enjoy!
20. Oregon Ducks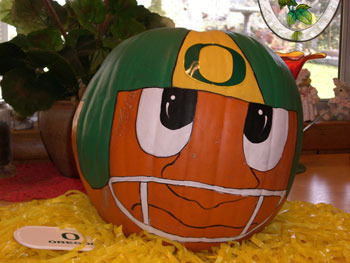 This pumpkin would be ranked higher, but nobody actually carved the thing.
Still, the paint job is pretty awesome.
19. Penn State
Joe Paterno would be proud!
18. Soccer Ball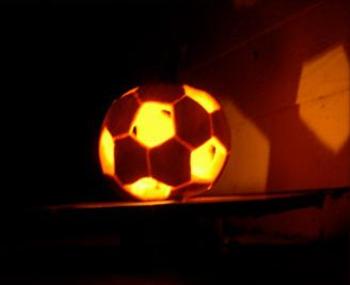 Turning a pumpkin into a soccer ball is a neat idea, but do you really need to invite the neighborhood kids to kick your Jack O'Lantern around?
17. Georgia Vs. Florida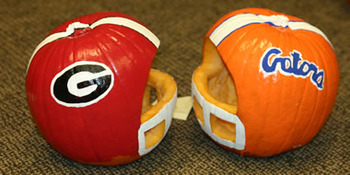 Here are some more painted pumpkins, but the artist here put in the extra effort and turned them into football helmets.
Great idea!
16. New England Patriots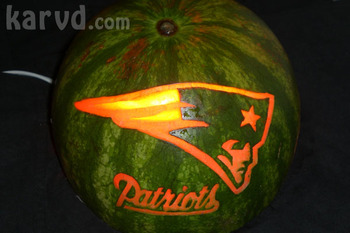 This one is actually a watermelon, but close enough!
15. Philadelphia Phillies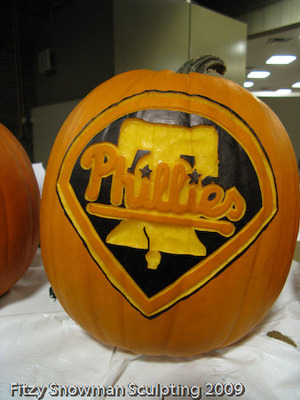 We've been seeing quite a bit of the carving mixed with Sharpie marker pumpkin designs lately, and the Phillies' logo really pops on this one.
14. Olympics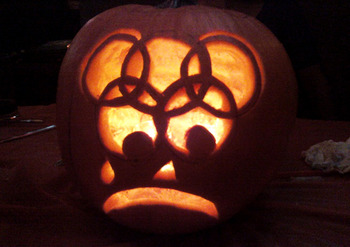 At first glance, this one might not seem like it has anything to do with sports, but look closer...
See the Olympic rings?
13. Pittsburgh Steelers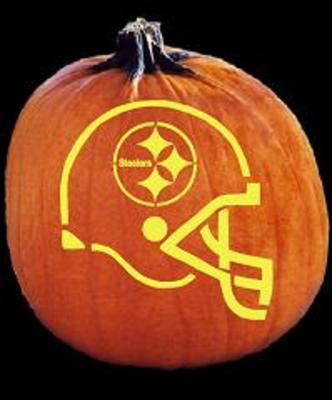 Now, I can't tell if this one is actually a real Jack O'Lantern, but anything with a Steelers logo gets my vote.
12. LSU Tigers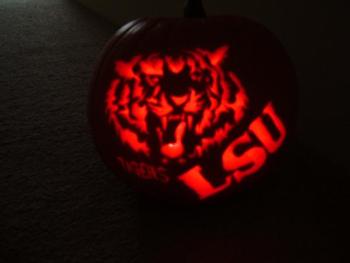 This LSU Jack O'Lantern is both sports-themed and spooky.
The best of both worlds!
11. Michigan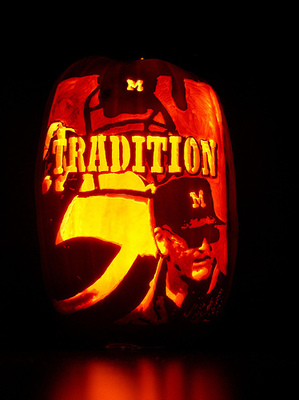 I can barely carve eyes in my Jack O'Lanterns, so this one is very impressive!
10. Manny Ramirez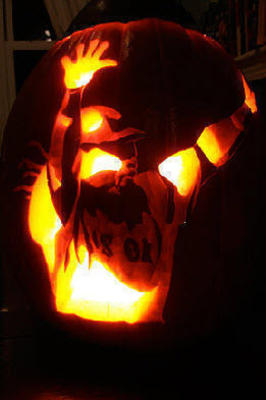 How cool is this pumpkin?
This almost looks like a photograph.
9. Michigan State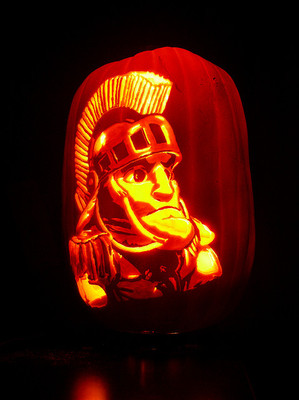 8. Baltimore Ravens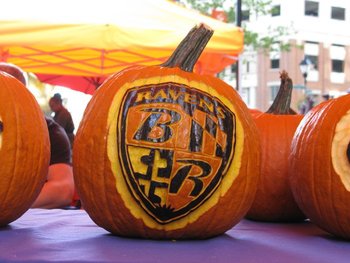 Even drawing the Ravens logo would be extremely difficult, let alone carving it.
7. Ozzie Guillen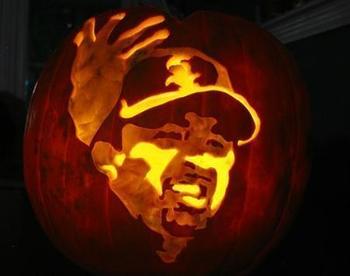 I wonder if this Jack O'Lantern has the same kind of attitude.
6. UNC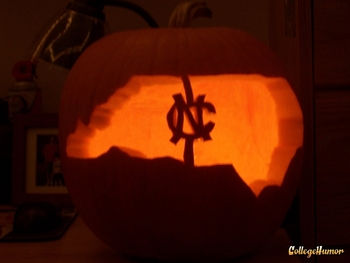 I wonder how many pumpkins this carver went through to create this.
5. Oklahoma City Thunder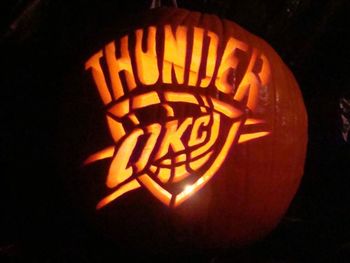 The Oklahoma City Thunder have some of the best fans in the NBA, and apparently these fans are pumpkin-carving pros.
4. Another Soccer Ball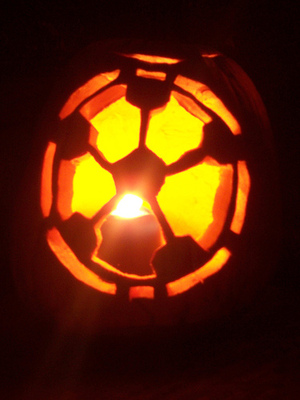 Look at how thin some of those lines are.
I would end up with just a big circle carved into my Jack O'Lantern.
3. LeBron James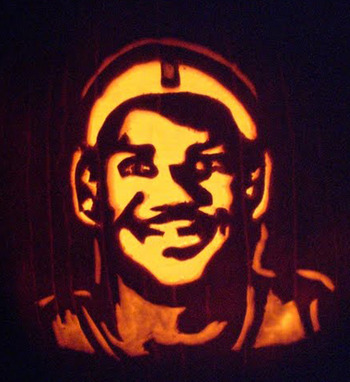 This LeBron James carving might be pretty cool...
2. Cleveland Cavaliers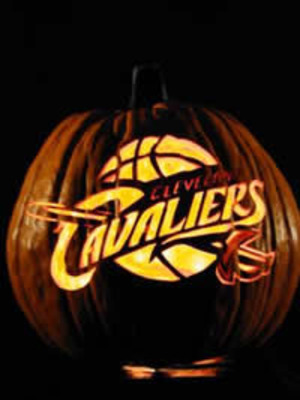 But the Cavs come out on top with this one.
1. The Ohio State University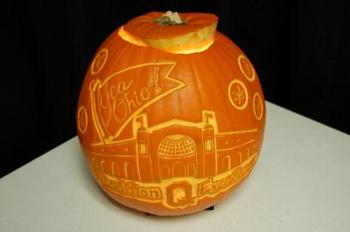 Call me a homer, but this is the best pumpkin carving I have ever seen.
Go Bucks!
Keep Reading