Maria Sharapova, Tiger Woods and the 25 Weirdest Athlete Couples Ever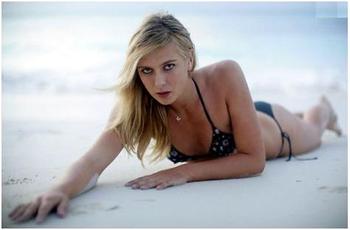 Maria Sharapova is one of the most beautiful women in the world.
Sadly, like many who share that title, she is now off the market thanks to someone well below her level of attractiveness.
Enter The Machine.
Sasha Vujacic and Sharapova announced their engagement Thursday, and the lucky Laker keeps getting richer. He's piggybacked off Kobe Bryant for two NBA title rings, and likely plans to etch his name onto the U.S. Open trophy if his fiancee wins it.
He may want to give up that dream.
Regardless, the union of these two athletes is one of the strangest in the sporting world. But is it historically the weirdest couple of all time?
Follow me on Twitter and read more at L.A. Sports Examiner.
25. Cristiano Ronaldo and Everyone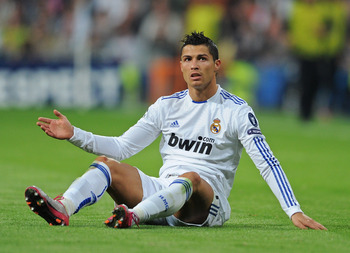 Jasper Juinen/Getty Images
Seriously, when the footballer is involved, can it even be called a couple?
He must be trying to beat Wilt Chamberlain for women slept with and Derek Jeter for most girlfriends by the age of 30.
And he might get it.
24. Brett Ratner And Serena Williams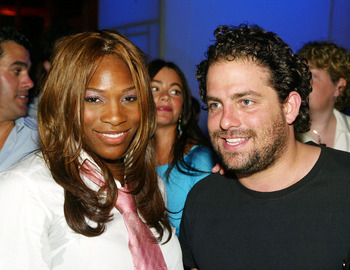 Kevin Winter/Getty Images
Yes, Ratner does have the money and "cred" to be hanging with Serena.
But really? Serena couldn't find someone who doesn't spend all his money on Jonah Hill impersonation lessons?
23. Andre Agassi and Brooke Shields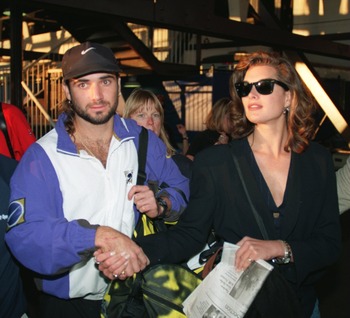 finley kitaen
Clive Brunskill/Getty Images
Steffi Graf doomed this pairing as soon as she stepped in front of Agassi and made him fall head over heels.
The bigger question, however, is how they stayed together so long when the tennis great's hair made him look like a butch lesbian.
22. Sasha Vujacic and Maria Sharapova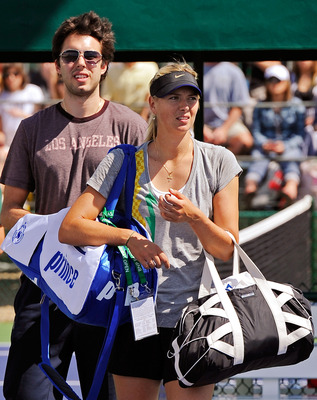 Kevork Djansezian/Getty Images
Sharapova must not have met Vujacic when he looked like this.
Well, at least both their careers are slowly dying simultaneously. Two peas in a pod.
21. John McEnroe & Tatum O'Neal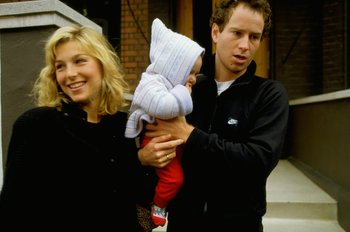 Getty Images/Getty Images
When O'Neal filed for a divorce from the tennis goofball, he simply responded with "You have GOT to be KIDDING ME?"
Luckily, he didn't strangle the lawyers. Can't imagine it didn't pass through his mind, though.
20. Hank Baskett and Kendra Wilkinson
Alexandra Wyman/Getty Images
After Baskett's terrible muff in the Super Bowl, most people wouldn't call him the smartest player in the NFL.
He's got it made, though, because not even 100 James Harrison tackles could make him the dumb one in this couple.
19. Lamar Odom and Khloe Kardashian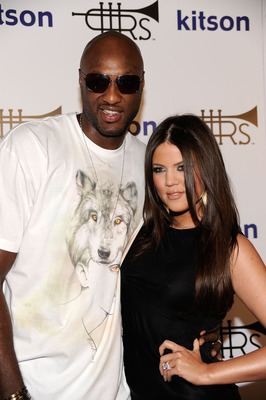 rodman electra
Frazer Harrison/Getty Images
A perfect match: Both are used to being overshadowed by people who they've piggybacked off for years.
Kobe Bryant and Kim Kardashian would make a way better pairing, right?
18. Tiger Woods and Elin Nordegren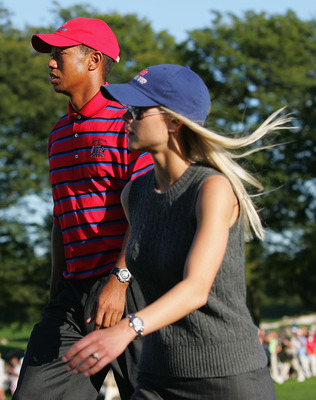 Jamie Squire/Getty Images
Normally, people marry someone else and screw around with the nanny.
Tiger clearly hates normal.
17. Tito Ortiz and Jenna Jameson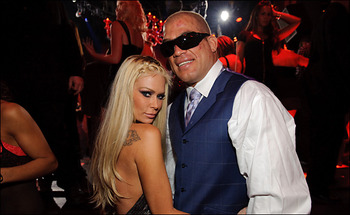 What can be said about Ortiz's face that hasn't already been said about a pepperoni pizza?
Man, I hope he doesn't read this.
16. Dennis Rodman and Carmen Electra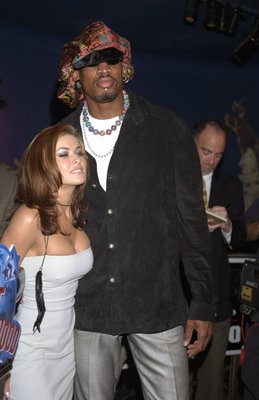 Steve W. Grayson/Getty Images
Rodman's right hand can only be in a few places, judging by Electra's facial expression.
Considering they were only married 10 days, Rodman needed to get his fill 24/7.
15. Ashley and Cheryl Cole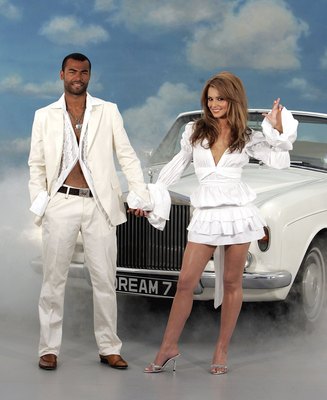 Chris Jackson/Getty Images
Ashley Cole has had so many sex scandals, Don Draper's getting jealous.
If Cheryl dragged him into what might be the worst picture of all time, then his revenge makes perfect sense.
14. Joe DiMaggio and Marilyn Monroe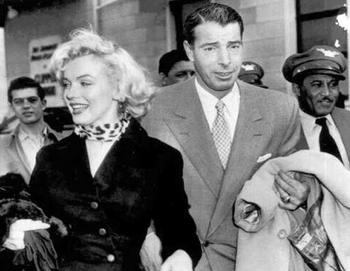 Two of the biggest stars in their respective fields decided to tie the knot, but divorced only a year later.
Why? Monroe must have noticed his pearly whites.
Yeesh. Looks like he uses a field goal post to floss.
13. Doug and Jackie Christie
Frederick M. Brown/Getty Images
It's bad enough that every time Doug did anything on the court, he made some sort of E.T. signal to his wife.
But the fact that Jackie made him do it gives her the crown for "Neediest Wife Ever."
12. Kris and Anna Benson
Most guys would break up with his girlfriend if she went on Howard Stern's show and told the world she'd sleep with everyone on his team, including the ball boys, if he ever cheated on her.
Kris isn't most guys. He happily accepted a trade to the Orioles when the Mets couldn't deal with Anna's antics anymore.
At least the Mets are normal.
11. Chris Webber and Tyra Banks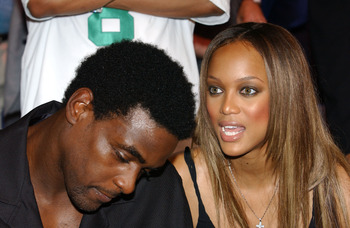 Robert Mora/Getty Images
Chris Webber has a secret that men across America would kill to know:
How to tune out Banks.
How else could he have been in any sort of relationship with her?
10. C.J. Hunter And Marion Jones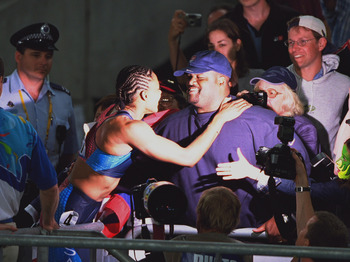 petersen kekich
Mike Powell/Getty Images
Jones decided to split with Hunter after she accused him of tainting their "drug-free" relationship.
Hmmm.... That doesn't exactly seem fair, considering the ex-Olympian took more drugs than Lindsay Lohan.
She must have a different definition of "Drug-free" or just never took the D.A.R.E. program.
9. Candace Parker and Shelden Williams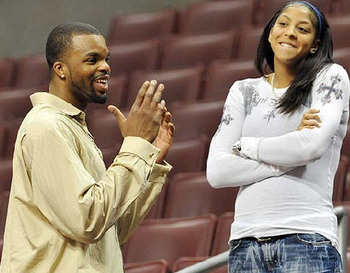 Notice how all the slides have the man in the relationship listed first.
Same pattern here.
8. Mike Tyson and Robin Givens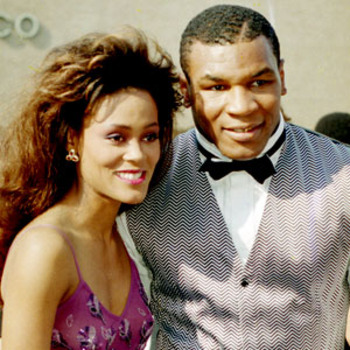 It makes sense these two split after a short period of time.
Doesn't make sense to get intimate with someone who enjoys the taste of children's flesh.
7. Marko Jaric and Adriana Lima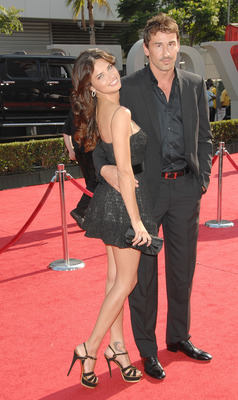 Stephen Shugerman/Getty Images
What does the supermodel see in him? He's cross-eyed, hairy and awful at his profession.
But that's not even the worst part. Did you notice he's trying to wear a brown belt and black shoes?
Oh no you didn't!
6. Chuck Finley and Tawny Kitaen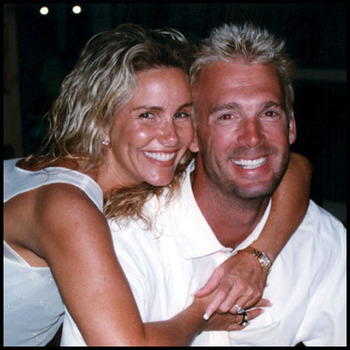 When two people this naturally color-coordinated get together, nothing should be able to break it up.
However, when one of them gets covered in red after a spout of domestic violence, it's time to part ways.
I'm talking about Finley. Kitaen whooped his keister.
5. Craig and Carlita Hodges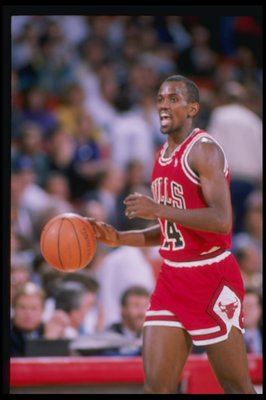 Tim DeFrisco/Getty Images
Craig Hodges wasn't well-known during his NBA career, and Carlita wanted to change that.
He's now known as the "First Man Doused in Gasoline and Subsequently Pelted with Lit Matches."
Congrats.
4. John and Sherrie Daly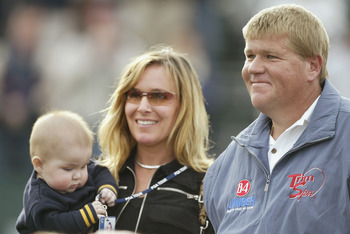 Scott Halleran/Getty Images
After allegedly attacking John with a steak knife and getting involved in a drug ring and illegal gambling circuits, Sherrie established herself as one of the few blond thugs in the world.
People think John is unstable. I wonder why...
3. Dennis Rodman and Madonna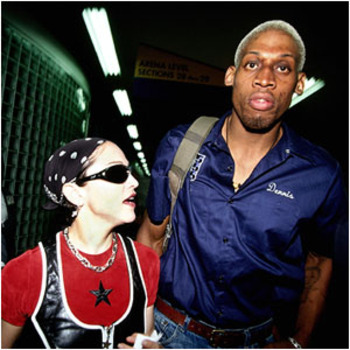 The Worm wins the right to be the only person on this list twice, and might easily make it a third time in the future.
Did anyone notice he dyed his hair the same color as Madonna's skin?
2. Dwyane Wade and Star Jones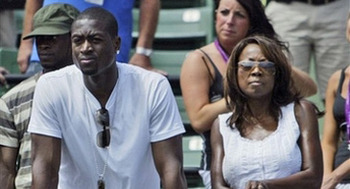 This couple might be the funniest in the history of sports if the rumors were true.
Seriously, Flash? A multimillionaire athlete can't get someone better?
Even Tiger's hookers are a step up from Jones.
1. Fritz Petersen & Mike Kekich ... and Their Families?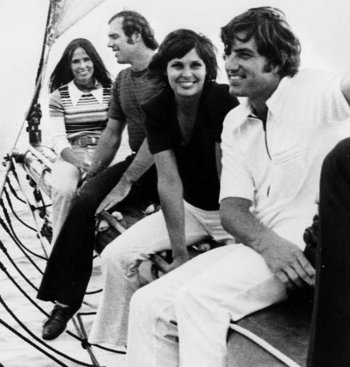 In 1972, two New York Yankee pitchers did something most people only see on ABC primetime programming:
They switched families. For real.
Petersen and Kekich decided to exchange their wives, two kids and dogs because they were just so close buddies.
After the swap, the two Southpaws lost that tight friendship.
Serves them right, they broke the bro code.
Follow me on Twitter and read more at L.A. Sports Examiner.
Keep Reading