TUF Season 12: St-Pierre vs. Koscheck Live Blogging the Madness, Pt. VI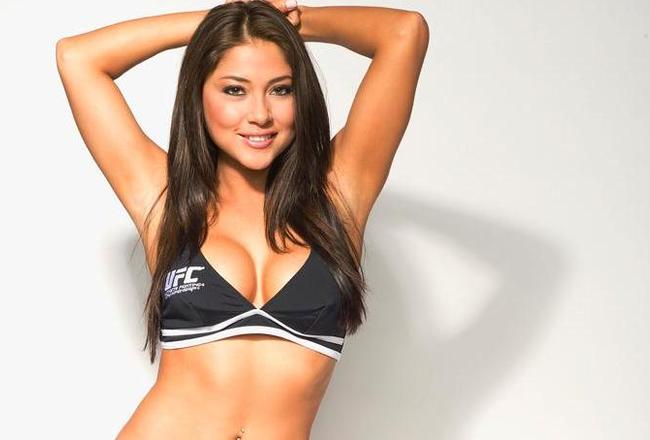 Since I'm sparing you the undignified praise of Arianny Celeste, I figured I'd do it visually.
You're welcome and moving on...
Last week's episode gave us our first real burner inside the cage as Nam Phan demolished a very game Spencer Paige, thus giving Josh Koscheck's team its first victory over Georges St-Pierre's machine. So at least they won't get completely shut out.
Of course, then Kos went and ruined his first chance at saving a little face by abandoning any pretext of class and adulthood. Instead, he chose to rub Paige's and GSP's collective face in the defeat by banging on the shared wall between dressing rooms—something particularly courageous since Team St-Pierre had been the picture of respect following each of their three previous wins.
Anyway, the fellas reignite hostilities in about half an hour. See ya then.
And it looks like neither Koscheck nor St-Pierre possesses such credentials.
Plus, nobody looks right in a batting helmet and shorts.
That's it for another week, but be sure to catch next week's episode. Trust me when I tell you this—there is nothing funnier than elite athletes trying to swing a baseball bat if they have no experience in the art.
I'll say it—Magakian was a disappointment. Oh well.
He sounds like a bright dude and his skills are evident.
"I don't have to put fear in no man's heart. As a man, you don't have to have fear of another man. I'm not gonna place that upon you. But I will earn your respect...that's what I can guarantee." Yep, I'm on board with Jonathan Brookins.
Brookins stays true to his understated nature by deflecting much of the attention a jacked up Dana White tried to send in his direction. Something tells me St-Pierre is digging on this hombre.
Team St-Pierre looks to be seconds away from yet another triumph as Brookins starts to sink in the choke and Magakian goes into a slow-motion collapse. The Armenian is forced to tap and volunteer for the loss.
But maybe not as Sevak puts his right hand on the ground for additional support. This allows Brookins an opening for the rear-naked choke and he's going for it. Magakian defends, but he's loath to give up that third pillar of support.
He's still on there like a damn spider monkey, but—judging from each man's breathing—Brookins is using more of his reserves than Magakian.
He's able to get out of a bad position, but allows Brookins to take his back—though in the standing position. Jonathan unwisely hops onto his opponent's back, but he's burning a lot of energy staying there without gaining much of an advantage.
Sevak catches the kick, but Brookins goes Jon Jones and uses a pseudo-suplex to toss his adversary to the mat. Brookins tries to maintain top control as Magakian counters by wriggling for an escape.
Magakian and Brookins touch gloves before beginning to feel each other out—a period that lasts longer than the entire McKenzie/Stevens bout. Finally, Team Koscheck's competitor has had enough and tosses a high kick at his adversary—Team GSP's selection responds with a shot feint, followed by a body kick.
It's an insult to our intelligence that they can't muster decent commercials—it can't be that hard so they must not think much of the audience.
No, I'm not. They don't even TRY to stay within the realm of the possible in these pieces of excrement—show me a SINGLE instance in the history of "DJ Hero" where a party like that has broken out around a freakin' video game.
Dave and Buster's elbows its way into the commercial rotation as does Red. I'm thankful if only for the change in form of torture.
Josh Rosenthal and his extensive tats get the call inside the cage.
Whoo, I'm a big fan of astronomy, but Brookins just lost me with the Universe talk. That's farther out there than I care to travel.
"This is our house fellas, we built this place." Except it's not and you didn't—not figuratively, not literally, not in any stretch of the phrase.
There was a blink. I saw one.
Or put Kos on mute, one or the other.
Huh, Sevak has good power, great wrestling, great judo, good jiu-jitsu, and is "strong as hell." That about covers it, doesn't it? Brookins might as well not even step in the Octagon.
It's the blinking or rather, the lack thereof—I'm not sure I've seen him do it yet. That sort of intensity can't be fabricated.
With most competitors, I don't buy the exaggeration about toughness and mental instability, but I'll plop my money down when it pertains to Magakian. There's something in those eyes that makes me a believer. If he's got any skill, I'm guessing he'll be a difficult out.
Seriously, they should've either saved some of these clips or the rest of the season is going to be insane. GSP's "blah, blah, blah" whilst imitating Koscheck almost had me in tears. He's like a big kid, but one with exceptional self-control and confidence.
The fact that Kos is trying to make a big deal about the cut only confirms my suspicions. Let's just ignore the super-duper sandal prank.
This article is
What is the duplicate article?
Why is this article offensive?
Where is this article plagiarized from?
Why is this article poorly edited?