Dooley Talks Tide: "Sometimes, The Simplest Plan's The Best."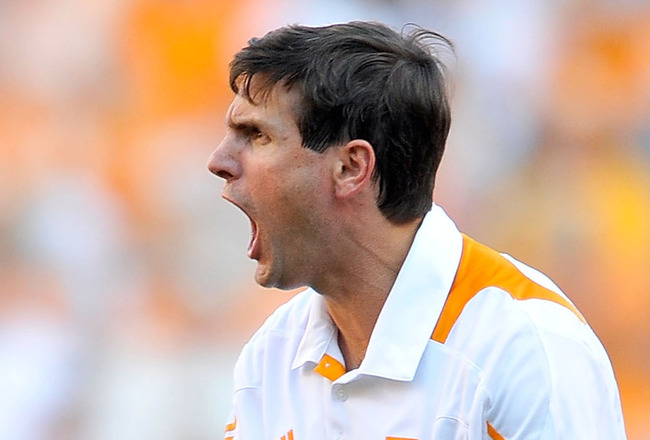 Yelling won't help UT get any better. Of course, it couldn't hurt at this point.
Grant Halverson/Getty Images
In his Monday comments to the press, University of Tennessee head coach Derek Dooley spoke about his 2-4 Volunteer squad's upcoming game in Knoxville against Alabama.
In his remarks, Dooley touched on the bye week of preparation, his expectations going into the game, and how other teams have dealt somewhat effectively with the Tide so far this season.
"You can over-coach it sometimes," coach Dooley pointed out. "It's not how much the coaches know. It's your ability to communicate it to the players, the players to understand it, the players to believe in the plan and then go out and execute it."
"Sometimes, the simplest plan's the best."
On How to Beat Alabama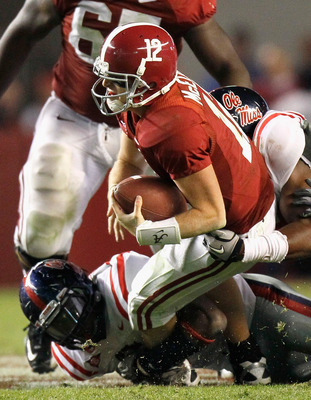 Pressuring Greg early can lead to success against the Tide offense.
Kevin C. Cox/Getty Images
"It's the right things. It's stop the run. It's pressure the quarterback on third down. It's good return game and special teams to control the vertical field position, and it's run the ball. That formula has been around for a long time in football, and it's what I believe in. And it's why I was in the same program for seven years because that's what works."
"I guess you can overthink it and outscheme them, but ultimately the teams that have given 'Bama problems are the teams that come out and compete and go toe-to-toe. They hit them and they go four quarters and they keep putting the pressure on them. They do a great job of tackling, which Ole Miss did a good job containing the runners. South Carolina did a good job containing the runners. But there's not a lot of plays out there."
"They've been pretty incredible on defense."
On The Bye Week
Will the extra week of preparation magically make UT's line better? Probably not.
Grant Halverson/Getty Images
"Well, it can be an advantage and disadvantage. In fact, I think they did the stats. The statistics show it's no advantage. It's like 50-50. I don't know. You could break it down."
"It can be an advantage because you obviously have more meeting time. You have more time to work some fundamentals. The obvious things tell you it's an advantage."
"The disadvantage is you get out of your routine. You're a lot longer from the game speed and the tempo. So sometimes teams come out early and it's like, 'Oh, man, it hasn't been this fast in a while.' Sometimes you can over-coach them."
"You feel like you have all this time and you put in all these plays and have all these great schemes and you go out there and look terrible. I've seen it work, and then sometimes you grind them so hard in the bye week, they come out flat."
"I've seen it across the board. I've seen us coming out of the bye week ripping it. I've seen a team look unprepared and everybody in the stands goes, 'What did they just do for two weeks?' and for good reason."
"I'm glad we had it because I thought it would help us heal, but then when you hear that. Had we played Saturday, Dallas probably wouldn't have played. Prentiss might not have played. Daniel Lincoln wouldn't have played. Montori wouldn't have played. Whether they play next week or not, I don't know."
On The Special Atmosphere Of Alabama-Tennessee Weekend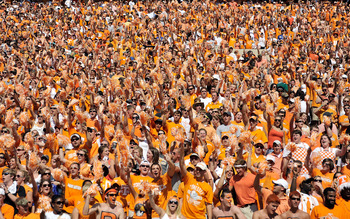 With any luck, this section of Neyland will be empty by halftime.
Grant Halverson/Getty Images
"Well, it's going to be a real – and I'm going to tell the team this – what a great honor it's going to be able to play in games like these."
"Growing up, you always know about the Third Saturday in October. We screwed that up when we added more teams."
"But this is always one of the great traditions in college football, Tennessee-Alabama. It's what makes this place special. It's what makes the SEC special."
"So it's going to be a great opportunity for our players and a good responsibility on how we compete going against a phenomenal football team that's been kind of a standard in college football the last two years. Deep, talented, well-coached. We all know about them."
On CNS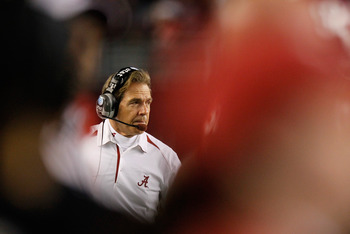 (To be said in a John Facenda voice) "He was born Nicholas Lou Saban..."
Kevin C. Cox/Getty Images
"What separates him? I don't know how to answer that. First of all, philosophically, those things that I said that he believes in, I think, stand the test of time."
"He's always believed in that. He's shown that he's done a great job in recruiting, to get really good players, and each year always doing a great job of evaluating what they do and how they can do it better."
"He's done a good job of that, and I think that in its simplest form leads to success and consistency."
"I don't know. Philosophically, I've always believed in what he believes in. That's a starting point. A lot of our organizational structure is very similar. But we're very different personalities."
"We have a lot of respect for each other, and we're friends. But it's like any coach, you believe in some things philosophically the same but everybody's personality's a little different and how you put it on the program."
On The Disappointing Season The Vols Have Had so Far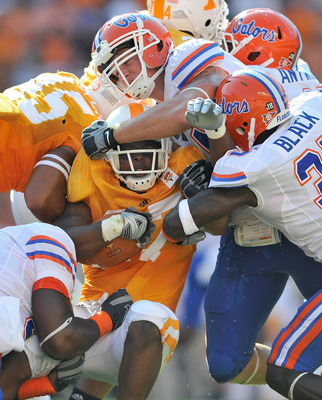 Imagine this picture but with the tacklers wearing crimson and white.
Grant Halverson/Getty Images
"I think we always expect more - and we should - as coaches. If I look at what's disappointing and what is encouraging instead of surprised, I would use those two words."
"There were times when I was disappointed in how we competed, and then there were times I was real encouraged with how we competed."
"Given our roster and given our injuries and all that, as much as we want to be in a lot better shape, I think what's important is not to go in the tank because the results aren't there. You stay focused on the process. You believe in the process. You believe in the structure we're putting in, and we're always going to do that. I think over time, the results will come."
"It's hard. It's hard to say don't get frustrated by the results because that's what we're all measured on. But that is in fact what you must do in order to show improvement."
On Ingram and Richardson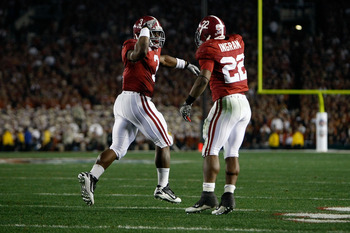 Let's hope they are too fast and too furious.
Jeff Gross/Getty Images
"I think the reality is -- and same thing with (both of them)-- to sit there and put it on one guy. A lot of these, it's OK, that's the free guy. Schematically, we put the extra guy down. Boom, they wind it back, you've got the free guy.
"To put it on (Richardson), you're fooling yourself. Because more times than not, he's going to make one guy miss in space. I don't care how good a tackler you are."
"Even a good tackler, a really good back - you all have heard me say this - that a good back makes an offensive line. I've always felt that way. It's that age-old debate."
"But when you have good backs, they make guys miss. Then what happens is, it generates yards and it generates juice. The O-line gets more confident. They play faster and more physical. It's critical that the other guys get off the blocks, that you minimize the space to make guys miss and then you gang tackle."
"And if you don't do that, you're just asking for a big play."
(Stopping them) starts with beating blocks and running to the football and then doing a great job of wrapping up the runners. I'm sure there's things on the other end where the other team feels like they didn't do as well too. It's always who knows? Who knows? I know this: We haven't stopped the run very well or the pass. That's something we're going to have our work cut out for us, as we do every week."


On Alabama's Defense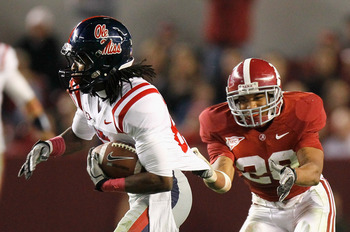 "C'mere!"
Kevin C. Cox/Getty Images
"Well, first of all, it's nearly impossible to run the ball. I think they've gone, how many games without a 100-yard rusher? That isn't luck. They've got some stout guys up front. I mean stout. Thick. They play with great pad level. There's just not a lot of room in there. And they fly to the ball."
"And then, like they always do, they get you behind the chains and then here comes -- affect the quarterback. Ole Miss had what, 40 yards at halftime, 47 yards at halftime? That's not luck. That's good defense."
"They've got all the parts."


On The Wild SEC East Standings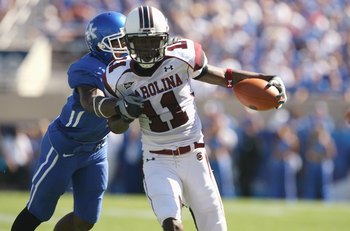 Kentucky? Are you freakin' kidding me?
Andy Lyons/Getty Images
"I think it's obviously unique. But it happens. In '01 (at LSU), we made it to the Dome at 5-3, a three-way tie. So it's going to happen. It's cyclical."
"But the point is right. When you go 6-2, may not get there. And certainly as dominant as Florida has been in recent years, that's what probably has changed. It's probably unique to this time of year, isn't it?"
"If we're looking at the SEC East standings, we've got real problems. We need to be looking at our team and how we can win a football game. What is this, the fifth double-digit blowout prediction that we're going to play? Is that right? We're talking about the SEC standings?"


On UT's Injury Situation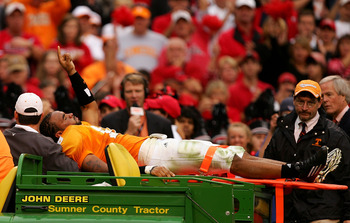 Hurt him, but don't HURT him.
Streeter Lecka/Getty Images
"From an injury standpoint, let me just give you some rundowns here because I know you're going to ask. I'll preempt it. First of all, the guys that are out in addition to the standard (Naz) Oliver, (Marlon) Walls and (Ben) Martin. Cody Pope's still out. Greg King, he still hasn't been 100 percent. I think Greg's got a great future here, but he just hasn't been full-go since I've gotten here. We went in and scoped him, cleaned it out a little bit, and it needed it. So he's probably going to be on the shelf for the year. (JerQuari) Schofield, we're going to start working him back. We'll see today and tomorrow and the next day, but my history has been whether he's available on Saturday or not, the reality is if so it will be a limited role."
"Even if he is back, I don't know. I'm kind of assuming he's out, and it's gravy. Dallas (Thomas), hopefully he'll be 100 percent. But if he's not, that's a concern because he wasn't 100 percent last week and he struggled. Daniel Lincoln, we'll find out today. He's going to kick today. If he's got any problems today, the likelihood of him kicking is not very good. Montori Hughes, right now, I'm considering him out. We'll find out more in the next two days. (It's an) Ankle. Prentiss Waggner, we really have been holding him out of all contact in the open week. We held him out of contact the week before Georgia. We're going to have to hold him out of contact this week, so that's not good. You're about to play two of the best backs in the country, and we've got to tackle."

"Other than that, we've got a pretty healthy squad we'll be fielding on Saturday."


Keep Reading

Alabama Crimson Tide Football: Like this team?