SEC Football: Predicting Every Week 8 Game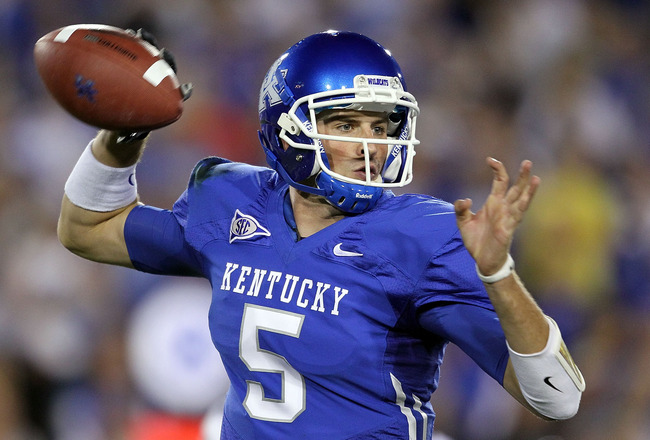 Hartline put his heart on the line in the thrilling upset of 10th-ranked South Carolina.
Andy Lyons/Getty Images
The past weekend was a good one in the SEC. Auburn thrashed Arkansas, 65-43, Mississippi State upset Florida and No. 10 South Carolina fell on the road to Kentucky.
In my picks, I went 4-2, missing on Kentucky and Georgia.
Here are my picks for this week's games, including the usual "Game of the Week"...
Ole Miss Rebels (3-3) at No. 23 Arkansas Razorbacks (4-2)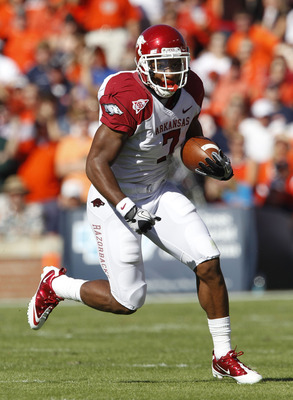 This Razorback finds some running room because the defender is too busy reading the Hog's pants leg. "Razorbacks"
Mike Zarrilli/Getty Images
After losing by three touchdowns and giving up 65 points to Auburn last week, the Hogs look to rebound.
Meanwhile, Ole Miss has been decent lately, and perhaps gained a "moral victory" against Alabama. Or maybe not.
Arkansas expects Mallett to return after he was hurt in the second quarter against the Tigers. It's at home in front of 70,000 people.... who still hate Houston Nutt.
Arkansas finally gets that long-awaited win over Nutt. And they do it in a big way, knocking Ole Miss to Earth.
Arkansas 55, Ole Miss 29
UAB Blazers (2-4) at No. 24 Mississippi State Bulldogs (5-2)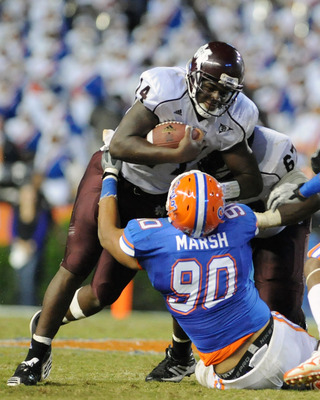 Neither the Swamp nor the Marsh could stop Mississippi State...
Al Messerschmidt/Getty Images
Yes, that's right, the SEC Dawgs are in the BCS Top 25, and it's not Georgia! Mississippi State, since losing a heartbreaker to No. 4 Auburn and getting throttled by No. 6 LSU, has won four-straight games, the last an upset win over the Gators in the Swamp (which I predicted).
UAB is fresh off a 21-6 win over UTEP, scoring 21 unanswered points after halftime. Their only other win was a Hail Mary to beat Troy, who is currently in control of their conference.
Mississippi State is a good football team that would have a shot at Atlanta.... if only they were in the SEC East.
Mississippi State 37, UAB 21
Swing Game of the Week: Georgia (3-4) at Kentucky (4-3)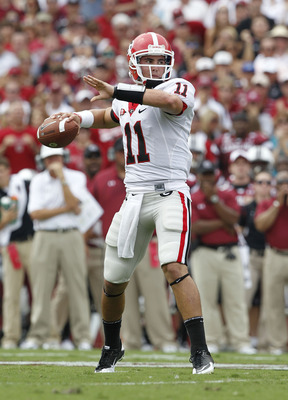 Murray's number no longer represents UGA's ranking in the SEC!
Mike Zarrilli/Getty Images
The SEC (L) East is a big mess right now. But this battle of division contenders (who are a combined 3-6 in the SEC) could have a say in how the rest of the year plays out for both schools.
Georgia is riding high after blowout wins over Tennessee and Vanderbilt to turn a 1-4 frown upside down to a potential .500 record.
Kentucky did the same thing to South Carolina that they did to Auburn—fall behind big at the half, only to come back. The difference is, against the Gamecocks, they finished the job by pulling a huge upset, 31-28.
Every time I pick a UGA game, I'm wrong. They lose when I pick them to win and win when I think they'll lose. UGA fans, do I have some potentially great news for you—I think Kentucky wins at home!
Kentucky 32, Georgia 25
No. 21 South Carolina Gamecocks (4-2) at Vanderbilt Commodores (2-4)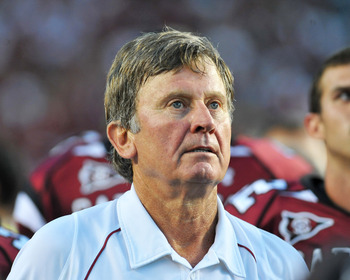 Here is Spurrier looking at the scoreboard and cheering against Florida.
Al Messerschmidt/Getty Images
USC has a hard time winning road games, but Nashville isn't exactly intimidating.
We'll find out a whole lot about the Cocks in this football game. If they can bounce back and win this one, they should be re-named favorites to win the East... unless Kentucky or Tennessee have anything to say about it.
I say USC bounces back in a pretty good game.
South Carolina 31, Vanderbilt 16
No. 8 Alabama Crimson Tide at Tennessee Volunteers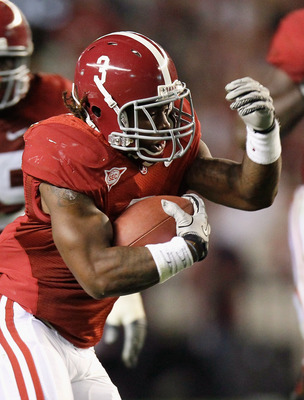 Now you see him.... now you see his muscles.... now you don't.
Kevin C. Cox/Getty Images
The Crimson Tide are 6-1 while Tennessee is an ugly 2-4.
It might be at Neyland Stadium. It might be a packed house. But is anybody here going to take a 2-4 team with no talent, depth or experience to beat a team that's 6-1 with one of the best coaches in the sport and top-notch talent? Didn't think so.
Tennessee gives their all in a valiant effort.... but they're not good enough to beat 'Bama.
Alabama 41, Tennessee 17
SEC Game of the Week: No. 6 LSU Tigers (7-0) at No. 4 Auburn Tigers (7-0)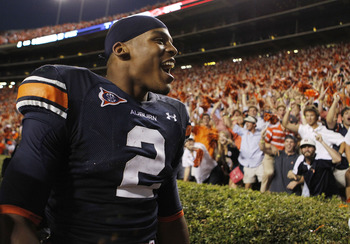 Can't quite crack the chalk? SuperCam can!
Mike Zarrilli/Getty Images
After hanging 65 on Arkansas, Cam Newton leads the Tigers to war with the Bayou Bengals of LSU, who have found the weirdest ways to win.... ever.
As usual, here is my game prediction, in full detail:
LSU draws first blood with a field goal to take a 3-0 lead in the first. But here comes Cam Newton. He leads the Tigers down the field before he plunges in from a yard away to make it 7-3, Auburn. After Josh Bynes picks off a Jordan Jefferson pass, Wes Byrum connects on a short field goal, and Auburn leads 10-3 after the first quarter.
In the second, LSU adds a field goal to cut it to 10-6 Auburn, but then Mike Dyer gets the ball and finds the end zone from 13 yards out to make it 17-6, Auburn. Lee then comes in, and he directs a drive that concludes with a 24-yard TD pass to Terrance Tolliver. They kick the PAT, and it's 17-13 with a minute to go in the half. That's enough time for Cam! He directs the offense down the field before finding Emory Blake from 28 yards out, and Auburn leads at the half, 24-13.
Auburn stops LSU to start the second half, and here comes Cam. He leads yet another scoring drive that ends when he runs it in from 22 yards away. It's looking like all Auburn, right? 31-13? But Les Miles is LSU's coach, so it isn't over yet.
In the fourth, Ford scores from three yards out to make it 31-20. After a stop, LSU moves into FG range with five minutes left. After Auburn gets a stop on third down, LSU lines up to kick a field goal to make it only an eight-point game. But the kick is blocked by Mike Blanc, and Auburn still leads by 11. After chewing some clock, Patrick Peterson makes a huge tackle inside the five on an outside run by McCalebb to hold Auburn to a field goal. 34-20.
On LSU's next possession, they pick up a first down before the Mad Hatter, for some reason, puts Jefferson back into the game. Intercepted by Demond Washington, and Auburn gets its highest-ranked victory with Chizik as coach, beating sixth-ranked Louisiana State University. Auburn wins!
Auburn 34, LSU 20
Keep Reading

Auburn Football: Like this team?