2011 NFL Mock Draft: The New Year of the Quarterback?
Steve Dykes/Getty Images
The 1983 NFL Draft is commonly regarded as producing the greatest crop of NFL quarterbacks ever.
In that year, "The Year of the Quarterback," six signal callers were selected in the first round. John Elway, the first overall pick, was quickly followed by Todd Blackledge (seventh overall), Jim Kelly (14th overall), Tony Eason (15th overall), Ken O'Brien (24th overall), and Dan Marino (27th overall).
Headlined by Elway and Marino, the quarterbacks selected in the first round of the 1983 NFL Draft threw for a combined 189,825 yards and 1175 touchdowns.
Looking around the NFL, and at the possible talent pool for the 2011 draft, this upcoming draft may be a new "Year of the Quarterback."
Too many teams need quarterbacks. Because of this, it is reasonable to say that many might reach for a quarterback in the first round, turning lesser prospects into first round picks. Also skewing the landscape of the 2011 draft is the yet to be negotiated CBA, which will likely include a rookie pay scale.
(NOTE: For entertainment purposes, it was assumed multiple underclassmen would declare for the draft. Also, the draft order was determined by taking teams records and point differentials. However, the structure of the draft, as reflected by the playoffs, was taken into account. Hence the Ravens and Texans pick before teams with worse records and why this 2011 NFL Mock Draft Super Bowl will be played between the Eagles and Jets).
No. 32: New York Jets Select Deunta Williams, S, North Carolina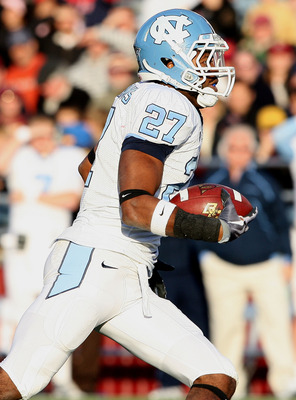 Elsa/Getty Images
The Jets could do any number of things with the 32nd pick. They could select nose tackle Jerrell Powe or have their choice of leftover 3-4 defensive ends such as Cameron Heyward and Cameron Jordan.
But they ultimately opt to select the top safety in the draft. Deunta Williams provides an immediate upgrade over any other safety the Jets have on their roster and further improves an already strong secondary.
No. 31: Philadelphia Eagles Select Derek Sherrod, OT, Mississippi State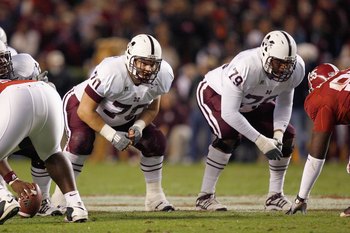 Kevin C. Cox/Getty Images
A popular call before the season began was the Eagles selecting a cornerback because their current corners were not supposed to hold up. Well, over a third of the way through the season the Eagles' pass defense ranks eighth in the league.
Where the team really needs help is on the offensive line, which has allowed 20 sacks this season. They get it by drafting Derek Sherrod.
No. 30: Pittsburgh Steelers Select Aaron Williams, CB, Texas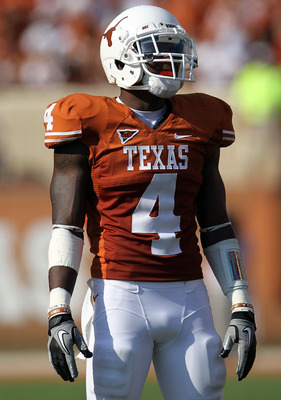 Ronald Martinez/Getty Images
The Steelers are deep and talented at most positions, but year after year their cornerbacks leave something to be desired.
They miss out on the top corners in the 2011 draft because of a late draft pick, but they still get a hell of a player in Texas' Aaron Williams.
No. 29: Atlanta Falcons Select Jeremy Beal, DE, Oklahoma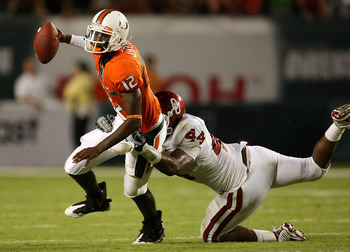 Doug Benc/Getty Images
John Abraham is not getting any younger.
The Falcons could add a defensive end here, and with a preponderance of 3-4 defensive ends littering the 2011 draft, a guy like Jeremy Beal is going to shoot up boards comes April. He totaled 11 sacks last season and has seven in 2010. He will fit in nicely with the Falcons.
No. 28: New England Patriots Select Mike Pouncey, C/G, Florida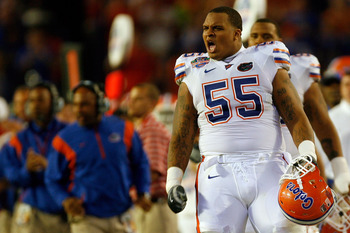 Eliot J. Schechter/Getty Images
A lot of people are expecting the Patriots to reload their offense with these first two picks. However, they have plenty of picks in the next few rounds to do that. Right now they need to focus on bolstering the offense and defense at the grittier positions.
With the seventh pick they selected Robert Quinn to improve the pass rush. With the 28th pick they select Mike Pouncey to bolster the offensive line. Even if Logan Mankins makes nice with Robert Kraft and Bill Belichick, center Dan Koppen and guard Stephen Neal are not getting any younger. Pouncey can play both positions and gives the Patriots flexibility.
No. 27: New Orleans Saints Select Greg Romeus, DE, Pittsburgh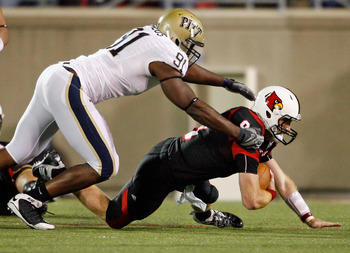 Andy Lyons/Getty Images
The New Orleans Saints could use some help rushing the passer from the defensive end position.
Greg Romeus has seen his stock drop due to an injury that has curtailed his 2010 season, but the Saints will be jumping for joy if he is available at 27. He might not be the best pass rusher, but he is an incredibly solid defensive end that will open up opportunities for everybody on the defensive line.
No. 26: Tennessee Titans Select Travis Lewis, LB, Oklahoma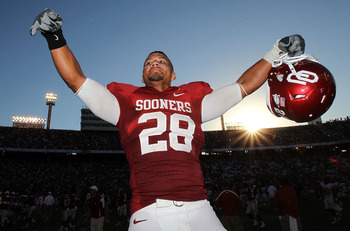 Ronald Martinez/Getty Images
This pick could be flip-flopped with the Giants' Bruce Carter pick. No matter what order they fall in, both teams need help at linebacker and Lewis and Carter are the two best 4-3 linebacker prospects.
No. 25: New York Giants Select Bruce Carter, LB, North Carolina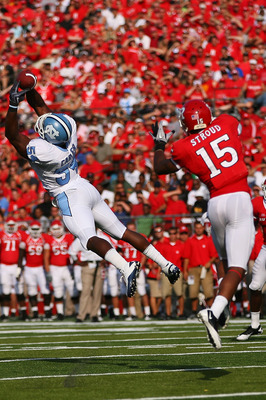 Andrew Burton/Getty Images
The Giants are thin and lack talent at the linebacker position. So, naturally, they are shocked when Bruce Carter falls all the way to the 25th pick. The Giants jump all over the talented North Carolina linebacker.
No. 24: Indianapolis Colts Select Jurrell Casey, DT, USC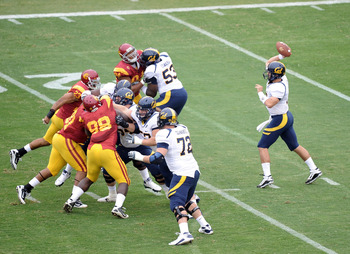 Harry How/Getty Images
The Colts could take an offensive lineman with this selection, but their run defense has been abysmal this season and they need to address it in some way. Therefore, they select the best 4-3 defensive tackle on the board in Jurrell Casey.
No. 23: Chicago Bears Select Anthony Castonzo, OT, Boston College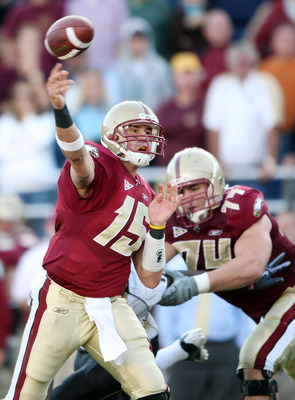 Elsa/Getty Images
The Chicago Bears have allowed 27 sacks this season. Jay Cutler's career will be over before the 2011 draft commences at this rate. They need offensive line help. While the depth at offensive line positions in this draft is thin, it is definitely a possibility that the top OT, Joseph Barksdale, could drop to this spot.
But in this Mock Draft the Cowboys reach for Barksdale in the top 10, leaving Anthony Castonzo to the Bears with the 23rd pick.
No. 22: Kansas City Chiefs Select Blaine Gabbert, QB, Missouri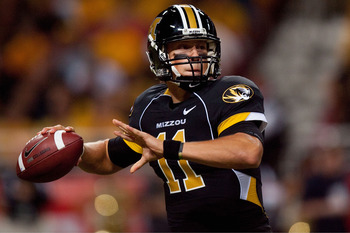 Dilip Vishwanat/Getty Images
The sixth quarterback selected in the first round, matching the total from the 1983 draft, Gabbert is the third underclassmen quarterback to declare early.
Gabbert, much like Foles, has prototypical size and is having a knockout junior year for the Tigers, throwing for 1591 yards with 10 touchdowns and only three interceptions.
The Chiefs have to realize they can do better than Matt Cassel and select the Missouri native.
No. 21: Seattle Seahawks Select Christian Ponder, QB, Florida State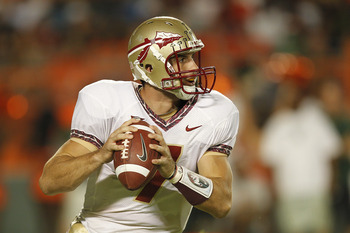 Joel Auerbach/Getty Images
Matt Hasselbeck is old and the Seahawks will need to provide Charlie Whitehurst with competition heading into 2011 preseason training camp.
Ponder is a solid college quarterback that may not be a first round pick in other drafts, but makes his way into the first round based on the fact that many teams in the NFL need help at the position.
No. 20: Baltimore Ravens Select Jonathan Baldwin, WR, Pittsburgh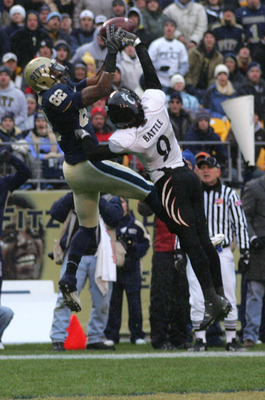 Jared Wickerham/Getty Images
This pick may not be conventional. The Ravens stocked up at wide receiver this past offseason. But look at the players they targeted. Anquan Boldin is the youngest starter, and he will be 31 in 2011.
Baldwin provides good value at this selection and the Ravens are a talented enough team to take a risk here on a luxury pick.
No. 19: Houston Texans Select Nick Fairley, DT, Auburn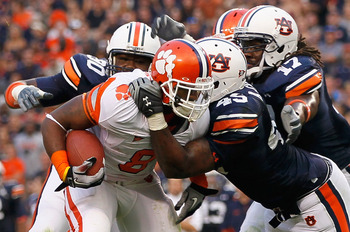 Kevin C. Cox/Getty Images
It almost seems like it doesn't matter what the Texans do, their defense still lags behind the rest of the league.
They don't generate enough of a pass rush, which shouldn't be difficult to do when you have Mario Williams at defensive end. The problem is that they do not get adequate play at the defensive tackle position. Marcell Dareus has been the only interior defensive lineman selected to this point and plenty of talent is still available at the position. The Texans address that need by selecting Auburn's Nick Fairley.
No. 18: Miami Dolphins Select Ras-I Dowling, CB, Virginia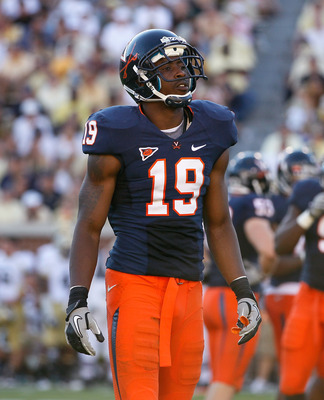 Kevin C. Cox/Getty Images
The Miami Dolphins are very close to having a dominate defense. Before that happens, they need somebody to play corner opposite Vontae Davis. They get their man when Dowling drops to 18th after Brandon Harris leap-frogs him as the third cornerback in the 2011 class.
The Dolphins could look for a runningback, but the 18th overall selection is too early to do so.
No. 17: Tampa Bay Buccaneers Select Akeem Ayers, DE/OLB, UCLA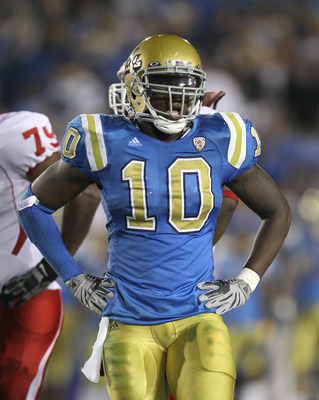 Stephen Dunn/Getty Images
The Buccaneers have no pass rush whatsoever. Akeem Ayers is rising up draft boards at lightning speed and it would be surprising if he were available with the 17th pick of the first round. If he is, the Buccaneers would be remiss not to draft him, bolstering their pass rush and rush defense in the same selection.
No. 16: Arizona Cardinals Select Nick Foles, QB, Arizona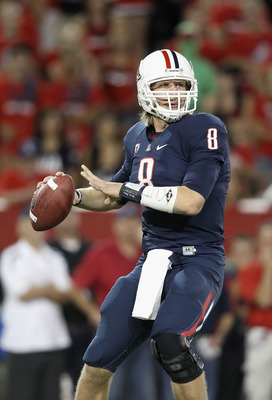 Christian Petersen/Getty Images
Here's a shocker. The Cardinals are fools if they are complacent with Max Hall and John Skelton as their quarterbacks entering the 2011 season. Nick Foles is having a great junior season. He has thrown for 1600 yards while completing 75.3 percent of his passes.
The Arizona Cardinals select the quarterback from Arizona, who declares for the draft ahead of the rookie pay scale.
No. 15: Green Bay Packers Select Mark Ingram, RB, Alabama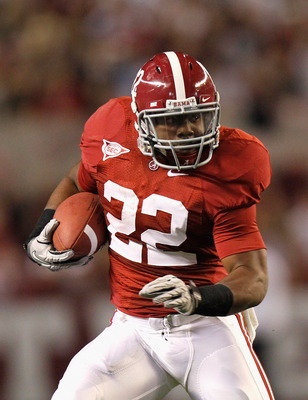 Kevin C. Cox/Getty Images
This pick is too enticing for the Packers to pass up. Ryan Grant has done an admirable job, but he will be coming back from a season-ending injury next year and heading into his age-29 season.
Grant may come back and be productive, but Ingram is a much better back-up than Brandon Jackson and definitely a future feature back for the team.
No. 14: Washington Redskins Select Julio Jones, WR, Alabama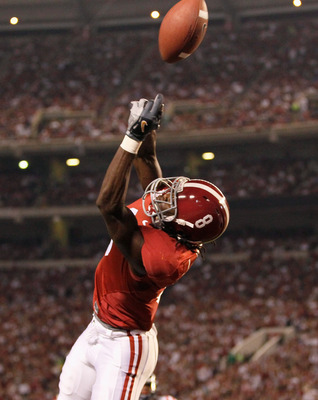 Kevin C. Cox/Getty Images
This is a difficult pick to judge. The Redskins are hemorrhaging yards on defense, but it is their first season under Mike Shanahan's 3-4 base. The defense should improve as they learn the system and come together as a unit.
On the offensive side of the ball they need to get younger, better targets for Donovan McNabb. Jones is simply too much value to pass up at this point in the draft.
No. 13: St. Louis Rams Select Allen Bailey, DE, Miami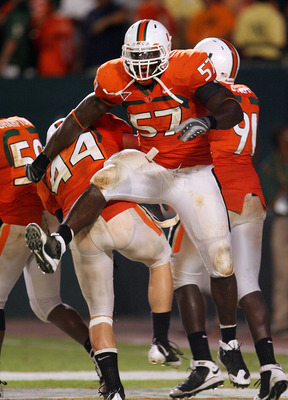 Doug Benc/Getty Images
Even with his injury and the fact that he plays tight end, it is tempting to slot Kyle Rudolph of Notre Dame in at this slot. The Rams have a plethora of solid receivers heading into 2011. There need at the position is overstated in places. The return of Donnie Avery and Mark Clayton along with Danny Amendola, Brandon Gibson, and Danario Alexander should provide Sam Bradford with enough targets for many years.
But their no-name defense has been playing above their heads. They need some premium defensive talent. That is where Bailey comes in. Bailey is the second consecutive pick out of Miami.
No. 12: Jacksonville Jaguars Select Brandon Harris, CB, Miami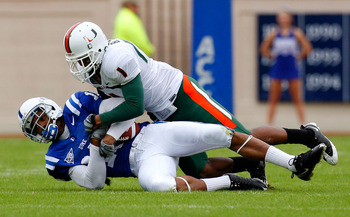 Kevin C. Cox/Getty Images
The Jaguars need a quarterback for the future, but this selection is way too early to jump on any of the remaining quarterback prospects.
While the Jaguars have gone wild with selections of defensive ends to rush the passer in the past couple of drafts, they have neglected their secondary, which is ranked 28th in the NFL with 263.7 yards allowed per game. They are trying to build around Maurice Jones-Drew. With the deep pool at wideout, the position can wait. This pick has to be in the defensive backfield. Harris is the best available corner.
No. 11: Minnesota Vikings Select Prince Amukamara, CB, Nebraska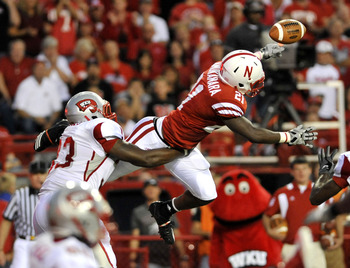 Eric Francis/Getty Images
The Vikings could select a quarterback after Brett Favre retires. But they will probably give the Tarvaris Jackson/Joe Webb tandem a chance to succeed, or maybe sign Michael Vick.
So in this Mock Draft, we'll take the safe route and have the Vikings select one of the better value selections in the draft to this point: Prince Amukamara. This is an excellent pick. The Vikings haven't shown much weakness on pass defense, but Antoine Winfield and Lito Sheppard aren't getting younger and Chris Cook was a questionable second round pick last year. This selection makes an already strong Vikings defense even better.
No. 10: Cincinnati Bengals Select Ryan Mallett, QB, Arkansas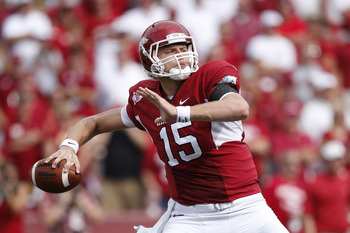 Joe Robbins/Getty Images
Peter King astutely pointed out that Carson Palmer can easily be cut following this season and not have any of his remaining money count against the cap, new CBA or no new CBA.
The Bengals will, wisely, strike while the iron is hot and select their quarterback of the future, Ryan Mallett, the third quarterback taken in the top 10.
No. 9: San Diego Chargers Select Michael Floyd, WR, Notre Dame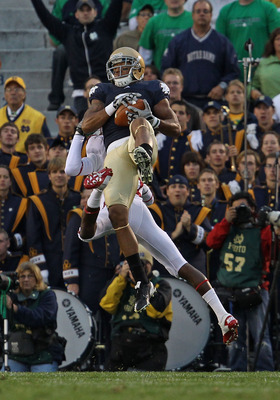 Jonathan Daniel/Getty Images
The San Diego Chargers, like the Cowboys, seem too talented to be picking this high. In fact, they may be even more talented than the Cowboys.
Given the acrimonious negotiations between the Chargers and his agents, it seems unlikely Vincent Jackson will return. Malcolm Floyd turns 30 next year and the Chargers would do well to strike when the first round talent pool at wide receiver is deep. After A.J. Green, the next wideout selected will be a toss-up.
Here, the pick is Floyd because he's having the best 2010 season thus far.
No. 8: Denver Broncos Select Adrian Clayborn, DE, Iowa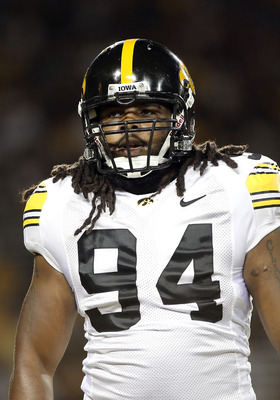 Christian Petersen/Getty Images
The Broncos need some help along the defensive line to patch up a rush defense that surrenders 127.7 yards a game.
Clayborn has been painted with character issues as of late, but the talent is too good to pass up here. With Elvis Dumervil returning in 2011, the Broncos are positioning themselves to have a fearsome front seven.
No. 7: New England Patriots (from Raiders) Select Robert Quinn, North Carolina
Streeter Lecka/Getty Images
Many have the Patriots selecting offensive players with this early choice, gifted to them from the Raiders. However, the Patriots draft based on value, and with seven picks other than this one in the first four rounds, the Patriots will make this choice based on who the best available player is.
Quinn might come back to UNC following his suspension. But the talent is there. The Patriots pass defense gets burned regularly, in part, because they lack a legitimate pass rushing threat. Quinn gives them one, and a damn fine one at that.
No. 6: Dallas Cowboys Select Joseph Barksdale, OT, LSU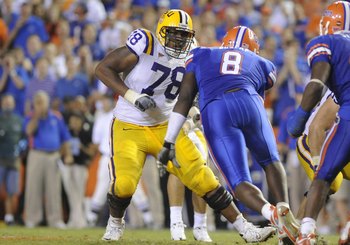 Al Messerschmidt/Getty Images
When a team with the talent of the Cowboys is selecting this high, it is difficult not to scratch your head and ask, "what more do they need?"
Then again, when a team like this is drafting so high it is never more possible for there to be a reach in the top 10. That's why the Cowboys reach for Barksdale, the cream of the crop in a weak OT class. It bolsters their offensive line and hopefully improves a running game that should be better given the talent of Felix Jones, Marion Barber, and Tashard Choice.
That's back-to-back picks from LSU if you're keeping track.
No. 5: Detroit Lions Select Patrick Peterson, CB, LSU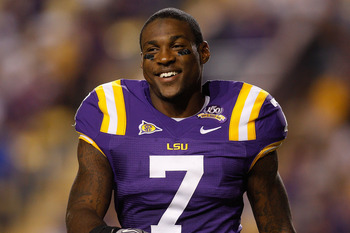 Chris Graythen/Getty Images
Patrick Peterson drops to the fifth pick and the Lions rush to get their selection in.
This pick is an example of need meeting value in a head-on collision. The Lions make a spectacular choice. Last year they fortified the defensive line with Suh, this year they bolster the secondary with Peterson.
No. 4: Cleveland Browns Select Marcell Dareus, DL, Alabama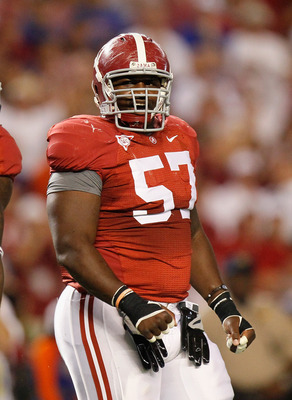 Kevin C. Cox/Getty Images
The Browns may look at quarterbacks, but given Mike Holmgren's past when it comes to developing players at the position and Colt McCoy's surprisingly decent play against the Steelers this past week, the Browns will look to upgrade other positions.
If the Browns decide to stick with McCoy, this pick becomes a question of value versus need. The Browns need a dynamic playmaker on offense at a skill position, but the value here is in a defensive selection. That being said, the Browns do the right thing and bolster their front seven with Dareus, who is an absolute monster that can be shifted around to various positions on their defensive line.
No. 3: San Francisco 49ers Select Jake Locker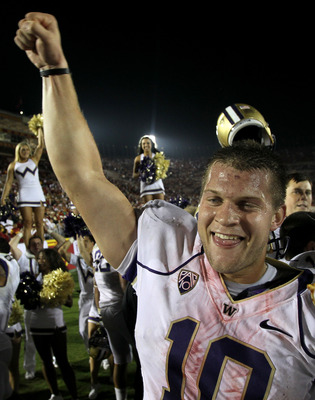 Stephen Dunn/Getty Images
Mike Singletary was part of the Mike Nolan coaching staff that drafted Alex Smith. After Singletary is fired, the new coach will want to bring in his own quarterback. Preferably one who hasn't been serenaded with chants of "We want Carr!"
That quarterback is Jake Locker.
No. 2: Carolina Panthers Select A.J. Green, WR, Georgia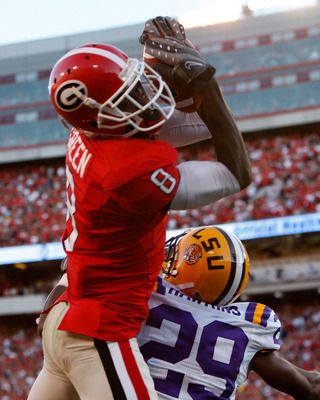 Kevin C. Cox/Getty Images
The Panthers will have to decide if they're going to roll with Jimmy Clausen as their starting quarterback in the future.
If the answer is yes, then they need to get him some targets. A.J. Green would immediately form a dangerous one-two punch with a healthy Steve Smith at the wide receiver position.
No. 1: Buffalo Bills Select Andrew Luck, QB, Stanford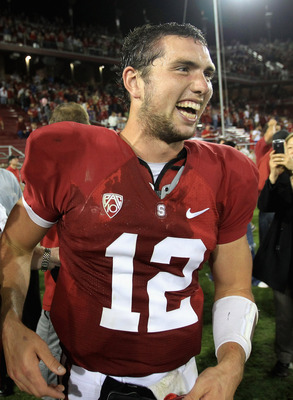 Ezra Shaw/Getty Images
Look at that smile. That's the smile of a man who just went first overall in the 2011 NFL Draft.
Much like the 1983 draft, the 2011 draft leads off with a quarterback from Stanford. The Bills hope, unlike the 1983 draft, that this Stanford quarterback does not choose to force a trade to play for a team that is not a complete mess.
What Do You Think?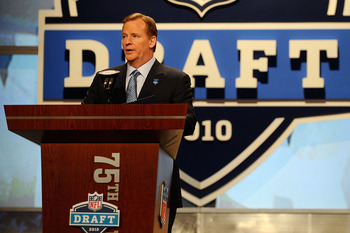 Jeff Zelevansky/Getty Images
Any aspiring Mel Kiper Jr.'s want to have their say?
What do you think about my quarterback theory heading into the 2011 draft?
Any feedback is greatly appreciated.
Thanks for reading!
Keep Reading