Arianny Celeste: Bleacher Report's Sports Chick Hottie of the Week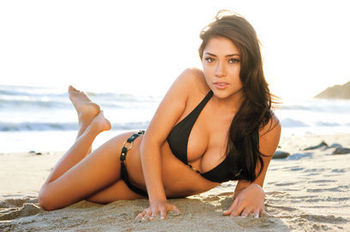 Ladies and gentlemen, meet Arianny Celeste.
She is Bleacher Report's sports chick hottie of the week.
If she looks familiar, that's because she's a ring girl at UFC events. And of course since she's uber-hot, as you may have guessed, she's also a model.
Want to know more about this beautiful UFC girl? Or, simply want to see more?
The Arianny Celeste show starts now.
Arianny Celeste: Bikini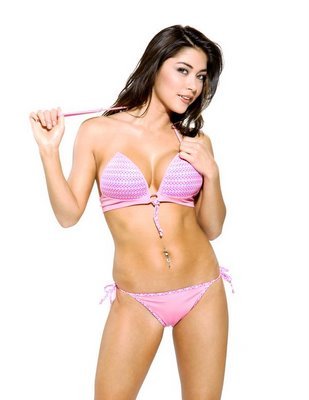 She's pretty in pink and looks great in a bikini.
Oh, and that navel ring is hot too!
Arianny Celeste: Lingerie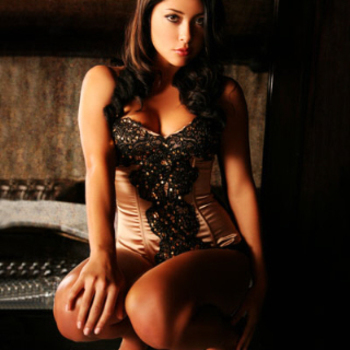 What kind of stuff does she model?
Well, lingerie for one.
Does it even matter?
If Arianny is selling it, many people will buy it.
Arianny Celeste: UFC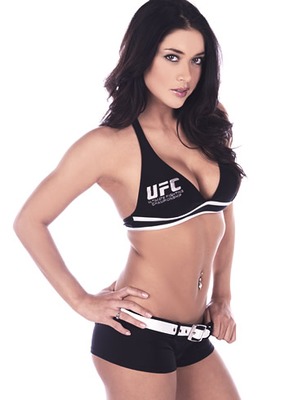 As a ring girl, she's become quite the celebrity.
Her hotness just can't be ignored.
Celeste first made her UFC debut in 2006 at the Hard Rock Hotel.
Arianny Celeste: Bikini 2
Here is Arianny again in a bikini.
You can see from the other photos in this slideshow that she loves wearing two pieces.
Just a warning...in case you're against that kind of stuff.
Arianny Celeste: Wet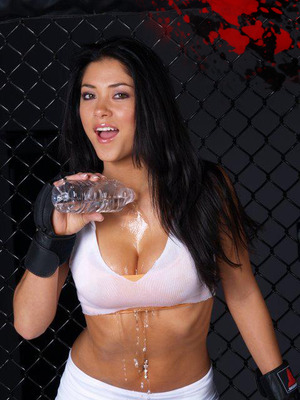 She's one girl who doesn't mind getting wet.
After being around sweaty fighters all the time, I'm sure she's used to it.
Arianny Celeste: The Patriot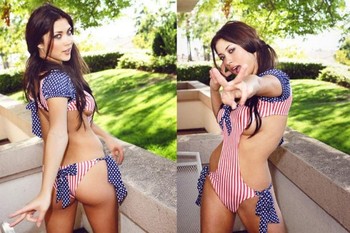 She loves UFC and she loves her country.
This chick is also patriotic.
The red, white and blue never looked so good on anyone.
Arianny Celeste: Two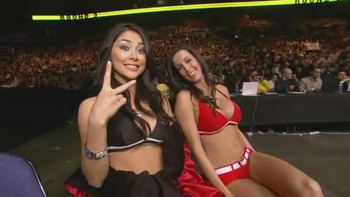 Either that's a peace sign or she's hinting at something.
The two of them against...you?
Think they can take take you down with a tag-team attack?
Arianny Celeste: Poolside at TAO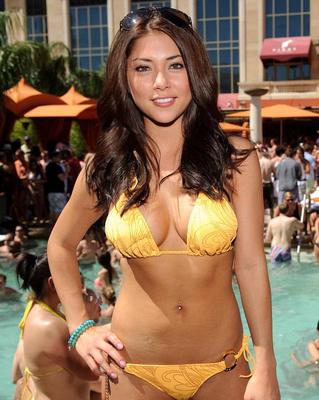 She parties too.
Arriany's a Las Vegas girl, born and raised.
So you may see her hanging around at the Strip.
Here she is at a pool party in TAO, the club.
Arianny Celeste: Maxim Cover Girl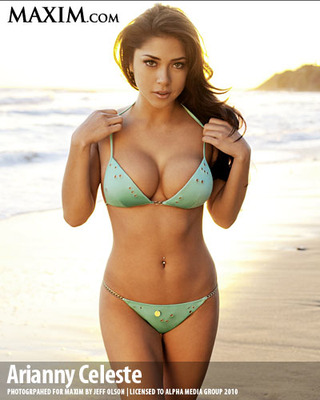 Arianny was the Maxim cover girl for their May 2010 issue.
In that edition, the magazine named her "The Hottest UFC Octagon Girl."
They also listed her on Maxim's Hot 100 for 2010.
Arianny Celeste: Leather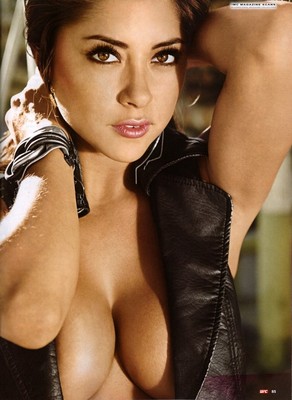 Love this photo of her.
First, because you can see her beautiful brown eyes.
And second, because she's wearing leather.
Arianny Celeste: On The Grass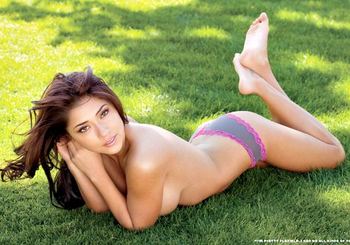 Arianny is not the type of girl that frets over grass stains on her shirt.
She simply just takes her shirt off and lays on the grass.
Arianny Celeste: Bikini Three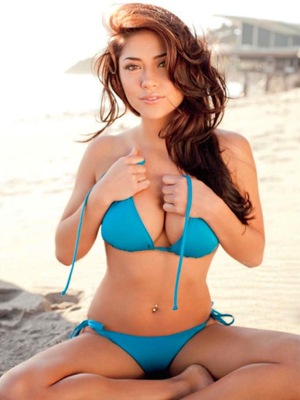 Yes. You've figured it out by now.
She likes wearing bikinis.
And sometimes she has a problem with keeping her top on.
Hopefully that's not a problem.
Arianny Celeste: Bedroom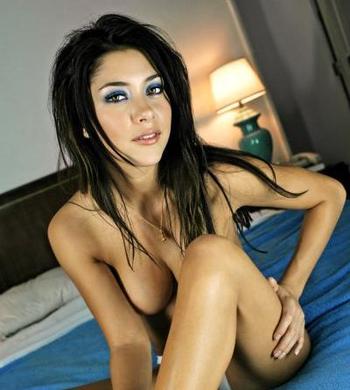 I know. You're probably sick of seeing Arianny in a bikini.
So here's a photo of her without one.
Any complaints?
Arianny Celeste: Leather Again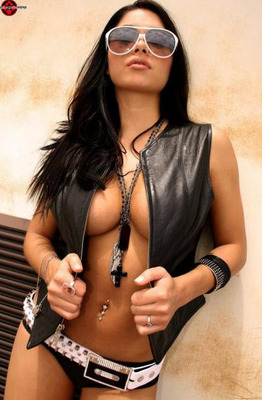 It's a bummer that she's covering up her brown eyes.
But at least she's still wearing leather!
Arianny Celeste: Working Out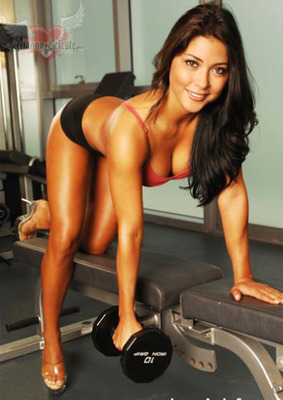 To have a body like hers, working out is a definite must.
But I just don't know if she always wears high heels in the weight room.
Arianny Celeste: Tacos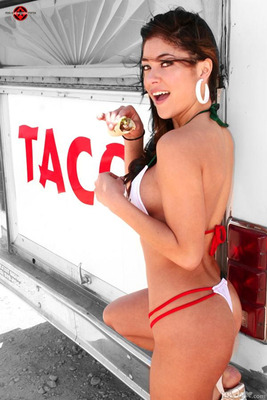 When not hanging out at the UFC ring and looking hot, Ms. Celeste apparently feeds her hunger with tacos.
Even when she's grubbing, Arianny still finds a way to look hot.
Arianny Celeste: On Top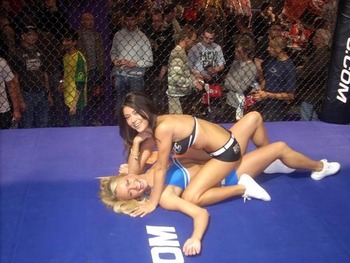 You know you're curious, but I can't give you the lowdown.
Let me just give you this photo.
What's her favorite position?
She appears to enjoy being on top.
Arianny Celeste: Halloween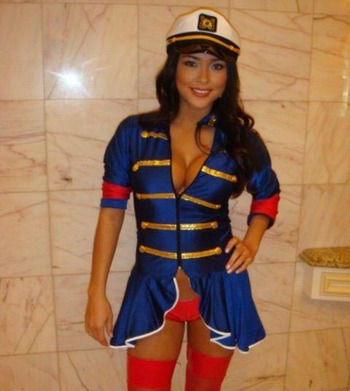 With Halloween creeping up, Arriany already seems to have her costume picked out.
She's a captain.
Who wants to be her first mate?
Arianny Celeste: Tattoo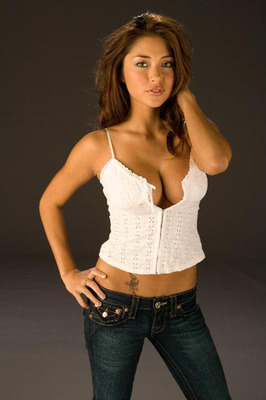 Well look at that, she's got a tat.
Must be a relatively new addition since none of her other photographs have it.
Arianny Celeste: Tattoo Again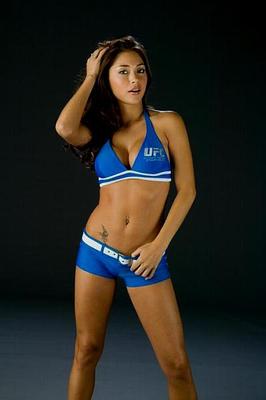 And if you were wondering if that tattoo was the kind that rubs off.
The answer is no.
You're not allowed to rub anything.
Arianny Celeste: Maxim Video
Here's a bonus for you guys who can't get enough—a video of the ring girl doing her Maxim photo shoot.
If you want to see more of Arianny, you're going to have to grab the November issue of Playboy for that.
Keep Reading