ALCS 2010: Why Cliff Lee Will Suffer His First Career Playoff Loss Tonight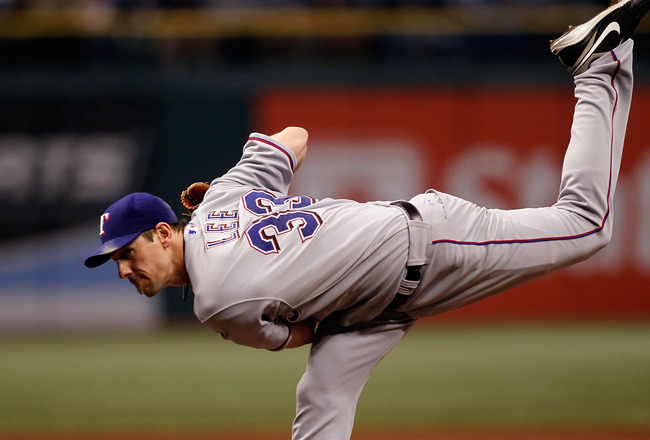 J. Meric/Getty Images
The Yankees may have stolen a game in Texas, but heading into Game 3 of the 2010 ALCS, they can't be happy about their situation.
With Cliff Lee on the mound, the Yankees look likely to fall back a game in the series, and with Lee going in Game 7, New York would certainly would like to rap this up early. Should Lee win tonight, Games 4-6 become almost must wins.
But Yankees fans shouldn't write off Game 3 just yet.
There's No Place Like Home for the Yankees' Offense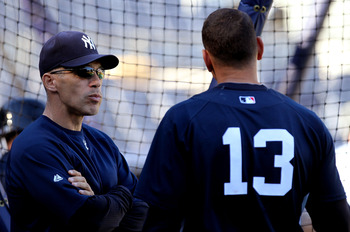 Nick Laham/Getty Images
The Yankees offense deserves some credit for their Game 1 comeback, but after being shut down by CJ Wilson and Colby Lewis, what hope do they have against Cliff Lee?
For the Yankees offense, being at home is a huge positive. Of course, Yankee Stadium is one of the best offensive parks in baseball, but the Yankees offense is especially built for their home field.
At home, the Yankees hit .279 with an incredible .832 team OPS. On the road, they hit .256 with a .742 OPS. Still respectable, but nothing near their home numbers.
Although Arlington is an offensive park, and the Yankees' poor performance there might seem odd, their season OPS in Texas was jut .704, lower than their OPS in a neutral opponent park.
Yankees Pitchers Can Handle the Stadium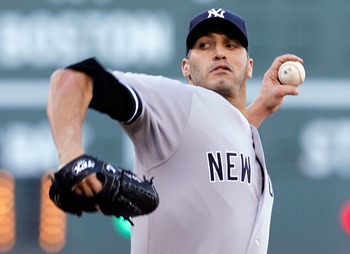 Jim Rogash/Getty Images
OK, the Yankees hit better at home. Of course they do. But if Yankee pitching was so abysmal in the first few games of the series, moving to one of the worst pitching parks in baseball couldn't help.
While Yankees pitchers obviously suffer from their home ballpark, they don't feel the effects nearly as much as opposing pitchers. While the Yankees' OPS is 90 points higher at home, their opponent's OPS is just 27 points higher in New York.
This does translate into big-time results. The Yankees outscore their opponents by almost twice as much when at home, with a run differential per game of +1.3 in the stadium, and +.7 on the road. On the road, the Yankees are about a .500 team (43-38), whereas at home, they win about 65 percent of the time (52-29).
What does this mean? The Yankees have a huge home field advantage. They are built for their park, and while their pitchers suffer a little bit from the home run friendly stadium, their opponents suffer much more.
Rangers Don't Like the Road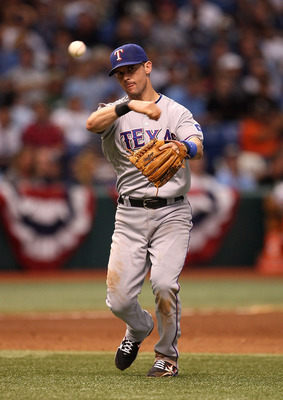 Mike Ehrmann/Getty Images
As much as the Yankees like playing at home, the Rangers hate playing on the road. On the road this season, the Rangers are a sub-.500 team, with a 39-42 record. This holds particularly true with their offense.
At home this season, the Rangers offensive had an OPS of .800. On the road, that falls to .716. Of course Yankee Stadium is no neutral home park, and the Rangers shouldn't perform at such a subpar level in New York.
Still, their OPS at Yankee Stadium this year is under .500, and their batting average is bellow the Mendoza line. In nearly 100 trips to the plate, the Rangers scored just six times in New York.
These numbers have had a significant impact on the Yankees-Rangers interactions this year. The Yankees swept the teams' only three-game series in New York, winning by a total score of 17-6. In the five games these teams played in Arlington this season, the Rangers went 4-1.
The Yankees Love Flyball Pitchers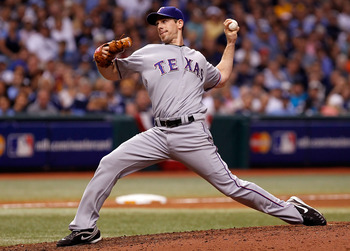 J. Meric/Getty Images
As great a pitcher as Cliff Lee is, he has one weakness the Yankees and their home park are perfectly suited to exploit. Lee gives up a lot of flyballs.
While Lee has had success in New York over the past few years, he has not been immune to the home run bug. In his only start in New York this year, Lee pitched a complete game shutout. He did however surrender four runs on two home runs, something that could hand the Yankees a victory tonight if Andy Pettitte is on his game.
But one game is one game. How have the Yankees done against flyball pitchers in 2010? In 2,764 at-bats, the Yankees have a .270/.355/.464 line against flyball pitchers, good for an .819 OPS. The Yankees do almost as well when facing a flyball pitcher as they do when playing at home. Good news for Yankees fans. Not such good news for Cliff Lee.
Cliff Lee Is Not Invincible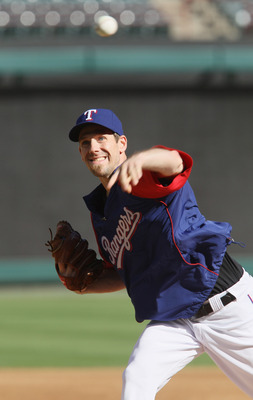 Elsa/Getty Images
Cliff Lee is one of the best pitchers in baseball and has an impeccable postseason record, including a couple of wins against these same Yankees in last years World Series. But guess what? He's not invincible.
Lee was traded to the Rangers in middle of last season. Down the stretch for Texas, Lee went 4-6 with a 3.98 ERA. Was this all Lee's fault? Of course not. He was unlucky, his defense didn't help him out and neither did the Rangers home park. But he can be beaten.
In the playoffs, against the league's best offense in a park where the Yankees hold such an extreme home field advantage (and the Rangers hold such an extreme road disadvantage), Cliff Lee might not be quite so invincible, and might suffer his first ever playoff loss.
Keep Reading

New York Yankees: Like this team?