Why Boise State Will Not Finish Above TCU-Utah Winner in Final BCS Standings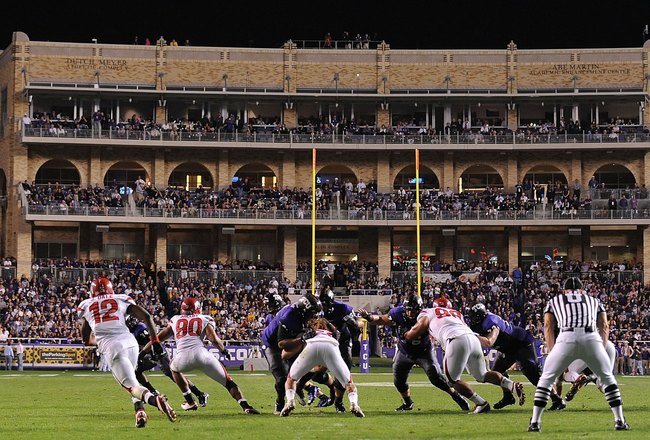 Ronald Martinez/Getty Images
The BCS rankings have been announced. Boise State is No. 3, TCU is No. 5 and Utah is No. 9.
With Boise's ranking and an inconsistent Oklahoma and an Oregon team facing a tough schedule ahead of them, people are penciling in the Broncos as a title game participant.
But in the words of Lee Corso, "Not so fast my friend!"
There may be a chance that by the end of the year, two other non-AQ schools will finish above them in the computers, even if they go unbeaten. This slideshow will point out the reasons why should Utah or TCU go undefeated, they will finish ahead of Boise in the rankings.
The Progress of Out of Conference Opponents (Boise State)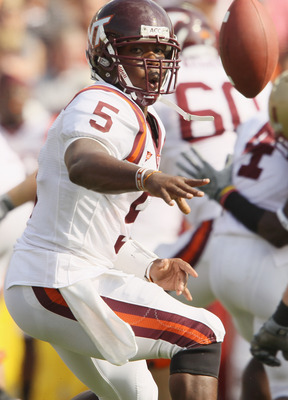 Elsa/Getty Images
Probably the most important (or at least what lingers in voters' minds the most) thing for a non-AQ school is its out of conference schedule.
Now all three have faced some bad teams out of conference, but it isn't their fault entirely. Some of the schools were projected to be consistently ranked for the whole year and even sneak into a BCS game.
Now while it doesn't look like any of that will happen for these schools, we still need to take these teams' schedules and records into account to better judge Boise, TCU and Utah.
Boise's opponents: Virginia Tech, Oregon State, Wyoming and Toledo
At the start of the year, only Toledo would have been seen as a cupcake team. Wyoming was fresh off a bowl season, and many expected them to get to a bowl game again. If they had an easier schedule, they would have. But having to face Texas, Boise, TCU and Utah all within a five-week period has hurt the Cowboys' chances of getting back to a bowl and hurts Boise in the BCS computers.
Oregon State was a dark horse to be the Pac-10 champ at the start of the year. However, they are now 3-3 and have a tough schedule ahead of them with UCLA, USC, Stanford and Oregon left out of the six games remaining. They would need to win one of those games and not lose to Cal and Washington St. to even make a bowl this year. By the way, they lost one of the Rodgers brothers, James, due to injury.
The hopes of Boise most likely rest on Virginia Tech. After an exciting opening game between the then-Top 10 teams, the Hokies then lost to FCS school James Madison at home and dropped from the rankings. They have since won five straight, including an upset of North Carolina State, and are once again ranked at No. 23.
The toughest remaining opponents on their schedule are Georgia Tech, Miami and North Carolina. If they can run the table and win the ACC title game, it will boost the Broncos' status. That will still be a tall order, as that would most likely mean that Tech would have to beat a Florida State team that seems to have found their some of its swagger again.
If Virginia Tech fails, don't expect the Broncos to get much love from the pollsters.
The Progress of Out of Conference Opponents (TCU)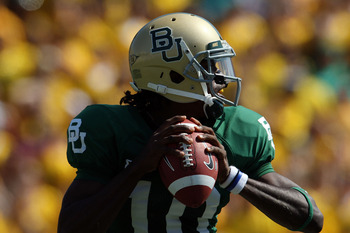 Ronald Martinez/Getty Images
TCU's OOC opponents were Oregon State, Tennessee Tech, Baylor and SMU. I've already touched on Oregon State, and Tennessee Tech is FCS. That leaves Baylor and SMU.
SMU was considered one of the favorites to win Conference USA, and with Houston falling due to the injury of Case Keenum, it looks like they will have a clear path to at least the championship game.
The main cog for TCU is the play of the Baylor Bears, who are sitting at 5-2. Their remaining schedule is tough, but I see at least one more win, against Texas A&M, and bowl eligibility. They may even get an upset against one of the other Big 12 teams, as the Big 12 South has appeared inconsistent and vulnerable in games.
Even without an upset win, they would still be a Big 12 team with six wins, giving TCU three opponents not in its conference that are going to bowls, more than Boise State. However, Baylor won't go anywhere if QB Robert Griffin gets injured (he hasn't had a full season of play as a starter yet).
The Progress of Out of Conference Opponents (Utah)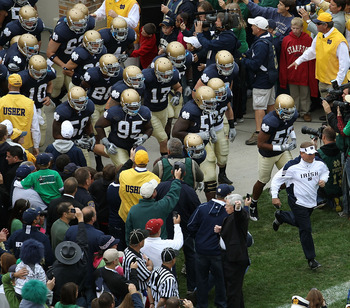 Jonathan Daniel/Getty Images
And now the Utes. Utah is different from TCU and Boise in that it hasn't faced all of its OOC opponents yet. It's what that one team does with the rest of its games that will either help or hurt the Utes.
Utah has already played against an underachieving Pitt team and two below .500 teams in San Jose State and Iowa State. Pitt and Iowa State are to Utah as Virginia Tech and Wyoming are to Boise. But Boise has the advantage in that Virginia Tech has righted its ship, while Pitt seems to be teetering between sinking and floating.
However, Utah has something Boise and even TCU doesn't: Notre Dame.
The fighting Irish are (as always) on people's radar and are sitting at 4-3. Other than Utah, they have two games looming that will determine their fate in the bowl pecking order (and in turn Utah's fate): the rivalries with Navy and USC. Navy has beaten Notre Dame twice in the last three years, with the one loss only being by six. While they will be favored, it will be a tough matchup for the Irish.
Notre Dame then plays at USC for the finale. This could go either way depending on how these two teams progress up to that point. Both are buying into their new coaches' systems and are getting better and better.
However, one factor that could be in the Irish's favor is motivation. USC won't be playing for anything but pride, as they started their bowl ban this year, and if they are out of the Pac-10 race when the Notre Dame game comes up, they may not even play for that.
A strong finish for Notre Dame will be huge for the Utes and could push them over the other BCS Busters.
The Progress of In-Conference Opponents (Boise State)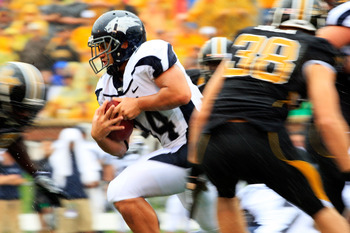 Jamie Squire/Getty Images
The WAC is what will kill Boise's chances should TCU/Utah be undefeated. Boise had one hope in conference to boost its strength of schedule and impress the voters. But that hope ended last Saturday with a 27-21 loss to Hawaii by Nevada.
Up until then, Nevada was undefeated, in the Top 25, had a Heisman hopeful in Colin Kaepernick and was on a collision course for a home stand against undefeated Boise State in the de facto WAC championship game.
While the game will still be for the WAC title, and Boise will more than likely be undefeated, Nevada dropping from the rankings and from the list of undefeated has hurt the significance of the game and Boise State.
As it stands, in addition to Nevada, the only viable teams in the conference are Hawaii (5-2) and Fresno State (4-2). That would give Boise three bowl eligible teams with a possibility of two of them being ranked by the end of the year.
The Progress of In-Conference Opponents (TCU/Utah)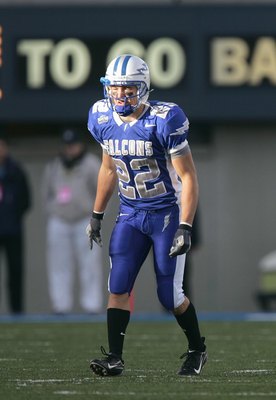 Brian Bahr/Getty Images
Let's state the obvious and get it out of the way. TCU and Utah are each other's best friend right now. As long as they both win heading into November, they will only improve each other's strength of schedule, which will push them past Boise in the computers.
That being said, there are two other teams in the conference that will improve their status as well: Air Force and San Diego State.
Air Force was a Top 25 team up until Saturday, having only lost a close game to No. 1-ranked Oklahoma. But Saturday they lost to San Diego State, a team that should crack the Top 25 themselves should they continue to play the way they have been.
Having beaten a ranked opponent and almost given Missouri their first loss should get San Diego State some attention from the human polls, which would help TCU and Utah in overall strength of schedule. Both of those teams should have a good final record and be in bowl games.
As a side note, don't be surprised if the Aztecs play spoiler to one or both of these two teams, especially Utah, as they play each other in San Diego a week before the Utah-BYU game.
Final Prediction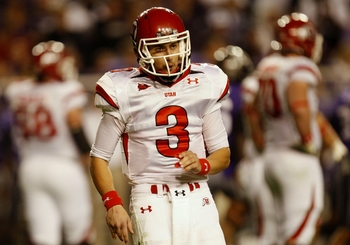 Ronald Martinez/Getty Images
I have Utah finishing above Boise State in the final regular season rankings, with TCU under Boise.
This doesn't mean that Utah will be in the national title game (too much help will still be needed), but considering that they are moving to the Pac-10, don't be surprised if they get a little more support for playing in the game than Boise State has so far this year.
Keep Reading

Utah Utes Football: Like this team?