Boise State's 5 Strikes: San Jose State Shut Out 48-0 As Broncos Keep Rolling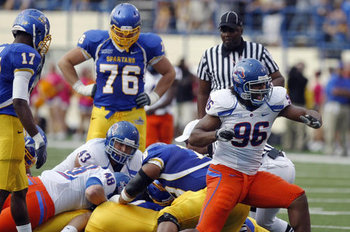 Chris Petersen and the Boise State Broncos are doing their very best to make their last dance through the WAC schedule look like a cake-walk.
Another opponent tried to tame the Broncos and went home without scoring a single point! Or gaining a positive number in the rushing yard department!
And just like that, the Broncos extended their winning streak to 20 games, the longest in Division I.
And just like the previous week, and the week before that, and even the week before that, the men in blue (or white this time) were firing on all cylinders.
322 passing yards and two touchdowns.
213 rushing yards and four touchdowns.
And the defense played its part too, holding San Jose State to a season-low 80 total yards of offense, including -12 on the ground, and getting a pick-six from linebacker Aaron Tevis, that gave the Broncos a 34-0 lead just before halftime.
And don't forget about the special teams play. Punt return duo Chris Potter and Josh Borgman combined for 100 yards on seven punt returns. And even seldom-used (except for on kick-offs these days) Trevor Harman got in on the act, kicking an extra-point and taking over punting duties from full-time kicker/punter Kyle Brotzman.
But, there was much more to be gleaned from the victory than just all of those facts above. And more intrigue was added to the Broncos situation/plight when the first BCS standings were announced late Sunday night.
So, let's get into Boise State's five strikes!
Strike ONE: Yawn! Is It Over Yet?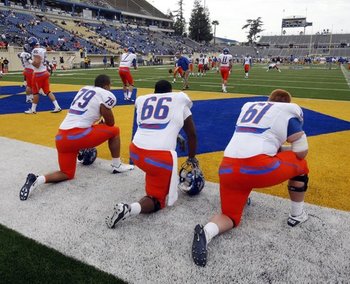 For the third straight week, I had the pleasure of watching Boise State demoralize yet another opponent on the glorious ESPN 3 web network. And likewise, for the third consecutive week, I found myself struggling to find something else to do once the Broncos had built a 20-plus point lead by the end of the first quarter.
This team is so dominating that it almost isn't even any fun to watch. Most of these games have been decided by the end of the first quarter, and all but two of the team's games have been in the bag by halftime.
And the worst part of it all (if you can really call this a "worst" part) is that the Broncos have had such a huge lead, and Chris Petersen is such a gentleman that the Broncos refuse to run up the score, and as such, called only 13 passing plays during the second-half. The ground-game kept the clock running and kept the beleaguered San Jose State defense on the field for 31 minutes total.
For the third straight game, the Broncos amassed over 200 rushing yards and scored four TDs.
Strike TWO: First-Quarter Blitzkriegs Are the Key To Success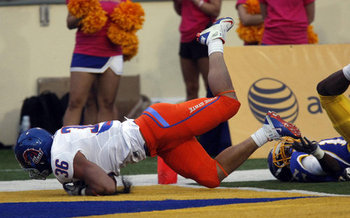 By this point in the season, you can pretty much tell how a Boise State game is going to go by its performance in the first quarter.
Aside from a deceiving first-quarter showing in the Broncos first game of the season, against Virginia Tech, where the Broncos jumped out to a 17-0 lead, the Broncos have jumped to 17-plus point leads against San Jose State, New Mexico State and Wyoming. Those three games they won by a combined 152 points.
In their other two games, excluding the Va. Tech game, the Broncos have struggled to 15-7 and 7-7 first-quarter scores. In those games, they have only (and I'm using "only" very lightly here) outscored their opponents by a 94-38 margin.
If you dig deeper, you'll see that the Broncos first-quarter success relies solely on their ability to convert third-downs, and to shut down their opponents on the most decisive downs. The Broncos are 10-for-17 on first-quarter third-downs, good for nearly 60 percent. Their opponents, on the other hand are only converting 11 percent (2-for-18).
That's a great way to establish first-quarter supremacy, and put your opponent on their heels for the rest of the game.
Strike THREE: There's a New Mr. October in Town...and His Name Ain't Reggie.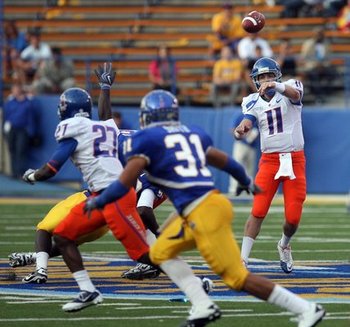 October, meet Kellen Moore. Moore, meet October.
Moore and the spookiest month of the year have gone together like candy and corn since his freshman season, but this season Moore has taken his game during October to new heights.
Check out his stats during the month of October over the past three years:
2008: 70.2 percent completion, 995 yards, 7.6 yards-per-attempt, 10 touchdowns, three interceptions
2009: 65.9 percent completion, 973 yards, 7.7 yards-per-attempt, 14 touchdowns, one interception
2010: 76.8 percent completion, 694 yards, 12.4 yards-per-attempt, eight touchdowns, no interceptions
Overall, that makes for an October completion percentage well over 70 percent, 2,662 yards, 32 touchdowns and four interceptions.
And keep in mind, he still has one more game left to play this October, against Louisiana Tech next Tuesday.
Strike FOUR: Kellen Moore Is Re-Defining the Non-BCS Heisman Contender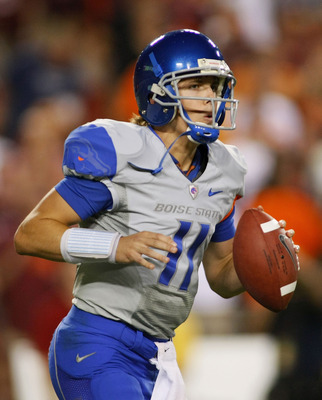 Geoff Burke/Getty Images
Single-handedly, Broncos QB Kellen Moore is re-defining how voters think about non-AQ conference Heisman contenders.
Back in the day (meaning for the past 30 years), the only way a non-BCS conference player had a shot at the trophy is if he put up mind-boggling numbers, to overcome both the fact that they played for a lesser program and the fact that most were considered "system players."
See Colt Brennan in 2006, where the nimble QB tossed a record-setting 58 touchdowns and threw for over 5,500 yards.
Or Ty Detmer, who actually won the award back in 1990, after setting 59 NCAA records, and passing for 5,200 yards and 41 TDs.
Or the previous year's winner, Houston's Andre Ware, who tossed for 4,800 yards and 46 touchdowns.
Yet somehow, the diminutive, floppy-haired, buck-tooth, short-armed Moore has thrust himself onto the Heisman stage two consecutive seasons with impressive, but not eye-popping numbers.
Last season, he threw for only 50 more yards than he did during his freshman campaign, and aside from his impeccable TD-to-interception ratio of 39:3, several of his other numbers were actually down: completions, completion percentage, yards-per-attempt, and number of 300-yard passing games.
And this season, Moore is on-pace for at least a top-three finish for the trophy, and is projected to throw for barely 3,100 yards. His expected number of touchdowns is down to 32, down seven from last year's total. And don't even get me started on his number of completions and attempts. Sitting out the second-half of each game is really putting a dent in his stats.
So how did Moore revolutionize the non-BCS conference Heisman candidacy?
By precision, accuracy, and consistency.
In the 33 games since Moore first slapped on a BSU jersey you know how many times he has failed to complete at least 60 percent of his passes? None. Got a guess for how many times Moore HASN'T thrown at least one TD in those 33 contests? Four. Know how many three or more TD games he's had? 18.
And last but not least...you know what his record is in 33 career starts?
32-1.
Precision, accuracy, consistency...and winning.
Boom.
Strike FIVE: Bad News For the Broncos and the BCS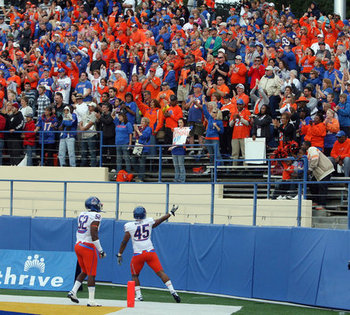 Many were hopeful that the Broncos would be in sole possession of the number one spot in the first set of BCS rankings that came out on Sunday. Some even went so far as to predict it. Thanks Brad Edwards!
Whether or not Edwards jinxed the Broncos, or whether or not his opinion swayed some voters away from Boise we'll never know. But, seeing as how the Broncos are ranked No. 3 in the first BCS polling, it doesn't necessarily inspire confidence that the team will be able to make it to the BCS National Championship game.
Last year, the Broncos began their BCS quest as the number four team in the rankings, but fell all the way to sixth despite winning each of their 13 regular season games. This year, the teams they'll be lining up against are arguably worse, so the Broncos could stand to lose a lot of ground if the teams in front of them, and behind them keep winning.
Their only hope is losses from each of the still undefeated squads: Oklahoma, Missouri, Oregon, Auburn, LSU, Michigan State, Oklahoma State and yes...even TCU.
And even then, they would have to deal with a one-loss Oklahoma squad that could be the Big 12 champ, a one-loss Ohio State squad that could win or at least split the Big 10 title, and any number of potential one-loss SEC squads like Alabama, Auburn, and LSU.
Toss in Nebraska, Wisconsin, Stanford, Iowa, Arizona, and Florida State and there are still at least a dozen teams that can ruin Boise's chance to play for a national title.
Stay tuned!
Conclusion and Next Tuesday's Affair Against Louisiana Tech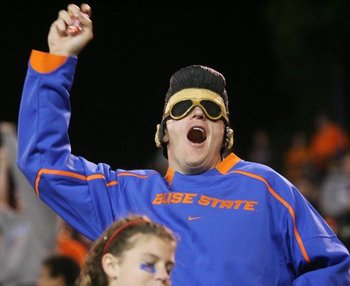 At the beginning of the year, a number-two ranking in both polls and a number-three spot in the BCS this early would have seemed to set Boise up an easy path to the National Championship game.
And here we are. Why does it seem like the Broncos are already a bunch of dead men walking? It already seems like they have little to no chance at securing a spot in the top two long-term.
For a team that still has six games to play, that seems pretty crappy.
This week the Broncos share their last ever (potentially) contest with Louisiana Tech. The Techsters played Boise pretty tough last year (45-35) but that was WITH head coach Derek Dooley, who left after the season for the head job at Tennessee.
This year's squad is coming into the tilt with a 3-4 record, although they have won their last two games, and are 2-1 in the conference.
The Bulldogs have been rejuvenated by the inspired play of QB Ross Jenkins, who tossed for 422 yards and scored four TDs last week in a mild upset of Idaho.
Tech also has experienced a rebirth in their running game. Junior RB Lennon Creer rushed for 179 yards on 23 carries with two TDs and is potentially the best back Boise's top-ranked defense has faced since Ryan Williams in the season-opener against Virginia Tech.
That said, the Broncos have Kellen Moore. And Titus Young. And Austin Pettis. And Doug Martin. And the top-ranked defense in the nation.
Boise 43, Louisiana Tech 6.
Keep Reading

Boise State Football: Like this team?