BCS Rankings 2010: Live Coverage of the First BCS Poll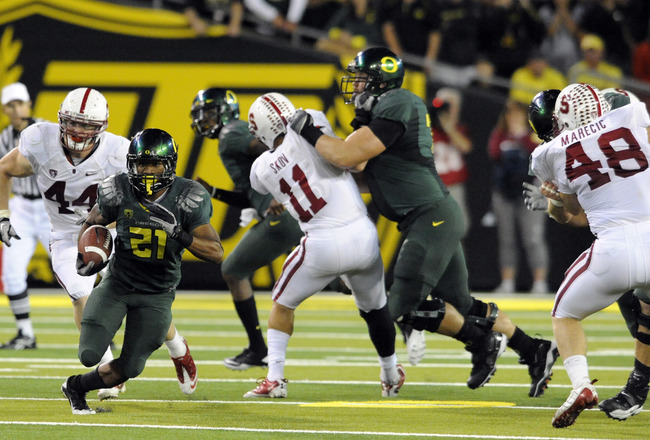 Will LaMichael James and the Oregon Ducks be No. 1 ?
Steve Dykes/Getty Images
The first 2010 BCS Standings are being announced tonight on ESPN, and we'll have live coverage for you right here on Bleacher Report.
I'm Rich Thomaselli, Deputy College Football Editor for B/R, and I'll be giving you thoughts and observations on ESPN's telecast of the first of the weekly BCS standings.
My colleague, James Walker, will also be providing live coverage with his analysis and observation on each team as it is announced on the telecast.
So sit back, enjoy and get ready to argue—this has been one wacky season and the first BCS standings should provide some good fodder for discussion.
Can't quibble with a lot of these picks, to be honest.
Oklahoma surprised me a little bit. I supposed if you're TCU and Boise State, this is the team you have to worry about. The Oklahoma State game will be tough but, other than this week's game at Missouri, there are few, if any, pitfalls for the Sooners.
Oregon? The Ducks still have to go to USC, go to Oregon State and play Arizona. There's a loss in there somewhere.
TCU, Boise State ... good stories, again. Just for the sake of a good story it would be nice to see either of them playing for a national championship.
Would be great to see Auburn in the title game as well but the SEC is just too brutal to get through undefeated.
It's going to make for a great second half of the season !
Best potential BCS National Champsionship Games?
I like Oregon-Boise State, Oregon-Alabama, Alabama-Boise State, Alabama-Oklahoma, Auburn-Oregon.
Not sure how I feel about having Oklahoma, after its last few national championship game appearances, leading the pack here. But we still have seven weeks of football left. This is all going to change every Sunday.
Boise State is going to run the table. There isn't a team on the schedule, save for Nevada, that will give the Broncs a game and even now you have to wonder if that statement is even true after Nevada's performance on Saturday.
Even ESPN announcer Rod Gilmore just called in to the telecast to trumpet Boise State. You have to wonder, if the computer rankings and strength of schedule didn't play into it, would BSU be given a berth in the BCS National Championship Game??
I go back and forth on this all the time -- playoff or no playoff?
On one hand, I'm torn. I believe the weekly play, from September to Thanksgiving, is just like a having a playoff every week.
But I have to say, the more I look at these first BCS Standings, and the amount of unbeaten teams, coupled with some of the one-loss teams whose only defeats are to ranked teams (Alabama to South Carolina, Ohio State to Wisconsin), and the more I lean toward having an 8- or 16-game playoff.
TCU coach Gary Patterson was just interviewed live.
I love Patterson but, sorry, I can't believe that he just said he stayed up late last year when he was a voter in the Coaches' Poll and watched all the late games. That's a tough one to digest, given the way these coaches obsess over the game they just played and what they need to do before next well.
ESPN experts now talking about which team can come from back of the pack and it's interesting that Herbstreit is touting Iowa.
He makes a good point -- Iowa, which is 11th, is being penalized for one bad half of football, on the road, against a nationally ranked team in Arizona.
Should the Hawkeyes be higher?
So now that we now what the Top 10 is, the most glaring thing is whether or not Oregon and Oklahoma can win out and what strength of schedule really means.
It's awfully difficult to leapfrog teams when you're back in the pack, but what happens if (when?) Oregon and Oklahoma lose a game? Is SOS for TCU and Boise State strong enough to hold off the likes of Auburn or a Michigan State or even an Alabama?
OK, I didn't want ESPN to drag this out like they did with LeBron's announcement, but man where's the drama? No buildup, no nothing. ESPN just zipped through the Top 25 in 12 minutes !
Holy moly !
And I definitely don't like this touch-board they're using there. But I quibble.
OK .... Craig James is giving us what he thinks his Top 10 should be. What's yours?
Ohio State is 10th, Utah ninth, Alabama eighth and Michigan State is seventh.
LSU is No. 6 and TCU is No. 5.
Auburn is fourth and, first shocker, Boise State is No. 3 !
No. 2 is Oregon, which is currently atop the AP and Coaches' polls.
And No. 1 is Oklahoma !! Interesting, very interesting. No issue here, but we'll get to more thoughts as the show goes on.
Virginia Tech at No. 25 after those first two losses?
West Virginia is No. 20 and that's the only Big East Team among the Top 25.
Wow, ESPN just zipped through the Nos. 11 through 25 teams. They aren't going to be dragging this out, are they??
Iowa is at No. 13 but as Kirk Herbstreit just mentioned, the Hawkeyes still have Michigan State, Wisconsin and Ohio State.
All right, the BCS Show is starting.
Love it or hate it, Rece Davis just said, you cannot ignore it.
How true is that?? If anything, this BCS mess certainly creates conversation, if not controversy, every single week.
I just hope they don't drag this out like "The Decision." :)
"So, how was your summer??" .... LOL
Hey, don't forget that when the ESPN telecast of the first BCS Standings begins at 8:15, my colleague, James Walker, will be providing quick analysis of each team as it is unveiled in the standings.
You can check out his live blog here.
It will be instant observation by James and, later on in the evening, we'll have some in-depth breakdowns on the top teams.
Who will top the BCS Rankings for 2010's first weekly standings? OK, let's get those comments rolling.
Some say it's Oregon after the Ducks moved atop the polls today thanks to Ohio State's loss to Wisconsin.
Others maintain it's Boise State, albeit a brief stay since the Broncs' strength of schedule isn't so great.
And I saw earlier on one website where Oklahoma had the top spot.