Saints vs. Buccaneers: Live Blog, Stats and Play-By-Play Analysis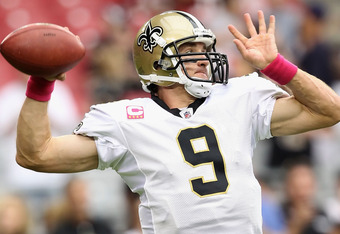 Christian Petersen/Getty Images
Good afternoon, NFL fans. This is Keyon Jeff, feature columnist here, live blogging today's New Orleans Saints-Tampa Bay Buccaneers game from Raymond James Stadium.
The defending Super Bowl champion Saints (3-2) are hoping to get their offense back on track after a shocking loss to the Cardinals last week.
The Bucs may be the biggest surprise in the league so far with a 3-1 record, tied with the Falcons for the NFC South lead.
So join me for the next three hours or so, and see who prevails. I'll talk about everything from X's and O's to the Fox commentators and have some fun along the way.
Thank you for joining me today on this blog. I'll see ya'll next week when the Saints host the Cleveland Browns. Good bye.
Final thoughts:
The Saints played their best, most complete game of the season by far. Their offensive line had their most dominant performance in a long time, which led to an oustanding rushing attack. Should Chris Ivory remain the Saints starting running back even when Pierre Thomas and Reggie Bush return to action?
The defense did a great job keeping everything in front of them, but only got one turnover on the day. However, the middle of their defense was exploited quiet a bit by a second-year quarterback.
Hartley's missed FG raises more kicking concerns for New Orleans. Will they have to get rid of a running back to bring in another kicker?
People have been suspect of Tampa Bay's good start, and this performance will only heighten those concerns. Have the Bucs been exposed as frauds, or did they just have a bad game?
If the Falcons lose, New Orleans (4-2) will be tied with Atlanta for the NFC South lead.
Final Stats: Tampa Bay
Freeman: 25/43, 219 yards, 1 TD, Rating 79.5
Rushing yards: 18 attempts, 40 yards (Cadillac Williams 10 carries, 16 yards)
Total yards: 275 on 66 plays
Leading receiver: Williams 7 catches, 63 yards
Time of Possession: 28:31
Final Stats: New Orleans
Brees: 21/32, 263 yards, 3 TDs, 1 INT, Rating 109.2
Rushing yards: 32 attempts, 212 (Chris Ivory 15 carries, 158 yards)
Total yards: 475 on 64 plays
Leading receiver: Robert Mecheam 4 catches, 71 yards, 1 TD
Time of Possession: 31:29
SAINTS WIN!!! New Orleans 31, Tampa Bay 6.
Saints-Bucs games have been feisty over the years. Strange for two teams with only one Super Bowl each and long, long, histories as losers.
TOUCHDOWN SAINTS!!! Ladell Betts scores on 1-yard TD run. Extra point good! Saints knocking out Bucs 31-6. 1:54 left in game.
Why did Tampa Bay call a timeout to avoid a penalty on the 1-yard line? The penalty would have resulted in the ball moving six inches closer to the goal line. That was stupid!
The young man Chris Ivory out of Tiffin University (Tiffin, OH) should remain the starting running back when Pierre Thomas and Reggie Bush return from their injuries.
Saints and Bucs getting testy. "I smell a riot going on!" — Public Enemy
TOUCHDOWN BUCS!! Freeman throws 2-yard TD pass on 4th and goal to Spurlock. Two-point onversion failed; pass broken up by Patrick Robinson. Bucs cut deficit 24-6, 5:35 left in the game.
I thought Jenkins was going to get thrown out of the game for that slap. He'll get at least a $7,500 fine for that.
That is at least the third time this season Saints defenders have stripped the ball from an opposing ball carrier only have an offensive lineman recover. Unreal!
Ronde's getting too old for the NFL. That should have been a sack of Brees.
UNBELIEVABLE!! Barth's FG attempt hit the right uprights again! How many times do you see two kicks hit the uprights in the same game? Saints get the ball back at their 37-yard line.
Right call. I should become a football referee.
I think this will be ruled an incomplete pass.
Refs call it a Stroughter catch and fumble, recovered by Jenkins at the Saints 29. Play under review.
Why are the Saints corners playing 7 yards off the line on a 4th and 5? They should be jamming the Bucs receivers.
End of 3rd quarter: Saints 24, Bucs 0.
Refs should have thrown a flag for that illegal pick on the Stroughter catch.
TOUCHDOWN SAINTS! Brees runs naked boot leg and throws a 4-yard TD pass to fullback Heath Evans. Extra point good. Saints blowing out the Bucs 24-0, 1:23 left in 3rd quarter.
Chris Ivory is running like Eric Dickerson (another 29).
This article is
What is the duplicate article?
Why is this article offensive?
Where is this article plagiarized from?
Why is this article poorly edited?

New Orleans Saints: Like this team?