Oakland Raiders: Questioning the Loyalty of Raider-Nation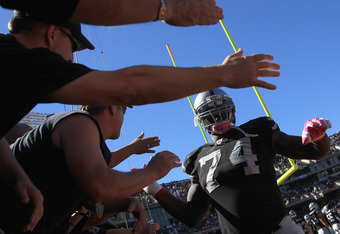 Ezra Shaw/Getty Images
Raider fans have had a reputation for being some of the most hardcore loyal fans around. We wear our colors proud, we get wild at home games, tail-gate like no ones business and have even been known to take over our opponents stadiums.
But lately things have been different. The Raiders haven't even been selling out, hell they've had trouble filling the Oakland Coliseum to half capacity.
Look at the fans of the Raiders opponent this week, the San Francisco 49ers.
They haven't even won a game this year and have sold out every home game this year. Like the Raiders its been seven long years since the 49ers have seen the post-season.
Does this mean their fans are more loyal than Raider fans?
Blame it on the economy, the last seven years, or the fact that the Raiders don't have a single primetime game this season. Whatever, something is wrong and it seems like Raider-Nations' spirit is broken.
I know Raider fans are still out there, I see them everyday. I see shirts, jackets, hats, car decals and other gear donning the Raider logo everyday. Hell, I wear them myself.
Then why aren't we attending games?
Have seven years of disappointment discouraged us enough not to spend money on tickets?
Why haven't you attended more Raider games this year
Has the economy, lay-offs, paycuts, the cost of living and out-sourced jobs all hit Raider-Nation that hard?
Or hey maybe the terms of your probation don't allow you to attend football games.
For the fans who simply can't afford to attend games or are somehow legally barred from attending games, they can be excused.
The ones who are simply discouraged, I will tell you that it's a two way street.
How do you think the players feel when they see thousands of empty seats every week? Should the players be willing to put their bodies on the line every play for fans who don't even bother to show up to the game.
Fans, even myself often point out the Raiders short-comings: The o-line can't block, DHB can't catch a cold, my grandma can cover better than Stanford Routt.
But what about the fans short comings? Have you ever heard of the 12th man, or home field advantage? Are the fans not as much part of the game as any player?
A strong fan base can inspire, motivate and energize the players on the field.
They can also make life on the field hell for apposing offenses.
We can fire up our defense and rattle the apposing offense. And if we get loud enough we can negate the audibles of the apposing offense. Sometimes we can even prevent the offensive tackles from hearing the snap count causing late get-offs and false starts.
All this can help the Raiders win.
When your fanbase is strong enough to do all this apposing offenses have to prepare not only for the men they face on the field, but for every man women and child in the whole damn city.
But like I said earlier, its a two way street. If the Raiders want all the advantages of a strong fan base, they need to give us a reason to show up, to get loud and to get excited about our football team.
The reason I bring this up is last week the Raiders beat the Chargers, and though the stadium didn't sell out those of us who did show up, showed up strong.
Just try and imagine how much louder the Coliseum would have been had the game sold out. Then imagine if we could do that at every home game. It would give the Raiders a new edge at home, and may even result in an extra win or two.
What will it take for Raider fans to start showing up to games? Will 3-3 and a victory over the 49ers be enough?
Whatever the case show up to the next Raider game and support your team, tickets start as low as $36 a piece.
And who knows, maybe you will be the difference between a win and a loss.
This article is
What is the duplicate article?
Why is this article offensive?
Where is this article plagiarized from?
Why is this article poorly edited?

Oakland Raiders: Like this team?