ALCS Game 2 Live Blog: Rangers Vs Yankees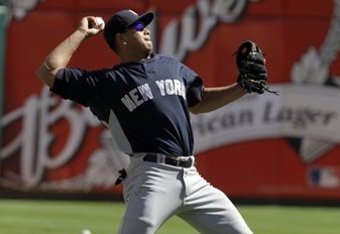 The Yankees shocked the Rangers with an epic late-inning comeback in Game 1 of the ALCS on Friday night, and now Texas will have to figure out a way to get off the mat less than 24 hours later. New York sends right-hander Phil Hughes to the mound opposite Colby Lewis.
Not a good showing today, but they got the split, which is really all you're asking for in this situation. Starting pitching needs to get better or Yanks have no shot. Incredibly fortunate to not be in deep trouble right now.

Thanks for reading everybody. Check in with the blog tomorrow for more insight.
Cano up with men on second and third trying to keep it alive.
Five stolen bases on Posada today. Kind of sad.
Back to Sabathia and Hughes: Hard to make sense of both their performances. Sabathia was well rested. Hughes had tremendous past success against the Rangers. It does show you that nothing in baseball can be assumed. Remember that if you've already penciled in Cliff Lee for a Game 3 win.
Looking ahead, it goes without saying the Yankees need a good start out of Pettitte on Monday. Sabathia and Hughes have fallen woefully short, and the needs a starter to stand up to this Texas lineup.
Stephen Dunn/Getty Images
I can't wait to kick Cliff Lee's ass on Monday. Well, not me, but you know what I mean. Shut up.
I love seeing Darren Oliver.
If the Yankees figure out a way to win this game, Robin Ventura better find a closet to hide in.
Did you know that Kid Rock was born free? So was I, but you don't see me writing bad songs about it.
For the record, Teixeira is 15-for-82 for the Yankees in the postseason. That's .183.
Cano fans on a fastball waaaay out of the strike zone. There won't be any comeback today.
What's a "clutch call", John Smoltz?
Andrus can't corral A-Rod's shallow fly ball and the Yankees have another chance to get back into the game with Cano coming up. Robbie is locked in right now, a good spot.
Hey Mark Teixeira ... DO SOMETHING.
Wow, Rangers fans. Breaking out the "Yankees Suck" chant again? Didn't we learn our lesson yesterday? Anyway, Granderson pops out and there's one down.
Jeter draws a walk to lead off the seventh. A good start for sure.
How would the Yankees lineup do against Mariano Rivera? Poorly. They would do poorly. Next question.
Stephen Dunn/Getty Images
Robertson strikes out two in a scoreless sixth. This dude is good.
Hey, a David Robertson sighting!
Thames works it to 3-2, then fans on a changeup. Another opportunity goes by the boards.
Marcus Thames gets the call to pinch-hit. This is a, "Hit a three-run shot, dude" move, all the way.
Berkman draws a walk to make it first and second in the sixth. Ron Washington itches his nose then comes and gets Lewis. Big chance for Yanks to get back in game here.
Cano hits a bomb into the upper deck and it's 7-2. He's turning the ALCS into his coming-out party.
Note to self: Live blogging only a good idea in theory.
This article is
What is the duplicate article?
Why is this article offensive?
Where is this article plagiarized from?
Why is this article poorly edited?

New York Yankees: Like this team?