California—USC: Five Matchups That Could Give the Bears an Edge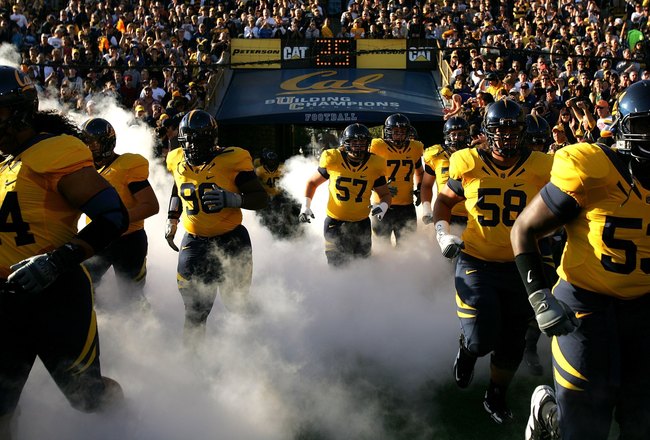 Ezra Shaw/Getty Images
This is a series that has been a little one-sided in recent years, to say the least. USC has won the last six meetings, and the only win Jeff Tedford has against the Trojans was a triple-overtime thriller at Memorial Stadium way back in 2003. He has never won at USC.
But things appear to be different this year. The Trojans have lost two straight conference games, and their preseason No. 14 ranking is long gone. What was already a lost season is now totally shipwrecked.
A Cal win won't be as impressive as it would have been in years past, but a loss will effectively sever the thread on which the Bears' 2010 season is hanging.
Here are five matchups the Bears need to take advantage of in order to take home a win.
5. Cal's Dynamic Ground Attack Vs. USC's Poor Tackling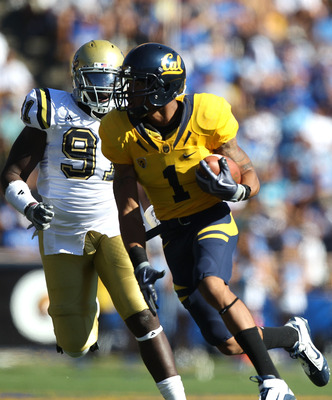 Marvin Jones had a 48-yard touchdown run last week.
Jed Jacobsohn/Getty Images
Lesson number one in Football 101: you have to take what the defense gives you. Luckily for the Bears, USC's defense is very generous.
The Trojans rank 100th nationally in total defense, and much has been made about Lane Kiffin's 'no tackling in practice' policy. Indeed, one of the upshots of all those sanctions is a thin roster, and Kiffin needs to make sure it doesn't get any thinner.
But, as we've seen, not practicing tackling leads to pretty poor tackling come game time.
While the Bears probably won't run the ball 55 times like they did last week, don't be surprised if Andy Ludwig throws the same kind of variety out there again. In addition to Shane Vereen, forcing the Trojans to contain the Wildcat and various wide receiver runs is a good way to dare them into making tackles. The trick is to wear them down, perhaps so they can falter late once again.
Moreover, keeping the USC defense honest can only help Kevin Riley.
4. Kevin Riley Vs. USC's Porous Secondary
Can Kevin Riley conquer his big game demons?
Jed Jacobsohn/Getty Images
Jake Locker and Andrew Luck can probably tell Riley all about the joy of facing the Trojans secondary. The two of them combined to torch the USC secondary for 595 yards and four touchdowns, handing the Trojans two losses in the process.
Instead of blaming Monte Kiffin's Tampa 2 defense, USC's inability to stop the pass is more likely a personnel issue. The unit that limited Riley to 15 completions in 40 attempts in last year's 30-3 stomping is long gone. In their place is a group of four first year starters who allow an average of 287.5 pass yards per game, which is dead last in the conference and 116th nationally.
Given the ineptitude of USC's secondary, Riley has every reason to improve on last weekend's career low 83-yard performance. And if the Bears are to match USC's offense stride for stride, they need Riley to finally overcome his big game struggles in this one.
3. Marvin Jones Vs. Shareece Wright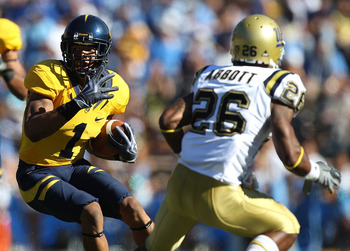 Marvin Jones needs to be the man once again.
Jed Jacobsohn/Getty Images
The success of Kevin Riley will be greatly helped if his go-to receiver happens to resurface.
Marvin Jones was the top receiver in the Pac-10 after three games, in which he totaled 328 yards on 21 grabs. In two games since, Jones has hauled in just five catches for 50 yards.
Though he is a senior, Wright has missed two seasons due an injury and an academic suspension, and this is his first year as a full-time starter. Nevertheless, he's the most experienced member of USC's secondary. And his head might still be ringing from his meeting with Andrew Luck.
Though Ludwig will obviously mix things up, putting Jones on Wright's side of the field gives the Bears several advantages. Not only does Jones have about three inches on the 5'11" Wright, matching the two of them up leaves the other side of the field open for Keenan Allen and Jeremy Ross to have their way with true freshman Nickell Roby.
If all goes well, Jones can steal the spotlight from USC's own dynamic receivers.
2. Darian Hagan and Marc Anthony Vs. Ronald Johnson and Robert Woods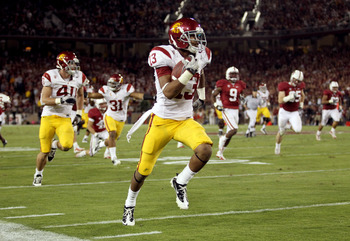 If you didn't know who Robert Woods was before last week, you do now.
Ezra Shaw/Getty Images
After losing All-Pac-10 cornerback Syd'Quan Thompson to the NFL, there were probably few people out there who anticipated a dramatic improvement in pass coverage.
Lo and behold, Darian Hagan and Marc Anthony have been a revelation, and are a big reason why Cal currently leads the Pac-10 with 148.8 pass yards allowed per game, which is also the 5th best average in the country.
That being said, they will face their biggest test of the 2010 season when they line up opposite USC's Ronald Johnson and Robert Woods. Johnson, a senior, is on the watch list for the Belitnikoff Award, and he leads the team with 419 yards and five touchdowns. Woods, the true freshman out of Crenshaw, had been quiet in his freshman campaign before exploding last weekend against Stanford, catching 12 passes for 224 yards and three touchdowns.
Hagan and Anthony certainly have their work cut out for them. But this could very well be a coming out party waiting to happen.
1. Mychal Kendricks Vs. Matt Barkley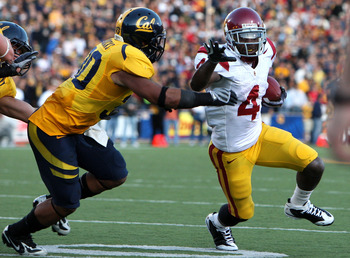 Mychal Kendricks could very well be on his way to his first All-Pac-10 team.
Jed Jacobsohn/Getty Images
Has anybody else noticed the season that Mychal Kendricks is having so far?
On the one hand, the junior linebacker has only 25 tackles, fourth best on the team. On the other hand, his five sacks and eight tackles for loss place him first and second in these categories in the Pac-10.
Meanwhile, Matt Barkley has made great strides in his sophomore season. His passer rating of 162.0 is second only to Andrew Luck in the conference, and only Luck has more touchdown passes than Barkley's 15. He's also coming off the strongest game of his young career against Stanford, in which he threw for 390 yards and three scores.
He is a true pocket passer, and a damn good one. And that's why he should fear Kendricks.
Against Arizona, Kendricks was hell on Nick Foles, who is similar to Barkley in many respects. Kendricks sacked him twice, and was a major reason why Foles looked so disrupted for most of the game.
If Kendricks can give Barkley the same kind of treatment, sirs Hagan and Anthony won't be the only ones making names for themselves. And even better, the Bears will stand a very good chance of getting off the shnide.
Keep Reading

Cal Bears Football: Like this team?