Seattle Seahawks Unlikely To Beat Chicago Bears in Week 6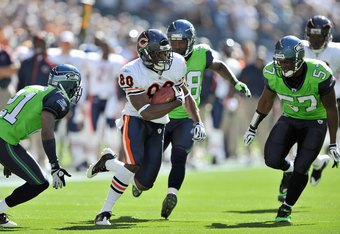 Otto Greule Jr/Getty Images
Going into Week 6, Seahawks fans have a lot of positives to point to as they hope for a win against the Chicago Bears this Sunday.
The backfield has been beastified, and the young receivers have a new mentor. The O-line is almost healthy again. Julius Jones and Deion Branch won't be taking up space. Cutler might still be a little woozy from the brow-beating he got from the Giants' defense two weeks ago (Umenyiora, your thank you card is in the mail), and Whitehurst is all but foaming at the mouth for playing time.
Even with all that hope, the Seahawks won't pull it off.
The Seahawks are coming into this game with some dramatic disadvantages.
Over the last 10 years Seattle has won coming off their bye week exactly twice—in 2005 against the Cardinals and in 2006 against the Rams (barely). 2005 was certainly the Seahawks' best season of that period and one of the worst for the Cardinals, and beating the Rams is rarely noteworthy.
Seattle's away record for the last 10 years is an abysmal 30-50. This season has, so far, proven to be no exception as the Seahawks' two losses (including a thumping by those same non-noteworthy Rams ...!) were both on the road.
How about that freshly augmented backfield? Great.
Except that the Bears have one of (if not the) best run defenses in the league led by Brian Urlacher. Forsett will have to be extra squirrelly to get much positive yardage (which isn't beyond him), and Washington won't be making those big returns he's so well-loved for. Lynch's "beast mode" is certainly the 'hawks best bet here, but, this may not be the week for fans to rest all their hopes and dreams on his shoulders.
And, the receiving corps? Wonderful.
The young'ns who haven't had much chance to shine will be clamoring to prove themselves. Stokely should be a solid presence. But, who will be throwing the passes? Hasselbeck has thrown more interceptions than touchdowns this season and sadly has, at times, been more of a liability than a commodity. Even so, Carroll has been unwilling to give Whitehurst any snaps despite the high price tag. (Does anyone know if the return policy at San Diego Chargers is at all similar to the one at New England Patriots?)
Of course, there's the officiating to consider. The Bears, this year have been beneficiaries of at least one questionable call and the Seahawks, as we know, are certainly no strangers to poor officiating.
If the Seahawks are able to board the plane home with their pride intact Sunday night, it will be because rookie safety Earl Thomas will have had a repeat performance of Week 3 against the Chargers. That night he had two game-changing interceptions, including one on the Seahawks' 5-yard line while the clock dwindled. If Cutler's concussion has him throwing at all like he threw last season (26 interceptions), Thomas will have plenty of chances to pad his stats.
After Week 4's embarrassing trouncing, the 12th man is certainly looking for a reason to keep donning the blue and green each Sunday and not getting embarrassed by the team ranked fifth overall might just do it. For most of the Pacific Northwest, a close game here may be enough for a moral victory and strong play from the new acquisitions and the underperforming veterans could create new drive for both the players and those of us watching from couches and sidelines.
This article is
What is the duplicate article?
Why is this article offensive?
Where is this article plagiarized from?
Why is this article poorly edited?

Seattle Seahawks: Like this team?