Tampa Bay Lightning-Philadelphia Flyers Live Blog: Simon Gagne Returns to PHI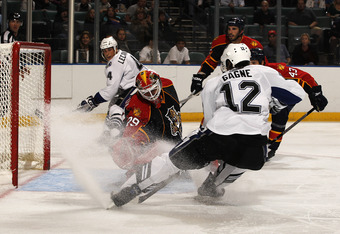 Joel Auerbach/Getty Images
Flyers Featured Columnist Dominic Perilli here, following every second of tonight's exciting game. This game will be very emotional and fun to watch as two of the best teams in the NHL go toe-to-toe.
Tonight is a very special night in Philadelphia. Simon Gagne (former Flyer of 11 years) returns to Philly for the first time since being traded to Tampa Bay in the summer of 2010. He has always been a key part to the Flyers' offense, especially in the postseason.
Gagne's career with the Flyers was plagued by injuries and he almost always seemed to be scratched. Nevertheless, Simon is a loved player here in Philly and tonight Flyers' fans everywhere will be cheering for him upon his return.
The Tampa Bay Lightning are a very hot team right now. The ever-so-dangerous Steven Stamkos and Ryan Malone are leading the team to victory as of late. Stamkos currently has a team high three goals as well as two assists and a one plus/minus rating. Malone is not too far behind with one goal, three assists and a zero plus/minus.
Okay well then without further adieu, let's get this show on the road! Cheers everyone!
That's all here folks. LIGHTNING WIN 3-2. They are 3-0 on the season. Thanks everyone for following along!
Boucher to the bench. Flyers have an empty net. I just don't have a good feeling about this. Lightning are looking too good.
This is going to be an exciting minute and a half
Just under 2 minutes to go here in Philly. Flyers are in desperation mode right now.
PENALTY on Matt Carle for delay of game. TB on Powerplay. I think the delay of game penalty is the dumbest penalty in the rule book.
PENALTY on James VanRiemsdyk. TB on the Powerplay. The Flyers can't afford to take penalties this late.
PHI GOAL: Danny Briere rips one past Dan Ellis. 3-2 Lightning.
The Flyers defensemen are absent in front of the net. Very disturbing.
The Lightning look scary. Very physical and quick. They aren't allowing the Flyers to get any legitimate chances.
TB GOAL: Pavel Kubina rockets one past Boucher. 3-1 Lightning.
3rd period set to begin and "Hell's Bells" is playing throughout the Wells-Fargo Center....awesome!
End of the 2nd period. See you all in the third. Very physical and solid hockey game thus far. Should be even better in the final period.
PHI Penalty: Mike Richards called for hooking.
Just under 4 minutes to go here in the 2nd period.
GOAL: Dominic Moore backhands a rebound past Boucher. 2-1 Lightning
Flyers get nothing on that PP. Lightning penalty kill is off the hook.
Victor Hedman whistled for a stupid cross-check in front of his own net. Flyers on Powerplay.
Crowd chanting "A-hole" to the officials because of what they thought was a missed penalty. CSN commentator Jim Jackson says "Crowd saluting the officials." That is classic!
As a side note, Sean O'Donnell and Steve Downie got in a scrum. It looked like a father and son fight.
Flyers couldn't get anything done on that PP. Now it is the Lightning's turn. Matt Carle called for Interference.
Holding call on Hedman. Flyers on the Powerplay. Let's see if they can put one in.
Tampa Bay had a ton of scoring chances but a combination of Brian Boucher and the Flyers D put the flames out.
5-on-4 for about 1:20 now
Chris Pronger roped for holding. 2-man adv for 10 secs.
Welcome back. 2nd period underway. Coburn called on a tripping penalty. Bolts on PP
This article is
What is the duplicate article?
Why is this article offensive?
Where is this article plagiarized from?
Why is this article poorly edited?

Philadelphia Flyers: Like this team?