NFL Week 6 Picks: The Strong Get Stronger
Jared Wickerham/Getty Images
The NFL enters week 6 of play, and many storylines abound, but none is greater than the return of Ben Roethlisberger to the Steelers after a four game suspension. How will the fans receive him? Better yet, how will his team respond to his return?
But let's get away from the soap opera for a minute, and focus on something other than Brett Favre's gunslinger, because the two teams who many picked to win the Super Bowl are a combined 2-6, and they are facing each other on Sunday.
All that and more in this week's preview.
Seattle Seahawks (2-2) @ Chicago Bears (4-1)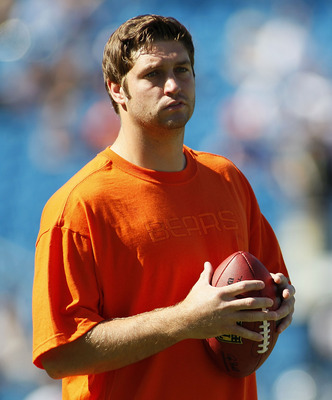 Geoff Burke/Getty Images
Last week, I wrote that both Jay Cutler and Todd Collins suffered concussions in their loss against the Bears. I was wrong. Collins only suffered a "Stinger" and was able to start against the Panthers, but due to his poor play, he has been demoted to third string. So, if Cutler can't go, Caleb Hanie will make his first NFL start. However, Cutler believes he will be ready to play on Sunday against the Seahawks. The Bears are coming off a win over lowly Carolina, while the Seahawks are coming off a bye. Matt Hasselbeck is going to struggle all day against the Bears Defense, but this probably won't be the game Mike Martz finally gets his offense clicking.
CHI 24 - SEA 17
Baltimore Ravens (4-1) @ New England Patriots (3-1)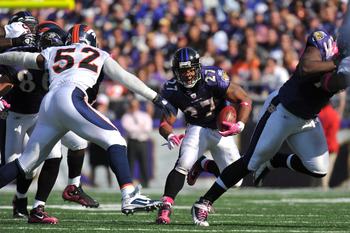 Larry French/Getty Images
This will be New England's first game without Randy Moss since the '06 season. Conversely, Deion Branch is back with the Pats, but he is no Randy Moss. Tom Brady and company face a very tough Ravens D that kept the NFL's number one passing attack in the Denver Broncos in check for most of the game.
Joe Flacco is in a bit of a slump right now, yet his team keeps winning. What Flacco needs is a game against a very soft secondary to get some of his swagger back. Lucky for him, New England has one of the youngest and most inexperienced secondaries in all of football. Ray Rice will do his thing and that will in turn open up the passing game for the Ravens.
BAL 34 - NE 26
Detroit Lions (1-4) @ New York Giants (3-2)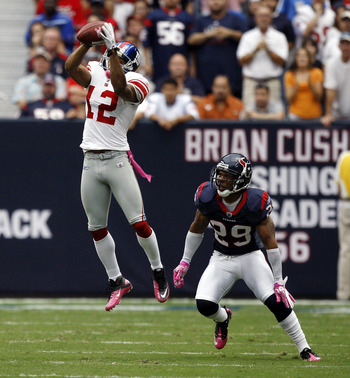 Bob Levey/Getty Images
The New York Giants just came off an impressive win over Houston, where their defense shined and their offense finally seemed to click. The Detroit Lions just came off an impressive win of their own, albeit against the lowly Rams, they scored a whopping 44 points. The downside, they lost Calvin Johnson, and he may not be able to go this Sunday. Shaun Hill is about to meet the New York Giants D Line, who have been a QB sacking machine the last couple of weeks.
NYG 42 - DET 27
Atlanta Falcons (4-1) @ Philadelphia Eagles (3-2)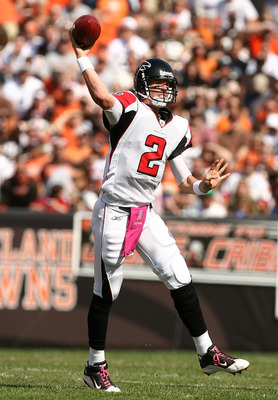 Matt Sullivan/Getty Images
The NFC South leading Falcons travel to Philadelphia to face the Kevin Kolb led Eagles, who won a shootout on Sunday night against the Niners. Matt Ryan and the Falcons are playing extremely well this season, but so is Philadelphia surprisingly, though much of their success can and should be attributed to Michael Vick. I'm not quite sold on Kolb, even if he did look good against the Niners. If he wins this game he'll have my respect.
ATL 35 - PHI 31
Cleveland Browns (1-4) @ Pittsburgh Steelers (3-1)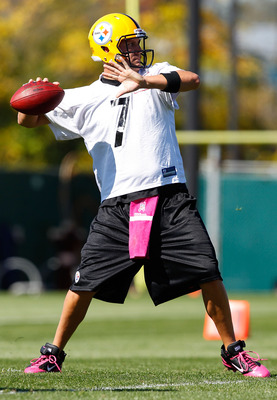 Jared Wickerham/Getty Images
In case you haven't heard, Big Ben comes back this Sunday. But you may or may not know that this game features two QB's who haven't started a game yet in the 2010 regular season. That's right, Welcome to the NFL Colt McCoy, your first test: the Steel Curtain.
I can't think of a tougher rookie debut than Colt is receiving. The Browns are literally throwing him to the wolves. Colt is a strong dude, and will likely feed the ball to Payton Hillis, but i just see no way the Browns pull this one off.
PIT 27 - CLE 13
Miami Dolphins (2-2) @ Green Bay Packers (3-2)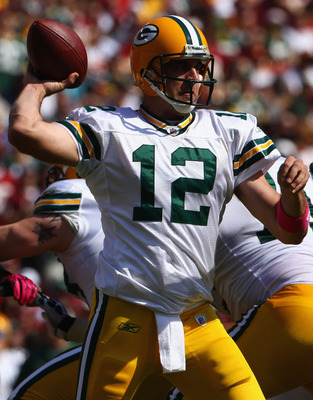 Win McNamee/Getty Images
Aaron Rodgers suffered a concussion in an over time loss to Washington, but he is hopeful he will be able to play. Meanwhile the Dolphins are coming off their Bye Week, where they likely spent a good deal of time trying to fix their offensive woes.
If Aaron Rodgers plays, this could be a blowout. If he sits, i still think Green Bay will do just enough to get by.
GB 35 - MIA 19
San Diego Chargers (2-3) @ St. Louis Rams (2-3)
Leon Halip/Getty Images
I have said this before when dealing with the Rams, everything on paper indicates an absolute ass-kicking. The Chargers have the NFL's best offense AND best defense, but they are only 2-3. On top of all this, the Rams just got their asses handed to them on a silver platter by the Detroit Lions. I bet you're thinking "Geez Mike, you're crazy. There's no way the Rams could win this one."
As I have said before, The Chargers are terrible away from home at closing out games, The game is in St. Louis, and I just have a gut feeling on this one.
STL 26 - SD 23
New Orleans Saints (3-2) @ Tampa Bay Bucs (3-1)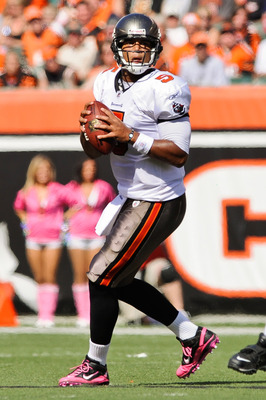 Jamie Sabau/Getty Images
The Saints are in a load of trouble. Teams have figured out how to take away Drew Brees' deep ball, and without Reggie Bush, Drew Brees can't make teams pay for playing cover 4. Meanwhile, the Bucs are just figuring out ways to win. the only team that beat them this year was Pittsburgh, whom one could argue is the best team in the NFL.
Josh Freeman will carry this team to a victory, engineering another late, game winning drive.
TB 28 - NO 24
Kansas City Chiefs (3-1) @ Houston Texans (3-2)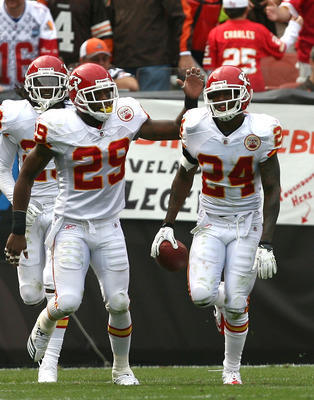 Matt Sullivan/Getty Images
Kansas City made a statement last week in their loss against the Indianapolis Colts. That's hard to do in a loss, but the Chiefs sent a message to the rest of the league. They are for real. At least, their defense is. They held the Colts to just 19 points, and kept Peyton Manning in check for most of the game. Defenses who pressure the QB seem to be Matt Schaub's Achilles Heel. That combined with the fact that the Texans Secondary is making every QB they play against look like pro bowlers, Kansas City will continue adding to their lead in the AFC West.
KC 31 - HOU 21
Oakland Raiders (2-3) @ San Francisco 49ers (0-5)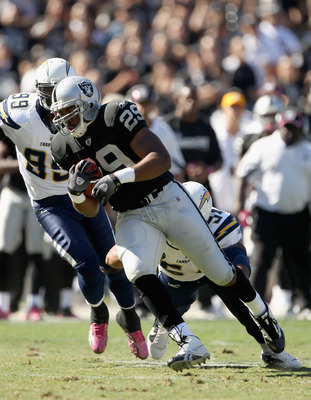 Ezra Shaw/Getty Images
The Raiders will hop on a bus and cross the Bay Bridge to visit the winless Niners. Oakland is coming off a stunning win over San Diego, while the Niners face a must win for the sake of really both Alex Smith and Mike Singletary.
The Raiders have a two headed monster in Darren Mcfadden and Michael Bush, and their defense is playing well under a bend don't break philosophy. the Niners will make it close, but Oakland seals the deal on a late David Carr INT.
OAK 27 - SF 21
Dallas Cowboys (1-3) @ Minnesota Vikings (1-3)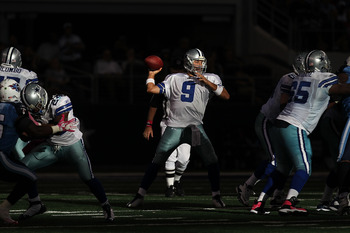 Ronald Martinez/Getty Images
This was many people's preseason NFC Title game contenders. Now it seems instead of the Super Bowl, these two teams are playing the toilet bowl. Though the Vikings and Cowboys have had serious issues, both have showed flashes of the team they could become. I am going to make two very bold predictions, and see if you can connect the dots and hit the third one, in addition to who I believe will win this game.
BOLD PREDICTION # 1 The team that wins this game will be provided with the much needed spark to salvage their season, and will ultimately reach the Playoffs.
BOLD PREDICTION # 2 The Vikings will win this football game if and only if Favre rests his elbow and Tarvaris Jackson starts the game.
DAL 34 - MIN 20
Indianapolis Colts (3-2) @ Washington Redskins (3-2)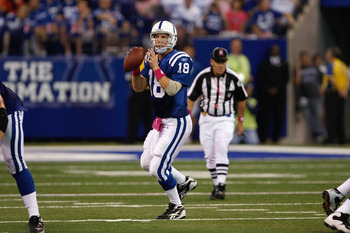 Scott Boehm/Getty Images
They say a photo is worth a thousand words, and this one is no different. If ever some one were to ask you why the Colts are so dominant, you need only show them this picture. Yeah it shows Peyton Manning, and yeah, most people pin their success on him. But look closer. Manning is in the middle of what's called a hitch step after completing a conventional 5 step drop. And there is no one even near him. He has a nice clean pocket and even a nice passing lane. After his hitch, the ball is gone. The protection of Peyton Manning is what has made them so dominant. That will continue on Sunday against the Redskins.
IND 42 - WAS 29
Tennessee Titans (3-2) @ Jacksonville Jaguars (3-2)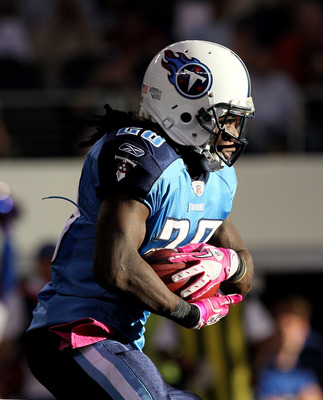 Stephen Dunn/Getty Images
GAME OF THE WEEK
Tennessee travels to Jacksonville Monday night in this weeks game of the week. Both teams sport fierce running attacks and good passing attacks, and this one will come down to the wire. Chris Johnson has a long way to go to get 2500. Well what better time to start than on National Television?
TEN 27 - JAX 24
New York Jets (4-1) @ Denver Broncos (2-3)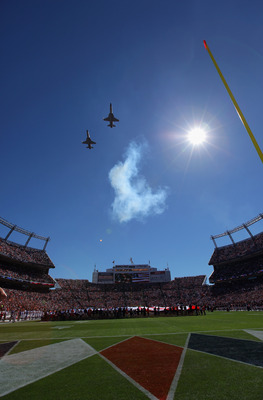 Doug Pensinger/Getty Images
I don't predict this one gang, so let me know who you think wins and why. Keep in mind, Denver will be wearing orange alternates if you believe the good aura about them.
TEAMS WITH BYES
Buffalo
Cincinatti
Carolina
Arizona
Last week: 5-9
Season: 22-20
Keep Reading

Denver Broncos: Like this team?