College Football Week 7 Picks: 5 Injuries That Could Cost Their Team A Game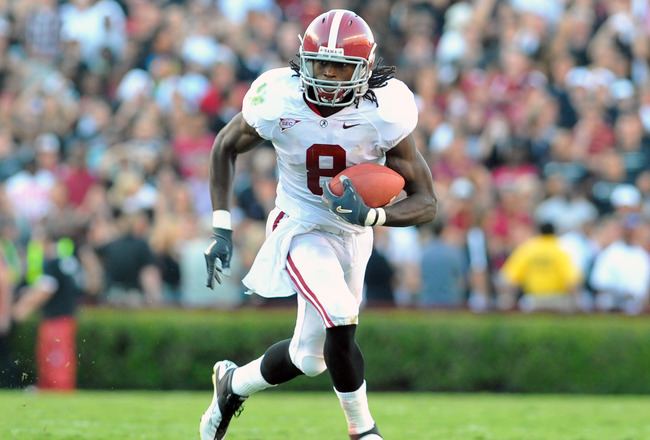 Al Messerschmidt/Getty Images
In the world of college football and the BCS, every single regular season game matters. If you lose one game, you need to hope everyone else loses a game to get you back in the race. Lose two, you could kiss your national title hopes goodbye.
As is the nature with football at all levels, injuries happen and they happen often. Just like in the NFL one injury could derail and entire program's season. Even more-so in college, as if your missing a player for just one game, that one game could be enough to put you out of the national title picture.
Here are five injuries that could cost their teams a game this week, and possibly their season.
5. Jacory Harris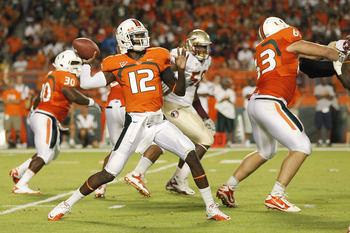 Joel Auerbach/Getty Images
Jacory Harris will play for Miami this week against Duke, but he needs to prove that his groin injury is no longer holding him back.
Harris played through the injury last week but had just nine completions on 47 passes in the Hurricanes' loss to Florida State.
This was the year the "U" was supposed to get back on track in college football. While Miami has a much easier opponent in Duke this week, if Harris' groin causes him to put up another stinker it could cost Miami the game.
A national championship was never a realistic goal for Miami this season, but winning the ACC could have been within their reach. Miami can't afford to lose any more conference games this season, or they will fall too far behind Virginia Tech, and won't be able to compete for the ACC title.
4. Ryan Williams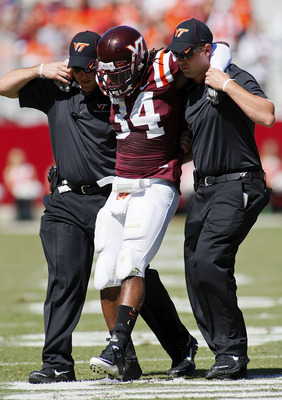 Geoff Burke/Getty Images
Virginia Tech running back Ryan Williams could return to action this weekend when the Hokies take on Wake Forest. Head Coach Frank Beamer has said that Williams is "closer" to returning to action against the Demon Deacons.
Williams has been out since September 18th with a hamstring injury. Beamer has said that he wants to wait to make sure that Williams is ready to go before he puts him back in the lineup.
Virginia Tech could really be lifted by a healthy Williams for their tough ACC matchup against Wake Forest. Wake Forest has gotten off to a slow start, but will be looking to pull off an upset against the Hokies.
The Hokies are 2-0 in ACC play without Williams, and should be able to win this game, with or without him, keeping themselves atop the ACC coastal division.
3. Oklahoma State's Wide Receivers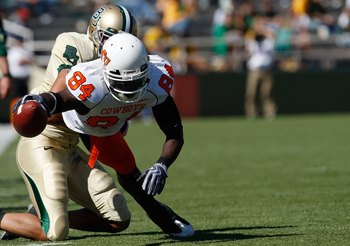 Ronald Martinez/Getty Images
This one is special as its not just one injury but rather three of Oklahoma State's top wide receivers could be out of action for Saturdays game against Texas Tech.
Head Coach Mike Gundy has already declared Michael Harrison out for the game, after he underwent surgery for a fractured finger. He has listed Hubert Anyiam doubtful, and Josh Cooper questionable.
Historically, games between Oklahoma State and Texas Tech have been shootouts with both teams playing open, pass-minded attacking offense. The loss of three top receivers could become a major concern for Oklahoma State, since they will need to put up points against Texas Tech.
These injuries could become a big concern for Oklahoma State, who are currently ranked No.18 in the AP Top 25. More importantly, right now they are going neck and neck with No.6 Oklahoma for the top spot in the Big 12's Southern division.
Having three wide receivers out of action, could end up costing Oklahoma State the game against Texas Tech, and more importantly, see them fall behind Oklahoma for a spot in the Big 12 Championship game.
James Rodgers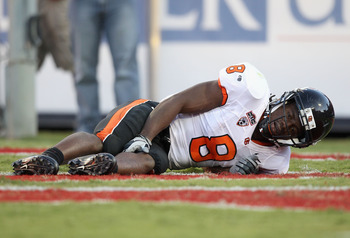 Christian Petersen/Getty Images
James Rodgers tore a ligament in his left knee during Oregon State's 29-27 win over Arizona last week. He will miss the rest of the season.
This is no doubt a huge loss for the Oregon State Beavers. Head Coach Mike Riley called Rodgers "the heart and sole of the team."
The Beavers are now going to have to look for other offense now as one of their biggest receiving threats has been taken away.
The Beavers will be facing a tough trip to Washington this week, and will need to find someone to step up and replace Rodgers sooner rather then later. While they have no chance in the BCS, the Beavers sit just one game behind the Oregon Ducks for the top spot in the Pac 10, and a spot in the Rose Bowl.
Unless the Beavers find a way to replace Rodgers, his injury looks like it could derail the Beavers Rose Bowl hopes.
1. Julio Jones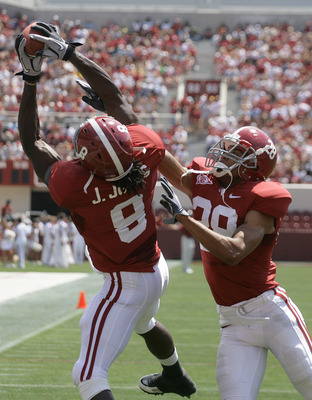 Dave Martin/Getty Images
After suffering their first loss in over a year last week, news just got worse for the Alabama Crimson Tide. Wide Receiver Julio Jones went down with a broken hand during the game against the South Carolina Gamecocks.
The defending national champions have now fallen to No. 8 in the polls, a dagger to a team that is looking for a second consecutive national championship.
The loss of Julio Jones makes it much more difficult for Alabama to throw the ball. Against South Carolina, when Alabama couldn't throw the ball, they were unable to establish their running game either.
It is absolutely imperative that Alabama win this week against Ole Miss if they are to keep their national title hopes alive. They should be able to overcome Ole Miss, but they must get Jones back sooner rather then later.
The loss of Jones could very well be enough to throw off the balance of Alabama, leaving them vulnerable to a loss, which would end their hopes of two straight titles.
Keep Reading