NFL Week 6 Picks: Predicting the Upset Locks of the Week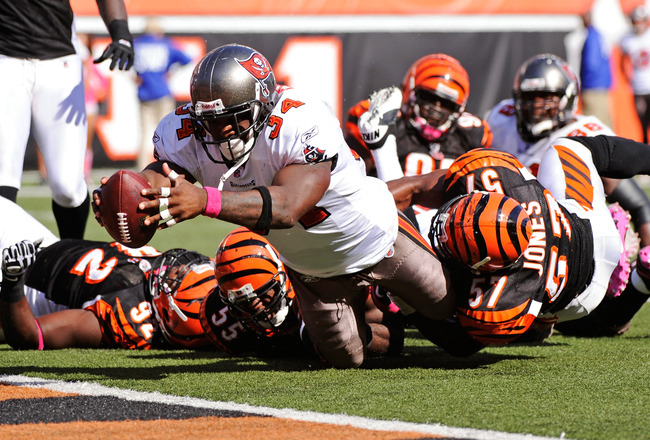 Jamie Sabau/Getty Images
In Week Five, the NFL saw four outrageous upsets from teams that entered their games as underdogs of more than a touchdown.
The Tampa Bay Buccaneers defeated the Cincinnati Bengals on the road, 24-21, despite being 6.5-point underdogs.
The Arizona Cardinals defeated the New Orleans Saints at home, 30-20, as seven-point underdogs.
The Oakland Raiders defeated the San Diego Chargers in Oakland, 35-27, as seven-point underdogs.
And finally, the Tennessee Titans traveled to Dallas as seven-point underdogs and upset the Cowboys, 34-27.
In the NFL, the saying "Any Given Sunday" is observable each and every week, which is a pretty self-fulfilling way to examine the veracity of the term.
So here is a look at how the term will be fulfilled this weekend with five upsets sure to shock the NFL. The picks are listed in order from smallest underdog to largest underdog in Week Six.
No. 1: New York Jets at Denver Broncos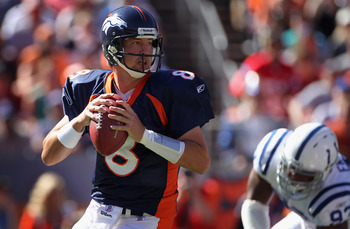 Doug Pensinger/Getty Images
| | | |
| --- | --- | --- |
| Favorite | Spread | Underdog |
| NY Jets | -3 | Denver Broncos |
The New York Jets travel to Denver on a short week to play in the thin air of Invesco Field at Mile High following their 29-20 victory over the Minnesota Vikings at home.
For the Jets, the trouble starts and ends with Darrelle Revis' nagging hamstring injury. Revis played the entire game against Minnesota, but he got burned by Percy Harvin and was kept off of Randy Moss most of the night.
The Jets defense has been allowing just 16.2 points per game, which is the sixth fewest point total in the league. However, they have a weakness. Whereas last season the Jets allowed more than 30 yards less against the pass than the next closest team in the NFL, they have surrendered 234.6 yards per game through the air this season, only 23rd in the league through Week Five.
Meanwhile, the Broncos enter the game with the second best pass offense in the league, averaging 333 yards per game through the air. Leading the charge is Kyle Orton, who has completed 66.2 percent of his passes for 1733 yards.
But the picture isn't entirely rosy for the Broncos. They welcome a Jets offense that has scored 27 points a game with three members of their secondary, safeties Brian Dawkins and Darcel McBath and cornerback Andre' Goodman, missing the game with injuries.
In the end, the Broncos can get their short passing game going enough to try and keep the ball away from the Jets and their offense. Mark Sanchez' 55.1 percent completion percentage portends some interceptions at some point. This week in Denver is as good a time for one as ever.
The Broncos win 21-17 and keep pace in what should prove to be an ultra-competitive, yet wholly mediocre AFC West division, while the Jets hit a temporary roadblock against a non-division opponent that will play tougher than they expect.
No. 2: Miami Dolphins at Green Bay Packers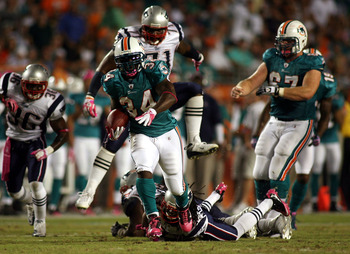 Marc Serota/Getty Images
| | | |
| --- | --- | --- |
| Favorite | Spread | Underdog |
| Green Bay Packers | -3.5 | Miami Dolphins |
The Miami Dolphins are desperate for a win coming off back-to-back home losses to division rivals.
They are lucky enough to run into a Green Bay Packers team that is absolutely reeling from injuries. For example, the Dolphins have been victimized by pass-catching tight ends such as Dustin Keller and Visanthe Shiancoe, but next week the Packers will be without Jermichael Finley, who is arguably more of a pass-catching threat than either Keller or Shiancoe.
The Packers may also be without Aaron Rodgers, who suffered a concussion last week in a 16-13 Week Five loss to the Redskins.
Even if Rodgers plays, the Packers may be too one dimensional going against a tough AFC East defense that is looking to show its worth after allowing divisional foes to drop 72 points on them over two weeks.
The Dolphins have had the bye week to fix their special teams problems after firing coach John Bonamego.
However, a road win in Lambeau is never a given. Chad Henne will have to avoid interceptions against an opportunistic Packers defense.
No. 3: Kansas City Chiefs at Houston Texans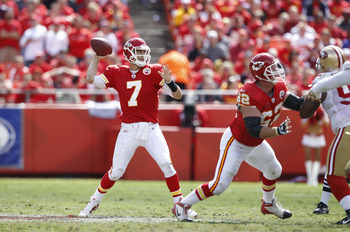 Joe Robbins/Getty Images
| | | |
| --- | --- | --- |
| Favorite | Spread | Underdog |
| Houston Texans | -5 | Kansas City Chiefs |
This selection arises out of a personal conviction about the overrating of the Houston Texans. Losing two home games in a row would be quite a deflating feat and the Chiefs are the team to pull that off.
When it comes down to it, the Chiefs are just a better-coached, harder-playing football team than the Texans. They are more fundamentally sound than their opponents.
The Texans have allowed 14 sacks and have a negative turnover differential, while the Chiefs have limited their opponents to three sacks and have a positive turnover differential.
While the Texans have limited opponents to 79.6 yards per game on the ground, good enough for fifth in the league, they have not faced a ground attack as good as the Chiefs, who average 148.8 yards per game on the ground.
Matt Cassel has struggled this season, but he could find success against a Texans pass defense that has been scorched for 329.6 yards per game this season, nearly 30 more yards than the next worst team.
If Cassel can find any sort of success, the Chiefs should be able to pull out a win on the road in Texas.
No. 4: New Orleans Saints at Tampa Bay Buccaneers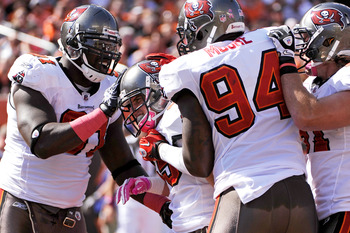 Jamie Sabau/Getty Images
| | | |
| --- | --- | --- |
| Favorite | Spread | Underdog |
| New Orleans Saints | -5 | Tampa Bay Buccaneers |
This will be a statement game for the Buccaneers.
At home, in front of their fans, they will look to put an exclamation mark on what has been a monumentally successful early season by defeating their divisional rivals and defending Super Bowl champions, the New Orleans Saints.
The Saints have a strong pass attack, averaging 271.2 yards per game. However, the Buccaneers defensive strength is taking away their opponents ability to pass.
Meanwhile, the Buccaneers have shown little ability to stop their opponents ground game, allowing 143.2 rushing yards per game. That shouldn't be a problem, however, because the Saints will still be without a healthy cadre of running backs and have shown little proclivity to running the ball.
Behind a strong defensive effort, the Buccaneers should be able to ride the momentum of their home crowd to a huge victory over the Saints.
No. 5: Oakland Raiders at San Francisco 49ers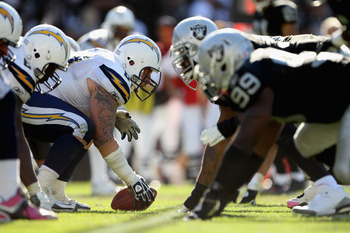 Ezra Shaw/Getty Images
| | | |
| --- | --- | --- |
| Favorite | Spread | Underdog |
| San Francisco 49ers | -6.5 | Oakland Raiders |
If one thing can be gleaned from these selections, it's that the AFC is the dominant conference in the NFL this season.
The AFC West may be bad, but the NFC West is definitely worse.
While expectations were high for the San Francisco 49ers going into the season, at some point people will have to admit that this team is just not very good.
The defense is just mediocre. They allow 26 points per game through five games. That makes it sound much worse than it really is, as the 49ers allow 339 yards per game, which is 17th in the league. But the defense is not what we thought it was to start the year.
Most importantly, Frank Gore and the San Francisco 49ers running game is either grossly under-performing or grossly overrated.
Gore has ran for just 322 yards in five games on 3.5 yards per carry. Alex Smith does make mistakes, but much of the 49ers problems are not his fault. He has had no running game to support him, his defense is mediocre and his offensive line is not protecting him, allowing 14 sacks so far this season.
The Raiders are 31st in run defense, allowing 147.8 yards per game. If San Francisco can get Frank Gore going, they can win this game. But they haven't shown that they can. Even playing at their crosstown rival's stadium, a more well-rounded Raiders team from a stronger conference should pull out the upset.
Keep Reading