Braves-Giants: Emotional Exit for Bobby Cox As Errors Sink Atlanta for Good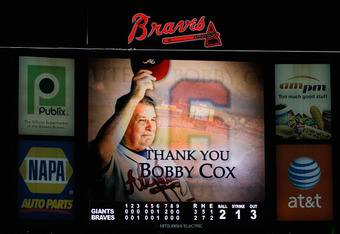 Kevin C. Cox/Getty Images
Bobby Cox exited Turner Field Monday night for the last time as the Atlanta Braves' manager.
His emotional exit was seared into the memories of baseball fans worldwide, and a tear, no doubt, trickled down the cheeks of many, both male and female alike.
Game 4 of the NLDS was a must win game for the Atlanta Braves. It looked very promising for Bobby's bunch until a costly error by shortstop Alex Gonzalez allowed the Giants to score two runs in the top of the seventh and take the lead by a score of 3-2.
With one out and the bases loaded, a ground ball was hit sharply to the right-hand side of Gonzalez. He made a great play to reach the ball and backhand it; however, his throw to second pulled Omar Infante off the bag, and all Giants runners were safe. A run scored on the play, tying the game at two runs each.
Had Gonzalez made an accurate throw, the Braves would have recorded their second out. Instead, the Giants accepted the gift of only one out with the bases still loaded.
The next batter struck out. This should have ended the inning. With an extra out, so to speak, Cody Ross came up to the plate with intentions of doing more damage to the Atlanta Braves.
Earlier in the night, Ross broke up a no-hitter by Braves pitcher Derek Lowe when he hit a solo home run. Now, with the bases loaded and an extra out with which to play, the Giants would make the Braves pay once again.
What is your opinion about the retirement of Bobby Cox?
Ross hit a single to left field, and the go-ahead run came across the plate. The Giants attempted to add an insurance run on the same play. However, Braves left fielder Matt Diaz threw a strike to catcher Brian McCann, and with a collision at the plate, Atlanta finally had its third out.
From that point forward, no more runs would be scored by either team. The Braves had hope in the bottom of the night when Giants closer Brian Wilson walked two batters and put runners on first and second. The game ended when Melky Cabrera dribbled a grounder to third and was thrown out at first.
As soon as the game ended, chants of "Bobby, Bobby, Bobby" could be heard throughout the stadium. With tears in his eyes, longtime Atlanta Braves manager Bobby Cox returned to the field to acknowledge fans and players, including most of the San Francisco Giants, who had remained on the field to pay tribute to Bobby before enjoying a cold champagne shower.
It will not be the same without Bobby Cox. We will miss him. He is one of the most beloved men in baseball and will always be. Still, I believe it is time for Bobby to go. It is time for a new man to take control of the Atlanta Braves and get them back to postseason success.
I dare say that Bobby Cox has not been making his best decisions for some time now. In the late 1990s, Bobby would not have let a pitcher talk him into staying in the game, even if that pitcher were named Smoltz, Glavine or Maddux. Just a few short years ago, Bobby would not have played Brooks Conrad at third base after losing Chipper Jones and Martin Prado.
For the past few years, Bobby has made a lot of decisions based upon emotion and feeling instead of doing what was best at the time. He loves those players, and he has always been a players' manager. However, when it came time to win a baseball game, Bobby was never afraid to hurt a player's feelings. He would take a player or a pitcher out at the drop of a hat.
Over the past few years, he accepted a lot more from the players, and because of his relationships with them, he would, at times, put decisions off that ended up hurting the team.
Little by little, as the years rolled by, those who know baseball best could tell that Bobby's decision-making process was changing. Did it hurt the Braves recently? Yes, it did, but more realistically, it was the lack of offense and the errors that ended the Braves' hopes of making it to the World Series.
Derek Lowe should have been pulled much sooner, but he deserved to be out there, and Bobby made the decision to leave him out there. It was not a good decision, but it was fair and deserving. Just a few years ago, Bobby would have pulled Lowe after the sixth inning. Had he pulled him after the sixth last night, the Braves would have had a much better chance to hold the lead.
Please don't misunderstand me, reader. Derek was dealing, but he was pitching on three days' rest, and by the end of the sixth inning you could tell that Derek was laboring. A fresh reliever to start the seventh would have most likely shut the Giants down. We can only speculate, and we'll never know for sure.
Bobby Cox will go down as one of the greatest managers in Major League Baseball history. No other manager will ever win 14 consecutive division titles. Bobby has had tons of success, including a World Series title in 1995. He managed every game to win, and he gave all he had at all times.
Just as many fans feel today, I am sad and I hate to see him go. Players loved to play for him, and fans loved to cheer for him.
Bobby Cox will always be, in the hearts of many, the manager of the Atlanta Braves.
This article is
What is the duplicate article?
Why is this article offensive?
Where is this article plagiarized from?
Why is this article poorly edited?

Atlanta Braves: Like this team?