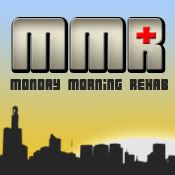 Last offseason, the NFL made a serious push to shine more light on the growing number of diagnosed and undiagnosed head injuries in the league.
Obviously, concussions are bad news. The long term health effects on players who suffer one or multiple concussions are unfavorable.
So now that NFL teams are more vigilant when it comes to head injuries, it comes to pass that there have seemingly been more concussions this season than ever before.
The latest victim is Green Bay quarterback Aaron Rodgers.
Generally, players who suffer concussions do not play the next week (see Cutler, Jay). Sometimes, these players lose their starting jobs to other players (see Kolb, Kevin). While the latter is not the case in this scenario, the former certainly could be.
Aaron Rodgers [QB, Packers]
From ProFootballTalk:
Packers quarterback Aaron Rodgers suffered a concussion in the Packers' loss.

The Packers haven't offered much information about what happened, but Rodgers appeared to have been hurt on his last pass of the game, which was intercepted. Rodgers will need to be medically cleared before he can practice this week, or play next Sunday against the Dolphins.
If Rodgers does not play, Matt Flynn will get the start for the Packers. Flynn, who won a National Championship at LSU, has played well as Rodgers' backup but is not a start-able fantasy option in standard leagues. Deep leagues can take a look.
Calvin Johnson [WR, Lions]
From RotoWorld:
Coach Jim Schwartz conceded Monday that the Lions are "very concerned" with Calvin Johnson's injured right shoulder.
Before the season started, I thought Johnson would be the best fantasy football wide receiver. While he is not leading the pack in WR categories, he has not been a disappointment. However, this could be a serious detriment to his fantasy owners -- myself included -- going forward. Hold your breaths.
JerMichael Finley [TE, Packers]
From ProFootballTalk:
ESPN's Adam Schefter reports that Packers tight end Jermichael Finley will undergo an MRI on Monday, but that "all ligaments" in his hamstring appear intact.
Looks like Finley will be out for a little while as well as Rodgers, but no definitive time-table has been set yet. Stay tuned.
Mark Clayton [WR, Rams]
From ProFootballTalk:
Clayton was carted off the field with what appeared to be a knee injury on Sunday. It did not look good.
Clayton is done for the season. His first few weeks in St. Louis were full of promise. Now, young Sam Bradford will have to find another WR1 after losing both Clayton and Donnie Avery. Danny Amendola and Brandon Gibson are names to know.
Joseph Addai [RB, Colts]
From ProFootballTalk:
Joseph Addai left Sunday's game in the third quarter with an apparent shoulder injury. With Donald Brown out, Mike Hart has taken over at running back. Addai is "questionable" to return but doesn't have his jersey on.
Lots of injuries in the Colts' backfield these days, which gives Mike Hart an opportunity to have some fantasy value. Stash him if you have the bench space.
The MMR will continue to run every Monday morning as scheduled during the regular season. If you have an injury update or want an update on a certain player, please leave a note in the comments.