Brett Favre: Why The Media Hype Around This Scandal Is His Fault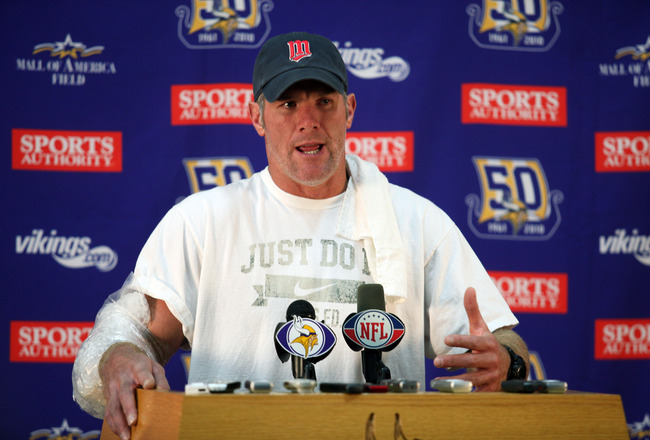 Adam Bettcher/Getty Images
When it comes right down to it, Brett Favre brought this scandal and the media hype surrounding it on himself through all of his "I'm retiring" speeches, his returns, the embarrassment he caused Green Bay, then his departure from the Jets and reemergence with the Vikings.
He wanted the media attention, and now he's got it.
It's funny what he'll do for attention.
No. 10: Retirement from Green Bay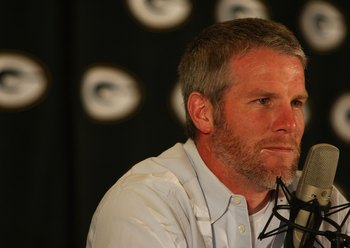 Jonathan Daniel/Getty Images
The emotion, the tears, the "I'm done." It was just the start of the love fest Brett had for himself.
No. 9: Brett Signs with the New York Jets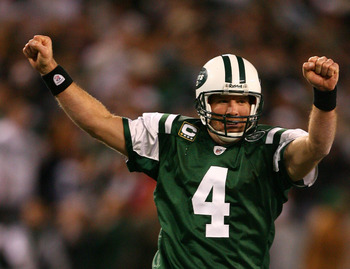 Al Bello/Getty Images
After saying he was "mentally tired" and wanted to be done with the game, Brett re-emerges at a press conference holding a New York Jets uniform.
I thought you were done, Brett?
No. 8: Brett Retires from the Jets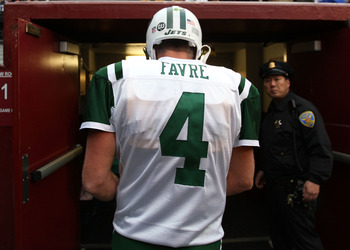 Jed Jacobsohn/Getty Images
After one season with the New York Jets, Favre decided he was done. No, seriously, he meant it this time.
No. 7: Brett Favre, the Minnesota Viking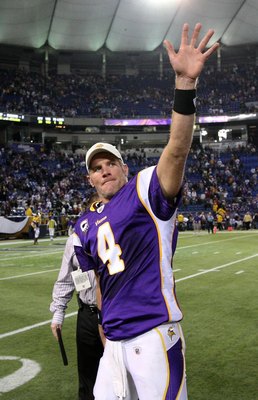 Jim McIsaac/Getty Images
Wait, I thought Brett was done—I thought he was finally walking away.
Apparently not, as Favre shows up on the NFL scene again, this time in a jersey of the team that's a direct rival to the Green Bay Packers, the Minnesota Vikings.
How long are we going to deal with the flip-flopping?
No. 6: Brett Needs Some Time To Decide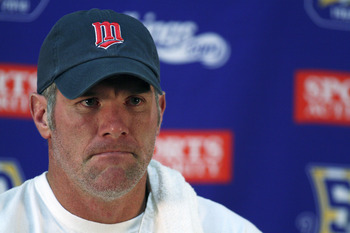 Adam Bettcher/Getty Images
After the 2009 season, Brett says he needs to step away for awhile to make sure he wants to play another season.
Rumors were abound that Favre had "retired" again. But, in true Favre style, he returned to the field—but only after training camp was just about over.
No. 5: Addicted to Pain Pills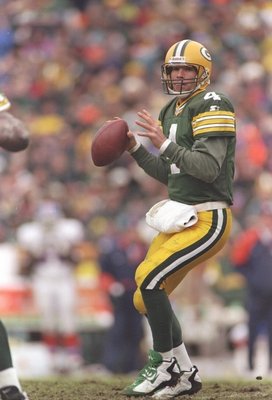 Brian Bahr/Getty Images
In 1996, Favre admitted to then SI.com writer Peter King that he was addicted to pain pills. So much so that it nearly cost him his life.
He was addicted to Vicodin, taking 13 a night at some points and trying to get the pills from teammates.
No. 4: Constant Need for Media Attention during the Offseason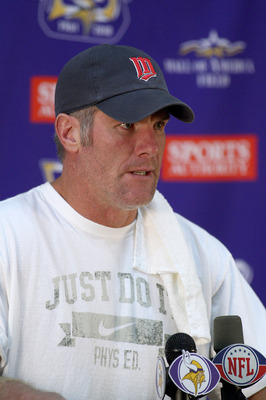 Adam Bettcher/Getty Images
It's the "will he or won't he" question that the national media, and Favre, seem to strive for. He leaves for the offseason, leaving everyone hanging and keeping them guessing.
Now that it's happened three times so far, who knows if he'll go for a fourth after this season is done.
No. 3: Ending the Season with a Bad Decision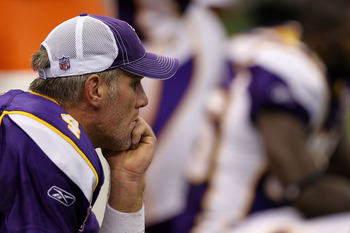 Ronald Martinez/Getty Images
To end the season like that, to get that close and to make a pass that errant isn't the way Brett Favre normally goes out.
But to get his team that close and come up short brought out all sorts of questions from the media as to whether he should try to return in 2010.
No. 2: Creepy Voicemail to Sideline Reporter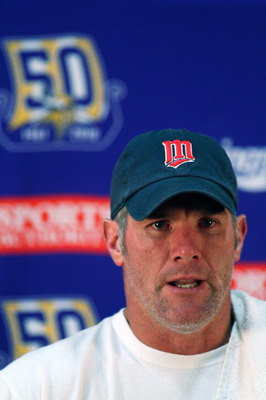 Adam Bettcher/Getty Images
The moment it went all downhill was when Jenn Sterger came out and alleged that Brett Favre had been a tad inappropriate with her.
Just how inappropriate? Well, a creepy voicemail to start things off.
No. 1: Now There Are Pictures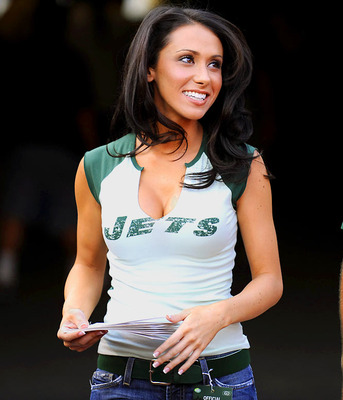 If the creepy voicemail wasn't enough, now the pictures that were sent to sideline reporter Jenn Sterger have been released.
And yes, they just happened to be of Brett Favre's "stuff."
Keep Reading

Minnesota Vikings: Like this team?