Jets vs. Vikings Monday Night Football: Live Blog, Analysis, & Reactions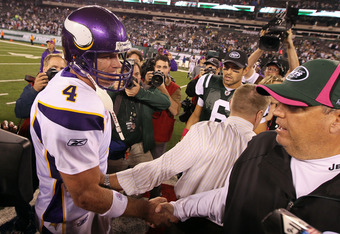 Jim McIsaac/Getty Images
Welcome to tonight's live coverage of the Monday Night Football matchup between the New York Jets and the Minnesota Vikings. From Randy Moss's return to the Vikings, to Favre playing in his former home stadium (or an updated version of it), to Revis' big comeback from a hamstring injury, there are plenty of interesting headlines behind this game. We should be up and running at least fifteen minutes prior to kickoff, so expect an 8:15 PM start. Let's hope for a Monday Night Football game to remember.
REX RYAN QUOTE OF THE POSTGAME:
"We're 4 and 1. We wanted to have the best record in the National Football League. And we're right on pace."
That's all from me tonight. Time to go celebrate the win. Hope you all enjoyed the live blog.
Check out the Jets Jive for constant Jets' analysis and news as well as my article on B/R!
Bomb downfield almost picked off in the endzone. I predicted Jets 24 - 20. It was actually Jets 29 - 20. It's a W either way. Jets go to 4-1. Vikings go to 1-3. Favre is looking more like the 42 year old that he is this year. The Jets will still be in first place in the AFC East.
2nd & 10. Favre sacked from behind and fumbles again. An offensive linemen jumped on it for a loss of three yard. 30 seconds left and Shiancoe catches a ball on the Jets' 40. 10...9...8...7...6...5...4...3...2...incomplete. One more play. J-E-T-S!!!!
He needs two scores. Why is he throwing five yard passes with 61 seconds left on the clock?
Favre drops back, hits Gerhart in the checkdown but he bobbles it and doesn't get the catch.
Pass to Moss on the 44 yard line. 1st down.
Favre has accounted for three turnovers tonight. He's been a TO Machine so far this season. Incompletion on second down.
Favre starts the drive on the 23. Almost picked by Jim Leonhard at the 50 yard line. Another bad pass. He's gone back into that shell he spent the first half in again.
Dwight Lowery cut in on a Visanthe Shiancoe route on the right side of the field. Great play. This is defense at its best by the Jets tonight. A huge blitz forced him out of the pocket for a bad, bad pass.
DWIGHT LOWERY PICK SIX!!! That is going to be a game folks. It's just about over now. Favre needs a huge couple of drives now if he wants a win. Looks like Minnesota is going to 1-3 tonight.
Penalty. Encroachment. Shaun Ellis. 1:38 left. 3nd & 5.
Favre throws over Harvin's head and he would've had a lot of room to run. Whoever was covering fell down. It was Revis.
Favre overthrows Moss by about four or five yard down the right sideline.
By the way, I run my own Jets blog called the Jets Jive. Check it out when you get a chance. Fair catch on by Camarillo on the 16 after a Weatherford punt.
According to this article, the Jets are an elite team and win games like this.
Sanchez escapes a blitz and throws a high ball that's incomplete down the left sideline.
Clock is ticking, and Sanchez throws a bad pass over the middle and doesn't hold it long enough to hit the two minute warning.
Minnesota calls their last timeout with 2:47 left. Jets stuffed for a loss of two yards.
On 2nd & 8, he hits Santonio Holmes on the 35 yard line for a first down. That was a clutch, veteran play by a young quarterback. His development as a passer has been awesome to follow.
Tomlinson two yard carry and a Vikings timeout. 2:59 seconds left on the clock. The Jets need one or two first downs here to win the game.
Kick deep to Brad Smith who returns it to the 22.
It's now 22-20 after the extra point.
This article is
What is the duplicate article?
Why is this article offensive?
Where is this article plagiarized from?
Why is this article poorly edited?

Minnesota Vikings: Like this team?