Glass Half Empty Or Half Full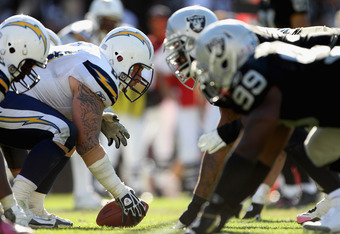 Ezra Shaw/Getty Images
With victory comes perfection, and when I say perfection I mean recognizing the errors of the past. When a team makes it a habit of losing like the Oakland Raiders have, getting a chance to watch winning game film will boost the confidence of every players and coach.
Let's take a minute to give credit were credit is do, the Raiders have broken the San Diego curse that has plagued us for the last seven years. The players on the team are very excited to get that big monkey off their backs. At the same time you should know that not one player is happy about their performance. They know that it was not any where near what it needs to be if they want to extend the season into the month of January. Teams rarely win games when they give up over 500 yards of offense, but when they do there is a lot to be learned from it.
The confidence of the 2-3 Oakland Raiders will be sky high for the up coming battle of the bay against the 0-5 hopeless San Fanscio 49ers. As long a Mike Singletary keeps Alex Smith on the field the Raiders shouldn't have any problems going 3-3 this Sunday.
Before the Raiders move on to the next game they must review the game film and learn from their mistakes. They still haven't made any improvements to the weakest links on the team. Starting with the absolute worse offensive line I have ever seen in the NFL that continues to get worse every week. Every QB that lines up behind that offensive line gets thrown to the sharks. Bruce Gradkowski is the latest victim, when Shaw Phil came of the defense right side untouched and put his helmet straight into Bruce's back causing him to leave the game with a injury. Our confidence with this victory will be short lived if Tom Cable doesn't take action with that offensive line. During practice this week it looks as if he is just moving around the linemen as if that was going to help.
When opposing teams prepare to play against the Raiders defense the only guy they worry about is Nnamdi Asomugha. Stay away from him and you can basically do anything you want to the rest of the Raiders defense. Blown coverages and missed tackles have been the deciding factor in every game this season. This week the defense ended up with 5 turnovers including the 2 blocked punts. Watching Oakland practice this week there has been a big emphases on turnovers, running different drills to simulate fumbles.
Everyone knows that I have a special place in my heart for special teams, and after the big special team plays that ultimately beat San Diego you know why. John Fassel is a up and coming special teams coach that hasn't been able to" Let it all hang out "according to my inside source. My last year on the Raiders I was under coach Fassel and I know that he is an aggressive coach that likes to make special teams special. I have personal seen Tom Cable cut short the special teams repetitions during practice. I also have a team source telling me that he doesn't put enough time into the special teams during practice and players are getting sick of it. Unfortunately I saw know change in the amount of time spent on special teams this week.
I preach the word confidence to everyone, and the Raiders confidence is right where it needs to be in order to get another win this week. If Tom can keep the spirit of the Raiders up he can get the team back on track. The Raiders played poor all game but came through when it counted, and you know what they say in the NFL " They only remember what you did last". With that I give the Raiders an 8.5 because victory erases all.
Jarrod Cooper
8 year Veteran
Spay and Neuter your pets..
This article is
What is the duplicate article?
Why is this article offensive?
Where is this article plagiarized from?
Why is this article poorly edited?

Oakland Raiders: Like this team?