ALDS 2010: Four Reasons the Texas Rangers Will Win Game 5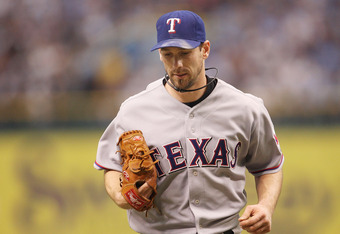 Cliff Lee looks to lead the Rangers to victory.
Mike Ehrmann/Getty Images
The Texas Rangers are looking for their first playoff series win in franchise history, and last week, it looked like they would get it. The Rangers took games one and two in commanding fashion, giving up only one run. Starting pitchers Cliff Lee, and C.J. Wilson dominated both games, leading Rangers fans to think a sweep was in order. The sweep, however would not be so, leading 2-1 in the late innings of game 3, Ron Washington made some questionable decisions with the bullpen, and they could not finish the job, losing 6-2.
In game four, the Rangers could never get going and they were dominated by the Rays 5-2. The bats of star hitters, Michael Young, Josh Hamilton and Vladimir Guerrero have been nonexistent this series. The trio, who were expected to lead the Rangers to victory, have been nowhere to be found.
The Rangers missed an opportunity to close out the series at home, and now must return to Tropicana Field to close out the first series win in franchise history.
Here are four reasons why Rangers fans should be confident of a win in game five.
1. The Play of Elvis Andrus.
This is a strange way to start off this list, Andrus does not hit for power, has never played in a post season, and is only a second year starter. How can he possibly be a factor in the Rangers winning in game five? The answer is Andrus has been nothing short of spectacular in this series.
He is batting .316 in this series with though he only has one RBI. He has been a force on the base paths, stealing bases, forcing the Rays to make bad throws, and generating run producing innings. He has done an outstanding job at the lead-off position, working high pitch counts to start the game, and making things happen for the Rangers.
In the field, he has also been outstanding, making spectacular plays that belong on the highlight reel, as well as making numerous plays to save runs.
If he can keep this up in game five, the 22 year old will be a main part of why the Rangers will win their first division series in franchise history.
2. Josh Hamilton Remembers How to Hit.
Josh Hamilton had an MVP regular season. He posted a .359 batting average, with 32 Home Runs, and 100 RBI's. Hamilton is the main reason for the Rangers first post season birth in eleven years as he's been fantastic. His play in the field was great, and he has had several game saving plays, both in the field and at the plate.
In the post season, however, Josh Hamilton is no where to be found. If the Rangers are going to win this series, Josh Hamilton will have to play a major role in game five.
Josh Hamilton has put this team on his back and led them to victory before. Trailing 8-2 against the Red Sox on August 13, Hamilton put the Rangers on his back in a way never seen before. He made plays in the field, at the plate, and on the base paths in a game the Rangers would win 10-9.
Hamilton needs to have another take over game if the Rangers are to win game five.
3. Cliff Lee.
Cliff Lee is Mr. October. He has never lost a post-season game, going 5-0 in his short, but very successful career in the playoffs. Last year with the Phillies, Lee won both World Series games that he started, but the Phillies would still lose the series 4-2. Should the Rangers win and face the Yankees, Cliff Lee boasts a 6-1 record with a 2.76 ERA against the Bronx Bombers since 2007.
In the post season, there is no one else you would rather have on the mound than Cliff Lee, and the Rangers are starting him in game five. This is the reason the Rangers traded for Lee in the first place. The Rangers are in a win or go home situation facing elimination, and they will hand the game ball to Cliff Lee and say "put us on your back."
Cliff Lee beat the Rays and all star pitcher David Price in game one. If Lee can do it again, the Rangers will be headed to their first American League Championship series in franchise history.
4. Cliff Lee, Again.
When you just get down to it, the fate of this game rest solely in the hands of Cliff Lee. If he brings his usual playoff stuff, the Rays can kiss their season goodbye. If however, Lee does not shown up in the post season for the first time ever, the Rangers will be looking at yet another one and done.
Rangers fans should have faith though, because when has Cliff Lee not been ready for a post season game?
The ball is in your hands Cliff Lee.
The Rangers put all of their hope in you.
For questions regarding the article please comment, or send me an E-mail.
Paul Ferguson is an intern at bleacher report.
Follow him on twitter at: @paulwall5
This article is
What is the duplicate article?
Why is this article offensive?
Where is this article plagiarized from?
Why is this article poorly edited?

Texas Rangers: Like this team?