Minka Kelly: Derek Jeter's Fiancee Named Sexiest Woman Alive
According to an article in Esquire Magazine, Minka Kelly, also known as Derek Jeter's fiancee, is the hottest woman in the world.
Kelly is an actor and model, but what else do you need to know about her? Well, here's your Minka Kelly guide, with everything you could want to know about this starlet.
Begin Slideshow

»
Kelly is the only son of Aerosmith guitarist Rick Dufay and Vegas showgirl Maureen Kelly.
Kelly has described her childhood as "Rough" in various interviews, and for many years, she resented her father, Dufray, for leaving she and her mother and forcing them to fend for themselves.
Minka eventually buried the hatchet with her father, reconciling her differences on a trip to New Mexico at age 17.
After she graduated from high school, Kelly went with her father to Los Angeles, where she studied to become a surgical technician, acting primarily as a hobby.
Kelly got hooked on acting after just a couple of classes. Having fallen in love with the profession, she decided to pursue acting as her career.
In her first few years in Hollywood, Minka had bit parts in various T.V. shows, with the occasional recurring guest appearance getting her through. Most notably, she had a recurring guest role on the show What I Like About You.
Kelly appeared in a few movies, mostly in bit parts in her early career. But, in 2006, she would get her big break.
In 2006, Kelly landed the role of cheerleader Lyla Garrity in NBC's television interpretation of the book Friday Night Lights.
The show was a hit, and with the success, Minka Kelly became one of Hollywood's most promising young starlets.
In 2007, Garrity found the time in between shooting episodes of Friday Night Lights to shoot a cameo in The Kingdom. The movie was directed by Lights' pilot director and creator Peter Berg.
Because Lights is about high school football, Kelly's time on the show inevitably came to a close. In 2009, she made her final appearance as Lyla Garrity on the show.
Shortly after Kelly left Lights, she did a video with Alyson Hannigan, Jamie King, Emily Deschanel, and Katherine McPhee for the comedy website Funny or Die. The video was meant to encourage breast cancer awareness.
Since leaving Lights, Kelly has been in numerous television pilots and movies, as her star has continued to rise.
In 2009, Kelly was the lead in the CW show Body Politic. However, the show was not picked up after the pilot.
Minka Kelly was also a member of the ensemble cast of CBS sitcom True Love, although she was replaced after the pilot by Sara Chalke.
Most notably, Kelly appeared in the 2009 hit movie (500) Days of Summer as Autumn, one of Summer's friends.
Kelly has acting in her blood. She is the granddaughter of 40's, 50's and 60's movie star Richard Ney.
Before meeting Jeter, Kelly was most notably linked with guitarist and singer John Mayer, but the duo split in February 2008.
Jeter and Kelly began dating in 2008, and the pair were engaged in the middle of 2010.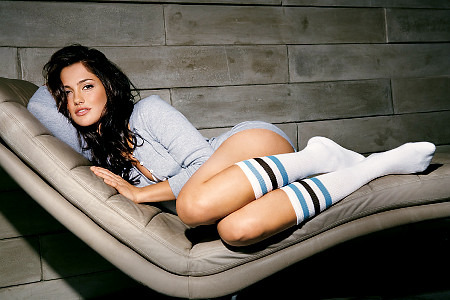 While Kelly has been unable to stop her fiancee's fielding decline, she managed to help Jeter stave off old age at the plate. His average and home run totals are as good as ever, and he hit .334 in 2009, the second-highest average of his career.