LIVE Quick Hits From Strikeforce: Diaz Vs. Noon II in San Jose, California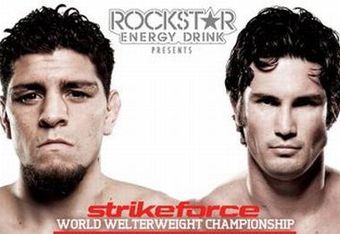 While my colleague, Andrew Brining, provides a round-by-round analysis of the actual action inside of the cage, I'll be providing an additional look at the night's action both inside and outside of it. Tune in to get your backstage pass for Strikeforce: Diaz vs. Noons II from the fights themselves until the end of the post fight press conference!
Nate Diaz claims the unanimous decisions. During the post fight interview he announces that he is capable of beating Noons on the ground or in a boxing fight if need be. Diaz gives a quick shout out to Oakland's Andre Ward for help in preperation of tonights fight.
A stoic and humbled Noons concedes that Diaz beat him fair and square and was simply the better man on this night.
Stay tuned for notes from the post fight press conference that will follow shortly...
With just under two minutes left both the champion and challenger battle through their fatigue knowing that a championship awaits the victor. Bloody and beaten, the continue to wage war with the fans cheering in approval. Thirty seconds left and this one appears to be heading to the cards. The fans are on their feet and the fighters give every ounce of fight left in them. As the final bells sounds both Diaz and Noons raise their hands in triumph. It remains to be seen which celebration is justified.
The crowd apporves as both men clinch and throw at the same time. Diaz evokes a bit of a response as he stands in front of Noons with his hands down at his sides. Noons begins to go for broke wildly throwing hooks and uppercuts.
We approach the fifth and final round of the championship event and both fighters opt not to touch em up as the action ensues. Diaz desperately attempts a takedown but Noons manages to get away. Not surprisingly the fighters elect to stand and trade...
Noons temporarily back Diaz up with a couple of hard shots and Diaz returns fire with some shots of his own stopping Noons in his tracks and even staggering the challenger for a second.
Round four of five starts off much like the first three with sporadic strikes. Diaz mixing in a spinning heel kick that misses. noons, who is one of the sports greatest cross-over fightersw is starting to find himself outboxed by the chamion. Just as I say that Noons lands a big shot of his own. An exciting exchange in the ring brings the crowd to life.
And early takedown attempt by Diaz is halted by a quick knee by Noons. Both fighters take to striking in the center of the ring. Each man throwing at a measure pace and both finding relative success. Striking clearly seems to be the theme of the round with neither man even attempting a takedown. As both men begin to show slight signs of fatigue they mix in a few kicks as the round comes to a conclusion...
Diaz opens round three with an attemted takedown and is stopped by a quick knee by Noons. Diaz gets up and both men try once again to find their range as wild shots ensue for the opening minute of the round.The hyped up crowd makes some noise as the fighters open up both finding relative success.
With thirty seconds left an attempted takedown is blocked and the fighters remain on their feel throwing occassional shots before thebell sounds to end the second round...
Once again the crowd gets behind the Stockton California fighter with chants of DIAZ, Not to be outdone by the bloody face of Diaz, Noons appears to have blood trickling from his nose. Both guys mix their pawing jabs with wild haymakers. Not the most effective, but exciting nonetheless.
Diaz face begins to shed some blood as Noons begins to find his range. Momentarily the fight resembles a boxing match moseso than a MMA fight...
Round two is set to get started and both guys open up with a couple of feints. The crowd makes some noise as Diaz mad dogs Noons after being tagged.
A slugfest breaks out momentarily in the center of the ring. Diaz talks a little bit of trash and Noons follows it up with a couple of tough spots to the jaw of Diaz...
Diaz takes it to the ground early on just as Noons had predicted in our interview earlier this week. Noons looks to be in a rough spot at the moment. As Noons gets back to his gfeel he takes a couple of quick shots by Diaz...
Early on the lady next to me comments that Noons is more worried about his hair than anything else...
The crows starts with chants of DIAZ DIAZ early...
It's no surprise that Diaz comes out to the strongest ovation of the night...
I'd have to agree with Thomson as he stated that there's no way he won that fight by a score of 30-27. Now on to the main event....
Announces Jimmy Lennon Jr reels off the official particulars which are 29-28 x2, and 30-27 all three in favor for the hometown kid Josh "The Punk" Thomson...
With just over thirty seconds left int the fight Thomson lands a few kick from his back and shortly after the bell sounds to mark the end of the special attraction bout. Official scores to follow...
Not so much love as JZ takes Thomson down to the mat. As the action slows, the crowd begins to boo heavily and request that the fighter be stood up, and just as that happens Thomson briefly secures a headlock.
You've got to give the San Jose crowd credit for being behind their man as even if nothing major has transpired they react like he just delivered the major knockout shot. Like just now for example as Thomson looks ainto the camore from his back and gives them a thumbs up....
The final minute of the second round proves to be uneventful for the most part until Thomson raises up to land a couple quality strikes just as the bell sounds...
Just over three minutes into the third The Punk registers a takedown and begins to land a few shot. McMarthy keeps a close eye on the action and Thomson has JZ's back.
Round two begins with Josh against the cage and both men throwing knees from the clinch...
This article is
What is the duplicate article?
Why is this article offensive?
Where is this article plagiarized from?
Why is this article poorly edited?