NFL Week 5 Picks: With Jenn Sterger Scandal, Can Brett Favre Focus to Beat Jets?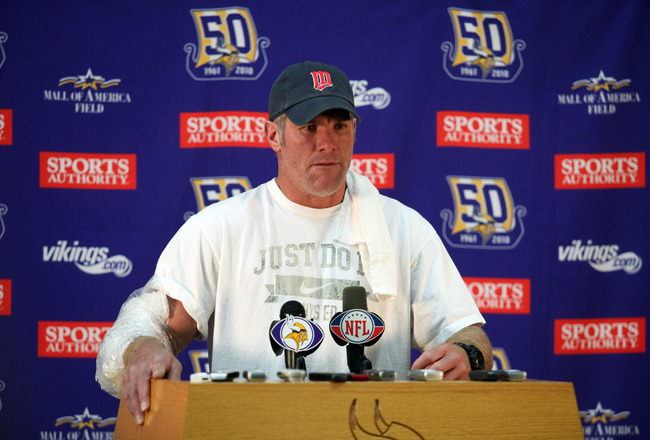 Adam Bettcher/Getty Images
Why is this reminding me so much of what we went through with Tiger Woods, just on a smaller, yet just as embarrassing, scale?
Hot sideline reporter Jenn Sterger had said, a few months ago, that Brett Favre had sent her pictures of his "junk."
While the talk died off when most scoffed at the rumor, it came back hotter than it did before. This time, we found out the pictures were real.
What I find so funny about this situation is the fact that some would compare it to what Tiger Woods did? Uh, no not so much.
Favre sent pictures of, um, himself. Tiger slept with an ungodly amount of women and it wasn't until his wife went through his cell phone that he left a somewhat funny, but equally as embarrassing, voice mail for one of his women.
So, for those of you who are comparing the two, just stop.
It brings me to this. Will this be a distraction to Brett Favre this weekend as he takes on his former team, the New York Jets? Simple answer, no not really, especially with having a new weapon at wide receiving in Randy Moss.
That alone should be enough for Favre to focus on this weekend.
Mike Singletary has to be wondering what else could go wrong for his team. He has to be wondering when things will start going right and if he'll have to make a quarterback change to get to that to happen.
Alex Smith hasn't worked thus far as the quarterback for the 49ers but I continue to hear that former Fresno State quarterback, David Carr, isn't much better. It's funny to hear that when he hasn't played in a single game for the team thus far.
With the Eagles coming to town, things are about to get a lot worse for the bay area, with or without Michael Vick.
The San Diego Chargers have owned the Oakland Raiders over the last 13 years and they're about to make it 14 straight.
Rookie running back Ryan Mathews should be back and close to 100% and they have arguably the best tight end in the game in Antonio Gates who's already putting up career type numbers.
Not only that, but the Chargers have one of the best defenses in the NFL right now. Couple that with a struggling Raiders team and we might have a one sided affair on our hands.
I know this is coming from a guy who lives in the Dallas/Fort Worth metroplex but I'm also one that isn't going to suck up to the only decent NFL team in Texas. Yes I said it.
The Cowboys, after a bye week, will be back in their home stadium to take on the Tennessee Titans who aren't the easy win that the radio guys around here would lead you to believe.
The Titans are averaging 24.5 points per game and have one of the better running backs in the NFL right now in Chris Johnson.
The Cowboys' defense is going to have their work cut out for them on Sunday.
The Cardinals need something good to come from this game, especially after getting blown out by the San Diego Chargers last Sunday.
Unfortunately for them, it's not the Panthers or Bills that are coming to town, it's the New Orleans Saints and quarterback Drew Brees.
Not that the Saints have been marching, no pun intended, by every team they've played so far. They've won all three games by a combined 10 points.
That being said. This is Arizona.
Going into last week's game against Philadelphia, most thought the Redskins didn't stand a chance to beat the Eagles no matter how much Donovan McNabb wanted payback against his former team.
Those people were wrong. The Redskins were the victor and McNabb was part of the reason for the win.
The Redskins will return home to face Aaron Rodgers and the high powered Packers offense on Sunday. It's been Aaron Rodgers' arm and the Packer's defense that has kept the cheese heads afloat.
While Donovan McNabb might have had a reason to play above his usual last week against Philadelphia, it won't quite be enough against the Packers.
The city of Buffalo, the fans, and the Buffalo Bills are wondering when they'll finally get that win in the win column.
Well, the entire city can thank me because it's coming on Sunday. Ok, the entire city doesn't have to thank me, you can do that after they win.
Miami, Green Bay, New England, and the Jets. They're not playing the worst the NFL has to offer to open the season.
They'll be back at home to face Jaguar team who got blown out by San Diego and beat Indianapolis. It's gonna be a win for the Bills.
The Kansas City Chiefs are the lone unbeaten team in the NFL but it won't be that way for long.
The Chiefs head for Indianapolis to take on Peyton Manning and the Colts. When you head into the RCA Dome, a lot of teams don't come out with a win.
The Colts are coming off a disappointing last second loss to the Jacksonville Jaguars and they're going to want someone to take out their frustrations against.
Peyton Manning is dangerous coming off a win or loss, but he's that much more dangerous at home.
Matt Ryan and offensive coordinator Mike Mularkey were at odds last week. It was a game they almost lost to the 49ers last week but don't expect Ryan to struggle this week.
They'll be in Cleveland on Sunday and will give the Browns a healthy dose of Ryan and running back Michael Turner to a solid win.
Turner is only averaging 70.3 yards per game on the ground but you'll start seeing the Falcons ride him a little bit more to take the pressure off of Ryan's arm.
Four games and the Baltimore Ravens are yet to give up more than 20 points to their opponents.
Jets, Bengals, Brown, and Steelers, each able to put up a good amount of points, but none of the the four have scored more than 17 points, three of them have been held to 15 or less.
Joe Flacco hasn't helped their cause much, though he's throwing for 230 yards per game, he's thrown six interceptions to just five touchdowns. Not to mention they don't have much of a running game.
So, against Denver, it's going to have to be their defense that keeps them in the game, again.
If you're traveling to Texas from out of state and you're headed to Houston to root on your beloved Giants, one thing you need to do is check out a country bar and try your hand at the two-step.
Can I do it? Heck no and yes I've tried and no it's not pretty. I was proud of myself for not stepping on my wife's toes at our wedding. But I digress.
The Texans will welcome in the New York Giants to Reliant Stadium, a game the Texans would love to prove how "real" they are coming off a 31-24 win over Oakland which is not much to brag about.
Some might say the Texans haven't faced a legit team. You could say Indianapolis is, but who did the Colts lose to last week?
Sam Bradford has finally started to look like the quarterback that the St. Louis Rams thought he would be when they drafted him. He lost his first two games but has come back strong with two straight wins as they take on the winless Detroit Lions on Sunday.
Bradford has been impressive and I don't see that trend stopping in Detroit. There's no question the Lions can put up points, but can they outduel the rookie quarterback?
This one might be a tough fight for the Rams on the road, but one I fully expect them to win.
Tampa Bay is coming off a lopsided 38-13 loss on the road to Pittsburgh. A team that knows how to put up points.
This week, they had to Cincinnati where they face Carson Palmer and his two henchmen, Chad Ocho Cinco and Terrell "T.O." Owens.
Palmer is a quarterback that can stretch the field and having two solid wide receivers who can help him do just that could put Tampa's secondaries in a quandry.
Owens got his first touchdown catch of the season last week, not to mention over 200 yards receiving. Not a bad day at the office.
Carolina is winless and will need more than Jimmy Clausen's four-lead clover he kept from his days at Notre Dame.
Without an offense line to speak of, the Panthers will have a hard time keeping Chicago's defense out of the backfield.
Not only that but with Carolina giving up 220.8 passing yards per game, the Bears will be relying on Todd Collins as their starter this week with Jay Cutler on the sidelines recovering from the concussion he sustained last week.
For those of you who forget who Todd Collins is, he repaced Jason Campbell near the end of the 2007 season and led the Redskins to the playoffs. He has some experience.